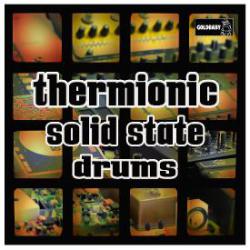 Goldbaby has introduced Thermionic Solid State Drums, drums and FX created using a collection of 11 old and new analog drum machines and 6 synths.
Samples were recorded through a 1073 pre, then a Fat Bustard II valve mixer and various other high end studio gear.
Lots of the sounds have multiple samples for velocity mapping. Most of the kicks and congas are tuned. Also included are a bunch of analog sourced layering tools which are incredibly useful for beefing up kicks, adding sizzle to snares or transient clicks to kicks…
Drum machines used: CR8000 (Modded), Tempest, Tanzbar, DRM1 mkIII, M.Brane, Volca Beats, Mrs Bass Drum, Andromeda Space Rockers, Clap Trap, Thunderclap, Space Drum, D1000 (Valve drum machine).
Synths used: Prophet 12, PERfourMER, Leipzig-S, Analog Four, MS20, SH101
Contents:
5070 x 24 bit wav samples
38 x Bonus Rex loops
With support for Maschine, Geist, Battery 3, EXS-24, Reason Refill
Instruments used to create Thermionic Solid State Drums.http://www.goldbaby.co.nz/tssd.html
Elektron has released Analog Rytm OS 1.01, and update that introduces two new machines. BDFM (Bass drum FM) and SDFM (Snare drum FM) are based on linear FM synthesis and give the Analog Rytm with new sonic possibilities.
OS 1.01 introduces two new machines. BDFM (Bass drum FM) and SDFM (Snare drum FM) are based on linear FM synthesis and endow the Analog Rytm with even more sonic possibilities. Other improvements brought by OS 1.01 include more copy/paste options and several usability tweaks. For a full list of changes, see the documentation included with the upgrade zip-file.
Audio examples of the new FM machines in action can be found here: https://soundcloud.com/elektron/sets/…
Analog Rytm OS 1.01 is available for free download athttp://www.elektron.se
Darker Digital has released Kickboxer for Kontakt 5.
Kickboxer is designed around the sound of analog 808 drum machines processed with high end outboard gear – designed to deliver punchy transients and analog overtones.
On top of an analog 808 kit, Kickboxer includes many other analog drum and digital synth bass sounds. Kickboxer's internal step sequencer features a piano roll for basslines, a gated reverb and other sequenced effects.
The GUI also includes controls for transistor and tube distortion, tape saturation, a ladder filter, a convolution reverb and a bus compressor.
Price: $99. There is a $69 introductory offer until June 19th, 2014, at the Darker Digital online store.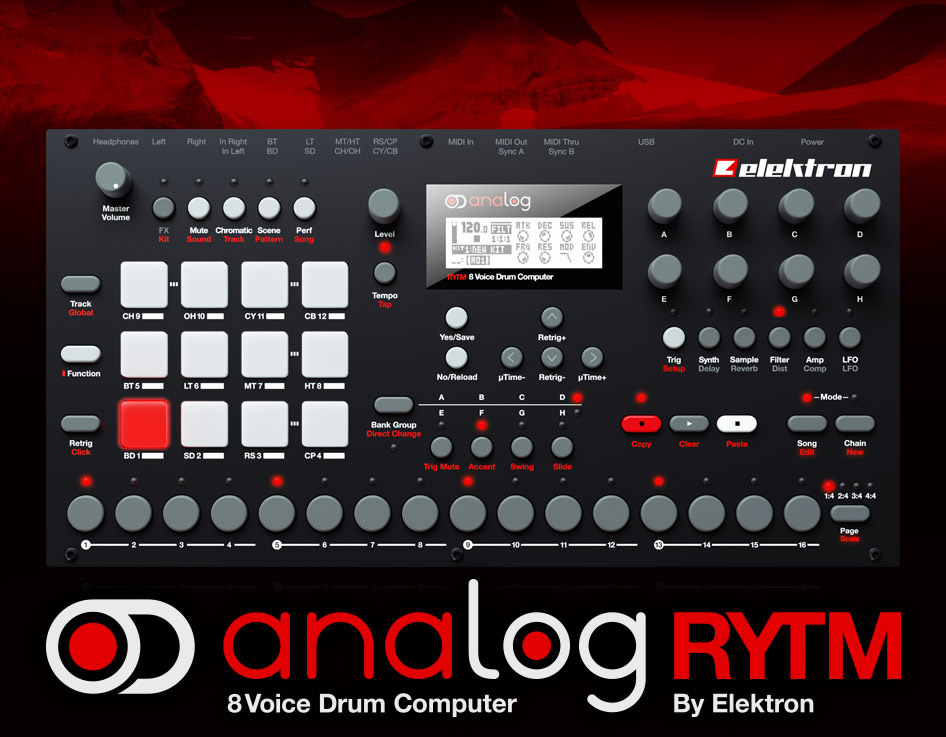 Elektron has announced that Analog Rytm, a hardware 8 voice analog drum machine with sample support, is now available for purchase.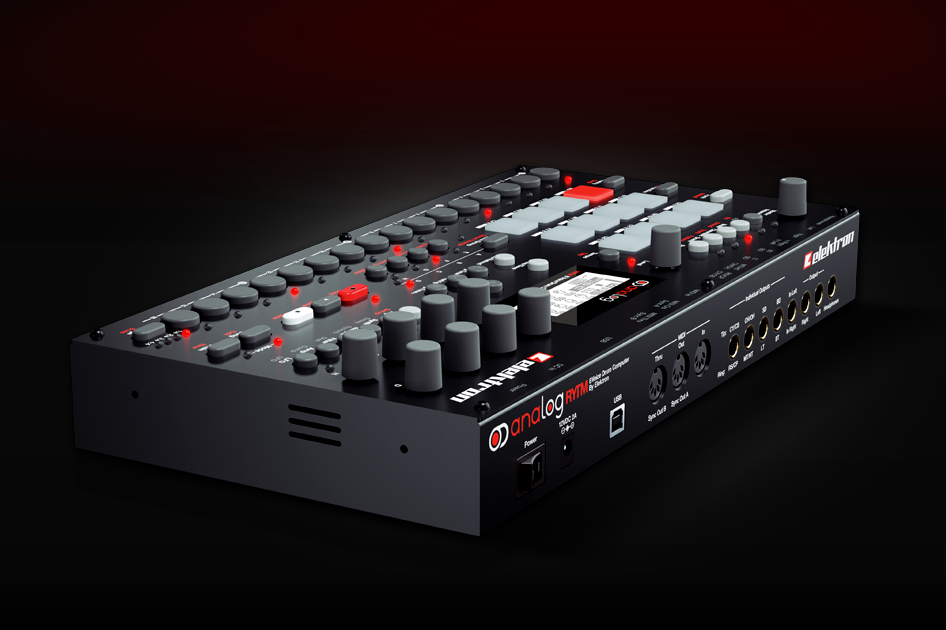 Key features:
8 drum voices, each with:

Specialized analog percussion sound generator.
sample playback (16-bit/48kHz/mono).
analog overdrive.
analog multi-mode filter.

12 velocity & pressure sensitive pads.
Analog stereo master compressor & distortion.
Reverb & Delay send FX.
Elektron step sequencer.
Chromatic, Performance, and Scene mode.
Live oriented beat control.
Individual voice outputs.
Drive storage for projects, patterns, kits, songs, sounds and samples.
Included in the box:

1 Power Supply Unit.
1 Power Supply cable of your selection (EU, US, UK, AUS).
1 Analog Rytm Quickstart Guide.
1 USB cable.
Pricing & Availability
Analog Rytm can be purchased in the Elektron Online Shop or from your favorite Elektron dealer. It costs $1549 / €1489 / £1249 / ¥174900. The demand is high and initial supplies are limited, so please note that it will be sold on a first come, first served basis – and that early orders might take a few days extra to process and ship.
Overbridge, the technology that erases the line between analog hardware and software plug-in instruments and makes it possible to seamlessly integrate the Analog Rytm in a DAW environment will be a part of a free OS update expected to be released Q4 2014.
Stunning analog drum machine with parameter locks, two kicks and 2 Step Sequencer Tracks.
Programming a Pattern on the MFB TANZBÄR. I could be easier, honestly. Since ethere is no display you must observe and read the red, yellow and green states of the LED carefully!!!
More info: http://www.elektron.se/products/analo…
More sounds: https://soundcloud.com/elektron/sets/…
Synthesis and Samples are used in this demo. Wanted to focus on the Performance Mode during this composition. This mode allows you to assign parameters from any tracks to the pads and manipulate them with pressure!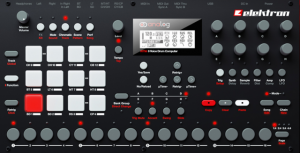 Elektron has released full specs on the new Analog Rytm, its new drum machine.
Eight analog drum voices take advantage of several dedicated analog circuit designs, each of them tuned for generating a distinct class of analog drum sounds. For percussive flexibility, every voice can also be 'spiced up' with customizable samples.
Features:
8 drum voices, each with: Specialized analog percussion sound generator. Sample playback. Analog multimode filter. Analog overdrive.
12 velocity & pressure sensitive pads
Analog master compressor & distortion
Reverb & Delay send FX
World class Elektron step sequencer
Chromatic, Performance, and Scene modes
Performance oriented beat control
Individual voice outputs
Analog Rytm, the analog drum machine from Elektron, is just around the corner. Now the full specifications- and the first proper audio demos – have been published online. Elektron describes Analog Rytm as an 8 voice analog drum machine with sample support. The analog circuits and the sample engine are ingeniously handled by clever software. Drum pads and an Elektron sequencer provide maximized playability. Here's some details in Elektron's own words…
A more powerful drum machine
The Analog Rytm pushes the limit of what is possible to achieve with a single machine. The eight analog drum voices take advantage of several dedicated analog circuit designs, each of them fine-tuned for generating a distinct class of analog drum sounds. For ultimate percussive flexibility, every voice can also be spiced up with customizable samples. The perfect unity of analog drum sounds and samples simply goes beyond.
Beats with character
Plenty of tools are available for shaping the vibe of the beats. Affect every voice with its own analog multimode filter and analog overdrive circuit. To add shimmer and polish to the rhythms, the reverb and delay send FX will prove invaluable. And before the beats hit the sound system, the analog compressor and analog distortion of the master channel will ensure proper pump and grit. The sound of the Analog Rytm has no match.
Maximized playability
The twelve back-lit, velocity and pressure sensitive drum pads offer beat smiths a quick and spontaneous way of creating rhythms. At the same time, the critically acclaimed Elektron step sequencer offers features like manipulating sounds on a per sequencer step basis. The combination of drum pads and step sequencing gives both instant results and the opportunity of detailed editing. The ultimate beat is just around the corner.
Pricing: $1549 / 1489 Euro /£1249
It is not possible to order the Analog Rytm just yet, but you may sign-up to the waiting list to be notified the second it becomes available.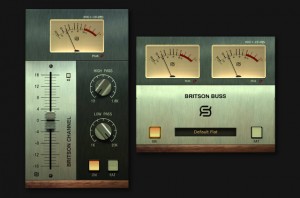 Britson is designed to emulate both the workflow and sonic character of analog mixing consoles. While inspired by a classic British 8014 console, Britson has a personality all of its own and was modelled to impart that classic warm, open, three-dimensional sound. Details below:
One of the most difficult tasks, in my humble opinion, is to recreate the saturation characteristic of analog equipment.
Copying the harmonic content of a particular piece of equipment is not enough to generate a nice, convincing, analog-like saturation. Many other factors have a far more influential impact on the final sound.
We at Sonimus believe that the key is to analyze – analyzea thousand times – the behavior of the equipment to be modeled (for harmonic contentat different levels; transfer function and dc offset, depending on amplitude and frequency; dynamic content; etc.). Finally, much listening is required — which is definitely the most important factor.
Britson, besides being a subtle saturator, can be very aggressive if volume is increased from the input. Just like with a real unit, THD (total harmonic distortion) is low at normal levels, but can easily reach the clipping point without loss of dynamics at normal levels.Britson's sound can be very aggressive without the need for a specific switch dedicated to that purpose.
We truly believe we have accomplished our goal of creating a product that will not only improve the sound of your mixes, but will also optimize and expedite your workflow, thanks to the "suitable" volume-leveling of your tracks possible throughBritson.
For this purpose, Britsonfeatures a carefully modeled VU Meter which behaves like a real VU Meter (It is fairly well known that VU Metering is much more useful than Peak Metering for the mixing process, since VU Meters behave in a fashion more similar to human hearing).
Britson features:
Flexibility to be used subtly or aggressively (to overdrive virtual or real instruments, for example)
Two Saturation Modes: Normal (subtle distortion, high dynamic range) and Fat (hotter signal, lower dynamic range)
Optional Stereo Crosstalk which lends a sense of depth and three-dimensionality to your mixes
Filters (both low and high pass). Britson's filters are tuned to sound sweet and pleasant to the ear
Saturation which can be disabled (when using Britson for trim and metering purposes exclusively)
Three EQ Color Mode options(on Britson Buss instance) for use on your master track: Default (no color), Master Loudness, and Master Bright
Zero latency and no group delay
Carefully optimized algorithm for low CPU consumption. Britson allows for a remarkably high number of instances per session.
Internal 64-bit floating point double-precision
Hassle-free installation. No activation or serial. Each buyer receives a personalized copy for use in the studio, on the laptop, etc.
Pricing and Availability:
$39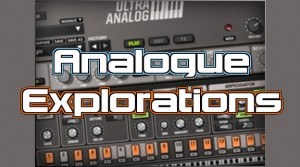 Twolegs Toneworks has released Analogue Explorations, a collection of 64 carefully programmed analogue type sounds for Applied Acoustics Systems Ultra Analog VA-2 synth.
The soundset is not aimed at any particular style or genre, but provides a sound-palette easily adapted in any type of electronic music – spanning the spectre from deep dub-techno, D'n'B, IDM, chip to funky house.

This pack contains a broad variety of analogue type sounds programmed with small amounts of drift and plenty of analog grit – of which this synth has plenty. You'll find basses ranging from funky synth basses to bombastic sub-basses – and pads ranging from soft baby tissue to sweeping textured wonders. There's also a range of lead-synths well suited for the odd melody-line or a full solo-riff. Ultra Analog VA-2 doesn't allow too much action to be applied through the mod-wheel, but there's added vibrato for most sounds.

The true bonus in this soundset is the percussive sounds and the instant atmosphere creating sound effects, which in some cases can make up the basis of an entire dub techno track.
Te soundset is available to purchase for the introductory price of $9.95 USD until March 31st, 2014 (regular $14.95 USD).
Twolegs Toneworks is also offering a 50% discount on its other soundsets in its Spring Sale, which lasts until March 31st, 2014.
Minimojo is an emulation of an old synthesizer built in Reaktor, available for all registered product owners in the NI Reaktor User Library.
The Juice 3 is not in any way a copy of MONARK. The builder did not have access to or ever used MONARK during the making of Juice 3. Instead, the old ensemble Minimood made by NI in 1999, which has then been modified by several users, has been used as the starting point. I think that the basic structure will be recognizable from that early ensemble.
As the Model D is the most emulated synthesizer the world probably don't need yet another one. Juice 3 should be seen as a proof of concept; how to emulate the should of vintage synthesizers using the Reaktor environment.
The technology developed for this is called Analog Legacy. Analog Legacy is the theory of modulating all functions in a synthesizer at all frequencies. The key is to find the right balance of the modulation depth for each frequency. Juice 3 is the first attempt to use this theory in practice.
http://youtu.be/cAhNylHjX_4