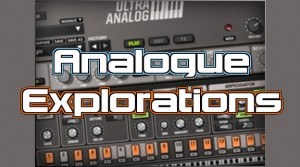 Twolegs Toneworks has released Analogue Explorations, a collection of 64 carefully programmed analogue type sounds for Applied Acoustics Systems Ultra Analog VA-2 synth.
The soundset is not aimed at any particular style or genre, but provides a sound-palette easily adapted in any type of electronic music – spanning the spectre from deep dub-techno, D'n'B, IDM, chip to funky house.

This pack contains a broad variety of analogue type sounds programmed with small amounts of drift and plenty of analog grit – of which this synth has plenty. You'll find basses ranging from funky synth basses to bombastic sub-basses – and pads ranging from soft baby tissue to sweeping textured wonders. There's also a range of lead-synths well suited for the odd melody-line or a full solo-riff. Ultra Analog VA-2 doesn't allow too much action to be applied through the mod-wheel, but there's added vibrato for most sounds.

The true bonus in this soundset is the percussive sounds and the instant atmosphere creating sound effects, which in some cases can make up the basis of an entire dub techno track.
Te soundset is available to purchase for the introductory price of $9.95 USD until March 31st, 2014 (regular $14.95 USD).
Twolegs Toneworks is also offering a 50% discount on its other soundsets in its Spring Sale, which lasts until March 31st, 2014.
Minimojo is an emulation of Minimoog built in Reaktor, available for all registered product owners in the NI Reaktor User Library.
The Minimojo is not in any way a copy of MONARK. The builder did not have access to or ever used MONARK during the making of Minimojo. Instead, the old ensemble Minimood made by NI in 1999, which has then been modified by several users, has been used as the starting point. I think that the basic structure will be recognizable from that early ensemble.
As the Minimoog is the most emulated synthesizer the world probably don't need yet another one. Minimojo should be seen as a proof of concept; how to emulate the should of vintage synthesizers using the Reaktor environment.
The technology developed for this is called Analog Legacy. Analog Legacy is the theory of modulating all functions in a synthesizer at all frequencies. The key is to find the right balance of the modulation depth for each frequency. Minimojo is the first attempt to use this theory in practice.
SECRETS provides a clear, no-nonsense guide to making any sound on any synthesizer. Starting with the fundamentals of sound creation, it progresses through such advanced topics as programming FM synths like the DX-7. Valuable insights are offered into stage and studio performance techniques which are applied to a variety of makes and models so that you will derive benefit from this video no matter what kind of equipment you have. A 130-page manual is included, making this a complete course on electronic keyboards.
Steve DiFuria is the narrator and featured performer on this video. He is a highly respected consultant in synthesizer design and a Keyboard columnist who has programmed for Frank Zappa, Stevie Wonder, and Lee Ritenour.
DCI Music Video, Inc. 1985.
FAIR USE NOTICE: This Video may contain copyrighted (©) material the use of which has not always been specifically authorized by the copyright owner. Such material is made available to advance understanding of ecological, political, human rights, economic, democracy, scientific, moral, ethical, and social justice issues, etc. It is believed that this constitutes a 'fair use' of any such copyrighted material as provided for in section 107 of the US Copyright Law. In accordance with Title 17 U.S.C. Section 107, this material is distributed without profit to those who have expressed a prior general interest in receiving similar information for research and educational purposes.
www.facebook.com/theprimeministeroffunk
BeatStep co-creator Glen Darcey chats to Source about the inspiration behind the design, his first experiences with synthesizers and also how he'll be using BeatStep in his own analogue-heavy synth studio.
BeatStep is also a 16-step analog sequencer for creating all kinds of musical phrases to be sent to analog synthesizers, MIDI drum machines, MIDI keyboard devices, or computer programs. Its connectivity options let you interface BeatStep with a computer or iPAD using USB, a drum module using MIDI or an analog synthesizer equipped with CV/GATE.
It's priced at US $129 / EURO 99, and is expected to be available in March.
Trent from Moog Music walks us through the 500 Series Analog Delay with full MIDI plug-in control for integrating with your digital audio workstation.
Elektron's in-house product expert Cenk aka Mr. Dataline gives us the rundown on the new Analog Rytm analog drum machine.
See and hear Elektron's brand new Analog Rytm hybrid analogue and digital drum machine in this exclusive demo at NAMM 2014
Elektron Analog RYTM Drum Machine Analog drum synth with sample layer
First look at the new drum machine from Elektron. It is an eight voice analog drum machine with sample support. Distinguished by the power of analog drum sounds fused with samples. Perfected by the immediacy of drum pads coupled with Elektron sequencing.
8-voice analog drum machine with sample support
Analog filter & distortion per voice
12 velocity- and pressure-sensitive pads
Reverb & delay send effects
"World-class" Elektron step sequencer
Performance-oriented beat control
More info soon on http://www.elektron.se
Discuss at http://www.elektronauts.com
Dancers from performance Me – every body, volume 2:
http://www.3vaningen.se/me-every-body…
The Elgam Match 7c is a non programmable analog rhythm box from Italy – the first from Elgam. It came out 1972. The 7 rhythms are mixable and very basic. It has a characteristic sound!
He plays the Elgam with delay and reverb effects (Lexicon MPX-500 and Roland DEP-5).
Background video description:
One of the best versatile analog drum expanders currently made. Awsome KICKS, jazzy SNARES, weird dubby FX, the beast electronic CLPAS I ever has and the right mixture of CAMBALS