Crumar Nerve Centre 15 is an analogue drum machine that was build into a number of Crumar's organs from the mid 1970′s.
"I took this particular specimen out of an old defective organ some years ago (and made a video of it) and now the time has come to find out how it works so that I can use it for something.
One very special thing with this drum machine is that there is a separate row of selector switches for the auto-accompaniment so that you can pick and chose independantly – in other words it is possible to combine for instance the samba rhythm with waltz bass and arpeggio (not that it would sound very good but it is possible). I wonder why so few organ companies came up with that idea. It makes the auto-band much more flexible and it only costs an extra row of switches.
The music in something I made on Yamaha HE-8 and Technics SX-C600 organs, Roland SH-2000 synthesizer and TR-66 Rhythm Arranger drum machine, and the little Casio CZ-101 phase distortion synthesizer."
This is a live improvised analog modular synth composition featuring the Animoog (Iphone App) patched into the Make Noise MATHS module This sound exploration is a glimpse of what my live shows are like. This song will be featured on my up coming limited edition vinyl release that shall remain nameless for the time being.
Duality Formed Fabric from VoltageCtrlR on Vimeo.
Enjoy

Maschine Meets Modular in this grimey, lo-fi hip hop instrumental featuring the Intellijel Korgasmatron analog multi-mode filter. The faux-sample is the sound of the frequency modulated Korgasmatron self-oscillating low pass filter. No oscillators were used. The bass and drums are Maschine.
This video shows off a few modifications to a FR-777 bass synth, performed by Jered at FR some 15 years ago. Shown are the Oscillator sync, Endless-drone, and LFO-to-cutoff mods, plus variations.
"Around 2:20, when I say "Envelope", please substitute "LFO!"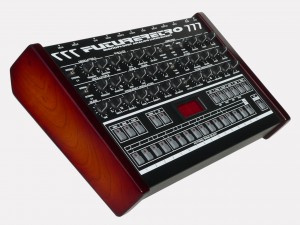 The Future Retro 777 is a monophonic analog synthesizer with a digital sequencer. The 777 is a sleek retro design that has realized the full potential of the monophonic pattern based synth. It's not just another TB-303 emulator. It uses analog circuitry and has a lot of hands-on knobs for instant sound tweaking. And while the 777 has extensive editing and modulation abilities, the layout is as basic and intuitive as an old SH-101 or MC-202!
The 777 functions quite well as either a standalone bass sequencer or as a sound module in a MIDI environment. Two oscillators (A / B) produce a fat bass sound. Modulation abilities are quite complex, the oscillators themselves can modulate each other for example. The filter is very nice with switchable 3 or 7 pole slopes as well as other sound shaping controls for a wide range of tones. An external sound can be routed through the filter too. The sequencer, OSC B and the decay envelope can also modulate the filter cutoff. The 777 also employs a smart accent effect for that extra bit o' kick in your bassline.
As a sequencer the 777 shines once again. Bear in mind that this sequencer accommodates a monophonic (single tone) instrument which normally has very basic sequencing needs. Notes are entered using the pseudo-keyboard buttons. Programming is different than other synth / grooveboxes of similar function but is relatively easy to master. Up to 256 patterns can be linked to form up to 16 songs all of which remain in memory. And of course all real-time editing can be recorded into your sequence and are also MIDI controllable. Final goodies include an internal MIDI to CV-gate converter, glide or portamento effects, distortion, chorus and phase effects and more!
Moog Moogerfooger Cluster Flux MF-108M, with feedback at maximum, can be "played" from MIDI Notes On/Off. In this video, the sound source is, as usual, the Acidlab.de MIAMI Analog Drum Machine; the frequency/time of MF-108M is played with Novation SL25 MkII MIDI master keyboard.
Shooted with an iPhone, audio in glorious mono.
The clock frequency of Moog Moogerfooger MF-104M analog BBD delay can be severely down scaled from external MIDI control. So, you can use the MF-104M as a grunge/glitch/hack/drone machine on every audio source. On this (dirty and short and easy) video bits, MF-104M is munching the Acidlab MIAMI analog drum machine.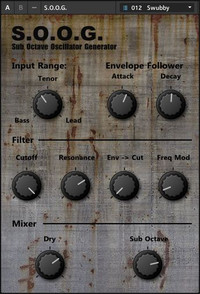 Icebreaker Audio has announced the release of S.O.O.G. (Sub Octave Oscillator Generator), a free analogue style octaver effect for Native Instruments Reaktor 5.8.
The effect produces a fuzzy version of the input signal, by generating a modulated square wave one octave below the tracked pitch. This fuzzy octave can then be filtered to smooth out the tone, or to create synth style sounds.

The effect works best on monophonic instruments with strong fundamental frequencies like bass guitars or clear vocals.
The ensemble is a free download from Icebreaker Audio.
"In this video you can hear the fusion of the two worlds:
Digital vs Analog
Thanks to the latest update of ReBirth can be synchronized via midi
I love both analog as digital …"
Sonic takes a look at the new 8 voice virtual analog synthesizer – the result of a collaboration between Studio Logic and Waldorf. What makes it rather unusual is the fact that rather than have few knobs and a lot of menus, it has a large format classic synthesizer panel with one knob per function
Details on the Sledge:
For many synthesizer enthusiasts, it is the particular interaction of the sound engine and user interface that makes a great instrument. A quick look at Sledge shows you the generous set of controls available to interact directly with the sound engine.  When you touch the knobs and switches of the front panel, you will instantly be aware of the meticulous attention to detail our engineers have refined, during many decades building the best electronic keyboards.
You will experience the logical set-up of the synthesizer modules, mirroring the signal flow of a classic analogue synthesizer.  But what really distinguishes any synthesizer is its sound.  Fortunately, our friends at Waldorf Music have happily shared their experience and know-how on this crucial part of the Sledge Synthesizer.
So we implanted the DSP heart of the latest Waldorf modelling technology into Sledge. The result: enough power to put the foundations of your studio seriously at risk!  And plenty of detail, to create the richest analogue pads you could ever want.  Besides the classic analogue synthesizer waveforms, you will find a complete set of Wavetables, derived directly from the mother of all digital synthesizers, the PPG Wave.
The sum of three fat oscillators, plus a Noise generator, are fed into Sledge's powerful multimode filter with selectable 24 / 12 dB slope.  The highly recognizable Waldorf filter algorithms enable a wide variety of sounds, from smooth to harsh, from fat to distinct, from pure HiFi to badass brutal. Ultra-fast, accurate envelope generators deliver ballsy punch.  Two LFOs plus 1 extra Wheel-LFO are on board to offer huge, yet easy to understand, modulation capabilities.  And two built-in Effect units deliver sophisticated synthesizer effects, such as Chorus, Phaser and Flanger, as well as a rich Reverb or an analogue style Delay.
And the best part – if you are familiar with the operation of a classic analogue synthesizer, you won't have to spend any of your precious time reading the manual.  There are no double or multiple functions on any of the knobs or pushbuttons.  All synthesizer parameters are clearly and ergonomically arranged in front of your eyes and directly accessible under your fingertips.  This makes sound design a blast, and takes you back to the pure user experience which you'll soon realise you've been missing.
Specifications:
• 32 Pots
• 3 chicken head rotary switches (7 positions)
• 1 rotary encoder with push function
• 2 x 16 digits backlit LCD
• High Quality Pitch and Mod Wheel
• up to 256 Sounds
• fast and efficient sound selection via numeric keypad
• 2 fast LFOs per voice, each with adjustable Speed and Depth
• 1 extra modulation routing for Mod Wheel, with adjustable Speed and Depth
- Shape: Sawtooth, Rectangular, Triangle, Sine, Sample & Hold, Ramp
- Destination: Osc 1, Osc2, Ocs3, PWM / Wave / FM, Volume, Filter Cutoff
• 8 Voices polyphony
• Monophonic mode with single or multiple trigger
• 3 Oscillators per voice
- Range from 64′ to 1′ each
- Shapes: Sawtooth, Square, Triangle, Sine, Pulse (with Pulse Width Modulation)
- Oscillator 1 with 66 Original PPG Wavetables
• Frequency Modulation of sine and triangle
• Oscillator Hardsync (Osc 2 to Osc 3)
• Noise Generator with selectable white and pink noise
• Mixer with Volume and On/Off switch for each Oscillator and Noise
• 1 Multi Mode Filter per voice
- 24 / 12dB
- Lowpass
- Highpass
- Bandpass
- Resonance up to Self-Oscillation and beyond
- Adjustable Keytrack and Drive
• 2 fast Envelopes per voice (filter / amplifier)
• Powerful Arpeggiator
- Latch mode
- syncable to MIDI Clock
- Direction Up, Down, Alternate
- Range up to 10 Octaves
• 2 simultaneuous Effects
- Effect 1: Chorus / Phaser / Flanger
- Effect 2: Reverb / Delay
• sturdy, lightweight enclosure (less than 10 KG)
• high quality, 5 octaves Fatar TP 9 keyboard
A voyage into the heart of the Crumar Performer from the year 1979.
Exploration by Marko Ettlich (RetroSound)
fully polyphonic multi keyboard made in Italia
one oscillator for brass (square wave) and two oscillatos for the strings (8′ and 16′)
one LFO with delay length, rate and depth
analog low-pass with resonance for brass and 3-band equalizer for strings
49 keys
used by Duran Duran and more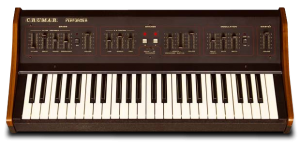 The Performer is a polyphonic analog Strings and Brass machine produced at the end of the 1970′s by the Italian synth company. It is slightly compact with just 49 keys. But it is fully polyphonic – you can play all 49 notes simultaneously! Programming is simple and clearly laid-out with just 15 sliders and a few buttons. A solid black chassis and wood end-cheeks round out this classic and often overlooked string machine.
The Performer is best remembered for its Strings. A simple 3-band equalizer with high, mid and low sliders can be used to give the strings shimmering sparkle or moody dark timbres. The Strings section uses two oscillators per voice with 8′ and 16′ settings. Simple Attack and Sustain sliders give you some control of your string's envelope settings.
The Brass section is less exciting. It uses a single oscillator with just a square wave to generate a weak Brass sound. It has a low-pass VCF filter with resonance, but it too is pretty weak. Simple Attack and Decay sliders control its limited envelope settings too.
The LFO is pretty nice, with delay length, rate and depth control. It can modulate both Brass and String sections and can be routed either to the VCF or pitch. There are three outputs on the back: main output, brass output and signal output (for external processing) as well as CV and Gate connections.
Here we have a demo from the Roland MKS 70. It's also known as the rackmount version of the JX-10. The bassdrum was made with the Jupiter 4. As always a multitrack recording + effects.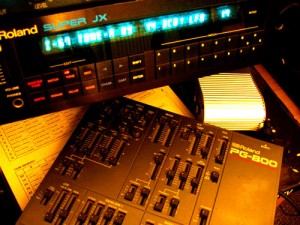 The MKS-70 is an identical rackmount version of the JX-10 synthesizer. Released in 1985 it combines two individual JX-8P synth engines for an outstanding warm and analog sound which is used in many modern studios all over the world. It comes with onboard effects like Chorus and Delay and offers a wider range of programming using the optional PG-800 Programmer. This programmer is highly recommended for those who will be programming unique sounds since editing from the rack-face itself is cumbersome and tedious. The MKS-70 has a "chase-play" function which allows programmable delayed repeats of voices from either of its tone modules. The chorus is either off, slow or fast.