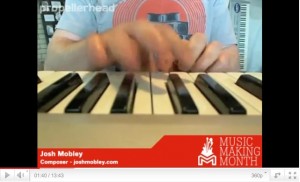 In this live session for Music Making Month, Josh Mobley (joshmobley.com) walks us through his technique for playing drums live on his controller keyboard in one take instead of programming beats with a pencil tool. The result is a human groove that feels more natural than programming ever will. Propellerhead has a unique approach in May's "Music Making Month." Hands-on how-to videos appear first as live webcasts, then on-demand YouTube clips, showing how to get into some real music making. Reason and Record are featured, of course, but the series is as much about production and performance as those tools. Check out the start of the terrific series by Josh Mobley on keyboard finger-drumming, for instance.
Jonathan Moffett walks your through his methodes of drum tuning and shares his reason for tuning methodes.
Description below:
Maybe it is not new for you but I think that is a really nice tip for recording drums with GarageBand for iPad using the SmartDrums. That Smart Instrument can record your gestures over the pad while recording.
More about MusicApps and Mobile Music at MusicApps.com.br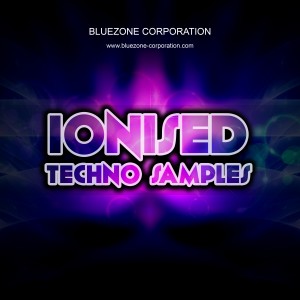 Bluezone Corporation is very  proud to present to you it latest pack Ionised Techno Samples. This is a total dumping in the underground universe of the most recent productions. Available for instant download, Ionised Techno samples offers a cutting edge collection of minimal Techno drum samples, drum loops, synth sounds and sound effects.
Ionised Techno Samples is a fresh, vibrational and original sample pack, with loops and samples beautifully worked and twisted. Coming straight from Bluezone Corporation, this innovative sound bank brings all you need to increase the potential for your hardware and software sequencers. This product's content has been filtered and engineered with great attention for details and offers over 190 samples, completely royalty-free.
Suitable for styles such as: Deep House, Tech House, Minimal House and Techno.
Ionised Techno Samples Contents:
ï Drum Loops
ï No Kick Loops
ï Percussion Loops
ï Sound Effects
ï Drum Hits / One-Shots
ï Synth Hits
Technical Specifications:
ï 200 MB Data / 389 files
ï Formats : WAV / AIFF
ï Recorded at 128 bpm
ï Instant Download
ï Suitable for use in all major sequencers
ï Royalty-Free with no extra cost
ï Ready to use in commercial production
Well if that is true remains to be seen;
http://soundsandgear.com/poise-is-the-best-mpc-style-drum-sampling-software-a… checkout this simple and easy drum sampling software that let's you layer and manipulate sounds like you would on an mpc, mv 8800, or asr
the sound gets a lil distorted in my video a few spots, but that was because I had the volume up too loud on some of the samples I played, it's all good.
Here's what they have to say about it:
Over the last decade a number of adventurous instrument makers have used steel pans, propane tanks and custom alloy "shells" to create a new breed of melodic percussion: steel tongue drums.
Borrowing design concepts from traditional wood models, steel versions feature "tongues" of varying lengths cut into the top of the drum in a circular pattern. The drum is placed in the percussionist's lap and is struck with fingertips for a soft sound, finger pads for a slapped sound, and thumbs for a harder tonal "knock". Overtones of adjacent tongues ring sympathetically with the note that is being struck to create complexity of sound.
As part of Nine Volt Audio's Duo line of products, we've recorded TWO steel tongue drums. The larger 1Tone is a nine-note model that originates from Israel and is tuned to the "Hitzaz" scale (sometimes written as "Hijaz") in the key of D. It has a resonant and "ringy" quality that creates a beautiful droning background to performances. In addition to finger articulations, this drum has also been recorded with brushes.
The Garrahand is a small yet tunable model from Argentina. Despite it having only seven tongues, each was individually tuned through the sampling process to make the drum playable in a chromatic fashion. This drum has a buoyant and mellow sound with fewer overtones than the 1Tone.
With over 3100 samples and patches that are both natural and modern, Duo puts the evocative and expressive sound of steel tongue drums at your fingertips.
We encourage you to support the instrument makers and check out the acoustic versions of these instruments at www.garrahand.com & www.1tonedrums.com
Here's a modular Univox SR-55, AKA Korg Mini pops 3. I've removed it from it's odd-shaped case and reworked the circuitry to fit into my second modular synth cabinet. The pattern producing circuitry has been removed, as the drum machine has been fitted with proper trigger inputs.
Each trigger input uses a simple op-amp inverter to produce the negative polarity triggers this machine requires. By varying the pulse width of the trigger, different sounds can be produced.
This sequence is produced by a clock divider, as well as a sample and hold circuit.
See more at: http://seaweedfactory.blogspot.com
Bluezone has a new Youtube channel up, here is a video from their latest release:
http://www.bluezone-corporation.com/catalogue/details/66/6/products/ambient-b…
Ambient Breaks from Bluezone Corporation is the ultimate collection to jump into professional production of Ambient soundtracks for film, video games, TV series and action. Ambient Breaks is a perfect mix of calm, refined pads reworked with rich, deep synth lines. This new sound bank pushes the limits of ambient sound and can be easily adapted to other styles such as Dubstep, Drum n Bass, Hip Hop, Nu Metal, Pop, Grime and Industrial.
The producers from Bluezone studios are pleased to announce Ambient Breaks. This sound library offers a balance between strong, hard sounds and refined sounds, to keep the finesse of Ambient and Chill Out. With more than 240 loops and samples, Ambient Breaks offers a multitude of possibilities.
This pack also includes an arsenal of drum loops, no-kick loops ( hi-EQ ), drums hits that provide a solid rhythmic basis. Add to this bass lines, synths, (fat synth loops, synthetic loops, infra bass loops and key loops ) as well as sound effects, synth sounds and layers. To make your job easier, all synth lines are in the same key, which means you have a huge kit with which to build your work from start to finish with rich and innovative sequences.
Like all Bluezone Corporation products, this pack is royalty-free and does not require any additional costs or permissions – it's 100% ready to be used in your commecial productions.
Suitable for styles such as : Ambient, Soundtrack, Game & TV series, Breaks, Downtempo, Glitch, Pop, Dub, Dubstep, Grime, Drum and Bass, Industrial, Nu Metal, Hard Rocks, Chill Out, Lounge, Hip Hop, Trip Hop, Electronica, Jazz, Big Beat and Experimental.
Birmingham producer DJ Buzzword released a collection of 63 free drum loops as a free download from SoundCloud.
The set includes drum and percussion loops suitable for modern urban music productions.
You can preview & download the loops below.
Free Drum Loops by DJ Buzzword
The loops are released for freeunder a Creative Commons Licence. Donations via Paypal are welcome.
Link:
This brief demo features a demonstration as well as custom patch sheets for how to create basic analogue drum sounds. The resulting drums are then combined to produce a small tune featured in the video.
Note: If recreating these sounds, PAUSE the video on the patch sheet page and dial in the settings on your Telemark. It would be helpful to maximize the video to full screen and to turn on HD for clarity (and better audio).
Headphones are also recommended to hear the sub frequencies of the kick drum and other deeper percussion.
The Oberkorn 16 step sequencer was used to create the various patterns via its X/Y gate outputs. Occasionally, CV A was used to dynamically change an attribute of a sound (and is noted in the video).
An Analogue Solutions Telemetry pin matrix synth provides the aggressive, unprocessed synth line under the drums.