February 18, 2012 · Posted in
Uncategorized
·
Comments Off

on Space Echo Spring Reverb
Just a short video with the spring reverb from the Roland Space Echo series.
This particular reverb comes from the RE-301, but as far as I know, the RE-201, 301 and 501 has the same reverb.
I removed the spring reverb when I had to fix one of my units. I've placed it in the box again, don't worry.
The sequence was programmed on a Korg Mono/Poly
I love the text on the reverb tank. "Manufactured by beautiful girls in Milton, Wis. under controlled atmosphere conditions."
More background information on the topic:
The Roland RE-201, commonly known as the Space Echo, is an audio analog delay effects unit produced by the Roland Corporation.
A tape echo device records incoming audio to a loop of magnetic tape, then replays the audio over a series of several playback heads before it is erased again by new incoming audio. The tape used in the RE-201 is the standard 1/4″ tape of the open-reel variety, but made as one, continuous loop. In the Roland 'RE' range there are no reels of any kind, the tape is transported via a capstan drive. The tape loop is contained in a loose, constantly moving jumble in the tape chamber (also known as the tape tank) under a plastic panel which protects the tape and keeps it from getting tangled. The replacement tapes were known as Roland RT-1L replacement tape loops and sold by Roland.
There are several control dials on the device that alter such aspects as tape speed, repeat pattern (an 11-position rotary switch), one instrument and two microphone inputs, a single analog backlit VU meter for all three inputs, wet/dry mix for both echo and reverb, and intensity (number of repeats, in a sense; it actually reduces how much the erase/record head erases the tape), that can be adjusted to a user's liking; and bass/treble controls to EQ the sound of the repeats (not the dry signal), as well as dry and effected "Echo" output jacks with a switch for output setting (-10, -20, -35db levels.)
Used as a delay/echo, the Roland RE-201 is said to produce an unpredictable delay that is warm and gritty sounding. It is also capable of producing a large variety of its own sound effects, even without an input signal (by turning the intensity control to maximum and allowing the unit to self-regenerate, or self-oscillate, while manipulating the tape speed and other controls).
Despite its age, the Roland RE-201 is widely sought after, and still used by many bands to this day, notably in the experimental work of Radiohead, and the rockabilly stylings of Brian Setzer, the latter using one recently to get the slapback sound sought after for rockabilly and such styles of music. The Roland RE-201 is also extensively used in modern electronic music
February 6, 2012 · Posted in
Uncategorized
·
Comments Off

on Sci-Fi Music: The Adventures of Captain Sausage
http://youtu.be/j__oRPAruqk
A short improvisation featuring processed audio from a really bad Sci-Fi movie, HP and BK sine wave generators, ring modulators, tape echo, various effects, and a dash of reverb.
www.facebook.com/AtomicShadow
September 20, 2011 · Posted in
Uncategorized
·
Comments Off

on The Echo from the Reason crew
Reason 6 introduces three new creative effect devices: Pulveriser, Alligator, and The Echo. In this micro tutorial we'll take a look at The Echo.
The Echo brings together the best features of crisp digital delay, warm crunchy analog delay, space echoing tape delays, and even loop-based effects. We'll take a look at the major functions of The Echo and explore a few ways you can use its powerful delay settings in your music.
For more information about The Echo and Reason 6, head over to www.propellerheads.se
This tutorial features a remix of "Everything" by Little Jinder, remixed by Mattias Häggström Gerdt
July 6, 2011 · Posted in
Uncategorized
·
Comments Off

on How the EMS AKS handles audio through the Hi Input channels
Quick and Dirty patch featuring the EliKing Light sensitive delay soda-POP can and a mildly modded TR-606 drum machine with individual outs.
Wanted to see how the EMS AKS handles audio through the Hi Input channels.
TR 606 outputs:
Snare massaged then to Roland RE-201 Space Echo.
Hihats to EliKing Light sensitive delay soda-POP can.
HiTom Trigger out to AKS #1 (Hi Input Ch.2)
Headphone out to AKS #2 (Hi Input Ch.2)
Main output to AKS #1 (Hi Input Ch.1)
Steiner-Crumar Masters Touch breath controlled resonant analog filter and CV controller puts out voltage from breath, bite and touch. Sooo much fun had the Breath Transducer going out to AKS #2 (Hi Input Ch.1).Only stinky breath is used in this vid!!! No bite or touch.
AKS #2s Signal Output goes into the wet and juicy Crumar filter.
June 18, 2011 · Posted in
Uncategorized
·
Comments Off

on Making cool sounds with the Roland Space Echo
The Roland Space Echo is a vintage Tape-Echo machine for creating true analog echo effects. The RE-201 is a simple system in which a small loop of tape records an incoming signal and immediately plays the recorded sound back over a couple playback heads before being erased over by new incoming audio. A real analog system with warm, gritty and almost noiseless operation, the Space Echo can provide warm, unpredictable and highly tweakable echo effects.

There are twelve settings to adjust various tape loop speeds, number of repeats, levels, intensity, etc… It can even generate some of its own feedback loops for instant sci-fi effects. It features a built in spring reverb for even more classic analog effects. The RE-201 not only has Vintage appeal but is still widely used to get those dubby, slightly unpredictable, musically analog echo effects.
In this video:
Discovered a killer patch while hanging out in the studio. Serge Creature & Sequencer-A modules sent through a Roland Space Echo RE-150 & the clean channel from the Space Echo sent to a Boss DD7 Delay.
April 26, 2011 · Posted in
Uncategorized
·
Comments Off

on Nomad Factory Echoes is released
This video shows the new Echoes Analog Echo Box plug-in by Nomad Factory. The plug-in is available for both Mac and Windows in VST, RTAS or AU format.
Nomad Factory has introduced Echoes, a virtual analog delay effect plug-in for Mac and PC that emulates classic delays, including:
PLX-1 based on Echoplex 1;
PLX-3 based on Echoplex 3;
OILCAN based on Tel-Ray Oilcan Delay;
EHX-DM based on Electro Harmonix Deluxe Memory Man; and
ADM-2 based on Boss DM-2 Analog Delay.
Nomad Factory Echoes is available now for $129.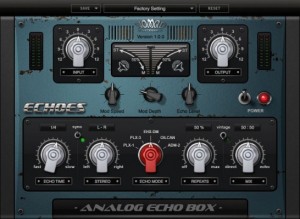 Features:
ECHO TIME: Controls the time from 20 to 2000ms of analog delay.
PANNING: Center position for stereo pan, left or right causes ping pong effect.
ECHO MODE: Choose from 5 classic analog delay effects.
REPEATS: Controls the feedback amount of the delay effect.
MIX: Controls the balance of the wet /dry signal.
EXTRA KNOBS: 3 additional preset knobs that change according to the currently selected mode.
PLX-1: Wow & Flutter, Drive and Echo Level
PLX-3: Bass, Treble and Echo Level
EHX-DM: Mod Speed, Mod Depth and Echo Level
OILCAN: Tone, Variation and Echo Level
ADM-2: Bass, Treble and Echo Level
SYNC SWITCH: Sync your delays to your song's master tempo
VINTAGE SWITCH: Give your delays that vintage analog sound by filtering the repeats
STEREO WIDENER: Increases the width of the delay. Lowest setting is true mono
INPUT: Sets the input level of Echoes
OUTPUT: Sets the output level of Echoes
POWER bypasses the entire unit
April 19, 2011 · Posted in
Uncategorized
·
Comments Off

on New universal echo delay unit with hold function

WOK has released Echo Freeze Unit EFU-1, a universal echo delay unit with hold function for Windows.
"EFU-1 is more than another delay plugin. Besides all the basic functions (host sync or milliseconds, digital/tape/analog sound, modulation) it features a distinctive freeze function; like some famous hardware delay units, the delay buffer can act like a sampler. Up to 4/1 bars of input signal can be recorded (or lets better say: frozen) and continously played back at a selectable speed – even reverse.
But EFU-1 is more flexible than hardware devices: while a frozen audio segment is played back, the delay unit remains useable – even at a different delay time / sync divider! Also to hold and freeze a signal it is possible to first choose 'record' and then send audio to the plugin, or you continously play thru the delay and if the 'last loop' was interesting, you hit 'Record' to freeze it!
And while the recorded phrase is played back – even reverse, you may continue to play along with it thru the delay at a different time setting. By the way: feedback can be cranked up until nearly endless, and in millisecond mode, the delay time can be changed smoothly from many seconds to very short – producing these famous dub sounds!"
Price: 29 EUR
December 14, 2010 · Posted in
Uncategorized
·
Comments Off

on Telefunken Echomixers
The Telefunken Echomixer is a interesting German mono mixer from the year 1961. A great vintage piece with old discrete comoponents (old transistors, no tubes). It is a Mixer + an amazing spring reverberator. the first A channel is dry, and on B and C you can select the spring reverb amount between the two lower sliders.
Overdriving the input sounds also nice. I did this with a Roland TR-606. In the video I also play a Korg MS-20 through the Echomixer.
The Echomixer has only DIN jacks (they look like MIDI jacks).
It was used by Klaus Schulze.
October 26, 2010 · Posted in
Uncategorized
·
Comments Off

on Last sneak before the release of NastyDLA
NastyDLA – a classic chorus echo device with tape-delay simulation.
The device enables:
classic chorus and echo effects
authentic signal path coloration
tape-delay style feedback and saturation

NastyDLA – a classic chorus echo device with tape-delay simulation
Plug-in specification:
input stage model including signal coloration and non-linearities (switchable)
classic chorus/flanger effect with amount and rate control which automatically adopts to the delay line configuration
frequency balancing filter for dead-easy overall tone adjustments in the feedback path
two different feedback color modes
feedback circuit and control which supports resonance up to self-oscillation
standard DSP 12dB high-pass filter
custom "tape style" low-pass filtering
sophisticated "tape hiss" noise simulation
negative or positive pre-delay
comprehensive tape dynamics simulation taken from the core of the award winning FerricTDS
the dynamics offers a slight audio ducking effect (switchable)
two independent delay lines with up to 3sec delay time and sync to host
delay time modulation with two different modes
additional phase distortion (switchable)
audio level metering display
dry/wet controls plus "wet only" option
power / bypass switch
all parameters available through host automation
NastyDLA is a Windows x32 release for VST compatible applications and will be available as freeware early November.