"Rene, Make Noise's Cartesian sequencer, continually surprises me by generating unusual and strangely emotive melodies in bizarre time signatures. I powered up my modular to find this rather forlorn sequence conjured from nowhere in particular. For some reason it reminded me of the more ambient side of Autechre so I should probably put a beat behind it and call it Tarnwater or Sliverfoil or something…"
Awesome bleeps and bass sounds

diamond version – empowering change
Debut EP from 'Diamond Version'
RELEASE 24 SEPT (25 Sept US)
www.diamondversion.info
www.mute.com
@Diamond_Version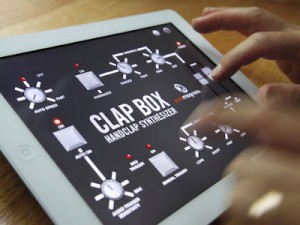 Now you can put the legendary Simmons Clap Trap right in your pocket or backpack! The Clap Trap was an iconic 1980s "Handclap Synthesizer" whose unique sound can be heard across much of early electronica
Clap Box is a perfect emulation of the classic 1982 Clap Trap. It is inspired by all of the cool sounds of the original, the same programming logic, plus more modern enhancements like MIDI trigger and BPM matching. So put a legendary handclap synthesizer right in your pocket or backpack and check out Clap Box today!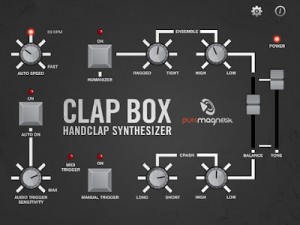 Clap Box Features
• Authentic emulation of the original Clap Trap
• Audio Trigger via your device's built in mic – just clap your hands in realtime to trigger!
• Full MIDI support over WiFi
• Auto Speed triggers at BPMs up to 300
• "Humanize" function creates random variations"
Free for iPad and iPhone:
Clap Box – Puremagnetik
"Live-Mode" is the latest manifestation of experimental hardware only performances from Henry Homesweet.
Nice experimental electronica with Analog Girl, enjoy
credits: Video Courtesy of Julius Landau (2xJump Media)
A slower, relaxing electronic ditty featuring:
TR-909: "Balearic-style", relaxed electronic beat
SH-101: smooth, "Moog-like" synth bass
W-30: custom-made Syn Vox / Piano split patch
Man Descends by Android Lust. Live footage from shows in Denver, New Orleans, and Tulsa during the Viscerex Duplex tour. Audio is a two track mix direct from the board in Denver. Video shot by Alaster Warring.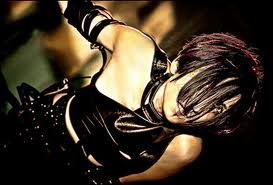 Android Lust is the solo project of Shikhee, that combines elements of rock, electropop, electro-industrial and classical styles into a blend of music that is often described as "electronic and dark". Her fourth album, "The Human Animal", was made available at www.androidlust.com on July 22, 2010, with an official street date of August 10, 2010.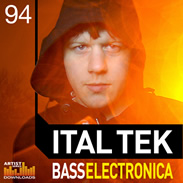 Loopmasters has released Ital Tek – Bass Electronica, a collection of bass driven samples and electronica from Ital Tek, an influential and current producer from the bass and dubstep scenes.
From Punchy Dubstep Beats, Dub Tech Synths, Slow Breaks, Drum Machine Beats, Dissonant Bells, Distorted Sequences, Moody Strings, Live Beats, Dub Sirens Lazers and more – this is a fantastic and unique collection from a producer whom we consider to be on top of his game and creating an influential sound which transcends genres.

Bass Electronica from Ital Tek weighs in at 955MB and includes 465 24Bit Samples, including 228 Loops between 80 – 140 Bpm, and 236 One Shot Sounds. Also included are no less than 120 ready to play patches for Reason NNXT, Halion, Kontakt, EXS and SFZ compatible soft samplers. Apple Loops, Reason Refill and Ableton Live versions are available to purchase separately.
Ital Tek – Bass Electronica is available to purchase for £29.95 GBP. The loops pack and single shot samples & sampler patches are also sold separately for £16.95 GBP each.
24Bit Qualty
955Mb
42 Bass Loops
90 Synth Loops
96 Drum Loops
6 Bass Hits
2 Multi Sampled Bass Instruments
100 Drum Hits
9 Mutli Sampled Synth Instruments
40 Fx Shots
11 Synth Hits
21 Pad Sounds
242 Rex2 Files
120 Soft Sampler Patches For Kontakt, Halion, Nnxt, Exs24 and SFZ Formats
Mouse on Mars "iMatch" (MTR022) – Out on Feb 24 by Modeselektor
This is how the new Mouse on Mars will sound like… (feb, 24th – release of the new album)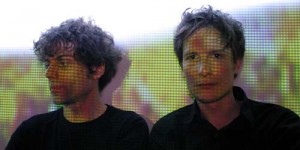 Here's a recent news item on the upcoming album:
Over the course of ten albums – not to mention an avalanche of side projects, remixes and collaborations – Jan St Werner and Andi Toma of Mouse On Mars established themselves as two of the most inventive and unpredictable artists in electronic music.
In 2012 Mouse On Mars's triumphant return comes in the shape of Parastrophics, a life-affirming and constantly surprising album which is crammed with ideas, exuberance and sheer kinetic energy. It's like listening to the entire history of pop music – distilled, refined and crystallized into a string of compulsive new shapes, full of glitter, intrigue and addictive detail. Atomised fragments from two lifetimes of listening flare and fade, tiny scraps of memory shrapnel hover, tantalizing and insubstantial, before being whisked away by the next impatient idea.
But despite all that restless curiosity, Parastrophics also demonstrates a peerless command of pace. Whereas some previous Mouse On Mars releases have bordered on the frenetic, their latest displays a subtle but persuasive sense of control. Even when tempos climb, 303s squirm and kick / snare patterns snap to brisk attention, there's an elegance to the way that each element slips in and out of the mix which speaks, whisper it, of maturity. Parastrophics is as a playful as ever, but it's never throwaway. The closing "Seaqz" is the perfect illustration, a frenetic romp which is perfectly held in check by gracefully undulating melodies; it brings into focus the beguiling sense of confidence that suffuses the whole record. All of which is a roundabout way of saying that – after six years away – Mouse On Mars have come back with their best record yet.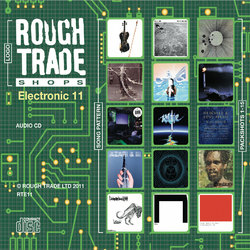 Rough Trade Shops' latest compilation, Electronic 11, is due for release on the 16th January and looks set to be rather good. It gathers together a nice selection of music we've been posting about over the past year – everything from the synth-pop styles of Ford & Lopatin and John Maus through Azari & III's fat, disco-leaning house to some bleak, bracing industrial/noise from the likes of Pansonic and Ekoplekz.
22 tracks, full sleevenotes. exclusive limited edition varnished sleeve available from rough trade shops only. the new rough trade shops compilation cd is aimed squarely at the new year. shiny, fresh, clean and minimal electronic music in your earphones provide the perfect soundtrack for the cold and frosty early january. as rob young writes in the sleevenotes – check emeralds' mark mcguire's glowing 'alma', which begins with a hymn; or nicolas jaar's incantatory 'space is only noise if you can see', like a dubbed-out depeche mode. at the other end of the scale, prurient and keiji haino (in tandem with finnish sub-bass spelunkers pansonic) use the full throated roar and the abject howl of the avant garde and the hardcore. meanwhile, compare rustie's dense 'hyperthrust', with its micro-events folded up and crammed into milliseconds, with alva noto's 'uni deform' bitcrush collision, which emerges from the rarefied world of conceptual sound art. marcus schmickler, who can occasionally be found making exploratory post-rock as pluramon, sends your ears down a labyrinth of no return with the abstract operations of 'discordance axis', closely followed by ekoplekz's hallucinatory tone-scrub, jarring and alienating as an mk-ultra mind-control experiment. in 'and the world laughs with you', brainfeeder's shapeshifting boss flying lotus invites thom yorke to jack into a cybernautical call and response session. even the most outwardly conventional track here, hercules and love affair, has its house 4/4 scraped and sandblasted with gravelly patches of digital irritant. ford and lopatin's 'emergency room' is like some unearthly fusion of scritti politti and heaven 17; john maus's swooning portamento synthi-fanfares summon up the fairlight manoeuvres of the thompson twins and blancmange. azari and iii's 'manhooker' transports you back to sun-up at some orbital rave at the very close of that strange plastic decade" comprising sound art, dubstep, chill-wave, witch house, electro-pop, digital hip hop, tech-minimalism, electro-house, and metal-machine music supplied by labels such as editions mego, warp, blastfirstpetite, raster-noton, type, skam, tri angle and more. rte11 is selected by the staff at both london shops and is, stylistically, as varied a set of tracks that you would expect from us.
The full tracklist runs as follows:
Rene Hell – 'Oxford Meter End'
Nicholas Jaar – 'Space Is Only Noise If You Can See'
Flying Lotus – '& The World Laughs With You ft. Thom Yorke'
Shackleton/King Midas Sound – 'Deadman (Death Dub)'
Ayshay – 'WARN-U'
John Maus – 'Head For The Country'
Ford & Lopatin – 'Emergency Room'
Rustie – 'Hyperthrust'
Hercules & Love Affair – 'My House'
Azari & III – 'Manhooker'
Modeselektor – 'Evil Twin'
Death Grips – 'Guillotine'
Sensational meets Koyxen – '+weekend2 (remix work)'
Alva Noto – 'Uni Deform'
Anne James Chaton – 'Pop Is Dead'
Marcus Schmickler – 'Discordance Axis'
Ekoplekz – 'Critical Condition'
Pansonic & Keiji Haino – 'If I Could Incarnate This Feeling Would You Consider It A Creation'
Prurient – 'A Meal Can Be Made'
Solar Bears – 'Twin Stars'
Mark McGuire – 'Alma (Reprise)/Chances Are'
Ben Frost – 'O God Protect Me'