MFB has updated their site with details on the Dominion-X synthesizer.
The MFB Dominion-X combines analogue synthesis, programmability and modular patching.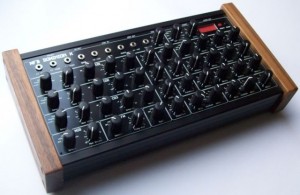 Features:
Programmable Analogue Synthesizer
3 VCOs with wave shaping and ring modulationDual-Sync and Dual-FM features
6-fold multimode-filter including 3 low pass configurations with 12/18/24 dB
patch-section for external CV/Gate-control
Velocity routing matrix with 11 destinations
3 LFOs with 2 LFOS offering one-shot-modes and reset
The MFB Dominion-X is priced at 780, Euro.
Audio demos and details below.
The MFB Dominion X offers three oscillators for maximum flexibility. Each waveform can be varied in symmetry. Besides altering the pulse width of a rectangle, you may also continuously turn a saw tooth into a triangle and a triangle into a sine.
All oscillators also offer ring modulation. In addition, VCO 2 and VCO 3 can be synced to VCO1.
Finally, VCO3 can modulate the frequency of VCO 1 and VCO 2. The analogue oscillator circuit is processor-controlled for stable tuning.
To complete the available sound sources, noise or an external audio input can be added to the VCOs in DOMINION X's mixer section.
The filter offers six operation modes. Available are three low pass variations with 12, 18 and 24 dB/oct. slopes. Also available are high pass-, band pass and a notch filter with slopes of 12 dB/oct. respectively 6 dB/oct. Variable filter modulations are possible via an invertible envelope, keyboard tracking, LFO, VCO, different MIDI controllers as well as by the use o the CV-input.
The two ADSR-type envelops are internally routed to the VCF- and VCA-sections. In addition, envelope 1 can also modulate the VCO section. LFOs 1 and 2 offer six waveform shapes including sample & hold. They may be switched to one-shot-modes to emulation simple envelopes. A third sine-LFO works in combination with a keyboard's modulation wheel and can dynamically address the VCO, VCF and VCA sections.
Modulations are assigned by the use of selector switches, located at the destinations. This allows easily setting and re-routing internal modulation paths – ideally for your live-performance.
To integrate external modulators, control- and audio sources, DOMINION X offers nine inputs. Therefore, oscillators, filter, VCA, CV/Gate and mixer can be easily combined with other analogue synthesizers such as MFB's MEGAZWERG, analogue sequencers such as MFB's URZWERG PRO or modular synthesizer systems.
An additional selector switch allows assignment of velocity for up to eleven modulation destinations.
The MFB Dominion X offers 128 programmable patches. To support sound programming without an attached keyboard, different demo sequences are available. To use The MFB Dominion X as a filter box for external audio sources, the VCA can be opened permanently. Finally, there is an insert available to integrate an effect or distortion unit into the signal path.
The MFB Dominion X has the following dimensions: 330 x 170 x 60 mm. An external power supply is included.
Here's a new video featuring some of the intense raw sounds of the recently released MiniBrute at the NAMM show
http://namm.soundsandgear.com we were able to capture some direct sound from the Arturia MiniBrute…this thing is a little monster! Very raw sounding synth.
Checking out the monster digital modular synth from John Bowen called Solaris
Background information:

From the beginning, the singular mission for Solaris has been to create nothing less than John Bowen's personal vision of the ultimate, dream-come-true synthesizer. A vision that draws upon more than three decades of experience in synthesizer design with legends like Moog Music, Sequential Circuits, the Korg Wavestation series and renowned software synthesizers for the original Korg OASYS and Creamware Scope platforms. And it's a vision to create a truly musical instrument masterpiece that is shared with some of the world's foremost synthesizer connoisseurs like film composer Hans Zimmer who is renowned for always seeking the utmost in sound creation capabilities.
4 Oscillators, each with several types available:
MultiMode, WaveTable, CEM, WAV (sample playback),
VS (single cycle waves), Mini
4 Filters, each with selectable Inputs. Filter types are:
MultiMode Lowpass, 24, 18, 12, 6 dB, Highpass 24, 18, 12, 6 dB, Bandpass 24 dB, Comb (2 types), State Variable 12 dB LP, HP, BP, & BR,SSM Lowpass 24 dB , Mini (Ladder) Lowpass 24 dB, Vocal Formant
2 Vector Mixers, 2 Rotors (special 4-step waveshape sequences),
2 AM sections (includes Ring Mod)
6 DADSRs, 1 8-stage loopable envelope
4 free LFOs, 1 Vibrato LFO. Each LFO features delayed start,
fade in and fade out times, key sync and Phase control
Phaser, Chorus/Flanger, Phaser, Delay, 3-band EQ effects
We had a teaser video of the new hardware synth from up earlier this week, now we have a name, some specs and lot's of pictures to enjoy, below are some of the key features:
Voltage controlled oscillator
25 key keyboard with aftertouch
Steiner-Parker multi-mode filter
Innovative analog Ultrasaw , Metalizer , Brute Factor technology
14 faders and 29 knobs
Rich interface, CV , Gate , USB , MIDI
Advanced arpeggiator
Rugged metal housing
"MiniBrute is Arturia's new analog synthesizer. With a pure analog signal path and several innovative features, it sets a new standard for what a hardware synthesizer should be. The pure analog, multi-wave oscillator combined with a huge sounding classic multi-mode filter, and wide range of modulation capabilities will bring new life into your recordings and stage performances. Add to that outstanding features like the Ultrasaw, Metalizer, Brute Factor™, Arpeggiator, LFO with sample & hold, full USB/MIDI/CV connectivity; all of which are housed in a rugged metal enclosure and it is almost too brutal to think about!" – Arturia
For more info: arturia.com
According to sources the analog design was made by on of the french SDIY specialist Yves Usson. [aka Yusynth]. The filter is also popular in the modular community include clones by various manufacturers and the new Steiner Synthasystem modular by Nyle Steiner himself.
More info as we get it

Here is an introduction to the demonstration of the Dewanatron Novitiate- a one-of-a-kind instructional synthesizer designed by Dewanatron for the Bob Moog Foundation. The music you'll hear in the video was created entirely with the Novitiate (except drums, of course).
Here's a good bass check up from one who I believe knows what he's talking about when it comes to comparing real Moogs to softies:
Animoog Taurus bass impression, compared with "Taurus" presets from the Moog Little Phatty, and Arturia Minimoog V. $1 vs. $1300 vs. $200.
First thing I worked on with the Moog Animoog iPad app, was programming a passable Taurus-type bass sound(two saws, octave apart, detuned slightly). There is mojo coming from both the Little Phatty and Arturia Minimoog that I couldn't capture, but I feel like this'll do a pretty good job in a pinch.
To program the sound, this is what I found:
1. Build off of a static saw Timbre. "StaticFatSaw1" is good. Putting a "Sine" wave, or "OctaveSaw" in the Timbre slot next to it gives some good variation moving around on the X/Y pad.
2. The key for me to getting the vibe in the right ballpark was forcing the synth into mono operation, and using the "Detune" control to separate the saw into two separate octaves. This can be accomplished in two ways I've found:
-(preferable) "Unison" set to "4", "Detune" set to approximately "8", and ONLY use the Left audio output from the iPad(I used the "tip" side only of a stereo 1/8″ TRS to dual mono 1/4″ TS cable, coming out of the headphone jack)
– "Unison" set to "2", and "Detune" very slightly under "10". This'll sound alright coming out of the iPad speaker, but is less flexible, and would be difficult to perform with.
3. all Orbit, Path, Delay settings to "0"
4. approx. fiter settings: Drive "10", Env. "0", Freq "5.3", Res. "1" – maxing out the filter "Drive" seemed to be a key to getting the right amount of "spit" in the sound with the filter wide open.
5. approx. Thick settings: Crush "0", Drive "2.5"
6. I zeroed out all Mods, except for one, that makes the poly-pressure open up the filter freq:
– Source off, amount "0"
– Control poly-pressure, amount "+33"
– Destination: filter-freq
7. Setting the KB scale to "Chromatic" with "Mono" and "Legato" makes the on screen keyboard act as I would expect. "Cor" at "10", "Glide" around 45%.
All three Synths recorded straight into Steinberg MR816csx. Levels adjusted slightly, no additional post processing.
The Space Station, or SST-282, was described as a "reverberation effect." It could apparently get reverb times of up to 3.5 seconds. This may not seem like a particularly long time by modern standards, but it was a huge achievement given the architecture that was used. In the SST-282, the reverb effect was obtained by using a single delay line, with 15 output taps from the delay buffer summed and used for feedback, and an additional 8 taps used to monitor the delay line. Multitap delay lines such as this, where several taps are summed and used for feedback, can quickly reach a high reflection density. However, they are notoriously unstable, with the maximum feedback gain being allowed under conventional circumstances being equal to 1 divided by the number out output taps.
The heart of the new Space Station is a single 140MHz Motorola DSP chip programmed with faithful recreations of the original Space Station's algorithms, some updated versions, plus the new Room reverb. The unique aspect, though, is that the unit is packaged in a slim panel with wooden side cheeks, which is designed to sit on a desk. It measures just 165 x 127 x 150mm (hwd) and weighs next to nothing, with a four-metre connecting cable which terminates in a pair of XLR connectors and a compact universal mains power supply. The latter accepts the usual IEC mains lead and operates on AC voltages from 90V to 260V, consuming less than one Watt of power.
Audio connections are provided only in digital form, with stereo AES input and output provided on flying XLR connectors. The SST206 is a stereo output device, like the original, but where it differs is that it accepts a stereo source where the original was a mono-input device. However, the stereo input is a convenient by-product of adopting the AES input format, and the stereo input is summed to mono to feed the delay/reverb processor. A dedicated Dry Level control allows a percentage of the stereo source signal to be passed through to the stereo outputs, if required.
The unit is optimised for use at a 48kHz sampling rate with 24-bit resolution. It will also operate happily at 44.1kHz and even 32kHz — although the control calibration will be inaccurate at these lower sample rates since the delay and decay times are related to the sampling rate. Similarly, it can also be used at 88.2kHz and 96kHz (but only with the SST Reverb and Echo programs), with proportionally shorter delay and decay times again.
"This is a song made entirely from a Chroma Polaris synthesizer (with a bit of FX during mixdown). Not the most thrilling video from a visual perspective (these are just some pics I had taken awhile back for an eBay auction), but uploaded mostly for an example of its sound."
Hardware close up: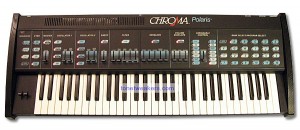 The Chroma Polaris was the second synthesizer made by Fender/Rhodes after they took over ARP, following their classic Rhodes Chroma. It has a classic analog ARP-like sound, kind-of tinny but also fat. Sounds can be layered up to 6 voices. It has typical analog synth controls including a cool 'sweep' knob for sweeping through the LFO or analog filter cutoff parameters. It also has a simple real-time sequencer and 132 memory patches.
There's also a nice and colorful layout with sliders similar to Roland Juno synths, membrane push-buttons and a large velocity sensitive 61-note keyboard making the Chroma Polaris a very nice synth. Fully MIDI-equipped, the Polaris will transmit and receive all its edit controls through MIDI as well as the ability to play up to three patches at once. Unfortunately they are rare and usually hard to find.
A nice run through of the UltraNova filmed by Sweetwater
Brand new Nova-series synth engine based on Supernova II:
• Single part with up to 18 voices, 14 filter types, 36 wavetables, 5 effect slots
• Patch Browse enables you to browse 300 sounds by type & genre
Touch-sense controls enable totally new sound-shaping & performance:
• Trigger envelopes/LFOs/filters/FX by just touching the encoders
• Large rotary control instantly allows you fine control of any parameter
Totally gig-able with 37 full sized keys, a vocoder, and loads of controls:
• Voice optimized 12 band vocoder with gooseneck mic
• High quality key bed with aftertouch for expressive playing styles
Software plug-in editor and Patch Librarian for full visual editing:
• Plug-in editor allows you to view and edit in with software
• Software Patch Librarian a organise, store and share unlimited patches
Built-in 2 in 4 out USB audio interface and it can be bus powered:
• UltraNova can be used to stream audio to and from a host computer
• Stereo main (analogue & SPDIF) and aux outputs, and MIDI in/out/thru ports
Only at MusikMesse you may sometimes encounter a manufacturer of analog synthesizers focusing solely on buttons and knobs. The Challenger 'a device with four oscillators, two filters, two way audio and panel-style recliner Minimoog. The price, once in the marketing of the series, should be very interesting. Appears to have been designed by Hans-Joachim Helmstedt and to be a boutique synthesizer now under development