Korg iMS-20 on iPad: "MS-step" dubstep demo
A short but interesting dubstep track made with iMS-20 app on the iPad. I use automation to change the tempo-based LFO speed on the bass to create the typical wobbling effect.
More in-depth tutorials coming your way from the Propellerhead studio
After watching the first two Synth School videos you've probably realized that the entirety of synthesizer sound design is simply about taking a basic sound wave and reshaping it with basic tools like filters, amp envelopes, phase, other oscillators mixed in, etc. This week we'll look at the final piece of the SubTractor puzzle: LFOs and Performance Modifiers. When you're done this video you will have everything you need to start creating some seriously unique SubTractor patches. More importantly, you'll be ready to tackle the more complicated Malström Graintable synthesizer.
Next week I think you'll be surprised with how much you already know about it having built a strong foundation in a fundamental synth like SubTractor.
A nice demo via deadlover73
Heres a one oscillator patch with the Piston Honda
Synth.com / MOTM modules create most of the modulation sources, 3 LFOS in total.
Also used: S&H, wogglebug , Maths , doepfer 156 quantizer and 132 vca
MFOS sequencer and RCD providing clocking…
Aceess Virus Snow is used for delay and reverb
Design the Media has introduced version 1.5 of LFO everything, a Max For Live device that lets you add an LFO to control any device parameters in Ableton Live.
Features:
Updates free for all buyers.
Tempo synced or not.
Waveforms drawable.
Easy to use & user-friendly.
Control LFO by LFOs by LFOs…
LFO everything is available now for 8 EUR.

A small demo showing basic functionality of my new ipad app "synthmate".
"This panel exposes the synth parameters available for editing and assigning to the y-axis. These include a selection of wave types for both the source oscillator and LFO, volume, delay time and feedback, LFO destination (amp or frequency), LFO frequency and LFO amplitude. The user can also assign the y-axis of the control surface to control one of these parameters (except for LFO destination)." – synthmate.com
Our friend 7thDanSound has yet again released a couple of nice demos, enjoy
"This is a demo of how the Sawtooth Animator sounds when fed somewhat unusual inputs. It works surprisingly well with triangle and sine wave forms but I also try noise, dual oscillators, drums and chords from an Elektron MonoMachine"
"This video is a showcase of the Cyndustries Sawtooth Animator module using the LFO outputs. It has six of them and they are derived from what ever you put into the module. The speed of the LFOs vary with the input and if there is no input at all the LFOs stop so they can sort of be used as a crude sample and hold"
"This video shows how the Synthesizers.com Q106 oscillators behaves when synced to another oscillator. I have the oscillator aid module too and use its soft sync input to show how that works. I finish off by showing how voltage controlled sync works."
This is a Frippertronics style demo of SynthPad  - a new iPhone instrument inspired by the interface of the Korg Kaossilator family of devices.
Instead relying on piano keys to register notes, SynthPad uses a dedicated touch surface to control the sounds. Additionally the Y-Axis on the touch surface can be used to control different parameters, like filter cutoff and LFO values, making it an "expressive little toy."
Its sound engine is a fully programmable monophonic virtual analog synthesizer. Among its parameters one can find:
2 oscillators with different wave shapes
Fine tuning of the second oscillator
Volume Envelope
LFO modulation
A Low-Pass filter
Filter Envelope
Arpeggio
Additionally, the scale and the key on the touchpad surface can also be configured, for live improvisation.
SynthPad is available now in the App Store for $1.99.

- external analog LFO processor
- generates an LFO and bend signal that can be mixed together
- LFO and bends controlled by hand, by foot pedal (active/passive) or by control-voltage
- for Moog minimoog, Yamaha CS80, CS60, CS50, ARP 2600 and all other synthesizers having external inputs for vco, vcf or vca control.
- LFO depth and rate can be controlled at the same time by one single movement !
- adds vibrato, wah-wah, tremolo, pitch bends or other modulations to your synthesizer
- allows mixing of a sequencer-cv with your synth's keyboard-cv so you can transpose sequences in real-time
- allows attenuation and mixing of cv's. Control the filter cut-off frequency of your ARP 2600 with a knob that's just in front of you or add variable keyboard-tracking to your ARP 2600 !
- fits on top of your ARP 2600 keyboard, minimoog keyboard etc.
- LFO range from 0,2 Hz up to 275Hz
- selectable triangle- or square waveform
- runs on batteries (2x 9V) or dc-transformer
- The Yamaha CS80's keyboard aftertouch can control LFO-depth and LFO-speed at the same time. If you've ever played a CS80, you will know how much emotion this adds to your music. However, applying aftertouch on the keys doesn't allow for fast playing. By connecting the LFO-expander to the external input, you can control the LFO- depth and speed with a foot-pedal and control pitch, filter or volume on a new manner.

- If you own a Yamaha CS50 or CS60, you can control LFO depth by applying aftertouch but you can't control LFO-speed. By using the LFO-expander you can and introduce CS80-like effects on these synthesizers.

- For minimoog owners, if you want to use a LFO, you have to use oscillator 3 for this purpose since there's no dedicated LFO on the minimoog. That means you can only use osc 1 & 2 as a sound-source. When connecting the LFO-expander to the vco-input, you have your long-waited-for LFO and make 3-oscillator sounds!

- Almost every analog synth featuring cv-out & cv-in connectors can profit from the LFO-expander for pitch-modulations: simply connect the cv-out to an input of the LFO-expander and connect the output of the LFO-expander to the cv-in of your synth. Now you can apply vibrato or pitchbends by simply pressing the pedal connected to the LFO-expander or by manually turning the knobs on the expander. Many analog synthesizer do have cv-in & cv-out or vco-control: ARP (Odyssey, ARP 2600) Moog (minimoog, prodigy) Roland SH-series, Promars Yamaha CS-series (CS10…..CS80) Simply check the inputs of your synth !
Substance is a virtual analog software synthesizer (VSTi) emphasizing simplicity, flexibility, and sound quality. The key factors in the design of Substance were that it should sound great, without effects, and that it should all fit on one page.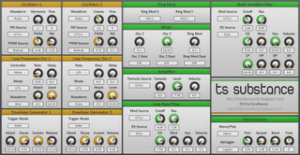 Here's what TS has to say about it:
Substance has two of everything: two oscillator sections, two LFOs, two envelopes, two filters. The oscillator sections were inspired by the architecture of classic analog polysynths, which used multiple oscillators to achieve polyphony, but allowed the oscillators to be combined for a monophonic Unison mode. The oscillators would generally be slightly out of tune with one another, resulting in a rich, chorused sound. Each of Substance's oscillators likewise comprises seven unison voices, with the amount of detuning, and the stereo breadth being adressed by a single parameter, Spread. The LFOs can be used to modulate almost every parameter of the synth. They can be used to trigger the envelopes, to modulate the frequency and pulse-width of the oscillators, the cutoff frequency of the filters, and the volume of the amplifier. LFO-1 can be switched between free-running, tempo-synced, and key-synced modes. A manual is included in the download link, detailing all of the other features.

If you enjoy using Substance, please consider making a contribution in some form – money, music, and patches would all be received with gratitude.

Many thanks to Limeflavour, for the sleek GUI, and to Ingo Weidner and Ouroboros for their fantastic patches and valuable feedback. Thanks also to the KVR community for support and encouragement during the testing phase.

Substance was made with SynthEdit, and uses modules by Chris Kerry, Dave Haupt, and Kelly Lynch.
Tactile Sounds Substance Demo by Tactile Sounds
Download TS-Substance.zip
Download TS-Substance Patches.zip – Includes 96 patches by Ingo Weidner,  38 of which were not included in the factory bank. Also an Init bank for sound designers, and a copy of the Factory bank.