A quick demonstration of Yves Usson's Voltage Controlled Quadrature LFO.
In this video:
I sent each quadrant into a separate oscillator . The same voltage was split with a "Y" cable and sent to adjacent amplifiers. For instance, if the voltage from zero degree was sent to oscillator one then the same voltage was sent to amplifier two which had the 90 degree oscillator running through it. The voltage from 90 degrees was sent to oscillator two and the same voltage was sent to amplifier three, etc..
This made the quadrature become the delay envelope to the rising/falling portion of the next quadrant pitch only. When the "direction" switch was thrown, the pitch changed direction from rising to descending.
In this demo the voltage control (FM INPUT) was not used. This is a powerful feature which Yves built into the design.
British electronic music label Warp Records have recently been adding a large chunk of their back catalog to Spotify. Boards of Canada will be a welcome addition for many, but as a long-time fan of the label there are several other new additions from the Warp archive that I think are well worth checking out.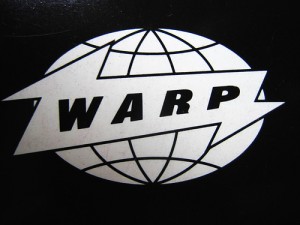 Here are but a few examples as recommended by Spotify:
Boards of Canada – Geogaddi
Edinburgh's finest IDM band Boards of Canada finally arrive on Spotify, with both Twoism and Geogaddi now available. They're sometimes a bit too ambient and IDM for my tastes, but they're one of Warp's biggest bands and a group who's absence from Spotify was often lamented.
Broadcast – The Noise Made By People
Broadcast are one of my favourite bands and this is perhaps their finest album. Available now for the first time on Spotify, The Noise Made By People is psychedelic sixties electro that's at turns ethereal, haunting, timeless and retro-futurist.
I was so sad to hear that lead singer Trish Keenan had died after catching swine flu a few months ago. Her voice was quite unique and I'll never tire of listening to this album in particular: it means a lot to me.
Red Snapper – Reeled and Skinned
Warp band Red Snapper added jazz and other "real" instruments to the electronic mix of Warp's mid-90s sound. I'm no fan of jazz but I loved Reeled and Skinned when it came out, with its dirty sax and intricate drumming. You could say I was hooked
The Sabres of Paradise – Haunted Dancehall
The Sabres of Paradise (and later Two Lone Swordsmen and The Aloof) were bands whose singles and albums I all eagerly bought back in the 1990s. The Sabresonic sound is dubbed-out dance music with a heavy dose of electro-experimentation; 1994′s Haunted Dancehall is probably their triptastic classic.
LFO – Frequencies (Stereoklang personal favorite)
The Low Frequency Oscillation kick-started the whole Warp success story, with the single LFO hitting the UK Top 20 back in 1990. It might sound a little dated in parts now, but just you wait for the forthcoming acid house and techno revivals…
Dark Energy, a monophonic desktop synthesizer conversant in Volts, MIDI and USB. With a single oscillator, low-pass filter and ADSR envelope plus two LFOs, its feature set looks fairly basic, but to encourage modular fraternisation, it adds a cluster of patch connections. The Dark Energy has three internal sources of modulation: two LFOs and an ADSR envelope. The LFOs offer just triangular or rectangular waveforms and each has a red/green LED, the colours shifting to track the phase of modulation. Low, medium and high frequency ranges may be selected, the latter hoisting LFO frequency to around 5kHz. Modulation at audio rates is your ticket to pseudo-ring-mod atonality, whilst the slowest ("up to a minute") LFO speed is ideal for those slothful moments. The envelope is entirely conventional, with just one slight twist. It has three operational ranges scoped for precise, short envelopes, envelopes suitable for solos or general performance, and long drone-type settings. Droners everywhere take note: the maximum attack time is almost a minute.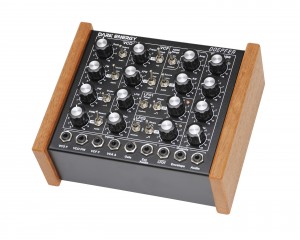 In this video:
Controlling Analogue Solutions Telemark's filter with Doepfer Dark Energy LFO. Dark Energy has an incredibly high LFO rate and can make for some interesting sounds when paired with the Telemark.
Gear used:
Analogue Solutions Telemark
Doepfer Dark Energy
Vermona DRM1 MkIII
With a solid foundation of synth theory and even Thor's fundamentals under your belt, this week we'll be diving deeper into the filter types in Thor – looking at the State Variable Filter, the Comb Filter, and the Formant Filter. You'll also learn about the self-oscillator included with some of these filters. From there we'll move through Thor's semi-modular signal path to see how you can tap into the sound-bending power of the shaper, the mod envelope, and the Modulation Matrix.
As with all of these Synth School videos, the knowledge in here builds heavily off of previous tutorials so if you're jumping in to this one first I can highly recommend looking at past weeks to get a better understanding of the advanced concepts we're covering here.
Also: Don't forget to get your cap and gown measurements to the principle's office because graduation from Synth School is next week!
LFOTool is a VST and AudioUnits plugin (32 and 64-bit) which syncs up to your sequencer with sample-accuracy, and allows you to draw custom shapes for one or more graphs (up to 12) and perform rhythmic effects (autopan/trancegate/autofilter/tremolo/sidechain-simulated ducking, and more). LFOTool will be $24.95 but *FREE* with purchase of the xferrecords EP "Fish", released March 22nd on beatport.com
More info:
"LFOTool is an FX utility plug-in for VST and AudioUnit hosts for both Macintosh OS X® and Windows®. It empowers music producers to create tremolo, auto-pan, trance-gate, side-chain compressor simulation, and dubstep-type wobble effects with minimal effort.
LFOTool will process incoming audio as well as generate a MIDI message stream for controlling other instruments.
This unique plug-in also allows users to sculpt custom LFO curves and shapes and comes equipped with dozens of presets to achieve desired results quickly.
Consistent with other products in Xfer Records' software lineup, LFOTool is coded entirely in C++ in order to minimize the CPU load during operation.
LFOTool will cost $24.95.
Korg iMS-20 on iPad: "MS-step" dubstep demo
A short but interesting dubstep track made with iMS-20 app on the iPad. I use automation to change the tempo-based LFO speed on the bass to create the typical wobbling effect.
More in-depth tutorials coming your way from the Propellerhead studio
After watching the first two Synth School videos you've probably realized that the entirety of synthesizer sound design is simply about taking a basic sound wave and reshaping it with basic tools like filters, amp envelopes, phase, other oscillators mixed in, etc. This week we'll look at the final piece of the SubTractor puzzle: LFOs and Performance Modifiers. When you're done this video you will have everything you need to start creating some seriously unique SubTractor patches. More importantly, you'll be ready to tackle the more complicated Malström Graintable synthesizer.
Next week I think you'll be surprised with how much you already know about it having built a strong foundation in a fundamental synth like SubTractor.
A nice demo via deadlover73
Heres a one oscillator patch with the Piston Honda
Synth.com / MOTM modules create most of the modulation sources, 3 LFOS in total.
Also used: S&H, wogglebug , Maths , doepfer 156 quantizer and 132 vca
MFOS sequencer and RCD providing clocking…
Aceess Virus Snow is used for delay and reverb
Design the Media has introduced version 1.5 of LFO everything, a Max For Live device that lets you add an LFO to control any device parameters in Ableton Live.
Features:
Updates free for all buyers.
Tempo synced or not.
Waveforms drawable.
Easy to use & user-friendly.
Control LFO by LFOs by LFOs…
LFO everything is available now for 8 EUR.

A small demo showing basic functionality of my new ipad app "synthmate".
"This panel exposes the synth parameters available for editing and assigning to the y-axis. These include a selection of wave types for both the source oscillator and LFO, volume, delay time and feedback, LFO destination (amp or frequency), LFO frequency and LFO amplitude. The user can also assign the y-axis of the control surface to control one of these parameters (except for LFO destination)." – synthmate.com