A small demo showing basic functionality of my new ipad app "synthmate".
"This panel exposes the synth parameters available for editing and assigning to the y-axis. These include a selection of wave types for both the source oscillator and LFO, volume, delay time and feedback, LFO destination (amp or frequency), LFO frequency and LFO amplitude. The user can also assign the y-axis of the control surface to control one of these parameters (except for LFO destination)." – synthmate.com
Our friend 7thDanSound has yet again released a couple of nice demos, enjoy
"This is a demo of how the Sawtooth Animator sounds when fed somewhat unusual inputs. It works surprisingly well with triangle and sine wave forms but I also try noise, dual oscillators, drums and chords from an Elektron MonoMachine"
"This video is a showcase of the Cyndustries Sawtooth Animator module using the LFO outputs. It has six of them and they are derived from what ever you put into the module. The speed of the LFOs vary with the input and if there is no input at all the LFOs stop so they can sort of be used as a crude sample and hold"

"This video shows how the Synthesizers.com Q106 oscillators behaves when synced to another oscillator. I have the oscillator aid module too and use its soft sync input to show how that works. I finish off by showing how voltage controlled sync works."
This is a Frippertronics style demo of SynthPad  – a new iPhone instrument inspired by the interface of the Korg Kaossilator family of devices.
Instead relying on piano keys to register notes, SynthPad uses a dedicated touch surface to control the sounds. Additionally the Y-Axis on the touch surface can be used to control different parameters, like filter cutoff and LFO values, making it an "expressive little toy."
Its sound engine is a fully programmable monophonic virtual analog synthesizer. Among its parameters one can find:
2 oscillators with different wave shapes
Fine tuning of the second oscillator
Volume Envelope
LFO modulation
A Low-Pass filter
Filter Envelope
Arpeggio
Additionally, the scale and the key on the touchpad surface can also be configured, for live improvisation.
SynthPad is available now in the App Store for $1.99.

– external analog LFO processor
– generates an LFO and bend signal that can be mixed together
– LFO and bends controlled by hand, by foot pedal (active/passive) or by control-voltage
– for Moog minimoog, Yamaha CS80, CS60, CS50, ARP 2600 and all other synthesizers having external inputs for vco, vcf or vca control.
– LFO depth and rate can be controlled at the same time by one single movement !
– adds vibrato, wah-wah, tremolo, pitch bends or other modulations to your synthesizer
– allows mixing of a sequencer-cv with your synth's keyboard-cv so you can transpose sequences in real-time
– allows attenuation and mixing of cv's. Control the filter cut-off frequency of your ARP 2600 with a knob that's just in front of you or add variable keyboard-tracking to your ARP 2600 !
– fits on top of your ARP 2600 keyboard, minimoog keyboard etc.
– LFO range from 0,2 Hz up to 275Hz
– selectable triangle- or square waveform
– runs on batteries (2x 9V) or dc-transformer
– The Yamaha CS80's keyboard aftertouch can control LFO-depth and LFO-speed at the same time. If you've ever played a CS80, you will know how much emotion this adds to your music. However, applying aftertouch on the keys doesn't allow for fast playing. By connecting the LFO-expander to the external input, you can control the LFO- depth and speed with a foot-pedal and control pitch, filter or volume on a new manner.

– If you own a Yamaha CS50 or CS60, you can control LFO depth by applying aftertouch but you can't control LFO-speed. By using the LFO-expander you can and introduce CS80-like effects on these synthesizers.

– For minimoog owners, if you want to use a LFO, you have to use oscillator 3 for this purpose since there's no dedicated LFO on the minimoog. That means you can only use osc 1 & 2 as a sound-source. When connecting the LFO-expander to the vco-input, you have your long-waited-for LFO and make 3-oscillator sounds!

– Almost every analog synth featuring cv-out & cv-in connectors can profit from the LFO-expander for pitch-modulations: simply connect the cv-out to an input of the LFO-expander and connect the output of the LFO-expander to the cv-in of your synth. Now you can apply vibrato or pitchbends by simply pressing the pedal connected to the LFO-expander or by manually turning the knobs on the expander. Many analog synthesizer do have cv-in & cv-out or vco-control: ARP (Odyssey, ARP 2600) Moog (minimoog, prodigy) Roland SH-series, Promars Yamaha CS-series (CS10…..CS80) Simply check the inputs of your synth !
Substance is a virtual analog software synthesizer (VSTi) emphasizing simplicity, flexibility, and sound quality. The key factors in the design of Substance were that it should sound great, without effects, and that it should all fit on one page.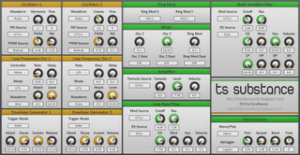 Here's what TS has to say about it:
Substance has two of everything: two oscillator sections, two LFOs, two envelopes, two filters. The oscillator sections were inspired by the architecture of classic analog polysynths, which used multiple oscillators to achieve polyphony, but allowed the oscillators to be combined for a monophonic Unison mode. The oscillators would generally be slightly out of tune with one another, resulting in a rich, chorused sound. Each of Substance's oscillators likewise comprises seven unison voices, with the amount of detuning, and the stereo breadth being adressed by a single parameter, Spread. The LFOs can be used to modulate almost every parameter of the synth. They can be used to trigger the envelopes, to modulate the frequency and pulse-width of the oscillators, the cutoff frequency of the filters, and the volume of the amplifier. LFO-1 can be switched between free-running, tempo-synced, and key-synced modes. A manual is included in the download link, detailing all of the other features.

If you enjoy using Substance, please consider making a contribution in some form – money, music, and patches would all be received with gratitude.

Many thanks to Limeflavour, for the sleek GUI, and to Ingo Weidner and Ouroboros for their fantastic patches and valuable feedback. Thanks also to the KVR community for support and encouragement during the testing phase.

Substance was made with SynthEdit, and uses modules by Chris Kerry, Dave Haupt, and Kelly Lynch.
Tactile Sounds Substance Demo by Tactile Sounds
Download TS-Substance.zip
Download TS-Substance Patches.zip – Includes 96 patches by Ingo Weidner,  38 of which were not included in the factory bank. Also an Init bank for sound designers, and a copy of the Factory bank.
Justin Robert launches Mothman Z3000, a virtual synth for Windows that is inspired by the Casio CZ-3000.
It also has the stereo chorus, noise and LFO just like the original CZ-3000. Also, there's an added switchable velocity feature that gives greater expression than the original CZ, and an added analog style filter on DCA2 to give even more sound options. You can also pan the different DCOs to give more stereo fx. But other than that, I kept it pretty faithful to the original synth.

There are 64 preset slots with 18 presets already created. The sound of this synth is very similar to the real thing. Real phase distortion synthesis is used, real eight point envelopes and a cool "Mothman" design.
"It's a 16 voice polyphonic synthesizer that features two Phase Distortion DCOs, two DCWs, and two DCAs all six feature the famous 8 point envelope section that made the CZ synthesizer so famous. You have the ability to make some of the most complex waveforms you've ever heard."
A quick video showing the Voltage Influence in action. The VILFO on the left is sent to the volt/octave input of a dot com oscillator playing a triangle wave. A second VILFO (on the right) is routed to the "Influence Control Voltage" input of the VILFO on the left. Only the VILFO on the left is controlling the oscillator.
http://www.youtube.com/watch?v=o1locKQDdnQ&feature=player_embedded
The first public showing of the Pittsburgh Modular Confluence Voltage Influenced LFO was Wednesday.  Soy Sos came over and ran the module through it's paces.  He had a few great suggestions and pointed out a few necessary improvements.  I spent last evening modifying the module and feel pretty good about it.
After updating the schematic to match the prototype, I built a 2nd module to confirm the schematic is correct.  Can't wait to patch both of these up.
16tone's Vogue Quattro is a free standalone four-voice synth for Intel Macs . It has microtonal capabilities and it comes with a library of 3,000+ tuning files.
Specifications:
four-voice polyphonic PCM synthesizer
three oscillators per voice, each endowed with square wave sub-oscillator (1 or 2 octaves lower)
true monophonic mode (plays three voices at unison, nine oscillators in total)
88 raw waveforms including white noise
single LFO with 6 waveforms
ring modulator
easy-access modulation matrix
scale-relative pitch-bend (self-adapting to tuning scale steps with microtonal precision)
64 factory preset programs
receives MIDI tuning standard SysEx messages
compatible with Max Magic Microtuner mtx – tuning files
includes library of 3,000+ tuning files
This is a standalone synth so you'll need Cycling '74 (free) Soundflower to re-route its output and be able to record it .
The Nebulophone is an Arduino based synth with a stylus keyboard. It has adjustable waveforms, a light controlled analog filter, LFO, and arpeggiator that can be clocked over IR.
This is a beginner kit and does not require an Arduino programmer board.