Substance is a virtual analog software synthesizer (VSTi) emphasizing simplicity, flexibility, and sound quality. The key factors in the design of Substance were that it should sound great, without effects, and that it should all fit on one page.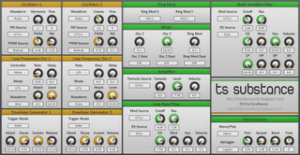 Here's what TS has to say about it:
Substance has two of everything: two oscillator sections, two LFOs, two envelopes, two filters. The oscillator sections were inspired by the architecture of classic analog polysynths, which used multiple oscillators to achieve polyphony, but allowed the oscillators to be combined for a monophonic Unison mode. The oscillators would generally be slightly out of tune with one another, resulting in a rich, chorused sound. Each of Substance's oscillators likewise comprises seven unison voices, with the amount of detuning, and the stereo breadth being adressed by a single parameter, Spread. The LFOs can be used to modulate almost every parameter of the synth. They can be used to trigger the envelopes, to modulate the frequency and pulse-width of the oscillators, the cutoff frequency of the filters, and the volume of the amplifier. LFO-1 can be switched between free-running, tempo-synced, and key-synced modes. A manual is included in the download link, detailing all of the other features.

If you enjoy using Substance, please consider making a contribution in some form – money, music, and patches would all be received with gratitude.

Many thanks to Limeflavour, for the sleek GUI, and to Ingo Weidner and Ouroboros for their fantastic patches and valuable feedback. Thanks also to the KVR community for support and encouragement during the testing phase.

Substance was made with SynthEdit, and uses modules by Chris Kerry, Dave Haupt, and Kelly Lynch.
Tactile Sounds Substance Demo by Tactile Sounds
Download TS-Substance.zip
Download TS-Substance Patches.zip – Includes 96 patches by Ingo Weidner,  38 of which were not included in the factory bank. Also an Init bank for sound designers, and a copy of the Factory bank.
Justin Robert launches Mothman Z3000, a virtual synth for Windows that is inspired by the Casio CZ-3000.
It also has the stereo chorus, noise and LFO just like the original CZ-3000. Also, there's an added switchable velocity feature that gives greater expression than the original CZ, and an added analog style filter on DCA2 to give even more sound options. You can also pan the different DCOs to give more stereo fx. But other than that, I kept it pretty faithful to the original synth.

There are 64 preset slots with 18 presets already created. The sound of this synth is very similar to the real thing. Real phase distortion synthesis is used, real eight point envelopes and a cool "Mothman" design.
"It's a 16 voice polyphonic synthesizer that features two Phase Distortion DCOs, two DCWs, and two DCAs all six feature the famous 8 point envelope section that made the CZ synthesizer so famous. You have the ability to make some of the most complex waveforms you've ever heard."
A quick video showing the Voltage Influence in action. The VILFO on the left is sent to the volt/octave input of a dot com oscillator playing a triangle wave. A second VILFO (on the right) is routed to the "Influence Control Voltage" input of the VILFO on the left. Only the VILFO on the left is controlling the oscillator.
http://www.youtube.com/watch?v=o1locKQDdnQ&feature=player_embedded
The first public showing of the Pittsburgh Modular Confluence Voltage Influenced LFO was Wednesday.  Soy Sos came over and ran the module through it's paces.  He had a few great suggestions and pointed out a few necessary improvements.  I spent last evening modifying the module and feel pretty good about it.
After updating the schematic to match the prototype, I built a 2nd module to confirm the schematic is correct.  Can't wait to patch both of these up.
16tone's Vogue Quattro is a free standalone four-voice synth for Intel Macs . It has microtonal capabilities and it comes with a library of 3,000+ tuning files.
Specifications:
four-voice polyphonic PCM synthesizer
three oscillators per voice, each endowed with square wave sub-oscillator (1 or 2 octaves lower)
true monophonic mode (plays three voices at unison, nine oscillators in total)
88 raw waveforms including white noise
single LFO with 6 waveforms
ring modulator
easy-access modulation matrix
scale-relative pitch-bend (self-adapting to tuning scale steps with microtonal precision)
64 factory preset programs
receives MIDI tuning standard SysEx messages
compatible with Max Magic Microtuner mtx – tuning files
includes library of 3,000+ tuning files
This is a standalone synth so you'll need Cycling '74 (free) Soundflower to re-route its output and be able to record it .
The Nebulophone is an Arduino based synth with a stylus keyboard. It has adjustable waveforms, a light controlled analog filter, LFO, and arpeggiator that can be clocked over IR.
This is a beginner kit and does not require an Arduino programmer board.
B. Serrano has released Nibiru 2 – an extended 4 band resonator effect plug-in for Windows.
Features:
4 parallel multimode filters (LP, HP, BP, Notch, Peak) with resonance and spread.
4 LFOs (host syncable)
Stereo balance on each filter output.
Nibiru 2 is available now as a VST effect plug-in for Windows.
In May, what many of us have been waiting for, is soon to be revealed the Largo Synthesizer. Largo is the first pure software synthesizer with Waldorf DNA
Largos sound engine was injected with all the notorious wavetables of the Microwave, the legendary Wave and also the Q series. The LFO is already rehearsing very complex steps and the filter drive screams as loud as only our little baby can. So be prepared!
Largo offers three fat oscillators, two of them with sub oscillators. These oscillators include models of classic analog waveforms as well as a selection of waves from the PPG and Waldorf Wave stored in two Wavetables. All these run through two Waldorf multimode filters with steep cutoff, resonance up to self-oscillation and a drive stage to add even more punch and grainyness to the sound. Ultra-fast envelope generators and flexible LFOs as well as an easy to understand, yet extremely versatile modulation matrix make for a sound designer's dream.
The filters have always been a core part of any Waldorf instrument. With outstanding expertise in both analog and digital synthesis, our developers took utmost care in developing the filters. And you can hear a significant difference when working with a Waldorf filter – they just sound right! Use the comb filters for plucked, stringed or blown sounds. Band pass, high pass, low pass and notch filters are all available with 12 dB and 24 dB slope. All of them sound extremely accurate and add pure sonic quality to the sound of your music.
Largo contains a flexible arpeggiator with 16 freely programmable steps as known from the exclusive Q synthesizer line plus an array of high quality effects such as Chorus, Flanger, Phaser, Overdrive, Delay and Reverb.
Without doing any associations on the name

I am happy to announce that my friends in Rusty Trombones has released a new and intriguing plug-in adn better yet it's free.
Since I have not had the chance to try it out myself yet it would be nice to get some feedback on it so post away >> awesome or sucks
Ableton has announced that when Live 8 ships there will be an also provide an update Ableton Operator. Ableton is calling it a "major overall". Feeling the ill effects of software synth overload, you may have glazed over when Ableton announced it was making its own FM synth, exclusively for Live. Ableton has built an easy-to-use, great-sounding instrument that integrates classic analog and digital synth sounds with Live's beat-synced and envelope-shaping powers. Finally, it's Ableton software for keyboard players.
So what's new?
User Waveforms: Draw your own waveforms by adjusting the amplitudes of each oscillator's harmonics. You can also edit the built-in waveforms. So, it's like a mini-additive synth.
Feedback is now available for all oscillators that are not being modulated by another oscillator. This should provide for some pretty interesting possibilities.
New filter types: New ladder modes and SVF filters bring the total number of Operator's filter types to fourteen.
There is also a frequency response curve view in the filter display and an integrated waveshaper in the filter, featuring an adjustable drive amount and four curve shapes.
The filter, LFO and pitch envelopes now feature adjustable slopes, like those found in Sampler.
There's a new MIDI modulation section in the global display, with multiple destination and amount settings for five MIDI control sources. We've also added new modulation options for the LFO and pitch envelope.
Watch video from Ableton: