NOTE: Reason 6.5 and Reason Essentials 1.5 users can and get Pulsar from the Rack Extension Shop for FREE until October 1st, 2012! Reason 6.5 and Reason Essentials 1.5 are free upgrades for Reason 6 and Reason Essentials 1 users and special upgrade pricing is available for users of earlier Reason versions.
Pulsar in the Rack Extension Shop:
http://shop.propellerheads.se/product/pulsar/
Also featured, the Synapse Audio AF-4 Filter:
http://shop.propellerheads.se/product/synapse-af-4-analog-filter/
The Pulsar Dual LFO, new as a Rack Extension in the Propellerhead Shop, is a flexible little powerhouse utility with tons of routing potential. Even though Pulsar is capable of some wild tricks, it also is one of the best places to start learning about modular synthesis and LFOs.
We put together this introductory look at how to use LFOs to spice up your existing sounds and how to get Pulsar making some sounds of its own.

Propellerhead today announced Pulsar LGM-1, the second "Rack Extension" instrument, to be available with the launch of Reason 6.5 and Reason Essentials 1.5 in Q2 2012. Pulsar is a dual LFO (low frequency oscillator) and mono synth with cross-modulation, lag, shuffle and a flexible envelope, and is said to offer "a fresh take on modulation — from rigid and predictable to groovy and evolving."
Pulsar integrates perfectly with all Reason devices, opening up new possibilities for creative modulation within the program — i.e. with Pulsar it's reportedly easy to create a shuffled tremolo that changes speed as different notes are triggered, or come up with ever-changing wobbles that respond to playing. Using its audio outputs, Pulsar transforms from a low frequency oscillator to a synth. The waveforms designed for modulation, combined with the unique lag and shuffle controls, reportedly result in tons of unique synth tones. For users that are not versed with the modular aspects of Reason, Pulsar also comes with a set of pre-made patches, containing everything from lush evolving pads to gritty bass.
To celebrate the release of the Rack Extension platform, Pulsar will be gifted to everyone who is using Rack Extension compatible versions of Reason and Reason Essentials for the first three months after release — a $49 value. Click for more information about Rack Extensions and Pulsar LGM-1.
http://pittsburghmodular.com/adsr/
The Pittsburgh Modular ADSR is a four stage envelope generator with independently adjustable Attack, Decay, Sustain, and Release stages. An envelope generator is used to shape control voltages such as the gate of the Midi module or a square wave from the LFO2.
Moog Music Inc. is proud to present Dr. Joseph Akins' five part series on the fundamentals of synthesizer programming. Dr. Akins is an associate professor at Middle Tennessee State University and strives to teach his students a complete understanding of synthesizers and computers as tools for modern music production. In this five part series Dr. Akins uses a Voyager to teach the process through which a synthesizer's sound is generated and the techniques needed to program your own sounds and sonic experiments. In part four of this five part series Dr. Akins gives an in depth lesson on the low frequency oscillator or LFO.
Voltage Influenced Low Frequency Oscillator
The-Pittsburgh Modular Voltage Influenced LFO is unique in the modular world. It is a strange, triangle based LFO that lives in an 8hp euro panel. The module offers two outputs, a triangle wave, and a variable waveform that shifts from a triangle to something that is almost not completely a square wave. The VILFO also includes a unique voltage influence circuit. The influence works differently than standard control voltage inputs, it allows the incoming CV to mingle with the LFO waveforms in interesting ways, creating unique modulations and patterns.
A typical Voltage controlled oscillator works by using a CV input to directly control the oscillation frequency. The more voltage sent to the CV input, the higher the frequency of the ocsillator. The lower the voltage, the lower the frequency of the oscillator. Voltage Influence works by using the CV input to attenuate the frequency of the oscillator while at the same time injecting some of the voltage from ICV Input to the feedback loop of the oscillator. Results can vary from subtle to chaotic. Subtle results can be similar to tremolo, shuffle, or soft reset while more extreme settings produce glitchy, rhythmic, chaotic fluctuations in the frequency of the VILFO. At the most extreme the VILFO can be stopped using Voltage Influence.
If you already bought the LFO 1.x, v2.0 will be FREE for you.
It will be available here: http://designthemedia.com/lfo
One year ago, it was the first efficient LFO officially supported (by us) for Ableton Live and it has a been liked & used by a lot of people.
With LFO 2.0, you can modulate each parameters of your liveset in real time.
You only have to drop it in a MIDI track, click on a button then click on the parameter you want to modulate and it works.
You can use built-in waveforms or even draw your custom one.
You can use the LFO 2.0 synced with the Live's transport, or totally free by setting up the frequency.
Features :
– modulation of ALL parameters including tracks' volume, panning & sends
– free or synced to transport
– classic waveforms (sine, ramp up, ramp down, saw, square, noise)
– custom waveform available with the whiteboard to draw it with your mouse
– presets & liveset friendly (all saved with liveset & presets)
– undo history safe
– LFO can control LFO to produce rich and complex modulations
– MIDI thru compliant (you can use it directly in your MIDI instrument track)
– GUI remixed
– all LFO2.0 parameters auto mappable to APC40
Requirements :
– Ableton Live 8.2.x
– Max for Live
Credit :
– Design, concept, implementation : Julien Bayle
– New extensions sold by C74 & coded by Jeremy Bernstein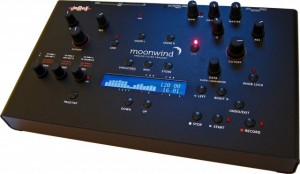 Boutique synthmaker Jomox introduced the Moonwind Analog Filter Tracker.
The Moonwind Analog Filter Tracker is a true analog stereo filter, with built-in step sequencer, an FX chip, 2 LFOs and envelope modulation. Everything is storable and controllable via MIDI.
MoonWind AcidMoon by Sonicyogi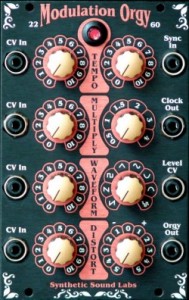 Synthetic Sound Labs has just released its first Euro rack format module, the Model 2260 Modulation Orgy, further expanding its line of 5U format synthesizer modules.  This new 16 HP width module contains a unique Low Frequency Oscillator (LFO) that offers unmatched modulation flexibility.
Synthetic Sound Labs has been in the analog synthesizer business since 1973, but the 2260 is the first Euro rack module and the sixth in SSL's continuing line of new analog synthesizer modules.
LFOs are typically used by analog music synthesists in conjunction with other analog sound producing devices for creating slow, undulating rhythms and sound patterns. The SSL 2260 Modulation Orgy features both manual and external voltage control over LFO Tempo (speed), tempo Multiplier, Waveform and Waveform Distortion.  A total of eight Waveforms are produced, including Sawtooth, Ramp, Rectangle, Triangle, Sine, Sweep, Lumps and Random.  All these (except Random) may be modified using the Wave Distort controls to vary waveform duty cycles.  Independent output jacks provide both normal and inverted LFO phases.

2260 'Modulation Orgy' Specifications at a glance:
Model  2260 Tap Tempo LFO
Function: Flexible Low Frequency Oscillator (LFO)
Tempo Adjust: .05 Hz to >50 Hz (approx)
Tempo Multipliers: Six (0.5, 1, 1.5, 2, 3, 4; overlapping) – Manual & voltage controlled
Waveforms: Saw, Ramp, Square, Triangle, Sine, Sweep, Lump and
Random – Manual and Voltage controlled
Wave Distortion: 10% to 90% (approx, except Random) – Manual and
Voltage controlled Inputs
Tempo CV, Multiplier CV, Waveform CV, Distort CV, Sync, Level CV.  0 to +5V nominal.
1/8" Phone jacks. 100k impedance.
Outputs: Clock (0 to +5 digital), LFO voltage (10V P-P;  +/-5V).  1K impedance.
1/8" Phone jacks.
Panel Indicators: LFO Rate – Red LEDs
Panel: High quality 0.062" aluminum. Durable black Metalphoto finish with
natural aluminum and copper graphics.  Complimentary Brass colored knobs.
Power: Euro rack standard 16 pin keyed header.
+5VDC @ 14ma, +15vdc @ 16ma, -15vdc 18ma
Size: 5.0" H x ~3.25" W x ~1.25" D (16 HP). Skiff ready.
Modulation Orgy Details
A unique feature allows the 2260 to synchronize to precise multiples of the musical beat permitting timed vibratos, tremolos, and clocking of external sequencers and sample & hold type devices.  Synchronization is accomplished by manually operating a front panel button, or supplying external clock pulses via the external Sync input.  Multiple 2260s may also be cascaded to provide complex polyrhythmic modulation patterns, which is aided by use of the Clock output jack.
The basic LFO Tempo (frequency) is adjustable from approximately 0.05Hz (a 20 second cycle) and 12.8Hz.  However, in conjunction with the Multiplier, this range is extended from 0.025Hz (a 40-second cycle) to over 50Hz in six overlapping tempo multiplication factors, ranging from 0.5 (1/2 note) to 4.0 (sixteenth note).
The external Level CV input responds linearly and is normalled internally to +5V so that with no input, the 2260 outputs are at maximum. This convenient input can frequently save a separate VCA when doing voltage controlled modulation depth.
A panel LED displays the LFO output rate.  Knobs are conveniently placed for ample room for manual adjustment.  Top quality 1/8" jacks permit smooth, effortless patching.
Quality, solder masked, fiberglass-epoxy printed circuit boards and meticulous hand-crafted assembly assure years of trouble-free service.
Pricing is $250 US and is available today from Synthetic Sound Labs and from distributors worldwide, including Analogue Haven, in whose booth the Modulation Orgy is being demo'ed at NAMM.
Here's some background info on the project:
Further progress on a digital synth project that I plan to start producing very soon. The synth will be reprogrammable from any computer and the code can be easily bent or created from scratch. It also has an LFO controlled analog resonant lowpass filter to fatten up the sound (also circuit bendable) . This project will be COMPLETELY open source (schematics, code, everything) once I get everything organized.