October 17, 2010 · Posted in
Uncategorized
·
Comments Off

on Logic 9 with iOS control surface
Apple has released an update to Logic 9, version 9.1.2, that supports iOS control surface apps that utilize the OSC protocol.
The video, above, demos how you can now use TouchOSC to turn an iPad into a custom Logic 9 touchscreen control surface.
here's a quick demo of the new OSC feature with Logic 9.1.2 and TouchOSC on an iPad.

This is really coool! Finally a nice remote on the iPad.
October 13, 2010 · Posted in
Uncategorized
·
Comments Off

on Xan / Human Boot Project
Try for yourself to see what is going on

Human Boot Project is a Japanese underground music unit, described as "a genre-breaker, fusing Jazz with Rock and Drum and Bass".
Their music video for Xan is a time-lapse video that captures the production of the track in Apple Logic Pro.
Really cool I must say!
September 13, 2010 · Posted in
Uncategorized
·
Comments Off

on So what is sonic by the way?
SonicBirth is a free Mac OS X app for for creating AU plug-in instruments and sound processors for use in applications like Logic, GarageBand and others with Audio Unit support.
This tutorial will show you how to create a simple reverb unit.
Download SonicBirth at Sourceforge.net.
September 11, 2010 · Posted in
Uncategorized
·
Comments Off

on Trifonic under the hood
Electronic music production tutorial by Brian Trifon of Trifonic
Sculpture, the physical modeling synth in Apple's Logic Pro, is one of the most powerful and unique synths available. It's also one of the most intimidating to use.
Thankfully, Brian has created a video in which he breaks down the mysteries of this complex and impressive tool, demonstrating how to use Sculpture's multiple parameters to create strong, unique lead sounds.
August 31, 2010 · Posted in
Uncategorized
·
Comments Off

on Masters at work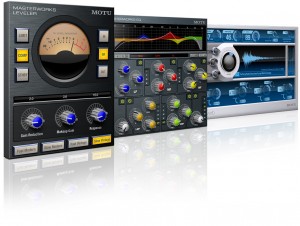 MOTU has announced it is now shipping the MasterWorks Collection, an advanced audio plug-in bundle for Pro Tools, Logic Pro, Cubase, and other Mac OS X hosts that support RTAS, Audio Units, and VST3 audio plug-ins.
"MOTU has received many requests from Pro Tools, Logic, Cubase, and Live users who wanted to get their hands on Digital Performer's MasterWorks plug-ins," said Jim Cooper, MOTU Director of Marketing. "Now they finally can."

The bundle includes three masterfully crafted audio processors suitable for even the most critical and demanding mixing situations. Originally developed exclusively for Digital Performer, the MasterWorks series plug-ins have developed a reputation for their incredibly authentic analog hardware modeling, 32- and 64-bit internal floating point processing, and highly CPU-efficient performance. All three plug-ins support mono, stereo and surround channel configurations (with supporting host software), and users can share MasterWorks plug-in presets among different hosts.
MasterWorks Collection features
MasterWorks EQ – modeled British analog EQ
Inspired by legendary British console EQs, the MasterWorks EQ™ delivers the look, feel and sound of the most sought-after classic analog equalizers.
MasterWorks Leveler – vintage automatic gain control
The MasterWorks Leveler™ is an accurate model of the legendary Teletronix™ LA-2A optical leveling amplifier, known for its unique and highly sought-after Automatic Gain Control (AGC) characteristics.
ProVerb – stunningly realistic acoustic spaces
From soaring cathedrals to primordial forests, ProVerb™ is a CPU-efficient convolution reverb that delivers the sound of stunningly realistic acoustic spaces to any track or mix.
The MasterWorks Collection is now available to purchase for Mac OS X (version 10.5 or 10.6), priced at $295 USD.
More information: MOTU / MasterWorks Collection
July 14, 2010 · Posted in
Uncategorized
·
Comments Off

on Using Markers in Logic and Mainstage
Preview of four part video series on using Markers in Logic and Mainstage.
Create an audio file in Logic and then import that audio file into the Playback plug-in in Mainstage and map an external MIDI Keyboard to trigger the Markers in the various parts of the audio file.
July 3, 2010 · Posted in
Uncategorized
·
Comments Off

on A round of tutorials on Logic…
….coming your way
January 27, 2010 · Posted in
Electronic Music
·
Comments Off

on Augmented reality DJ
How to set up your midi with the ardj system and ableton live, or any other DAW like logic, garageband, etc…
download for free at http://www.lipert.net/ardj Mac only.
September 4, 2009 · Posted in
Electronic Music
·
Comments Off

on Apple on tour with Logic 9 – Pro Studio World Tour
As stated by Apple:
The tools of the trade. Now on tour.
The latest releases of Final Cut Studio and Logic Studio are loaded with tools designed to make video production and music creation easier and more intuitive than ever. Join us as Apple product experts dive deep into the groundbreaking new features of each software suite.
Meet the new Final Cut Studio.
With an expanded ProRes family, powerful new ways to collaborate, and even tighter integration between applications, the new Final Cut Studio is the ultimate post-production suite, allowing you to edit, animate, mix, grade, and deliver like never before. The Final Cut Studio session covers:
Final Cut Pro 7 — Do more, and do it faster, with new versions of ProRes, time-saving interface improvements, and easy collaboration tools.
Motion 4 — See how easy it is to add excitement to your motion graphics with dynamic 3D shadows, reflections, and depth-of-field effects, as well as new text tools and animations.
Soundtrack Pro 3 — Learn how to repair common audio problems in a few clicks, and work faster than ever using the new, streamlined navigation tools.
Final Cut workflow — Follow a project through post-production with the new Final Cut Studio and the new Final Cut Server. Edit in Final Cut Pro 7, add motion graphics with Motion 4, repair damaged audio using Soundtrack Pro 3, grade in Color 1.5, deliver with Compressor 3.5 — and manage your entire workflow with Final Cut Server 1.5.
Learn the ins and outs of the new Logic Studio.
The new Logic Studio includes over 200 new features that let you write, record, edit, mix, and perform your music. It also comes with the largest collection of software instruments, effect plug-ins, and Apple Loops ever packed into a single box. The Logic Studio session covers:
Logic Pro 9 — Explore everything you need to make great music even better with the most advanced creation and production tools in the industry.
MainStage 2 — Learn how to perform live with the same sounds, instruments, and effects you use in the studio, and see why your Mac is the best live rig you'll ever have.
Amp Designer and Pedalboard — Get an in-depth look at the huge collection of guitar gear these new plug-ins deliver, and see how easy it is to re-create realistic versions of the most iconic guitar tones.
Tour dates:
Pro Studio

World Tour 2009
Cities and Dates
Excellent article by Björgvin Benediktsson
People spend ages pondering how to get that kick drum sound. They want the big fat boom that they can hear on records, but can't recreate it themselves. And not for lack of trying. I have a trick that can help you make your kick drum all that much fatter, resulting in a sound you can use for tight, throbbing pile driving rock or for fat hip hop beats. I'll be using Logic Pro 8 in this tutorial but any decent DAW will produce the same results.
Adding sine waves to kick drums
When you have your kick drum recorded and you've spent hours trying to squeeze out a fatness that isn't there, maybe you can use artificial tricks to enhance the kick drum sound. Enhancing the low end by adding a sine wave generated by your DAW's oscillator is a great way to add thump and boom to your bass drum track, whether it be rock, hip-hop or whatever genre you choose to make.
A sine wave is the most simple sound wave you can find, representing only the fundamental frequency you choose — in this example, 50 Hz. It doesn't include any harmonics, unlike the square or sawtooth waves. So by adding a sine wave to the kick drum we will only be adding one tone, and not a musical element or characteristic.
Step 1 – Get your original kick in good shape
You have your kick drum track EQed, gated and compressed however you like it. Get your kick sound the best it can be before following the rest of this tutorial, because the sine wave is only going to enhance the bottom, and is not a character in itself.
I gated mine to get rid of the snare sound bleed and most of the hi-hats. I compressed it moderately (for rock) and EQed to enhance the click and cut out the boxiness. I also filtered it quite high because I thought it sounded better when I added the sine wave later on. Always think of the sound as a whole, not two sound sources that sound great individually but clash when they are together.
//
Step 2 – Make a new track for the sine wave
Add another track below the kick drum. Name it "Sinewave for kick." We won't actually be putting any audio into that track, but rather putting a test oscillator on the inserts.
In Logic, you can find the test Oscillator under Utilities > Test Oscillator > Mono.
Step 3 – Make the sine sound
Next step is to make a 50 Hz sine wave continuously oscillate on the track. On the Test Oscillator there are many functions, different types of sound waves and noise you can generate to calibrate your equipment for example. We will be choosing the sine wave…