In this video tutorial, Novation product specialist Brandon Carroll stops by Dubspot to explain and demonstrate creative production possibilities with Novation 25 SL MkII MIDI Keyboard Controller and Logic Pro. Brandon starts by showing you how to setup the 25 SL, which comes with Automap Pro, and gives you complete control over your production software. He further shows you how to enable touch-sensitive knobs and faders and utilize the X and Y modulation and drum pads, sort through patches, access plug-in instruments and effects and create a track with chord progression and groove.
Logic is like a puppy. It can grow into a nasty beast, bite your neighbors and dig up your daisies. Nip it in the bud!
Train it early to obey your commands and it will be a loyal servant to you.
Long time logic user with a bad dog on your hands?
Your old dog can learn new tricks, just be patient.
A template is a reusable Logic song file that you can use as a starting point for your new songs or recordings.
Learn how to:
-Customize Logic Pro 8 for your recording hardware and purpose
-Use groups to reign in your many inputs
-Use busses to set up routing once and for all
-Create your own screensets and quit mousing around
world exclusive sneak peek of the new version of Logic
Publisher, Steve H, has put together a video detailing some of the best features of the new Logic Studio. Check it out along with the review at the URL below…
More information:
This video explains how you can quickly and easily export audio and midi tracks out of Logic and then import them into Pro Tools, while maintaining all of your effects and virtual instruments.
Puremagnetik has released Microtron™ XL, a bundle of 3 tapes from Puremagnetik's popular Microtron series.
All of the original performance nuances of the Mellotron M400 have been immaculately captured through a Neumann U47 Microphone and Reeves Custom 50 Amplifier.

Microtron XL integrates seamlessly into Ableton Live 8, Kontakt 3/4 and Logic 8/9. It comes packed with a palette of 9 expertly recorded instruments and over 1 Gigabyte of multisample content.

The Ableton Live version contains 9 individual multisampled instruments and a full "tape" instrument that has similar sound blending functionality as found on the original M400. Microtron XL also comes packed with over 150 professionally performed phrases complete with Macro and effects integration.

Microtron XL for Kontakt includes all 9 multisampled instruments complete with effects and a custom KSP user interface. Logic and Kontakt versions both come with a collection of over 150 professionally performed Apple Loops in SIAL format.
Microtron XL includes the following instruments as programmed from the original tapes.
MK II Flute – Undoubtedly the sound that defines Mellotron, the MKII flute instantly conjures images of 1967 Abbey Road. Not only the most famous Mellotron sound, but perhaps the eeriest, the MKII flute's dubious pitching has been in question throughout the decades. The change in timbre (they say two flutes were used) and odd intonation only adds to the haunting and mesmerizing character of this timeless sound.
Octave Recorders – The Octave Recorder is a newer sound composed of soprano, alto and tenor recorders. Playing fast staccato chords on this one can make it sound a bit like a harmonium. It has a solid woody tone with breathy articulations and is definitely a contender to fill up the mix with some organic elements.
Cello – Renown for its melancholy timbre and described by some as "wheezing and groaning" the Cello sound was originally recorded in the 1960s. A double bassist was used for the lower registers. Apparently the original session cellist did not wish to detune his cello for fear of damaging the instrument. Nonetheless, the Microtron Cello recording is undoubtedly a unique character in the tape library.
Clarinet – The original Mk1 Clarinet that was discontinued but re- introduced for Puremagnetik's Microtron series. Warm and woody, the Microtron clarinet has an authentic sound that captures a vintage flavor all its own. The Microtron clarinet patch is programmed an octave higher for quick harmonic layering with other Microtron sounds.
French Horn – Big and brassy, the Microtron French Horn is a uniquely expressive addition to the Microtron collection.
Glenn Miller – Glenn Miller disappeared from the radar in 1944, but now he has returned for one last swingin' arrangement in your DAW!
Glenn Miller inspires hours of fun and creativity with layered brass sounds, warped, flanged and mangled in the classic Mellotron tape style.
Brass – The recorded combined output of two saxophones, two trumpets and a trombone, this is a powerful and punchy sound much beloved of King Crimson, Rick Wakeman, The Moody Blues and even John Lennon who thoughtfully recorded most of a demo of 'Strawberry Fields Forever' using the black Mellotron Mk II he kept on his half landing. Never fails to impress. Never fails to scare small children either.
8 Voice Choir – Certainly one of the major 'classic' Mellotron sounds, and perhaps the most arresting, this recording of four females and four males was first used in the early 1970s with the advent of the M400 and was widely used by rock groups who found that the sound of a Mellotron was a bit better than the sound of their chronic off-key harmonising.
String Section – A combination of violins, viola and cello, these multisampled strings are pre-arranged to sound huge! Layer them together in chords or clusters for some outlandish string effects.
Microtron XL is available to purchase for $29 USD
More information: Puremagnetik / Microtron XL
This is a very nice video of a new audio experiment we came across
Ambient Analogue 001 is the first release of an audiovisual experiment with footage of Chicago cut to an ambient music track of classic vintage and modern analogue synthesizers.
Audio/Video produced by Logan Mannstrane
Music is available as a free download on SoundCloud:
soundcloud.com/​loganmannstrane
Audio information:
Sequential Circuits Prophet VS: From 0:05 – 4:19
Roland Jupiter 8: @ 1:55, 2:21, 2:45, 2:51,
Sequential Circuits Pro One: From 4:20 – 4:48
Oberheim FVS (Four Voice): From 4:49 – 6:26 and 7:57 – 8:32
Roland TR-808: At 4:53-END
Moog Voyager: From 6:28 – 7:56 and 8:32 – 11:09
Sequencing done with Logic Pro and StepPolyArp for iPad. Mixed in Pro Tools 9. Filtering of drums and select synths with the Oberheim Four Voice stereo inputs.
Longcat Audio Technologies has released AudioStage, 3D audio authoring and mixing software, but comes at a price that, unfortunately, puts it out of the range of most users.
Aimed at movie and music postproduction, AudioStage inserts in major audio workstations such as ProTools, Pyramix, Nuendo or Logic Pro, and lets you visually place and animate audio tracks in editable 3D environments.
Features
Input tracks: Mono or multichannel.
Acoustic environment: complete with connected rooms, physical simulation of openings, walls and reverb.
Authoring: infinite number of scenes, tracks and environments in one single project.
Automation: Full parameter automation and animation of audio objects.
Commercial editions: AudioStage Stereo, Surround and Unlimited.
Free LITE edition: to achieve your first 3D mixes.
3D object-based mixing: simultaneously mix in stereo, surround or any full-3D format up to 64 channels.
Spatialization: Comprehensive techniques (including stereo, binaural, stereo3D, surround, Ambisonics and VBAP) applied individually to audio sources in each mix.
AudioStage starts at 990 € (special introductory price for Stereo edition), and is available immediately in Longcat's online shop for Windows and Mac OS X, with VST/AU/RTAS plug-in connectors.
The free AudioStage LITE edition is also immediately downloadable from Longcat Audio's website.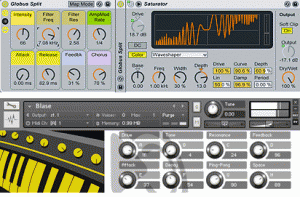 Vespine is a free sound a Micropack from Puremagnetik that includes over 30 expertly tailored programs that fully capture the characteristic charm of the legendary EDP Wasp synthesizer. Owners of Ableton Live 8.2.1, Kontakt 3.5 or Logic 8 can load up an arsenal of sounds derived from the classic analog hardware. Get the Vespine Micropak now from http://www.puremagnetik.com/…
The Wasp is a quirky little synthesizer that, despite its toyish look, is quite capable of funky analog sounds. It really is black and yellow too, just like the insect it is named for. Probably its most distinguishing feature is the keyboard and its non-moving touch-sensitive keys. That's right, the flat little keys are only sensitive to your electro-static touch. It's a nifty technology for 1978, but in reality they are difficult and unreliable to play. The WASP is powered by two digital oscillators supported by analog filters, envelopes and controls. This makes it one of the earliest digital/analog hybrid synthesizers to come in such a compact package, and it sounds great! The Wasp offers flexible and traditional synthesis of cool bass, synth, and other classic monophonic sounds. Its designer, Chris Hugget, also designed the Oxford Synthesizer Company's OSCar Synthesizer. The Wasp has been used by 808 State, Dave Holmes, Vince Clarke, WhiteHouse and Add N to (X).

Vespine comes packed with a variety of programs that fully exhibit the characteristic sound of the Electric Dream Plant's Wasp synthesizer.

Vespine Features:

• Close to 600 hi quality 24-bit multi-samples
• Programmed with modern sampler features for voice layering & polyphony variations
• Live version includes over 30 expertly designed rack instruments
• Kontakt version includes native Kontakt effects and a custom KSP GUI for easy editing
ElectroBeats is a very intuitive beat making application conceived in collaboration with worldwide renowned and most demanded producer David Guetta.
Right away, you'll create great sounding beats thanks to a powerful real-time approach and an impressive sound library.
ElectroBeats by David Guetta features
Realtime workflow experience with sixteen pads and five different modes: Pad, Pitch, Velocity, Erase, Mute/Solo.
Exclusive and electro oriented sound library, with hundreds of samples including Bass Drum, Snare, Clap, Rimshot, Cymbal, Hi-Hat, Open Hi-Hats, Acoustic Percussion, Electronic Percussion, FX, Bass, Chords, Leads, Instruments, Vox…
Two sound generators : sample playback and synthesis oscillator.
Dozens of ready to use drum and construction kits.
Hundreds of patterns to use with the drum kits..
Note Repeat in multiple resolutions..
Dynamically change the quantize/repeat resolution while recording : the key to build beats very fast..
Default quantization for instant gratification.
Save and share your tracks using iTunes.
Bounce song in Wav format.
Multitrack export for use in sequencers like Logic™, Live™, ProTools™, Cubase™ and many more..
Tap Tempo.
Realtime previews (pattern, kits and sounds).
Convenient undo with snapshots support.
Embedded help in English, French, Spanish and Japanese.
More info at www.uvi.net
Electronic music production tutorial by Brian Trifon of Trifonic for NextStepAudio.com
This time, Brian demonstrates some of Trifonic's techniques for creating filthy bass and lead sounds using Logic's EXS24 in combination with the old-school hardware sampler, EMu E6400.