"SSSSYNTH is Monophonic Virtual Analog Synthesizer. Since the basic analog synthesizer's parameters are implemented, this app is perfectly suitable for beginners! You can easily create impressive phrases from 35 types of keyboard even if you cannot play the piano.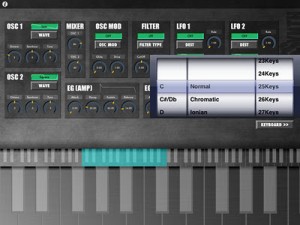 [Specifications]
– OSC x 2
– MODURATION
RING MODURATION
OSC SYNC
– GLIDE
– FILTER x 1
– EG x 2(AMP,FILTER)
– LFO x 2
– FX
DELAY
OVER DRIVE
– KEYBOARD(SCALE) x 35″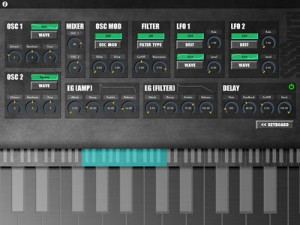 analogfactory says that 'Black, fast and toxic' is the best description for the rackmounted monophonic true analog MAM MB33 synthesizer which was released in the 1990's. Black Mamba is a replica of this little synth combined with the powerful Instrument Racks of Ableton Live.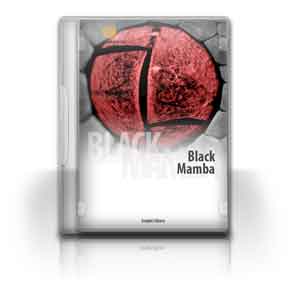 Originally released as a TB303 clone by German company MAM (Music and More), the MB33 had a true analogue single VCO with two basic waveforms – square and saw. analogfactory say that, as the MB33 had the possibility of morphing those waveforms, it was able to create more tones than the TB303.
Black Mamba has been chromatically sampled in 24bit/96khz with high-end Apogee A/D converters and, besides the two basic waveforms, analogfactory has sampled 9 further waveforms using the morph possibilities of the VCO.
Pricing and Availability:
$21.99
More information: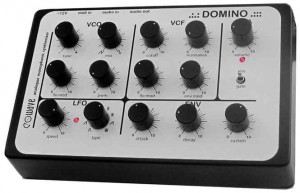 DOMINO is a discrete analogue synthesizer with a VCO in the tradition of MS20 and TB303. They say that the VCO, filter & VCA are transistor made and that this transistor architecture gives DOMINO a unique raw sound – rich and raw at the same time with no need of external effects to give life to the sound.
The VCO offers a mix between sawtooth and square. Pulsewidth can be modulated by the LFO. The filter is a 24dB resonant filter. The analogue envelope range is from 1ms to 10s with attack, decay, sustain/release.The LFO has 8 different waveforms. On waveform 8, the modulation wheel can replace the LFO. MIDI CC 8 to 16 can transform the LFO in a sequencer to modulate pitch, pulsewidth, filter cutoff. The VCA can be modulated by a gate or by an envelope. In the legato mode, playing notes will generate glide between two notes. The glide time can be edited via MIDI CC.
Eowave have added a few more features like an arpeggiator and an accent recognition capability: all velocity values above 100 are recognized as an accent.!
Technical specifications
1 analogue oscillator from saw to square with tune and mix
LFO modulation
Pulsewidth modulation
24dB resonant filter
Envelope modulation and LFO modulation of the filter
LFO with Speed and Type parameters
LFO syncable to MIDI clock
Envelope with Attack, Decay, Sustain
Analogue VCA
Env/gate switch
Arpeggiator
Easy to use
Direct access to all parameters
Connections: MIDI in, Audio out, Ext power supply, Audio in
Size : 18,5 x 12 x 5,5 cm
Pricing and Availability:
Price: 250 € excl. VAT
More information: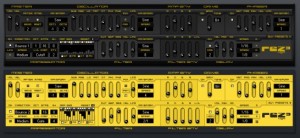 Ugo Audio has released Rez 3, 'a mean little monosynth' for Windows.
Here's what they have to say about Rez 3:
Rez is a seemingly basic synth, but it's capable of a very wide range of sounds. While Rez has a bunch of cool features, the beating heart of Rez is its filter. It's made from multiple chained filters acting as a single powerful filter and it's highly resonant, providing Rez with its distinctive character. Top that off with distortion, a phaser, various oscillator modulations, delay, and a killer programmable arp and step sequencer, and you've got a powerhouse of a synth in a very small package.
From funky squishes, beastly basses, and screaming leads, to tight arpeggiations, swirling rhythms, atmospheres, bells, and interesting effects, you'll find it all here. Additionally, it comes with two skins – Yellow & Black, or Black & Yellow.
Features:
Virtual analog oscillators
Sub-oscillator
Detune (modulatable via aftertouch)
Programmable phrase arpeggiator
Step sequencer (arp driven) with four mod destinations
Highly resonant low pass filter with velocity, LFO, and envelope modulation
While Rez is free, three commercial banks are available for it – each with 128 presets.
Audio demos & the download are available at the Ugo site.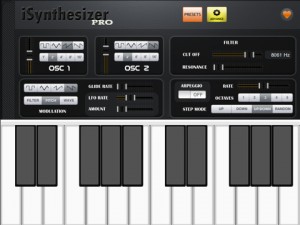 Amitech has cut the price on iSynthesizer Pro (App Store link) down to a free download.
iSynthesizer Pro is a monophonic virtual analog synth that, according to the developer, is designed for live performance.
Features:
Monophonic, playing one note at a time like a class synthesizer
Designed for live performance
Configurable Presets, save your favorite settings
Oscillator Module
Dual oscillators
Square, Triangle, Sawtooth, Reverse Sawtooth waves
Octave selector, supporting 5 octaves
Glide between notes (Lag Processor)
Oscillator fine tune (more than one full octave)
Oscillator sync
Low Pass Filter Module
Modulation module
Tremelo/Wave
Vibrato/Pitch
Filter
Envelope Generator module
Supports ADSR (Attack, Decay, Sustain, Release)
Volume
Filter (amount of low pass filter)
Arpeggio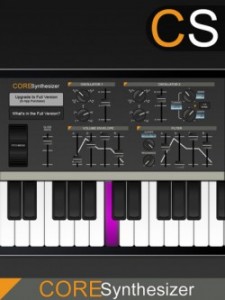 Jasmine Lee has released a free monosynth for the iPad – Core Synth HD.
Get your groove on with Core Synth HD, the definitive monophonic synthesizer for the iPad. With tons of features packed into a small package, Core Synth is great for live performing. A Pitch Wheel replicates perfectly the real thing!
While it's free and has a lot of features – no mention is made of MIDI support, at this time.
Features:
Pitch Wheel
2 Octave keyboard
Keys light up in different colors when pressed
Oscillator Module

Dual overlapping oscillators
Four wave patterns: Square, Triangle, Sawtooth and Reverse Sawtooth
Select from 5 octaves
Adjust glide between notes
Fine tune Oscillator 2 with option to sync with Oscillator 1

Volume Envelope Shaper

Edit ADSR (Attack, Decay, Sustain, Release)
Low Pass Filter Module
Adjust Cutoff and Resonance
Edit ADSR (Attack, Decay, Sustain, Release)

Upgrade to the full version within the app for the following additional features:

7 Octave Keyboard
Octave control to move along entire range
Modulation Wheel

Patches Module

Save an unlimited number of individually named patches
Browse through your collection before applying patch
Delete unwanted patches

Modulation Module

Four wave patterns: Square, Triangle, Sawtooth and Reverse Sawtooth
Modulate Filter, Pitch or Wave
Adjust LFO Rate and amount

Arpeggiator Module

Arpeggio moves up to 5 octaves
Four step modes: Up, Down, Up/Down, Random
Adjust rate
Core Synth HD includes open source code from MobileSynth, developed by Allen Porter.
"Drift Box" is a compact monophonic synthesizer.
That's product of REON co.,Ltd in osaka japan.
Lazerbass
The newest addition to the REAKTOR library is a monophonic synthesizer delivering a pure and direct sound without additional effects. The new additive synthesis module means Lazerbass can create a large number of timbres, themselves made up of multiple harmonic or non harmonic partials. The result is a sound of immense quality, equally at home creating spacey sci-fi sounds as full and punchy sub basses ideal for dubstep and other leading-edge electronic productions that need that signature "wobble."
A sneak preview of a new DIY synth project – the Mutable Instruments ShrutHI-1 digital/analog hybrid monosynth.
The video demonstrates some of the presets on ShrutHi-1 Kit #000.
Specs below. See the Mutable Instruments site for details.
2 digital oscillators
band-limited sawtooth with adjustable phase
band-limited square wave with adjustable pulse-width
band-limited triangle wave with adjustable waveshapping
phase-distortion emulation of a low-pass filtered sawtooth (casio CZ-101)
phase-distortion emulation of a low-pass filtered sawtooth with high resonance (casio CZ-101)
phase-distortion emulation of a low-pass filtered sawtooth in the Rocker Launcher's world in which sine waves are turned into triangles (casio CZ-101)
mysterious phase-distortion thing (could have been in the CZ-101 if the engineers at casio dared…)
phase-distortion emulation of a Jew's harp / Morsing (could have been in the casio CZ-101)
stack of 4 detuned sawtooth waves (with aliasing)
simplistic FM (1>2 configuration), with adjustable modulation index and frequency ratio
wavetables, wavetables, wavetables!

sweepable table of basic waveforms
tampura transwave
PPG harsh creature
single cycle waveforms taken from D50 patches
cello transwave
slap bass transwave
organ/drawbars single cycle waveforms
male voice
user wavetable, can be edited by SysEx messages

8bit-like harsh waveforms with wavetable scan
sine wave with variable amount of bitcrushing
poor man's square with pulse-width modulation (plenty of aliasing but fat for basses)
colored noise (sweep from low-pass filtered white noise -> white noise -> high-pass filtered white noise)
lo-fi vowel synthesis (think "speak and spell") with vowel morphing
Mixer
adjustable oscillator balance
mixing algorithms: simple sum, simple sum with synchronization, ring modulator, xor modulator, sum with post-mixing tanh fuzz
extra sources: noise, sub-oscillator (triangle or square) or percussive attack generator (click, glitch, blow, metallic, pop)
Audio quality/resolution
Internal digital audio signal processing chain: 39062 Hz, 8 bits.
Internal digital control signals processing chain: 976 Hz, 8 bits.
Digital outputs: 10 MHz, 1 bit.
Filter
Exchangeable analog signal processing boards:

CEM3379: based on the CEM3379, uses the same circuit as the original Shruti-1 with the "click filtering" mod
SMR4: a 4-pole LPF (very SSM2044-like) and linear VCA built with the widely available LM13700 transconductance amplifier and TL074 op-amp
SSM2044: SSM2044 4-pole LPF, SSM2164 2-poles HPF + linear VCA.
(à suivre)
Modulation
LFOs: 2, with square, sawtooth, triangle, sample & hold, and step sequencer shapes. Syncable to tempo. Adjustable "raise/attack" time. LFOs can be free-running, sync'ed to envelope retriggers, or retrigger envelopes.
envelopes 2 ADSR
modulation matrix: up to 12 source -> destination connections. Adjustable modulation amount in the -100% — 100% range
modulation sources:

LFO 1/2
step sequencer
first / second half of the step sequence
arpeggiator gate
mod. wheel
aftertouch
pitch bender
DC offset
CV inputs 1/2/3/4
MIDI CC 16 to 19
noise generator
env 1/2
random value resampled at each note on
note velocity
note number (eg for filter tracking)
keyboard gate
audio signal from the mixer output (decimated at 1kHz)

modulation destinations:

filter cutoff
VCA gain
pulse width/Parameter osc. 1/2
wide pitch osc. 1/2
pitch, applied to osc 1 & 2 simultaneously
very fine pitch, applied to osc 1 & 2 simultaneously
oscillator balance
noise level
subosc level
resonance
PWM CV output 1
PWM CV output 2
2 bits digital value on CV output 1/2
LFO1 FM
LFO2 FM
Performance
Clock/tempo generator
internal clock: 40-240 BPM, with some additional extra fast tempi for effects (270, 300, 360, 480, 600, 720, 960)
external MIDI clock with divider
6 groove templates (swing, shuffle, push, lag, human, monkey) with adjustable amount
Arpeggiator
1-4 octave range
up, down, up&down, random
15 preset rhythmic patterns + 1 programmable rhythmic pattern
warp: creates complex rhythms by cyclical repetitions of steps (eg 1212343456567878 instead of 12345678)
latch/hold
Sequencer
16 steps, with legato/slide, velocity, and modulation
4 modes corresponding to different interactions between the sequence and keyboard play: latch / transpose / loop recorder / override
Performance
custom page in which 4 user-selectable parameters can be assigned to the 4 editing pots
microtunings/key maps for arabic scales (1/4 tones) and a selection of hindustani ragas
portamento, legato on/off
master tune
System and memory
complete MIDI implementation, including patch editing by CC or NRPNs, patch and sequencer data transfer, full memory backup, wavetable transfer
MIDI out modes: off, thru, thru+knob movements sent as CC, sequencer/arpeggiator generated events only, polychaining, split (plays notes below split point, forwards the other notes)
patch memory: 80 patches and 80 sequences stored in EEPROM (no backup battery required)
firmware update by SysEx
Hardware and connectors
power: 2.1mm connector, requires 7.5V-9V 300mA supply (can be unregulated). Center pin positive (+), outer collar negative (-)
audio input/output: 6.35 Jack (Mono audio out), 6.35 Jack (External signal in)
cv inputs: up to 4 CV inputs for easy experimentation with controllers ( might not be broken out on analog VCF/VCA board )
cv outputs: up to 2 CV outputs ( might not be broken out on analog VCF/VCA board )
MIDI: in, out
serial: extra UART TX pin available on control panel board (might be used in future firmware updates to control extension boards)
ISP connector for firmware development
controllers:

8 facade LEDs (current page / modulation matrix visualization)
6 navigation switches
4 pots for patch editing
clickable rotary encoder for fine parameter adjustment or navigationbacklit 2×16 LCD display
This video captures a demo of a step sequencer application, Monotroid, running on an Android mobile phone-controlled Korg Monotron:
Android is connected with Arduino by Bluetooth.
The Arduino is connected with Monotron.
Adding the iPhone app to the Monotroni creates a surprisingly potent combination.