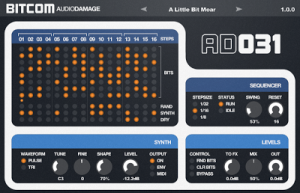 There are subtle plug-ins you put on the two-buss to give a nice gentle vibe to a track. Bitcom is not one of those. There is no "analog modeling" in this effect. There is no warmth or tube saturation. It is utterly devoid of anything to which the word "vintage" can be applied. Bitcom is a modern bit-shredding digital banshee that beggars description and lives on the edge of instability.
In a nutshell, a step sequencer drives a custom-designed bitcrusher, with a synth sidechain. But that sentence doesn't begin to describe the abuse that Bitcom is capable of. We pulled out every trick in the book to build a modern electronic music effect that can turn even the most sedate input in to a swinging, screaming pain-monkey, wreaking havoc on lesser sounds.
Bitcom requires OS X Intel 10.6.0 or later, or Windows XP SP 2 or later; the installers include both 32- and 64-bit versions.
Bitcom Features:
Bit Banging: Bitcom's bit engine is unique; each step has eight switches that (to simplify matters greatly) turn individual bits on and off. So all 8 switches on, and the output is pretty much like the input. Start turning them off and Strange Things Happen.
Synth Signal: Bitcom includes a simple monophonic synth that can either be always on, envelope driven, or controlled via MIDI. This is mixed with the input signal to create strange new sounds. Alternatively, Bitcom can be used without any input at all, as a moderately capable synth.
Sidechain: When using the VST3 version, the sidechain input can replace the synth section. This has the net effect of putting two input signals in to a meat grinder. Strange Things Ensue. Don't say we didn't warn you.
Sequencer: Bitcom's step sequencer syncs to the host DAW. The sequence can be of arbitrary length from 1 to 16 steps, and the sequencer has internal swing.
http://www.mcrow.net/Reaktor%20Ensembles.htm
SuperPan is part of Musicrow Golden Ensembles 3: Premium ensembles for NI Reaktor
Place your sound out of the speakers, create extreme stereo and 3D effects, explore distorted and unnatural spaces, and choose from many surprising 'spacey' presets. Superpan is the perfect panning tool for extremists!
Main Features:
• Pan out of the speakers
• Create super wide stereo mixes
• Extreme 3D effects
• Add unusual motion
• Modulators: Two Sequencers and an LFO
• Many surprising 'spacey' presets
SuperPan is available as part of Golden Ensembles 3 that now contains 45 ensembles, synthesizers and effects for NI Reaktor 5. The update is available for free for Golden Ensembles 3 users.
Musicrow also offers Golden Ensembles 3 for a special Xmas price of 99EURO (Instead of 169Euro) until 31 Dec, 2012.
Legendary Producer/Engineer Michael Wagener sat down with us at Wireworld Studios outside of Nasheville, TN to talk about his experience with The Ladder 500 Series module and demonstrate a variety of ways he's using it on guitars, kick drum, room mics and floor tom.
Learn more about the Ladder and Moog's entire family of 500 series products at:
and hear more sound samples from The Ladder at;
http://www.moogmusic.com/products/500-series/500-series-ladder-filter#sound-tab
Sebastian uses MultiTrack DAW to record SoundPrism PRO, Sunrizer and Funkbox, with some Virtual MIDI magic. What are you going to do with Audiobus?
http://audiob.us
SoundPrism PRO: https://itunes.apple.com/app/soundprism-pro/id425733007?mt=8
Sunrizer: https://itunes.apple.com/app/sunrizer-synth/id443663267?mt=8
Funkbox: https://itunes.apple.com/app/funkbox-drum-machine/id350437349?mt=8
MultiTrack DAW: https://itunes.apple.com/app/multitrack-daw/id329322101?mt=8
All the details below:
More info: http://bit.ly/QPH9Xe
At this year's Decibel Festival in Seattle, we had the opportunity to sit down and talk with Phil Hartnoll of Orbital, one of the most influential dance music groups of the last twenty-five years. The Grammy Award-winning duo consists of Phil and his brother Paul, both originally from Sevenoaks, England, and they began releasing critically and commercially successful dance singles and albums in the late 1980s and early 1990s.
In this video interview, Phil Hartnoll talks about their early beginnings and individual musical influences (including Kraftwerk, English rock bands like Led Zeppelin and Deep Purple, classic Motown soul records from the US, film scores, and Jamaican ska, reggae and dub), their connection with musical contemporaries The Prodigy and Underworld (who were playing similar acid house and rave club gigs back in the day), the origin of the torch glasses, constantly refining their live setup, using the TR-909 vintage analog drum machine and the Ableton Live controller Griid, the importance of improvisation and playfulness in electronic music performances and sets, and most of all, staying true to oneself and not getting caught up in hype.
We talked to Orbital in the Moog Sound Lab about the sounds they crafted for the new special edition white Moog Slim Phatty Analog Synthesizer.
To hear the sounds they crafted visit Moog's website: http://moogmusic.com/sight-and-sound/sound_gallery
More info: http://bit.ly/TjYhoo
Dubspot teamed up with Richie Hawtin and Sennheiser to present CNTRL: Beyond EDM – a series of seminars at colleges across North America addressing the current state of technology, production, performance, and creativity in electronic music. In this video, Richie Hawtin and Loco Dice along with Carl Craig and DJ Sneak discuss the tour and the meaning behind it.
In this short interview, Howie B talks about working with analog gear, producing in the box and why he loves the VINTAGE COMPRESSORS Series. See how he uses the VC 2A on "Summer's Flower" – a track from his upcoming album.
Click here for the full interview:
http://www.youtube.com/watch?v=3LsovGoFEZc
Full version
Russ takes a look at the new iZotope Trash 2 plug-in and finds out that it offers far more than one would first think.
Trash 2 takes the best of Trash and makes it even better. With an entirely new sonic architecture, brand new features, optimized performance, better sound quality, and support for modern hosts and formats, Trash 2 is primed for a powerful new era of audio mangling, distortion, and experimentation. Let sonic mayhem ensue.
KEY FEATURES
Distort in ways you never dreamed with the Trash module's 60+ distortion algorithms, perfect for transforming your sound into something never before heard.
Design your own unique distortions, from massive to mild and everything in between, with a new, customizable, multiband Waveshaper.
Let your tracks inhabit any space or object with the new Convolve module. Choose from over 100 impulse responses or load your own to put your bass in a washing machine or your keys in a cave.
Find a new voice: make your audio speak and growl with two redesigned Filter modules, each one featuring new vowel formant filters, screaming peaks, node modulations, and more.
Start trashing your audio immediately with an extensive new preset library and an ear-friendly Limiter that ensures you can play without fear.
Here's another video plucked from the Future Music archive, filmed in Early 2006. Here we get an insight in to the way producer legend Arthur Baker was working and why the Roland Space Echo is one of his favourite bits of kit. Plus a sneaky look around Mute Records old London studio.
iOS developer Audiobus has now released a proper teaser video demonstrating the workflow of its potentially revolutionary inter-app audio routing device. Audiobus is an app designed to allow audio to be streamed between multiple iOS music making apps. No release date has been announced yet, but the app has been approved by Apple. For more info on the app, check out the Audiobus official site.