Here's another video plucked from the Future Music archive, filmed in Early 2006. Here we get an insight in to the way producer legend Arthur Baker was working and why the Roland Space Echo is one of his favourite bits of kit. Plus a sneaky look around Mute Records old London studio.
iOS developer Audiobus has now released a proper teaser video demonstrating the workflow of its potentially revolutionary inter-app audio routing device. Audiobus is an app designed to allow audio to be streamed between multiple iOS music making apps. No release date has been announced yet, but the app has been approved by Apple. For more info on the app, check out the Audiobus official site.
A brief video of part of the demo from tonight's demo of audiobus.
What's the difference between Audiobus and Virtual MIDI?
Virtual MIDI is a local communications channel for passing around MIDI messages like "C# 1, Velocity 127", or "Modulation, 50" – simple messages that control how a synthesizer should generate audio. Audiobus is a communications channel for sending live audio, like the audible output of a synthesizer app, or the output of a guitar amp effects app, for example.
M-RGT has announced the release of psyGEN, an experimental granular synthesizer plug-in for Windows.
Using granular synthesis as a basis it adds extensive Modulation and FX capabilities to take any type of .wav file source and turn it into a multi-layered composition of great complexity.

With the built-in 16 track sequencer, long evolving ambient/drone sounds can be created and cross-faded with other sounds to create dense tapestries of sound. Also, the sequencer allows for more rhythmic based compositions or patches as well. It is possible to create an entire composition with just one track incorporating many variations.

psyGEN can be used as a standalone synthesizer with a plug-in like SaviHost or similar program or can be installed as a VSTi with a Host DAW.
The psyGEN plug-in for Windows (VST) is available to purchase for $33.50 USD.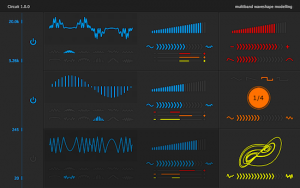 Sinevibes has announced the release of Circuit, its latest Audio Unit effect plugin for multiband waveshape modelling.
Circuit splits the signal into three frequency bands, and passes each band through its own processing engine which offers 12 different algorithms – from sine-based waveshape transformers and foldback distortion, to circuit-bent filters, lo-fi and ring modulation. These models can be further modulated by an input envelope follower, tempo-synchronized LFO or two-dimensional Lorenz attractor. All this is wrapped into a stylish, colour-coded interface based on Sinevibes' innovative design language, which makes it incredibly fun to work with.
Circuit features
Morph lifeless waveforms into entirely new, rich and dense sounds.
Transform synth basses and leads into completely different, layered material.
Re-synthesise and mangle electronic drum loops beyond recognition.
Circuit is available to purchase for $29 USD. It is also included in the Sinevibes plug-in bundle for $119 USD.
DJ, Producer, engineer and Sample creator Dom Kane takes us on a tour of his studio.
In the studio with Carmen Rizzo
http://novationmusic.com/
Carmen Rizzo is a two-time Grammy-nominated recording musician, producer and composer whose credits include Coldplay, Oakenfold, Alanis Morristte, Niyaz & Jem. We visited his beautiful LA studio to discover how he gets inspiration and why he chose to build his live rig almost exclusively around Focusrite and Novation gear.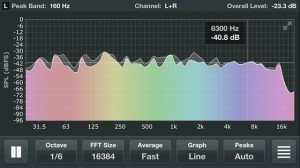 ONYX Apps has launched its Spectrum Analyzer for iOS, a powerful real-time audio analysis app.
Designed with musicians and recording engineers in mind, it can also be used by anyone interested in the world of sound. Ideal for room tuning or speaker tuning, the app enables portable, precision audio measurement and visualization.

Spectrum Analyzer harnesses the computational and graphical power of its host device to provide precision, real-time readouts that are smooth and responsive. It has been designed from the ground up to take full advantage of the newest features and capabilities of iOS 6. It is a completely integrated app – there are no plug-ins or in-app purchases available or required.
Spectrum Analyzer features
Octave Band Real Time Analyzer.
FFT Plot (Fast Fourier Transform).
Spectrograph module.
Test Tone and White/Pink Noise Generator.
Retina display and iPhone 5 ready.
Virsyn describes their new Harmony Voice app as a pitch shifter and harmonizer with professional features including automatic tuning correction.
Virsyn says that you can sing and Harmony voice will add up to four voices according to the chords you play with the piano keyboard or, alternatively, instead of playing the chords yourself you can let Harmony Voice play the chords automatically to enrich the sound of your voice in a musically pleasant way.
The voice character can be adjusted in a way that you can turn a female voice into a male voice and the other way round, while a realtime visual intonation-display gives you feedback of the tunes you sing.
Features:
Four part realtime Harmonizer / Pitch corrector
Different Harmonizer modes:
Manual harmonization by playing chords with up to four notes while singing
Automatic harmonization ( Kraehenbuehl )
Play base note and Harmony Voice adds appropriate chords
Directly play the tunes for up to four voices with the keyboard.
Select key note and scale for harmonization and pitch correction.
Harmonies can be in just ( Barbershop ) or tempered tuning.
Mix your original voice with the harmonized parts.
Change the voice character.
Play background track from your iTunes library.
Hi-end reverb effect for room simulation.
Chorus and Delay effect.
Use a CoreMIDI compatible Interface to control Harmony Voice with a MIDI Keyboard.
Audio recorder with Metronome.
Upload to SoundCloud and File Export.
Audio pasteboard for exchange with other Apps
Pricing and Availability:
$5.99
More information:
Multi-Band Waveshape Modelling Plug-In
Sinevibes has announced Circuit, its newest AudioUnit effect plug-in designed for multi-band waveshape modelling. Circuit splits the signal into three frequency bands, and passes each band through its own processing engine, which offers 12 different models – from sine-based transformers and foldback distortion, to circuit-bent filters, lo-fi and ring modulation. These models can be put in motion by an envelope follower, tempo-synchronized modulator or two-dimensional Lorenz chaos generator.
Sinevibes says that all of these features are wrapped into a fun and simple to use, yet stylish colour-coded interface, which features the company's innovative new design language. Circuit is also based on a future-proof graphics engine that supports the Retina MacBook Pro and of course all forthcoming high-resolution Mac computers.
Pricing and Availability:
Circuit will be available in October 2012 as an AudioUnit plugin for OS X 10.5 or later (Intel 32/64 bit). It can be pre-ordered for just $19. Customers who purchase the Sinevibes' Complete AudioUnit collection (and those who purchased it after 1st September 2012) will receive Circuit as a free bonus.
More information: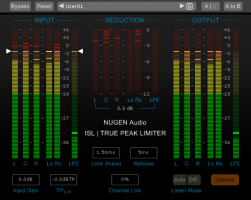 NUGEN Audio has launched ISL, an inter-sample True-Peak limiter that gives complete control over peak levels in audio signals from mono to 5.1. ISL diverges from traditional approaches to limiting by measuring inter-sample peaks and allowing the user to set the true-peak limit, rather than the traditional threshold at which limiting begins. By measuring and correcting for inter-sample levels, ISL protects against distortion that can be introduced when codecs such as mp3 and AAC are applied downstream. Like all NUGEN Audio tools, ISL is intuitive to use and lets audio professionals mix with their ears, leaving ISL to ensure compliance with loudness standards. Designed for the transparent limiting of relatively dynamic high-quality audio, ISL can also be used to hard-limit and reduce dynamic range where required.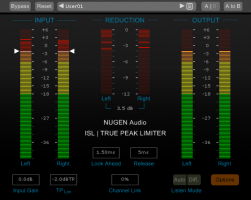 Using the standardized true-peak algorithms of ITU-R B.S. 1770 and related standards, ISL is suitable for post-production and broadcast applications. Features include comprehensive dBTP metering, adjustable channel linking, support for audio formats from mono to 5.1, adjustable ballistics, color splits, and peak indicators.
"I recently finished a "Between the Ears" program for BBC Radio 3 using ISL, and I found it completely transparent. I deliberately tried pushing it hard and it just works, even with much more gain reduction than I would normally consider using in this context. The NUGEN Audio ISL True Peak Limiter is now my limiter of choice for all my broadcast work," said independent post production engineer Mike Thornton.
ISL is part of NUGEN Audio's new range of innovative and easy-to-use loudness correction tools, which includes VisLM and LM-Correct.
ISL is RTAS, Audiosuite, AU and VST-compatible and available in 32-bit and 64-bit versions for OS X and Windows at $249.
More information about ISL and other NUGEN Audio products is available at www.nugenaudio.com.