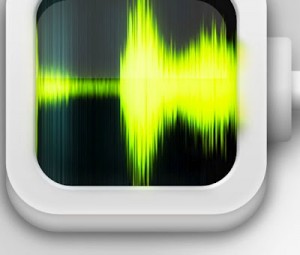 "This morning, Apple finished reviewing the first version of Audiobus, and it has been approved.
We've been working with a small group of third party developers that we already have a close connection with because we want to make sure that those apps can serve as examples for all the other developers (currently more than 400) for how to implement Audiobus.
Once our initial community of developers have finished the Audiobus integration, we'll be all launching together and opening up the SDK to the public."
So what is it?
Audiobus will allow the audio of one app to be process by another. You will be able to process your iOS synths with other synths and effects. Until now you could only run them in parallel and you could only sync or control them via virtual MIDI. Audiobus will fix this going forward.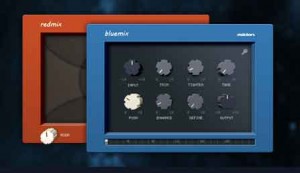 Mildon Studios has released the Redmix and Bluemix plug-ins.
"Get your mix done in no time with these powerful mixing plugins. Get your tracks to sit with Bluemix and then move them around with Redmix. It's simple and easy. Start mixing like a pro!"
Here's the details:
Ready to mix your next inspiring song? Bluemix can help you iron-out individual tracks from powerful kicks to high-flying guitars to make them sound just right.
Bluemix combines smart EQ, automatic compression, and high-frequency excitation to give you a clean signal that sits better in the mix. Use it in tandem with Redmix to create space and to add just the right amount of moisture to your mix.
Bluemix Features:
Smart EQ: Trim, Tighten, Tame
Auto Compressor: Push
Gain Reduction Meter
Exciters: Enhance, Define
Redmix puts your tracks on a virtual stage, allowing you to pan from left to right and front to back! It lets you create a lot of space just by moving things around, something that's hard to achieve with a conventional panner.
Redmix makes effective use of Haas' principles combined with spectral shaping and room reverb to create space. Use it in tandem with Bluemix for a better mix.
Redmix Features:
2-Dimensional Panning (L-R + F-B)
Automatic Haas Effect
Room Control
Pricing and Availability:
Redmix: $19
Bluemix: $19
Bundle: $28.50
More information:
Further adventures in vocal processing using the TC Helicon Voiceworks and the iVoxel vocoder iPad app.
More on the TC Helicon VoiceWorks:
This popular harmony processor has been used by songwriters, performing musicians, and jingle and movie music creators to put their creative stamp on vocals. VoiceWorks has a full complement of vocal processing tools from microphone preamp to four voices of harmony generation, pitch correction, reverb and tap tempo delay, compression and EQ. There's even a song mode that allows you to step through a pre-programmed series of steps with the optional Switch3 footswitch.
A complete signal path from mic input to stereo output. All you add is a PA, (or DAW) and your voice.
Capable of creating up to 5 part harmony or doubling with your voice
Harmonies can be controlled by MIDI keyboard or by setting key and scale
100 user-programmable presets
Reverb and delay can be used simultaneously and have extensive editing parameters
Thicken effect adds lush detune-style chorusing to your lead vocal in addition to other effects
Compressor, 3 band EQ and gate
Editor program for Mac and PC available free via download

Jiggery-Pokery has announced the release of its Shelob Audio Bypass Splitter, ""Super-Spider" audio/CV routers Rack Extension for Propellerhead's Reason.
Not your typical, common-or-garden Spider, "Shelob" is the first super-arachnid for Reason: a 4-in/20-out audio splitter. Each channel features one stereo in and five stereo outs: a pass-through, plus four independent splits. All outputs feature an off/on toggle switch and visual feedback of channel activity.
Shelob Audio Bypass Splitter features
Three-mode fade-time adjustment—Instant, Linear fade (1-100ms), Analogue-modelled CF fade (100ms-20s).
Stripe input mirroring—Auto-route an incoming signal to the next available channel/s.
Four separate stereo audio splitter channels—Four input channels each with four alphabetically-named splitter sub-channels; All the sub-channels are independently switchable.
Passthrough/Group On-Off switch—Use a channels Pass output jacks as an additional "dry" output, and the Pass switch to select between either the split signals or the dry signal. Leave the pass jacks unconnected and use the Pass switch itself to turn the whole channel on and off.
Grouped splits—Use multiple "Shelob" channels to create groups of effects.
The Shelob Rack Extension is available from Propllerhead Software for 7.50 EUR.

Tim Exile takes you through his custom created NI Reaktor based setup used in the Mostly Robot show. He shows how he manipulates sounds and gives an exclusive performance showcasing his technique.
This is an excerpt of the full 40-minute exclusive Mostly Robot video available in the latest issue of Future Music Magazine.
Purchase this magazine from http://www.myfavouritemagazines.co.uk or purchase digitally from http://goo.gl/eITPa
Make Any Mono Signal Stereo -
Brainworx lets us know that bx_stereomaker creates a virtual S signal with analog style filters using advanced digital science. They say that you can solo this virtual S signal and that bx_stereomaker will enhance any mono signal to stereo, while allowing you to balance the center of the stereo signal and paying attention to the frequency range of your signal.
A spokesperson told us, "We call this release a 'public beta' just like we do with all brand-new plugins. We always test our plugins internally, of course, but with almost countless different setups out there we cannot test every possible setup. This release is an unlimited fully functional version and can be tested and bought from now on."
Pricing and Availability:
$95. ($129 after September 15)
More information: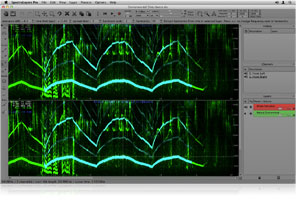 Sony has released SpectraLayers PRO, the newest addition to its line of award-winning software for audio and video production. An intelligent audio editing program, SpectraLayers operates directly on waveform spectra using a wide variety of smart editing tools. Through this application, users can more accurately edit audio by graphically dividing files into discrete, user-defined layers that can be processed independently and reintegrated to achieve flawless master files.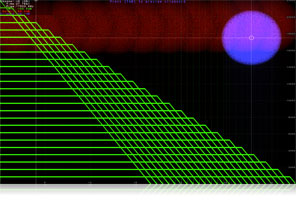 "SpectraLayers introduces an innovative, unique workflow that redefines what can be accomplished in the professional audio editor's suite," said Dave Chaimson, vice president of global marketing for Sony Creative Software. "The level of editing precision and advanced capabilities SpectraLayers offers makes it an essential tool for industry professionals who demand the deepest audio analysis tools."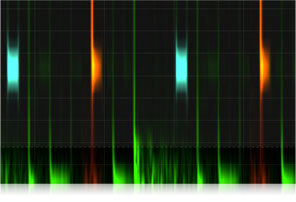 SpectraLayers Offers the Following Transformational Features:
Extreme Audio Editing:
- Divide audio files into discrete, user-defined layers that can be processed independently and reintegrated to achieve perfect master files.
- Remove unwanted noises and artifacts with ease while leaving surrounding audio data completely intact.
- Separate music and dialogue into individual component layers.
- Perform pitch correction on user-selected components of an audio file.
- Employ SpectraLayers in audio mastering, sound design, analysis, and forensics tasks.
- All tools are modifiable using a wide range of user-definable sensitivities and tolerances.
Extraction Tools:
Extract audio into independent layers using intelligent, programmable tools:
- Area — select any audio for transfer from directly within the spectrum graph.
- Frequency — track frequencies and transfer them directly to selected layers.
- Harmonics — seek and select harmonics in user-defined amounts and orders.
Modification Tools:
Operate directly on waveform spectra to perform precise, creative edits:
- Amplify
- Clone
- Erase
Creation Tools:
Create sound directly in the SpectraLayers interface:
- Frequency
- Noise
Fidelity / Flexibility:
- 32-bit 96 kHz capable.
- SpectraLayers provides seamless file transfer to Sound Forge Pro and other audio editing programs.
Dual Platform Support:
SpectraLayers is available for both Mac and Windows platforms.
Price and Availability:
SpectraLayers is now available for purchase worldwide, and online for immediate download at www.sonycreativesoftware.com. Manufacturer's Suggested Retail Price (MSRP) is $399 USD.
More information: http://www.sonycreativesoftware.com/spectralayersp… .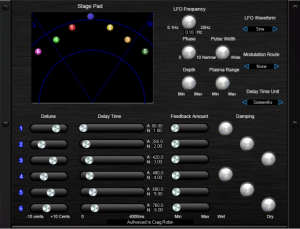 Sound Magic has introduced Neo Plasma – a new multi delay type effect that uses a 'Plasma Collision System' to maximize the randomness of several parameters and create a bigger and richer sound.
Neo Plasma produces several kinds of effects, including:
Multi delay effect with feedback control and different modulation options that give it too many sound possibilities to list here. It can be a exciting modern delay FX one minute and a vintage delay effect with mellow and richer sound the next!
Multi tap effect.
6 voices Echo effect.
Chorus effect – but with our built-in modulation options, users can achieve a richer sound than other chorus effects on the market. Make their own unique chorus now!
Flange effect.
Many newly created EFX – Neo Plasma has a modular structure inside so it is possible for users to create new effects with different settings.
Neo Plasma is provided as a Windows VST or Add-on for Supreme Piano 2
Features:
Internal 64-bit floating point precision.
Innovative Plasma Collision System.
Six modulated stereo delay lines.
Independent feedback and LFO with stereo phase shift control on each tap.
Over 20 modulation waveforms.
Support up to 32Bit/384KHz resolution.
For more information or to download a demo version, visit the Sound Magic site.
For more information, downloading demo version, please visit
http://www.supremepiano.com/product/plasma.html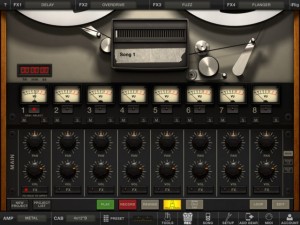 IK Multimedia has updated AmpliTube for iPad, its mobile effects processing app.
AmpliTube for iPad puts a guitar/bass rig at your fingertips, with 4 stompbox effects amp-head, cabinet and microphone. Choose from 11 built-in stompbox effects (delay, fuzz, overdrive, wah, envelope filter, chorus, flanger, phaser, octave, noise filter + distortion once registered), 5 amps (clean, crunch, lead, metal, bass) with full controls, 5 speaker cabinets and 2 microphones (dynamic and condenser).
AmpliTube for iPad 2.5 adds:
Slash gear models available for in-app purchase
New Mixer/Recorder section with loop points, visual metronome, tap tempo
Digital audio in/out support
MIDI support
Audio Copy/Paste
Retina display support
Restore In-App purchases
New export via SoundCloud and FTP
AmpliTube For iPad is $19.99 in the App Store.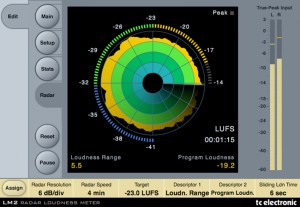 The LM2 Radar Loudness Meter is TC Electronic's new native plug-in that measures True-Peak and Loudness on stereo tracks in all major DAWs, including Pro Tools.
A dedicated stereo plug-in supporting all major plug-in formats, the new LM2 plug-in features TC's Radar Display which provides an instant loudness overview, including loudness history, momentary loudness and true-peak metering in a single view.
According to TC, "Whether you are broadcasting for radio and TV, mastering films or involved in Post Production, you'll find that LM2 is ready to support your work like no other meter."
The LM2 is reportedly fully compliant with all broadcast standards and will be continuously updated as new standards evolve. Current applications include:
Broadcast (North America, South America, Europe, China and Japan)
Commercials and Jingles (North America, South America, Europe, China and Japan)
iTunes Criteria
Game Production Criteria
Delivery for iDevices
Web Audio Delivery
CD Mastering
Click for a full list of features. The LM2 plug-in is priced at $199, but has a special introductory price of $99 until June 30, 2012. Click to try the free 14-day demo or purchase.
In March 2012, TC launched the LM6 Radar Loudness Meter plug-in ($599) which provides support for 5.1 surround and includes a log file feature that allows the plug-in to create a text-based log-file stored on the users hard drive or network. Click for more details on the LM6.