This is the new Nord Lead A1 analog modeling synthesizer – a stunning sounding synthesizer with a simplified yet hugely powerful front panel interface
The Lead for Speed
Producing stand-out sounds for live or for the studio, the Lead A1 is ideal for all musical genres. Thanks to its carefully thought-out user interface, the Lead A1 encourages experimentation, allows for far speedier programming than would otherwise be possible, and ultimately delivers sensational sonic results.
At the heart of the Lead A1 is our new analog modeling engine. Taking our virtual analog synthesis to a new level, this modeling recreates a total analog signal path with uncanny realism, and is capable of immense sonic variety. With 24-voice polyphony and four simultaneous synthesizer parts, the Lead A1 is a true synthesizer powerhouse that goes far beyond the current trend for limited capability analog reissues.
… combined with our most intuitive interface
Fundamental to the design of the Lead A1 is a brand new simple yet sophisticated front panel interface. The design is in fact the result of requests from professional players – even the most experienced programmers – who need to create the perfect sound as quickly as possible for today's live or studio time demands. The Lead A1 allows easy patch creation and experimentation thanks to a new and unique oscillator section, pre-programmed modulation matrix, and simplified ADR envelopes. Dive in and create incredible patches far quicker than would normally be possible with a synthesizer of such power.
Clavia have released a new official video demonstrating the capabilities of the Nord Lead 4 Performance Synthesizer, details below:
We invited the talented Italian keyboard player and producer Federico Solazzo over to our factory in Stockholm to demo some of the powerful new features in the Nord Lead 4! Everything recorded live, with no overdubbing.

For detailed product information and specifications, visit http://www.nordlead4.com
Nord Modular + Boss DR660 _________ Tascam 22-2
Tom Brislin plays Clavia's latest flagship lead synthesizer.
James Wiltshire from The Freemasons makes a demonstration of the feature-set and sonic capabilities of the new Clavia Nord Lead 4 synthesizer. Watch the video and discover why James thinks it's a truly next-generation synthesizer.
Here's some bonus footage for the Nord Lead 4 demonstration with James Wiltshire from The Freemasons. Watch as he makes some parts for a track using the Nord Lead 4 and displays the synthesizers vast sonic capabilities.
Here's a simple 8 bar vamp with elaborate percussion I composed on Finale. Nord Lead begins playing at (0:40).
"I created controller patches for the Nord and MU80 on the Nord Modular G1. There are no Nord Modular sounds in this, although it was used as the main controller. Whoever messes around with their portamento settings on their MU80? Easily when the midi CCs are mapped to a controller. Also switched in and out of 'modulated delay' preset on the Lexicon MX300. I didn't want the delay on during the complex drumfills."
Yamaha Mu80:
Compact in size, but underneath packing a massive xg punch, with 8mb of stunning wave samples, and 64 note polyphony with 2 independent midi inputs, this is the connoisseurs choice in XG devices. With the same simple but powerful user interface as it's baby brother, the MU50, but with the added bonus of also acting as an analogue effects processor for vocals/guitar/saxophone or anything else you need to process, this is the ultimate in XG.
Original music featuring ARP2600, Moog Voyager, Mellotron, D6 Clavinet, Nord Electro 3 and Fender Rhodes
This demo goes through using the Nord Modular (0:00) and G2 (6:00) editors on the Surface Pro.
If you want to just know "Does the Surface Pro work well with these editors?" my answer is 'yes, but…'
The 'but' being that it seemed most useful using the pen throughout. While I at first felt that your fingers would work fine for knob twisting and such, even on the Nord Modular editor (not G2), I looked back at the video and felt that my finger still had trouble catching the knobs. However, I would say WITH the pen, you would have very little trouble using the editors. I hope you enjoyed the video and that it provided you with some insight into this combination. Please let me know if you have any questions. Thank you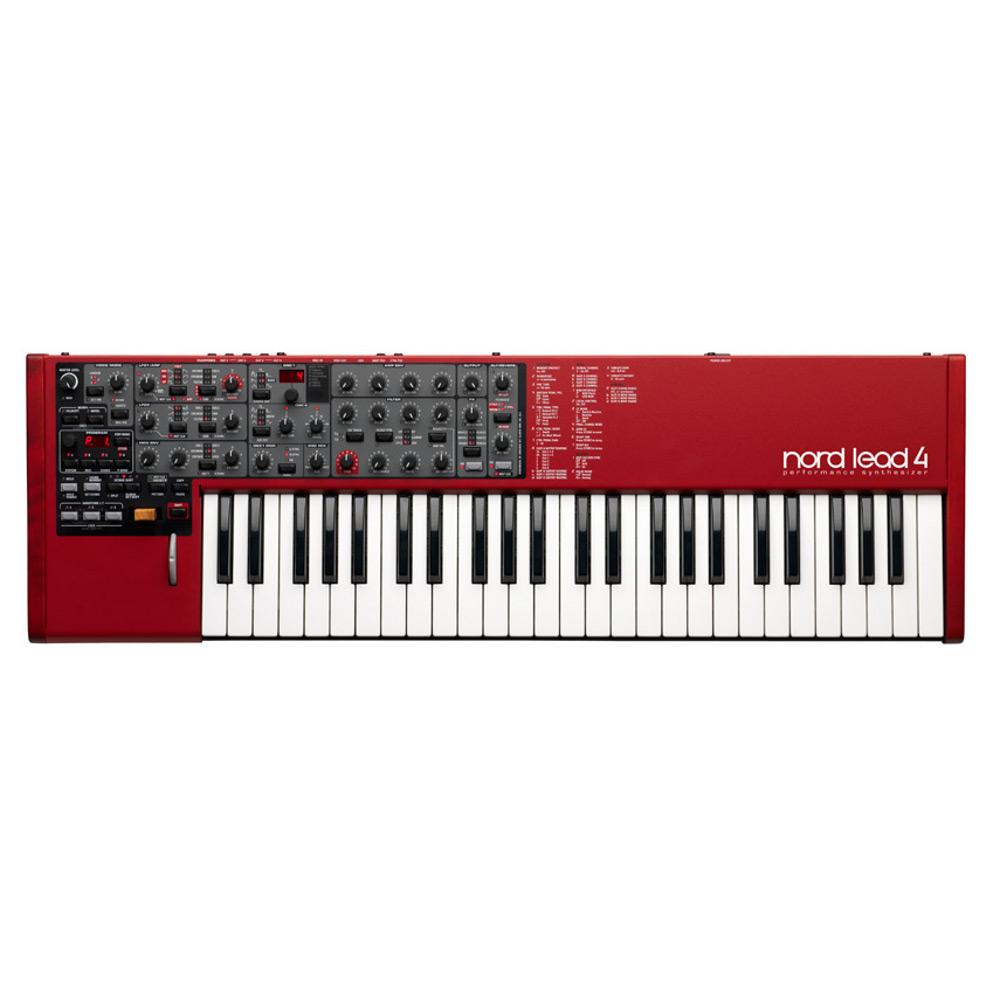 Nord has announced six new artist sound banks for the new Lead 4 and Lead 4R are now available for free download. They tell us that six very different sound designers have created a wide range of new sounds covering everything from classic analogue vintage leads and pads, FM pianos, evil distorted rave basses and complex performance patches with multilayered synchronized arpeggiating monsters and much more.
The sound creators are ASL SoundLab, Federico Solazzo, Åke Danielson, Palle Dahlstedt, Kristofer Ulfves and Ulf "Vinyl" Stenberg.
The sounds are compatible with the Nord Lead 4 and the Nord Lead 4R and are transferred using the Nord Sound Manager.
Free download from the Nord Lead 4 Program Library
This is a quick demo with the Nord Lead 4. It consists of some preset browsing and mild tweaking.
Oscillators
2 oscillators per voice / 20 voice polyphony
FM, Hard & Soft Sync
Modulation
2 LFO sections plus Modulation Envelope
Flexible syncing and routing options
Filter
12, 24 and 48 dB low-pass filters
High-pass and Band-pass filters
Transistor and diode ladder filter simulations
of Mini and TB-303
Effects
Crush, Drive, Comb filter,
Talk, Compressor, Reverb/delay
Performance
4-part multi-timbral
Master Clock Sync of Arpeggiator, LFO and Delay
Impulse Morph
Velocity and Mod Wheel Morph
USB MIDI
Two models
Nord Lead 4 with 49 synth-keys or Nord Lead 4R Table-top rack mountable version