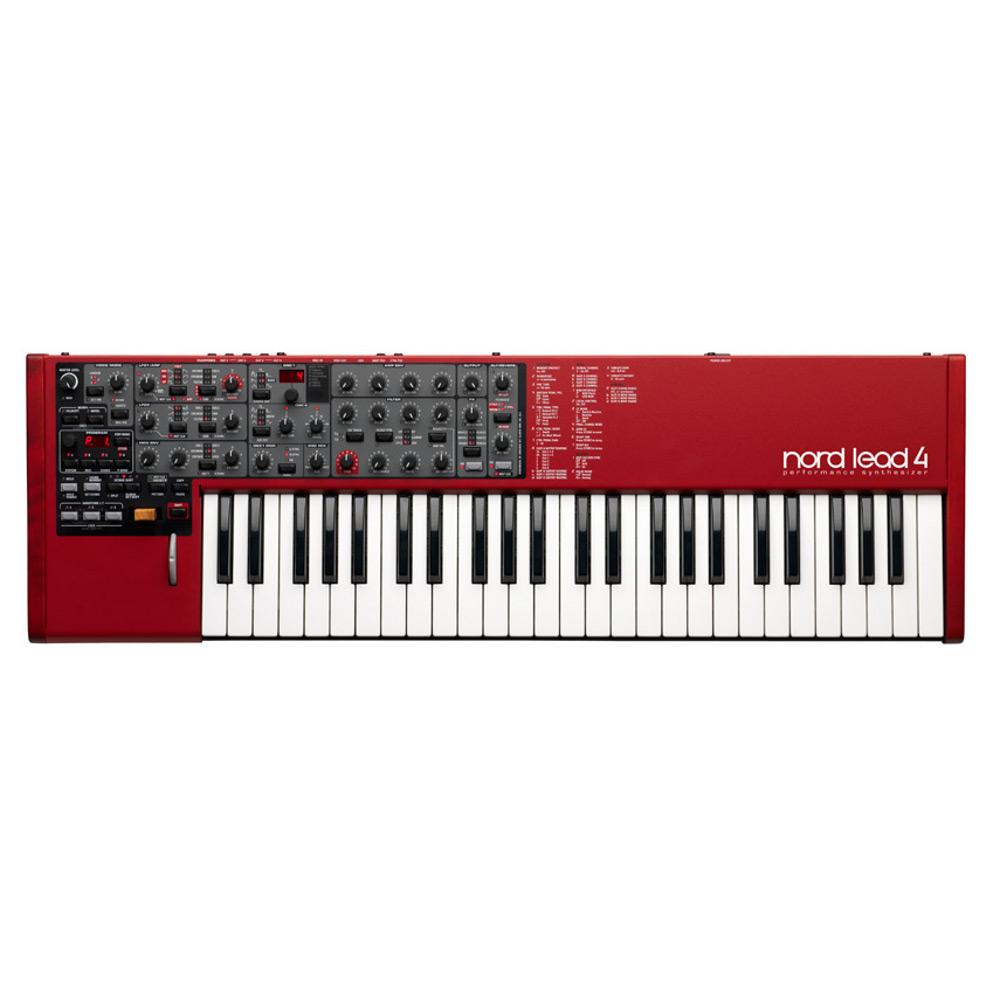 Nord has announced six new artist sound banks for the new Lead 4 and Lead 4R are now available for free download. They tell us that six very different sound designers have created a wide range of new sounds covering everything from classic analogue vintage leads and pads, FM pianos, evil distorted rave basses and complex performance patches with multilayered synchronized arpeggiating monsters and much more.
The sound creators are ASL SoundLab, Federico Solazzo, Åke Danielson, Palle Dahlstedt, Kristofer Ulfves and Ulf "Vinyl" Stenberg.
The sounds are compatible with the Nord Lead 4 and the Nord Lead 4R and are transferred using the Nord Sound Manager.
Free download from the Nord Lead 4 Program Library
This is a quick demo with the Nord Lead 4. It consists of some preset browsing and mild tweaking.
Oscillators
2 oscillators per voice / 20 voice polyphony
FM, Hard & Soft Sync
Modulation
2 LFO sections plus Modulation Envelope
Flexible syncing and routing options
Filter
12, 24 and 48 dB low-pass filters
High-pass and Band-pass filters
Transistor and diode ladder filter simulations
of Mini and TB-303
Effects
Crush, Drive, Comb filter,
Talk, Compressor, Reverb/delay
Performance
4-part multi-timbral
Master Clock Sync of Arpeggiator, LFO and Delay
Impulse Morph
Velocity and Mod Wheel Morph
USB MIDI
Two models
Nord Lead 4 with 49 synth-keys or Nord Lead 4R Table-top rack mountable version
"Created a chiptune-typical arpeggio lead sound on the Nord Rack and played around with it."
Gear used in this video:
– Clavia Nord Rack 2X (chiptune arpeggio lead)
– Moog Slim Phatty (bass)
– Kurzweil Micropiano (piano)
– MAM mb33 mkII (bitcrushed 303 acid bass)
– Vermonad DRM1 mkIII (analog drums)
– Akai MPC 500 (sequencing)
– Korg Kaosspad Mini (decimator effect on mb33)
– Yamaha Tenori-On (sequencing mb33)
– Yamaha AW1600 (recording, mixing & mastering)
Improvised live performance by Jon-Eirik Boska.
The Nord Drum 2 is sequenced from the Nord Beat 2 MIDI step sequencer for iPad (connected via an iRig MIDI interface).
Thanks to Petra, Roman and Jon-Eirik for making this video!
Direction, camera and editing: Petra Hermanová and Roman Přikryl
Music and performance: Jon-Eirik Boska
Read more about the new Nord Drum 2 modeling percussion synthesizer here:
http://www.nordkeyboards.com/main.asp…
Get the free Nord Beat app for iPad here:
http://www.nordkeyboards.com/main.asp…
The Nord Pad is available as an optional accessory for the Nord Drum 2.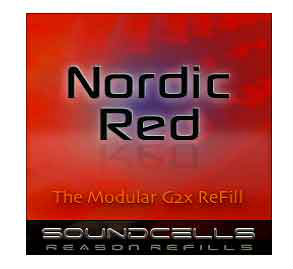 Soundcells has released Nordic Red version 2, a ReFill based on samples from the Nord Modular G2x synthesiser. They believe that it is especially great for film scores, game music, ambient and experimental music.
Version 2 adds 250 Mb of new Nord Modular G2 samples, new combinator patches and changes in detail.
Nordic Red v2 Contents:
•  140+ impressive combinator patches.
•  170+ NNXT patches containing the basic patches which were used to build the combinators.
•  850+ 44 khz 24bit samples, 1.3 GB uncompressed.
•  Great for film scores, game music, ambient & drones but also modern dance styles.
•  11 demo files with 'tutorialesque' value are included.
Pricing and Availability:
Introductory price is 18.90 EUR (normally 24.90 EUR).
'Prepare yourself for a journey where your creativity can reach new levels' – this statement from the 'Welcome' section of the G2 manual is a perfect description of what you can expect from the Nordic Red ReFill. The ability to create an unlimited range of individual sounds will not only provide you with "otherworldly" atmospheric stuff, the deepest textures and great keys, but also with surprisingly "in-your-face" bass patches and wonderful pads when diving into this ReFill. The "self-playing" patches (called "Noodles" in the G2), for example, are great starting points to create some ultra-deep atmospheric textures – an ideal entry for composing film scores or game music. Or simply pitch down the samples to listen to the "hidden magic" inside these up to 90 seconds long 'Noodle' recordings. Version 2 adds 20 combinator patches based on 250 mb of new Modular G2 samples …
Clavia's product specialist Tomas Johansson demonstrating an awesome patch with multiple layers of Arpeggiators using two Nord Lead 4's (6 slots used in total / 1,5 Nord Lead 4:-)).
All elements (3 percussion sounds and 3 synthesizer sounds) are triggered live (no external sequencers).
Clavia gives us a quick run through of their new synth at MusikMesse 2013
Features and specs all revealed on this new red beauty
SBC live from the event
MESSE13: Nord Lead 4 – World Exclusive Pre show sneak peak

After a couple of days of teasing – the new Nord Lead 4 has finally been fully revealed, and boy does it look promising


We will of course take a closer look at it down at  MusikMesse, stay tuned for more on this red beauty
Nord Lead 4 is a 4-part multi-timbral synthesizer sporting a brand new 2-oscillator virtual analog sound engine with 2x oversampling. In addition to the classic analog waveforms there's a Wavetable mode with unique new Formant Wavetables. Frequency Modulation and Hard/Soft sync options are available for mutilating your sound further and the True Voice Unison mode can stack up to four oscillators per voice for really thick, beefy leads and pads.
The filter section boasts Low Pass (12/24dB), High Pass, and Band Pass filters and also stunning new simulations of two transistor and diode ladder filters capturing the squeaky, dirty character of the originals. A dedicated filter overdrive can distort your sound before it passes through the effect section.
The new Variation buttons let you override almost any parameter of the synthesizer, instantaneously. Ever wanted to change LFO speed, Modulation routings and reverb amount – all at once, in the middle of a sound? With the Nord Lead 4 you can! With 7 assignable variations per program Nord Lead 4 gives you creative freedom to warp and improvise your sound live, both rhythmically and sonically and thanks to the Master Clock Synchronization, it can be done in perfect sync to other layers or an external MIDI Clock.
All 4 slots have dedicated effect sections with delay, reverb, tube amp simulated overdrive, a Talk effect modeled after a vocal tract and a sample rate reducing Crush effect.
The Nord Lead 4 is also available as a Tabletop/Rack version, the Nord Lead 4R.

Key features
4-part multi-timbral with 4 separate outs.
2-Oscillator Virtual Analog Subtractive synthesis, with Frequency Modulation, Hard and Soft Sync and True Voice Unison.
Morph and Variation performance controls.
Wavetable synthesis, including unique Formant Wavetables.
12/24 dB Low-pass, High-pass, Band-pass filter section plus transistor and diode ladder filter simulations.
2 LFO/Arpeggiator sections and Mod Env section with flexible routing possibilities.
LFO, Arpeggiator and Delay can be synchronized to the Master Clock (or external MIDI-Clock).
Crush, Talk and Distortion, Reverb, Delay effects (available per slot)
2x oversampled sound engine.
49­-key velocity sensitive keyboard (C-C) (Not Nord Lead 4R).
USB MIDI.
Suggested Street Price:
Nord Lead 4: 1,849 euro, shipping May 2013. Nord Lead 4R: 1,649 euro, shipping August 2013
More info: www.nordlead4.com
This track is a live improvisation using 2 sequences programmed on Korg Radias, one sequence on Mopho, the drum line fron Electribe ESX-1, the pad from Nord Lead 3 and the fulte from Vrius Ti2.
All sounds are created by Alba Ecstasy and if you like them, you can visit the store:
http://www.albaecstasy.ro/blog/store