A plain vanilla video with Nord Drum under a) MIAMI audio out control and b) MIDI control for the four internal synth channels
Background information:
Testing out midi-touch with the G2 and DP2.
The Ensoniq is cool. I edited the patch with my old G4 laptop and sound-diver. Its getting sequenced (reverb mix) parameter changes from Ableton Live. This results in some clicks here and there, but i don't mind. I patched the stereo delay after the reverb so the clicks bounce around the stereo field too.
'Prepare yourself for a journey where your creativity can reach new levels' – this statement from the 'Welcome' section of the G2 manual is a perfect description of what you can expect from the Nordic Red ReFill. The ability to create an unlimited range of individual sounds will not only provide you with "otherworldly" atmospheric stuff, the deepest textures and great keys, but also with surprisingly "in-your-face" bass patches and wonderful pads when diving into this ReFill: 
The "self-playing" patches (called "Noodles" in the G2), for example, are great starting points to create some ultra-deep atmospheric textures – an ideal entry for composing film scores or game music. 
By using Reason's fantastic timestretch algorithm (loading the waves as audio files), all samples can be tweaked further, diving deeper into the recordings, bouncing preferred parts and coming up with even more brilliant ambient gems…
But that´s not all that version 1 of Nordic Red has got to offer:
If you are looking for quality bass patches, classic (or modern) keys, huge pads and more, you will not be disappointed! 
As usual, the combinator buttons and knobs were carefully assigned to allow dramtic changes to the default sounds you´ll be hearing initially. 
•  126 impressive combinator patches subdivided in 6 folders: 
•  149 NNXT patches containing the basic patches which were used to build the combinators.
•  600+ 44 khz, 24bit samples, 1.1 GB uncompressed.
•  Great for film scores, game music, ambient & drones but also modern dance styles.
•  11 demo files with 'tutorialesque' value are included.
A web address to link to for more info and many 'Nordic Red' only MP3s:
Offering price is 19.90 ,- EUR per Unit (normally 24.90 ,- EUR)
The four channel virtual analog drum synthesizer from Nord gets a good seeing to.
Virtual Analog Drum Synthesizer
4 inputs for Electronic Drum Pads / Acoustic Drum Triggers
MIDI In/Out
The Nord Drum is designed with the performing musician in mind and its extreme dynamic range and super-fast triggering add to the feeling of playing a real instrument. 4 high-sensitivity inputs and MIDI lets you play the Nord Drum with a wide range of Electronic Drum Pads, Acoustic Drum Triggers and MIDI-pads/Sequencers for easy integration into any existing drum-kit or the starting point for something completely new…
Create classic retro-futuristic percussion with analog waveforms or use the harmonically complex waveforms together with different colors of noise for results that both sound and respond stunningly organic.
The G2 concept is based on a stand alone hardware keyboard with a freely configurable sound synthesis architecture and a software user interface (Editor) made for Mac OSX and PC. The sound engine in the G2 synthesizer runs on a group of digital signal processors (DSP's), together with high resolution AD and DA converters. A G2 sound is named a Patch and is made with virtual modules and cables. Simply 'drag & drop' modules and cables directly on the computer screen to create your own G2 sounds. A Patch can be modeled after an existing synth or it can be the synthesizer of your dreams.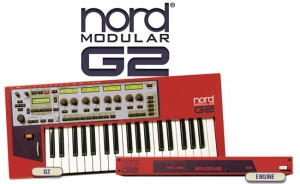 It doesn't matter whether you're an 80's retro fanatic or a producer of the most recent club music. With the G2 you can develop sounds similar to those created by old analog patch synthesizers or simulate acoustic instruments. You can also push yourself into a world of sounds that no single instrument has ever delivered before. While sample players remain cold as ice, the G2 modular architecture offers warmth and presence to your sound. Moreover, the average G2 patch uses about 3(!) kilobytes of memory, which makes sharing over the Internet a piece of cake. To get the feel of how it works, consider the way a guitarist connects his boxes and pedals. You build the sound piece by piece on the computer screen in a simple and intuitive way following your desired signal flow. Many of the G2 modules were also found in traditional analog synthesizers. Among the selection are well-known building blocks such as oscillators, filters, sequencers and envelope generators as well as more complex modules like vocoders, pitch tracker and the mystic Bode shifter. You can also build your own unique FX processors and run both internal and external signals through them. Future upgrades will be available for free from www.clavia.se. Combine all this editing power with a logical, user-friendly knob panel and you have the most flexible synthesizer ever seen – the Nord Modular G2!
The G2 has a three-octave keyboard with aftertouch, one modulation wheel, one Pitch Stick and eight rotary encoders, all easily assignable. Five separate LCD's give instant overview and control of your patches. Four high quality analog inputs, one with a built in microphone amplifier, provide the connections for external sources. Four LED's above the keys indicate the split-point configuration. The G2 is expandable with a voice expansion board.
SOUND OF BASS LENI OF THE ROBOTS NADE WITH NORDWAVE SYNTHESIZER AND SEQUENCED WITH DOEPFER DARK TIMEANALOG SEQUENCER
And here are the details:
The last few weeks I have been trying to make a video. Did many takes resulting in 3 takes which were acceptable but I was not convinced that one of the three was good enough. So this evening I decided to do something completely different which resulted in this improvisation. And I did this in 1 take.
The video begins with two 8-step sequences: one sequence on row 2 of the Doepfer MAQ16/3 which is driving the self-built Modular and one sequence on the Synthesizers.com Q960 which is driving the Rob Hordijk OSC HRM and the Ian Fritz Teezer Through-Zero VCO connected to the Blacet Miniwave. The bass is performed on the Clavia Nord Lead 1, the Mellotron strings sound is played on the Roland XP-80 and the Wurlitzer piano sound on the Waldorf Q Keyboard. Later on a 4 step sequence from row 1 of the MAQ16/3 driving the Creamware MiniMax ASB joins.
The video is filmed by my girlfriend Anne using my iPhone 4.
You can download/see/hear the video and music from my website.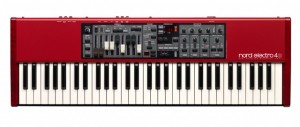 This week at Musikmesse 2012, Clavia DMI AB will be unveiling its new Nord Electro 4D SW 61. This announcement comes just in time for the 10th anniversary of the very first Electro keyboard.
Lightweight and full of improvements, the Nord Electro 4D SW 61 has a 61-key semi-weighted waterfall key bed, plus the same sturdy, drawbars found on the Nord C2D for full hands-on control. The keyboard also offers support for both of the company's expanding Sound Libraries.
As far as sounds go, the Nord Electro 4D delivers a number of improvements: The Organ section features a new tone wheel engine derived from the flagship Nord C2D organ. Click-modeling has been improved and there is a new Rotary Speaker simulation with a new Drive. In addition, the Nord Electro 4D supports Long Release suitable for legato playing and selectable String Resonance. Handling programs is said to be easy with four Program Banks and four Live Locations. The Effect section now includes a flexible new Delay Effect with tap-tempo, rate, amount, and a stereo Ping-Pong mode. Lastly, the USB port on the Nord Electro 4D SW 61 doubles as an USB-MIDI interface.
Changes in the Nord Electro 4D SW 61:
The Organ section features a new tone wheel engine derived from the flagship Nord C2D organ.
The Click-modeling has been improved and there is a new Rotary Speaker simulation with a new Drive.
The Nord Electro 4D supports Long Release suitable for legato playing and selectable String Resonance. According to the manufacturer, handling programs is easy with four Program Banks and four Live Locations.
The Effect section now includes a flexible new Delay Effect with tap-tempo, rate, amount, and a stereo Ping-Pong mode.
The USB port doubles as an USB-MIDI interface.
The Nord Electro 4D SW 61 will make its official debut at Musikmesse in Frankfurt, Germany this week, March 21 to 24, 2012 at the Nord Booth (B90, Hall 5.1). Learn more at nordkeyboards.com.
Mark demonstrates the Nord Drum, a virtual analogue drum synthesiser module that can be triggered with most drum pads and triggers.
*PRODUCT LINKS*
NORD DRUM – MORE INFO
http://www.absolutemusic.co.uk/store/drums-20/percussion-205/electronic-percu…
Here's a guest post from one of our followers – S. Williams, enjoy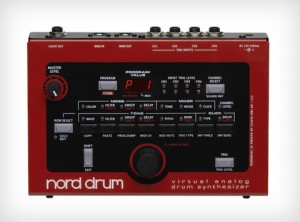 Looking back at NAMM 2012, there is much controversy in picking 'the best in show' but in terms of initiative and surprise we can all agree that the Nord Drum synthesiser is right up there. Nord cleverly created hype by releasing a few teaser pics a few days before NAMM but they may as well been pictures of a guitar as no one could of predicted what they had in store for us. It is not a drum machine in the traditional sense and is in-fact a virtual analogue drum synthesiser triggered by external devices. Nord promised that the virtual drum is " guaranteed to change your perception of what's possible with synthetic, sample-free percussion". And that's exactly what they have done, by creating a device that is totally brilliant and unique.
At the Nord stand at NAMM I was very much hoping to have a go on the drum but unfortunately I wasn't allowed. However I did get the best seat in the house and get a great view of a tutorial like the one below, but it's just not the same.
All it has done is make me desperate to play one and count down the days until its release date. Unfortunately I can't give you more information on a playing experience but I can forward what I know and my opinions.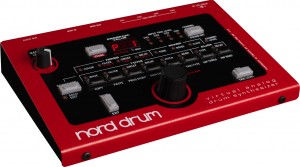 The Nord drum creates its sound through complex analogue waveforms and noise generators similar to that of a vintage Synth. It features lightening-fast triggering, and four trigger inputs allow MIDI equipped devices to connect. With this variety of connections we assume Nord intend to integrate the drum into an existing set-up or to be used as an electronic percussion module. With Nord making all the right noises describing the drum as 'retro-futuristic', it certainly ticks both boxes and is undoubtedly a great product. I can't really see it introduced in live sets just yet, but would certainly be useful in studio set-ups and home usage. It is due to be available very soon, so sign up to this newsletter for more information and to be kept posted.
When it is released I will certainly buy and review it again in more detail and give it a thorough test drive. So stay tuned to this blog and we'll see just what the Nord Drum is capable of.