The movie shows an improvisation in Carlos Alpha tuning system recorded while playing a Nord Modular G2 and my "alternative MIDI controller".
The only melodic/harmonic sound source for this piece is the G2 retuned to Carlos Alpha with LMSO by X.J.Scott. The rhythmic track was created with Omnisphere Stylus RMX.
Read my blog for details: http://www.seraph.it/blog_files/c46d0a7ca80368e67afd7f2aadb46297-162.html

The Nord Electro 4 SW73 has twice the memory capacity of its predecessor, Nord Electro 3 SeventyThree, letting you use more sounds from the Nord Piano and Sample Libraries. The Organ section has been upgraded to the latest Tone Wheel engine from Nord's dual manual organ Nord C2D, including a new 122 Rotary speaker simulation and Drive.
The Nord Electro 4 SW73 joins the Nord Electro 4 HP and Nord Electro 4D SW61, introduced earlier in 2012.
Key features:
73 Semi-Weighted Waterfall (F-F)
Digital LED Drawbars
380 MB memory for Nord Piano Library sounds
128 MB memory for Nord Sample Library sounds
C2D Tone wheel engine with 122 Rotary simulation and Drive
Delay Effect with Tap-Tempo
4 Dynamic Response Curves
Long Release
4 Live Locations
Nord Sound Manager 6.x support for Bundles
USB MIDI
Audio demos:
The Electro 4 SW73 is priced at 1,999 EURO / US MAP 2,399 USD and is shipping in December 2012, and to US & Canada in January 2013. See the Nord site for more info >>
Keith McMillen Instruments has uploaded a new video featuring their new controller QuNexus – playing alongside a Clavia Nord
Gear used: Elektron Machinedrum as main sequencer, Waldorf Blofeld, Akai mpc500, Korg Ms2000, Clavia Nord Modular G2 and DSI Tetr4.
Live microtonal vocoding performance featuring Opal Chameleon, Nord G2, LMSO and Logic Pro
See http://www.seraph.it/blog_files/category-video.html
Get a glimpse of the factory in Stockholm where all Nord keyboards are made…
Clavia have released a short video offering a glimpse inside their Stockholm factory where all Nord keyboards are handmade. The video shows the manufacturing process and stringent quality controls as a Nord Electro 4D is put together.
Highlighted are some of Nord's unique practices and attention to detail throughout the manufacturing process. For example, one section of the video shows Nord's heat room in which every Nord keyboard is placed once fully assembled. Each keyboard is tested for 48 hours running continuous CPU tests at 40 degrees centigrade to simulate the most challenging of stage environments.
Music by Federico Solazzo (http://www.federicosolazzo.com/).
All sounds except drums from the Nord Stage 2 and Nord Wave.
Thanks to Hasse & Lasse (http://www.hasseochlasse.se) for making the video!
Official Website:
http://www.nordkeyboards.com
Clavia gets into the app game with a nice looking iPad step sequencer known as Nord Beat. It's free and, thanks to its CoreMIDI support, can be used to control not only Nord modules and synths – it's been designed with the Nord Drum particularly in mind – but also any other MIDI instrument. Nord Beat offers four tracks, a 16-step sequencer and up to eight patterns. You can either loop one of these or chain them together (repeating patterns if necessary) to create a song. You can choose from three velocity levels and adjust the amount of shuffle, while a Pad mode gives you the option of playing your drum sounds.
You can download Nord Beat for iPad now from the App Store.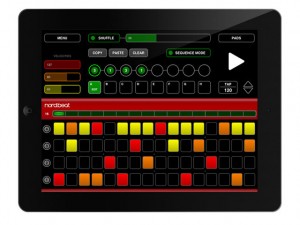 Clavia Nord Beat official info
Nord Beat is a 4-track CoreMIDI Step Sequencer for iPad. Nord Beat is a perfect companion for your Nord Drum and is available for free at the App Store!
Sequencer
Nord Beat lets you create drum beats in classic 16 step grid with up to 8 patterns and offers great control over velocity. Patterns can be played back in two ways: In Sequence Mode, up to 8 patterns can be cued and will play in a chained fashion. Each pattern can be set to repeat up to 8 times to create a song progression. When Sequence Mode is turned off, a single pattern will loop until you cue another. Any pattern can be edited while playing and the Copy/Paste function lets you create variations over a pattern very quickly. There are 3 velocity levels represented by colors, and are easily changed by swiping up or down on the desired notes. The actual velocity values can be altered with the velocity faders for changing accents and dynamics in real-time. The Shuffle amount can also be changed on the fly and each of the 4 tracks can be muted individually. The Pattern length can be shortened (1-16) while playing for creating breakdowns or alternative time signatures.
Pad Mode
Nord Beat also features a Pad Mode that lets you play the Nord Drum (or other MIDI gear) with your fingers and even gives you great control over the velocity! The center zones transmit full velocity and gradually gets lower towards the edges. The pads can be used simultaneously with the sequencer.
Easy Setup
Although designed with the Nord Drum in mind, Nord Beat can be used with any MIDI instrument. Just choose the desired MIDI-channel and Note Numbers in the Nord Beat Settings menu and you're ready to go!
A CoreMIDI compatible MIDI interface is required.
Nord Drum is a four part/three layer synthesizer with separate control for Click, Noise and Tone; there's a lot of internal parameter for sculpting the "percussive" sound. Too sad, in V 1.0 there's no capability for remote MIDI programming… The line out of Nord Drum goes straight into digital recorder and you'll need some subwoofer or some decent monitors to hear the bass frequencies coming out from this babe…
A plain vanilla video with Nord Drum under a) MIAMI audio out control and b) MIDI control for the four internal synth channels
Background information:
Testing out midi-touch with the G2 and DP2.
The Ensoniq is cool. I edited the patch with my old G4 laptop and sound-diver. Its getting sequenced (reverb mix) parameter changes from Ableton Live. This results in some clicks here and there, but i don't mind. I patched the stereo delay after the reverb so the clicks bounce around the stereo field too.