Gear used: Elektron Machinedrum as main sequencer, Waldorf Blofeld, Akai mpc500, Korg Ms2000, Clavia Nord Modular G2 and DSI Tetr4.
Live microtonal vocoding performance featuring Opal Chameleon, Nord G2, LMSO and Logic Pro
See http://www.seraph.it/blog_files/category-video.html
Get a glimpse of the factory in Stockholm where all Nord keyboards are made…
Clavia have released a short video offering a glimpse inside their Stockholm factory where all Nord keyboards are handmade. The video shows the manufacturing process and stringent quality controls as a Nord Electro 4D is put together.
Highlighted are some of Nord's unique practices and attention to detail throughout the manufacturing process. For example, one section of the video shows Nord's heat room in which every Nord keyboard is placed once fully assembled. Each keyboard is tested for 48 hours running continuous CPU tests at 40 degrees centigrade to simulate the most challenging of stage environments.
Music by Federico Solazzo (http://www.federicosolazzo.com/).
All sounds except drums from the Nord Stage 2 and Nord Wave.
Thanks to Hasse & Lasse (http://www.hasseochlasse.se) for making the video!
Official Website:
http://www.nordkeyboards.com
Clavia gets into the app game with a nice looking iPad step sequencer known as Nord Beat. It's free and, thanks to its CoreMIDI support, can be used to control not only Nord modules and synths – it's been designed with the Nord Drum particularly in mind – but also any other MIDI instrument. Nord Beat offers four tracks, a 16-step sequencer and up to eight patterns. You can either loop one of these or chain them together (repeating patterns if necessary) to create a song. You can choose from three velocity levels and adjust the amount of shuffle, while a Pad mode gives you the option of playing your drum sounds.
You can download Nord Beat for iPad now from the App Store.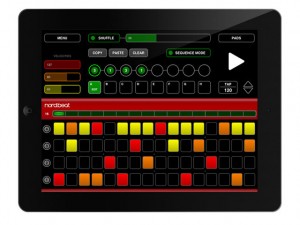 Clavia Nord Beat official info
Nord Beat is a 4-track CoreMIDI Step Sequencer for iPad. Nord Beat is a perfect companion for your Nord Drum and is available for free at the App Store!
Sequencer
Nord Beat lets you create drum beats in classic 16 step grid with up to 8 patterns and offers great control over velocity. Patterns can be played back in two ways: In Sequence Mode, up to 8 patterns can be cued and will play in a chained fashion. Each pattern can be set to repeat up to 8 times to create a song progression. When Sequence Mode is turned off, a single pattern will loop until you cue another. Any pattern can be edited while playing and the Copy/Paste function lets you create variations over a pattern very quickly. There are 3 velocity levels represented by colors, and are easily changed by swiping up or down on the desired notes. The actual velocity values can be altered with the velocity faders for changing accents and dynamics in real-time. The Shuffle amount can also be changed on the fly and each of the 4 tracks can be muted individually. The Pattern length can be shortened (1-16) while playing for creating breakdowns or alternative time signatures.
Pad Mode
Nord Beat also features a Pad Mode that lets you play the Nord Drum (or other MIDI gear) with your fingers and even gives you great control over the velocity! The center zones transmit full velocity and gradually gets lower towards the edges. The pads can be used simultaneously with the sequencer.
Easy Setup
Although designed with the Nord Drum in mind, Nord Beat can be used with any MIDI instrument. Just choose the desired MIDI-channel and Note Numbers in the Nord Beat Settings menu and you're ready to go!
A CoreMIDI compatible MIDI interface is required.
Nord Drum is a four part/three layer synthesizer with separate control for Click, Noise and Tone; there's a lot of internal parameter for sculpting the "percussive" sound. Too sad, in V 1.0 there's no capability for remote MIDI programming… The line out of Nord Drum goes straight into digital recorder and you'll need some subwoofer or some decent monitors to hear the bass frequencies coming out from this babe…
A plain vanilla video with Nord Drum under a) MIAMI audio out control and b) MIDI control for the four internal synth channels
Background information:
Testing out midi-touch with the G2 and DP2.
The Ensoniq is cool. I edited the patch with my old G4 laptop and sound-diver. Its getting sequenced (reverb mix) parameter changes from Ableton Live. This results in some clicks here and there, but i don't mind. I patched the stereo delay after the reverb so the clicks bounce around the stereo field too.
'Prepare yourself for a journey where your creativity can reach new levels' – this statement from the 'Welcome' section of the G2 manual is a perfect description of what you can expect from the Nordic Red ReFill. The ability to create an unlimited range of individual sounds will not only provide you with "otherworldly" atmospheric stuff, the deepest textures and great keys, but also with surprisingly "in-your-face" bass patches and wonderful pads when diving into this ReFill: 
The "self-playing" patches (called "Noodles" in the G2), for example, are great starting points to create some ultra-deep atmospheric textures – an ideal entry for composing film scores or game music. 
By using Reason's fantastic timestretch algorithm (loading the waves as audio files), all samples can be tweaked further, diving deeper into the recordings, bouncing preferred parts and coming up with even more brilliant ambient gems…
But that´s not all that version 1 of Nordic Red has got to offer:
If you are looking for quality bass patches, classic (or modern) keys, huge pads and more, you will not be disappointed! 
As usual, the combinator buttons and knobs were carefully assigned to allow dramtic changes to the default sounds you´ll be hearing initially. 
•  126 impressive combinator patches subdivided in 6 folders: 
•  149 NNXT patches containing the basic patches which were used to build the combinators.
•  600+ 44 khz, 24bit samples, 1.1 GB uncompressed.
•  Great for film scores, game music, ambient & drones but also modern dance styles.
•  11 demo files with 'tutorialesque' value are included.
A web address to link to for more info and many 'Nordic Red' only MP3s:
Offering price is 19.90 ,- EUR per Unit (normally 24.90 ,- EUR)
The four channel virtual analog drum synthesizer from Nord gets a good seeing to.
Virtual Analog Drum Synthesizer
4 inputs for Electronic Drum Pads / Acoustic Drum Triggers
MIDI In/Out
The Nord Drum is designed with the performing musician in mind and its extreme dynamic range and super-fast triggering add to the feeling of playing a real instrument. 4 high-sensitivity inputs and MIDI lets you play the Nord Drum with a wide range of Electronic Drum Pads, Acoustic Drum Triggers and MIDI-pads/Sequencers for easy integration into any existing drum-kit or the starting point for something completely new…
Create classic retro-futuristic percussion with analog waveforms or use the harmonically complex waveforms together with different colors of noise for results that both sound and respond stunningly organic.
The G2 concept is based on a stand alone hardware keyboard with a freely configurable sound synthesis architecture and a software user interface (Editor) made for Mac OSX and PC. The sound engine in the G2 synthesizer runs on a group of digital signal processors (DSP's), together with high resolution AD and DA converters. A G2 sound is named a Patch and is made with virtual modules and cables. Simply 'drag & drop' modules and cables directly on the computer screen to create your own G2 sounds. A Patch can be modeled after an existing synth or it can be the synthesizer of your dreams.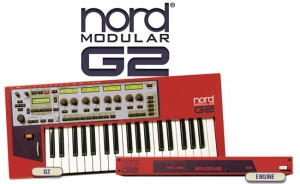 It doesn't matter whether you're an 80's retro fanatic or a producer of the most recent club music. With the G2 you can develop sounds similar to those created by old analog patch synthesizers or simulate acoustic instruments. You can also push yourself into a world of sounds that no single instrument has ever delivered before. While sample players remain cold as ice, the G2 modular architecture offers warmth and presence to your sound. Moreover, the average G2 patch uses about 3(!) kilobytes of memory, which makes sharing over the Internet a piece of cake. To get the feel of how it works, consider the way a guitarist connects his boxes and pedals. You build the sound piece by piece on the computer screen in a simple and intuitive way following your desired signal flow. Many of the G2 modules were also found in traditional analog synthesizers. Among the selection are well-known building blocks such as oscillators, filters, sequencers and envelope generators as well as more complex modules like vocoders, pitch tracker and the mystic Bode shifter. You can also build your own unique FX processors and run both internal and external signals through them. Future upgrades will be available for free from www.clavia.se. Combine all this editing power with a logical, user-friendly knob panel and you have the most flexible synthesizer ever seen – the Nord Modular G2!
The G2 has a three-octave keyboard with aftertouch, one modulation wheel, one Pitch Stick and eight rotary encoders, all easily assignable. Five separate LCD's give instant overview and control of your patches. Four high quality analog inputs, one with a built in microphone amplifier, provide the connections for external sources. Four LED's above the keys indicate the split-point configuration. The G2 is expandable with a voice expansion board.