The JD-800 is Roland's answer to half a decade of hard-to-program synthesizers. Covered in sliders that act as dedicated editors just like a classic analog synth, the JD-800 is an extremely programmable and hands-on digital synthesizer. It is also an interesting and great sounding digital synth with incredible flexibility and control. Internal ROM based waveforms are combined to build your sounds. The sounds are based on Roland's D-50, but updated for the nineties with multimode filters – uncommon but welcome at the time.
The JD-800 came in a tough metal case capped off on the sides with large plastic covers. Programming may be a little too flexible for some users, but once you know what you're doing with it, almost any sound you can dream up can be dialed in and stored.
Selection of pads made on the Alesis A6 Andromeda analog synthesizer, full details below:
All patches played use all the 16-voices A6 can offer simultaneously.. No processing, just straight output from the A6. YouTube conversion kills the high-resolving analog sound quality and fatness, but hopefully this gives you a glimpse into the A6 inner life… All played are Alesis factory patches. I've only had the synth for a couple of days now so just barely scratching the surface of it – here's a proof that even with the much-chriticized factory banks you can make some good sounds. Use the "HD" quality mode button below to get the most out of it.
If anyone wonders, some pictures on the background are from our own Milkyway's massive cosmic neighbour Messier's catalog M31 Andromeda galaxy, one of the few galaxies that has blue-shift instead of red-shift like all other galaxies we see, meaning it comes towards us and with the "locked" gravitational pull our Milkyway Galaxy will collide and merge with the bigger brother Andromeda in a very distant future, forming a new galaxy. Hopefully the Solar system will not be thrown out into the vast emptyness of space or sucked into a black-hole due to the viscous gravitational play during the merging. The name for the synth is inspired from Andromeda – and I would say it's a very fitting name for it

A hold down one note patch Anthony Distefano made in Absynth.
Patchin a groove from scratch and see what happens.
Starts with creating a bass drum, snare, hihat.
The antenna represent different parts in the video.
After the thick part in the antenna there are some nice grooves going on together with the deer horn.
Here is 'hayeye's 99 patches on Dave Smith Prophet 12.
DOWNLOADABLE FOR FREE on www.noisecollective.net forum in NSPA section after registration.
Sorry for low quality due the old iMac cam and video compression.
Korg Kronos Tutorial: 13 MS-20 Patch Panel Programming (use the 1080p quality to read the screens)
This tutorial shows how to use the MS-20 Patch Panel, the common input and output connectors will be explained. The following patch sections are in the tutorial:
- AMS Source Output Connector
- Total Input Connector
- Frequency Input Connector
- High Pass Filter Input Connector
- Low Pass Filter Input Connector
- Noise Output Connector
- VCA Area
- Mixer Area
- Modulation Generator Area
- S&H area (with Clock source)
- Feedback routings
At the end of the video there are several examples of common patch panel routings to get you started.

Roland today introduced Axial – an official Roland sound library download site.
The site offers a variety of free sound libraries.
According to the company, "Axial is your home for an ever-expanding selection of unique and exciting new sounds for your Roland instruments."
Axial currently features free sound libraries for these synths:
Integra-7
Gaia SH-01
Jupiter-80
Jupiter-50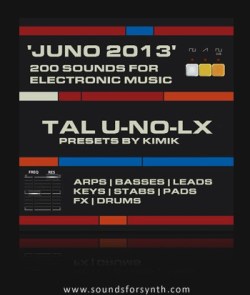 Sounds for Synth has release a new soundbank, Juno 2013, for TAL-U-NO-LX containing 200 presets.
The soundbank is made with all electronic music genres in mind, drawing its main inspiration from Boards of Canada and Ulrich Schnauss. It features drifting keys and arpeggios, hypnotic techno lines together with lush, atmospheric pads and big basses, plus retro sounding 16th and 8th note basslines.
Here are some audio demos from the patch library:
Background video description:
My patches. Some are tweaked factory and some are tweaked downloads. No external effects are used. A demo of the instrument, not a recital. No sir.