"Just messing around with Kawai K3 patches, selecting some parameters, controlling with the main wheel, sequenced by Ableton w reverb/delay."
"Just running through some sounds, messing around. Ableton sequencing midi, ableton reverb/delay on the synths"
http://www.sonicprojects.ch/opxpro2/description.html
Demo of the new Platinum bank for the SonicProjects OP-X PRO-II virtual Oberheim VSTi synth plugin. No external effects or any other treatment are involved. All sounds are coming directly from OP-X PRO-II which was played live and recorded directly to disk.
The bank features 82 stunning patches capturing the magic and the special character of some of the most sought after early voltage controlled polyphonic analog synths including:
- Oberheim OB-X
- Oberheim OB-Xa
- Oberheim OB-8
- Oberheim Matrix-12
- Roland Jupiter-6
- Roland Jupiter-8
- Elka Synthex
If you know these synths and their special sound and character you will immedialtly recognize which sounds are dedicated to which godfathers.
The bank can be downloaded here:
http://www.sonicprojects.ch/opxpro2/userarea.html
Here's the reference of the featured patches:
00:00 01 Clear OB Brass
00:08 02 Clear OB Brass II
00:14 03 Matrix-12 ResoPad II
00:39 79 OB-X SL Upsweep
00:58 80 OB-X Space Sweeps II
01:34 29 OB-X Fullanalog Strings
01:57 32 OB-X Slow R-Sweeps
02:11 31 OB-X PWM DS VL
02:25 30 OB-X PWM D-Sweeps
02:31 04 Matrix-12 NR Cembalo II
02:47 53 Matrix Outerspace
02:57 05 FM Midnight Bell
03:05 51 Matrix Strange Tones
03:15 14 MM DL Arpeggio
03:25 15 MM DL Arpeggio FM
03:33 16 MM DL Arpeggio FMS
03:52 55 OB-Xa Sweep Chords
03:57 56 OB-Xa Porta Chords
04:03 57 OB-Xa Slow Upsweeps
04:25 26 OB-8 Superwarm Strings
04:43 58 OB-Xa Warm Sawsolo
04:48 64 OB-Xa P-Sync Solo II
04:54 66 Prophet-5 Lead
05:01 67 Prophet-5 Sine Pad
05:10 68 Prophet-5 Full Brass
05:19 70 Prophet-5 Mod Strings
05:30 72 Prophet-5 Mod Strings L
05:48 73 Prophet-5 Sync Lead
05:55 74 Prophet-5 Wah Chords
06:06 75 Prophet-5 Reso Chords
06:17 76 Prophet-5 LFO Pad
06:31 78 Prophet-5 Upsweeps II
07:16 17 JP-8 Perc Chords
07:22 18 JP-8 Power Chords
07:25 19 JP-8 Power Chords DB
07:33 20 JP-8 Resonant Brass
07:43 21 OB-8 Slow Fullbrass
07:53 22 OB-8 Superfull Brass
08:05 25 OB-8 Warm Perc
08:14 46 Ujiie Matrix Brass
08:20 06 Jupiter-6 Octave Brass
08:28 07 Jupiter-6 HP Brass II
08:33 35 SEM Fat Bass II
08:41 09 Jupiter-6 Sinesync Bass
08:50 49 Ujiie Matrix Clav II
08:53 48 Ujiie Matrix Clav
08:57 40 Synthex Double ARP
09:03 41 Synthex Speed ARP
09:23 45 S-Pulse ARP ST PM
Note that the youtube audio compression takes away a lot of depth and smoothness and makes the sounds small. Played in real using good d/a converters is like night and day.
The download page features a better sounding high quality mp3 demo of the same. For a real reference the bank can be checked with the demo version of OP-X PRO-II:
http://www.sonicprojects.ch/opxpro2/freedemo.html
Background information:
A brief collection of 3 improvised soundscapes and patches on CSGrain for iPad with my guitar and an Ebow. Don't expect superb playing skills as the guitar is not my main instrument. Also sorry for the ground noise and artifacts, this was recorded on the fly. The audio chain is: guitar to Lexicon Omega to iPad, then processed by csGrain and the audio output goes back to the Omega and this to Sonar on the PC thru the EMU 1820m.
I've included the camcorder mic sound on the last patch (from minute 5:03 to 6:30 ) because I loved the sound generated by the collision of strings with the ebow while vibrating and found it fitting pretty well with the soundscape. I hope you like it.
Background details:
… testing a revised set of "Auto-Melody Generator" patches (using Intellijel Dixies for the sine waves, a DrumDokta DRM-110 for the drums) for a concert w/ JD Emmanuel in June in Brooklyn ; not that I'm consciously trying to ape his style (which I love) – just trying to yield something a bit more flowing & less asynchronous / manic than the recent "Occlusion" pieces …
Close-ups of the Voight-Kampff machine, shot with a Canon VIXIA HF M50 (in VERY low afternoon light ; impressive performance) with the stock lens ; line-level audio pumped out of the "thru" of a direct box directly into the mic input of the camera (with the internal manual preamp levels set on the low side ; still doesn't sound half bad despite the output buzz of the Vermona)…
MFB has updated their site with details on the Dominion-X synthesizer.
The MFB Dominion-X combines analogue synthesis, programmability and modular patching.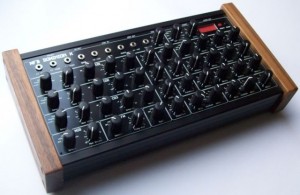 Features:
Programmable Analogue Synthesizer
3 VCOs with wave shaping and ring modulationDual-Sync and Dual-FM features
6-fold multimode-filter including 3 low pass configurations with 12/18/24 dB
patch-section for external CV/Gate-control
Velocity routing matrix with 11 destinations
3 LFOs with 2 LFOS offering one-shot-modes and reset
The MFB Dominion-X is priced at 780, Euro.
Audio demos and details below.
The MFB Dominion X offers three oscillators for maximum flexibility. Each waveform can be varied in symmetry. Besides altering the pulse width of a rectangle, you may also continuously turn a saw tooth into a triangle and a triangle into a sine.
All oscillators also offer ring modulation. In addition, VCO 2 and VCO 3 can be synced to VCO1.
Finally, VCO3 can modulate the frequency of VCO 1 and VCO 2. The analogue oscillator circuit is processor-controlled for stable tuning.
To complete the available sound sources, noise or an external audio input can be added to the VCOs in DOMINION X's mixer section.
The filter offers six operation modes. Available are three low pass variations with 12, 18 and 24 dB/oct. slopes. Also available are high pass-, band pass and a notch filter with slopes of 12 dB/oct. respectively 6 dB/oct. Variable filter modulations are possible via an invertible envelope, keyboard tracking, LFO, VCO, different MIDI controllers as well as by the use o the CV-input.
The two ADSR-type envelops are internally routed to the VCF- and VCA-sections. In addition, envelope 1 can also modulate the VCO section. LFOs 1 and 2 offer six waveform shapes including sample & hold. They may be switched to one-shot-modes to emulation simple envelopes. A third sine-LFO works in combination with a keyboard's modulation wheel and can dynamically address the VCO, VCF and VCA sections.
Modulations are assigned by the use of selector switches, located at the destinations. This allows easily setting and re-routing internal modulation paths – ideally for your live-performance.
To integrate external modulators, control- and audio sources, DOMINION X offers nine inputs. Therefore, oscillators, filter, VCA, CV/Gate and mixer can be easily combined with other analogue synthesizers such as MFB's MEGAZWERG, analogue sequencers such as MFB's URZWERG PRO or modular synthesizer systems.
An additional selector switch allows assignment of velocity for up to eleven modulation destinations.
The MFB Dominion X offers 128 programmable patches. To support sound programming without an attached keyboard, different demo sequences are available. To use The MFB Dominion X as a filter box for external audio sources, the VCA can be opened permanently. Finally, there is an insert available to integrate an effect or distortion unit into the signal path.
The MFB Dominion X has the following dimensions: 330 x 170 x 60 mm. An external power supply is included.
Audio Zombie has released a collection of free synth patches for both Kontakt and EXS24:
AZ SimpleSynths is a collection of synth instruments for both Kontakt and Exs24 software samplers. This collection offers a number of typical synth instruments for electronic music
production.
I used Es2 synth for sound design here and modulation for each sound has been
made with Es2. So i made no use of samplers filters or fx all you get here are synth
instruments sampled from Es2 synth which i programmed. Of course you can make
use of samplers filters or fx's if you want to or when it's needed.
You can preview the patches above. They are available as a free download from the AZ blog.
Background data:
A demo from our upcoming "Soundtrack Mix" which features the KARMA Atonal Generated Effects. Music is from the combi "Schoenberg Orchestra", named after the inventor of twelve tone technique – composer Arnold Schoenberg.
Soundtrack Mix for the Korg Kronos includes 64 New Programs and 32 New Combis and will be available February 2012. More info on all our Korg Kronos sounds can be found at:
http://www.kidnepro.com/KN/Korg/Kronos/Kronos_Main.html
EMW Patch Synthesizer for the Roland JX-8P and MKS-70.
"Our Patch Synthesizer is not just a patch randomizer, it uses an intelligent algorithm to create very usable sounds and has adjustable parameters to allow you to control the type of patch that will be created. Rediscover your synth with the EMW Patch Synthesizer series."
Roger Powell
Odyssey Patches and Tutorial
Published 1973 by Arp Instruments Inc.
I've just put together the pics and the audio track from arpodyssey.com/roger-powell.html because it's so nice to have it together…
This is the most beautiful tutorial for the ARP Odyssey i've ever heard. Thanks to Roger Powell for the tutorial and to Guy Phethean and the arpodyssey.com -people for keeping it alive.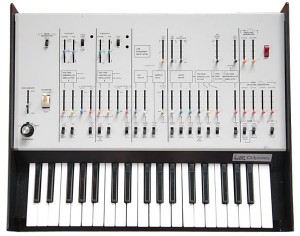 While the Minimoog proved to be a runaway success as the first compact studio synthesizer, ARP responded with a compact and user-friendly studio synthesizer of their own with the Odyssey in 1972. An almost equally legendary machine itself, the Odyssey was ARP's highest selling synth back then, and still is to this day in the second-hand market.
The Odyssey essentially gives you a simplified hard-wired ARP 2600 in a much smaller and affordable package. The Odyssey is a 2-oscillator analog synth (with duo-phonic capability) and it sounds really nice; the Minimoog has three oscillators and is capable of thicker sounds. The Odyssey comes well equipped with all the tweakable features and analog goodness you'd expect: a resonant low pass filter, ADSR envelopes, sine or square wave LFO, and a sample-and-hold function.
The Odyssey also added a few new features such as a high pass filter that could be used in series with the low pass, oscillator-sync capability, and pulse-width modulation. It is a very professional and expressive machine that can create nice analog basses, interesting leads, great effects and sweeping sounds straight out of a Tangerine Dream album!
There were many versions of the Odyssey over the years, each a little different. They can be broken down into 8 models spanning 3 Mark "Mk" versions.
Background source via VSE
Muz3um for Z3TA+ 2 by fr4ncesco
"Muz3um, a free bank for Z3TA+ 2 has just been released.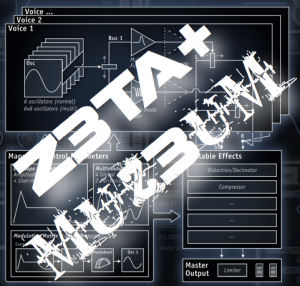 Initially released in 2004, this collection featuring waveforms from analog synthesizers has been completely reprogrammed in order to use Z3TA+ 2 new features, including waveshaping modulation and the new filter types.
Now this collection contains 540 patches, organized in categories (Arps, Bass, Keyboards, Leads, Pads, Sequences) and integrated with Z3TA+ 2 browser. The orginal patches are present too, converted to Z3TA+ 2 format.
Special thanks to
- Chad Beckwith: additional Sound Design & Installer
- Steve at Hollowsun.com: original analog samples
- René G. Ceballos: z3ta+ creator
Muz3um can be downloaded for free at patcharena.com