December 25, 2012 · Posted in
Uncategorized
·
Comments Off

on Blade Runner opening theme with UVI CS-M
A very quick demo of one of the patches contained within UVI's CS-M instrument, part of their Vintage Legends package
December 23, 2012 · Posted in
Uncategorized
·
Comments Off

on "Inside the Grid on Altair IV" – A One-Note One-Patch Soundscape in Absynth 5
My Colorado based electro friend Mark Mosher explores Absynth 5, details below:
"Inside the Grid on Altair IV" is a soundscape created with one patch from scratch using the virtual synthesizer Absynth 5. It is performed be pressing and holding a single note for the entirety of the song. While I have used Absynth as the sole instrument for songs in the past (Tracks 3 & 4 on my last album markmosher.bandcamp.com/album/no-ghosts-just-fear), I've never created a patch where one held note triggers the entire composition. Recent works by Absynth creator Brian Clevinger and artist Anthony Distefano have inspired me to do start working on some pieces of this nature and this is my first of many to come.
The audio is CD quality, and the video shows a behind-the-scenes look at Absynth's wonderful 68-stage modulatable envelopes in action. So all the movement and changes in dynamics, pitch, timber are meticulously drawn and programmed as part of the patch. The envelopes also support LFOs on segments. The envelopes can be extremely long and also loop independently which making Absynth fantastic for evolving soundscapes.
Note, I am also using an envelope to change the "effect time" of the Pipe Effect which is a unique audio effect within Absynth. P. 88 of the manual describes it best "Let's take the image of a string. A loudspeaker (a contact loudspeaker) is connected to a string, which begins to vibrate as a result. You can determine the position of this virtual loudspeaker on the string via the parameter Input Position. Above the string are two pickups, similar to an E-Guitar. The pickups' positions can be determined through the parameter Output Positions. Changing those two parameters can be compared with changing two microphones. You can modulate the string's length and the pickups' position through the LFOs or a MIDI Controller. This way, various flanging, pitch-shifting and rotary speaker effects can be achieved. These effects are particularly apparent when the modulation of the pickups are modulated in op¬posite directions."
December 18, 2012 · Posted in
Uncategorized
·
Comments Off

on KORG POLY-800 II Analog Synthesizer 1986 – PATCHES
Synthesizer Demo of the polyphonic analog synthesizer Korg Poly-800 MK II.
The Korg Poly-800 II (not to be confused with the original Poly-800) is an interesting polyphonic analog synthesizer with built in digital delay. The basic sound of the Poly-800 MK 2 is different to the original Poly-800 MK 1. The filter sounds different and it has faster envelopes. It is a small, powerful synth.
In this movie no external effects or eq were used.
_______________________________________________________________
THE SOUND PROGRAMS IN THIS MOVIE:
Do you have a Korg Poly-800 II and want to get hold of those fantastic sounds heard in the video?
The "ANALOGAUDIO1 POLY-800 II PATCH BANK" costs 12,99 Euros and includes 64 great patches – warm analog pads, interesting retro sounds, fat basses, sequencer sounds and funky leads (in one word: all you hear in the video and some more).
As an experienced synth player, programmer and composer I programmed these patches at a professional level for studio use. This patchbank gets the most out of your Korg Poly-800 II. Also included is a patch list (PDF), to find the right sounds quickly. The sounds are not available anywhere else.
Please note, this patchbank will only work with a POLY-800 MK II – it will not work with the original POLY-800 or the EX-800.
After payment through PayPal you will get a sound file for the tape interface of your Poly-800 II and a patchlist via email.
If you want to buy the "ANALOGAUDIO1 PATCHBANK", please drop me a mail:
ceramic-man@gmx.de
________________________________________________________________
I am also offering ANALOGAUDIO1 patchbanks for the following synths:
KORG POLY-800 http://www.youtube.com/watch?v=K6bG8PpSDPk
KORG POLY-61 http://www.youtube.com/watch?v=9R0bvavfibQ
KORG POLYSIX http://www.youtube.com/watch?v=Bc0uMDg_Wyc
KORG DW-6000 http://www.youtube.com/watch?v=cOoF7TeEj-o
ROLAND JUNO-60 http://www.youtube.com/watch?v=GaTLk6ea9jo
October 19, 2012 · Posted in
Uncategorized
·
Comments Off

on Drawn to the Light – Magellan iPad Synth Solo
This is a patch made on the Magellan synthesizer for iPad.
Download the patch here: https://docs.google.com/open?id=0B7bHi7ZXec4GM1JEVDUwZXF2c0k
"No external effects were used – it was a single patch recorded inside Magellan and then just exported from iTunes. So far I'm really impressed with what this synth is capable of!!
Producer Francis Preve has put together a new free library of synth patches for Ableton Live, featuring the sound of the Roland SH-101 synthesizer.
Here's what Preve has to say about these Simpler instruments:
SH101 Saw – Basic single oscillator SH-101 sawtooth.
SH101 Square – Basic single oscillator SH-101 square wave.
SH101 PWM – One of the truly classic SH-101 sounds lies in the character of its pulse width modulation.
SH101 Saw+Sub – Another signature sound from the 101 comes from its sub-oscillator. Here, I blended it with a sawtooth waveform.
SH101 ResSweep – The SH-101 shipped around the same time as the legendary TB-303 – and many producers have used the 101 in similar ways. The resonance on this synth is exceptional, so here's a taste.
SH101 Resonant – This is another example of the SH-101′s resonance, generating a whistling tone over a square/pulse wave.
SH101 Noise – Lots of 80s tracks used the SH101′s midrange-heavy noise generator for synth drums, so I included a sample of it here.
SH101 Bass – Gotta have some bass too, right?
Download the free Roland SH-101 instruments at Preve's site.
October 6, 2012 · Posted in
Uncategorized
·
Comments Off

on Directly from the labs – Steim synth
A research piece from STEIM exploring analog synths:
Here's the first video of the research I'm doing at STEIM in Amsterdam. this is a simple analog synthesizer which can be patched and modified using a breadboard interface. The visuals are made by setting my oscilloscope to XY plot mode. The X axis is a triangle wave. The Y axis is a ring modulated signal between the same triangle wave and another triangle wave. There are 5 oscillators total which are all inter-modulated. There's also a sample&hold in the mix which gives the visuals a stepped appearance which you can see once in a while.
September 30, 2012 · Posted in
Uncategorized
·
Comments Off

on Music Korg M1 "Universe"
"Music Korg M1 "Universe". My favourite patch from this amazing synthesizer."
The M1 was and still is a popular and widely used digital synthesizer and music workstation. The M1 features built-in AI Synthesis for full digital generation and processing using 4MB of PCM sampled and synthesized waveforms which can be shaped using analog-style editing. The M1 is capable of creating acoustic instruments with clarity, nice digital sounds and good buzzy techno sounds. The M1 is sort of like a workstation-version of the Roland D-50.

In addition to its acclaimed sound, it has a somewhat sophisticated 8-track sequencer. It holds 10 songs and 100 patterns and up to 7,700 notes, and offers full quantizing and editing. Full MIDI implementation suites the M1 ideally for studio production and MIDI system use. Up to 8 parts of multitimbrality with the 8 track sequencer makes for a powerful machine. Add to that a host of digital multi-effects and you've got one of the most widely and professionally used Korg synthesizers around.
September 11, 2012 · Posted in
Uncategorized
·
Comments Off

on Bleepy patched with Analogue System's rs450 CV Recorder + Cwejman MMF-2 Stereo Multimode Filter
Here's a patch showing the new Analogue Systems rs450 CV Recorder/Sequencer and the Cwejman MMF-2 Stereo Multi-mode Filter module. The Cwejman MMF-2 is filtering a basic saw wave bass from the Cwejman VCO-2RM running into a version of lowpass on the MMF-2. The kick and snare were created using Analogue Systems modules. The sixteenth note percussion is a modulated Cyndustries Zeroscillator through a Cwejman VCA, opened by the Cyndustries Four Transients module.
They've pre-recorded a few CV sequences into the incredible new Analogue Systems rs450 CV Recorder/Sequencer. It's being clocked by an A.S. rs200 sequencer (which is running the whole patch actually). They are switching between four or five preset sequences which in turn is controlling the pitch of a Cwejman RES-4 module.
The rhythms for this patch are derived from the 4ms Shuffling Clock Multiplier and we're also using a 4ms PEG module as a slow modulation source for the MMF-2. Rad!
August 23, 2012 · Posted in
Uncategorized
·
Comments Off

on SoundCells releases Boost 309 Version 4 – redefine your beat making!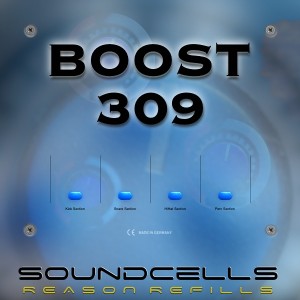 "Boost 309 v4" is based on the complete sample set of the vintage, lo-fi but charmingly sounding machine Rave-o-lution 309 by a company named Quasimidi. Soundcells has created 100 brand new combinator drum machines for you with these samples.
It all ranges from the old original 309 thing to amazing and unique patches that could have never been created within the 309 itself. Besides cool beats and complex, crazy rhythms Boost 309 will offer the user even more! Version 4 is an awesome update which adds 20 combinator patches: 5 combinator drum machines (plus their 5 shuffled counterparts) & 10 great playable combinator synth patches. Not to forget about the new Kong & ReDrum kits..
Boost 309 version 4 Contents:
• 230 combinator patches in 4 folders: Bass, Leads, Pads, Polyphone Synths.
• 100+ NNXT patches, 20 Kong kits, 26 ReDrum kits and over 300 samples from the original 309.
• 60+ rex loops making use of the "Boost 309" drum machines as also the original machine.
• 5 tracks in RNS format – inspiring with highly 'tutorialesque' value.
A web address to link to for more info and many "Boost 309" only MP3s:
Offering price per Unit is 19.90 ,- EUR (normally 29,90 ,- EUR)
August 21, 2012 · Posted in
Uncategorized
·
Comments Off

on "Hundled Hirch" TC-11 iPad Improv by Jeff McLeod
Created using a custom-made patch on Bit Shape's TC-11 multi-touch synth for the iPad. A teardown/rebuild of the original patch "Bundled Birch."
More info here: http://www.bitshapesoftware.com/instruments/tc-11/
And here: http://www.jeffmcleod.net
Patch controllers:
Creation Time Since Previous Touch: Multi Oscillator Level & AHDSR-0 Scale
Touch Y Position: Panning
Distance To Center: SEQ-0 Add
Creation Time Since Previous Group: Mix LPF Frequency Cutoff
Group Count: LPF Frequency Cutoff
Touch Began: AHDSR-1 Start & SEQ-0 Step
Touch Ended: AHDSR-0 End & AHDSR-1 End
AHDSR-0: Amplitude
AHDSR-1: Waveshaper Mix
SEQ-0: Multi Oscillator Frequency & Mlit Oscillator Transpose
SEQ-0 Trigger: AHDSR-0 Start