A research piece from STEIM exploring analog synths:
Here's the first video of the research I'm doing at STEIM in Amsterdam. this is a simple analog synthesizer which can be patched and modified using a breadboard interface. The visuals are made by setting my oscilloscope to XY plot mode. The X axis is a triangle wave. The Y axis is a ring modulated signal between the same triangle wave and another triangle wave. There are 5 oscillators total which are all inter-modulated. There's also a sample&hold in the mix which gives the visuals a stepped appearance which you can see once in a while.
"Music Korg M1 "Universe". My favourite patch from this amazing synthesizer."
The M1 was and still is a popular and widely used digital synthesizer and music workstation. The M1 features built-in AI Synthesis for full digital generation and processing using 4MB of PCM sampled and synthesized waveforms which can be shaped using analog-style editing. The M1 is capable of creating acoustic instruments with clarity, nice digital sounds and good buzzy techno sounds. The M1 is sort of like a workstation-version of the Roland D-50.

In addition to its acclaimed sound, it has a somewhat sophisticated 8-track sequencer. It holds 10 songs and 100 patterns and up to 7,700 notes, and offers full quantizing and editing. Full MIDI implementation suites the M1 ideally for studio production and MIDI system use. Up to 8 parts of multitimbrality with the 8 track sequencer makes for a powerful machine. Add to that a host of digital multi-effects and you've got one of the most widely and professionally used Korg synthesizers around.
Here's a patch showing the new Analogue Systems rs450 CV Recorder/Sequencer and the Cwejman MMF-2 Stereo Multi-mode Filter module. The Cwejman MMF-2 is filtering a basic saw wave bass from the Cwejman VCO-2RM running into a version of lowpass on the MMF-2. The kick and snare were created using Analogue Systems modules. The sixteenth note percussion is a modulated Cyndustries Zeroscillator through a Cwejman VCA, opened by the Cyndustries Four Transients module.
They've pre-recorded a few CV sequences into the incredible new Analogue Systems rs450 CV Recorder/Sequencer. It's being clocked by an A.S. rs200 sequencer (which is running the whole patch actually). They are switching between four or five preset sequences which in turn is controlling the pitch of a Cwejman RES-4 module.
The rhythms for this patch are derived from the 4ms Shuffling Clock Multiplier and we're also using a 4ms PEG module as a slow modulation source for the MMF-2. Rad!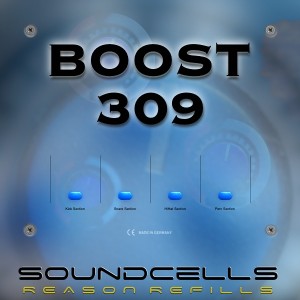 "Boost 309 v4″ is based on the complete sample set of the vintage, lo-fi but charmingly sounding machine Rave-o-lution 309 by a company named Quasimidi. Soundcells has created 100 brand new combinator drum machines for you with these samples.
It all ranges from the old original 309 thing to amazing and unique patches that could have never been created within the 309 itself. Besides cool beats and complex, crazy rhythms Boost 309 will offer the user even more! Version 4 is an awesome update which adds 20 combinator patches: 5 combinator drum machines (plus their 5 shuffled counterparts) & 10 great playable combinator synth patches. Not to forget about the new Kong & ReDrum kits..
Boost 309 version 4 Contents:
• 230 combinator patches in 4 folders: Bass, Leads, Pads, Polyphone Synths.
• 100+ NNXT patches, 20 Kong kits, 26 ReDrum kits and over 300 samples from the original 309.
• 60+ rex loops making use of the "Boost 309″ drum machines as also the original machine.
• 5 tracks in RNS format – inspiring with highly 'tutorialesque' value.
A web address to link to for more info and many "Boost 309″ only MP3s:
Offering price per Unit is 19.90 ,- EUR (normally 29,90 ,- EUR)
Created using a custom-made patch on Bit Shape's TC-11 multi-touch synth for the iPad. A teardown/rebuild of the original patch "Bundled Birch."
More info here: http://www.bitshapesoftware.com/instruments/tc-11/
And here: http://www.jeffmcleod.net
Patch controllers:
Creation Time Since Previous Touch: Multi Oscillator Level & AHDSR-0 Scale
Touch Y Position: Panning
Distance To Center: SEQ-0 Add
Creation Time Since Previous Group: Mix LPF Frequency Cutoff
Group Count: LPF Frequency Cutoff
Touch Began: AHDSR-1 Start & SEQ-0 Step
Touch Ended: AHDSR-0 End & AHDSR-1 End
AHDSR-0: Amplitude
AHDSR-1: Waveshaper Mix
SEQ-0: Multi Oscillator Frequency & Mlit Oscillator Transpose
SEQ-0 Trigger: AHDSR-0 Start
Three takes of (basically) the same patch, played back simultaneously.
Make Noise DPO (VCO-A Lin FM of VCO-B, fixed index), controlled by Noisering outputs 1 and 2 (via Doepfer A-156 Dual Quantizer). Scaled versions of these voltages are also controlling the Rise, Fall and "Both" (timebase) values of three envelopes on two Maths modules, which are opening two LPG channels and two VCA channels on the QMMG (2x LPG –> VCA stereo arrangement), and are triggered by the Trig Outs of the A-156. Both LPGs are fed by the sine out of DPO VCO-B.
The Wogglebug's clock out is patched to the External Control input on the Noisering, and its Stepped output (through an attenuator) is controlling the A-156′s Transpose amount.
The three takes were recorded and mixed together between 6 and 7am– lighting courtesy of the rising Chicago sun.
(Number in the top-right indicates which take is on screen.)
300 random, 8-value presets, divided across three, 100-preset groups.
Same patch as the previous video ("DPO + iPad"), only the DPO is routed here through an Echophon for a very slight chorus delay.
Using an iPad, Touch OSC and Max/MSP to control a Make Noise DPO.
Signal path is DPO Final out –> A-132-3.
The "Fold" portion of the DPO's timbre section is acting as a VCA for the module. The A-132-3 is acting as a panner, using two inverted outputs from the Dr. Octature to open its VCAs in a mirrored pattern.
This is a stereo patch– headphones are recommended.
Many advanced synths in Reason have a Mod Matrix – an essential component in creating great patches. This week we'll become familiar with the way the Mod Matrix works, and in Part 2 we'll cover some more advanced topics.
"Just messing around with Kawai K3 patches, selecting some parameters, controlling with the main wheel, sequenced by Ableton w reverb/delay."
"Just running through some sounds, messing around. Ableton sequencing midi, ableton reverb/delay on the synths"
http://www.sonicprojects.ch/opxpro2/description.html
Demo of the new Platinum bank for the SonicProjects OP-X PRO-II virtual Oberheim VSTi synth plugin. No external effects or any other treatment are involved. All sounds are coming directly from OP-X PRO-II which was played live and recorded directly to disk.
The bank features 82 stunning patches capturing the magic and the special character of some of the most sought after early voltage controlled polyphonic analog synths including:
- Oberheim OB-X
- Oberheim OB-Xa
- Oberheim OB-8
- Oberheim Matrix-12
- Roland Jupiter-6
- Roland Jupiter-8
- Elka Synthex
If you know these synths and their special sound and character you will immedialtly recognize which sounds are dedicated to which godfathers.
The bank can be downloaded here:
http://www.sonicprojects.ch/opxpro2/userarea.html
Here's the reference of the featured patches:
00:00 01 Clear OB Brass
00:08 02 Clear OB Brass II
00:14 03 Matrix-12 ResoPad II
00:39 79 OB-X SL Upsweep
00:58 80 OB-X Space Sweeps II
01:34 29 OB-X Fullanalog Strings
01:57 32 OB-X Slow R-Sweeps
02:11 31 OB-X PWM DS VL
02:25 30 OB-X PWM D-Sweeps
02:31 04 Matrix-12 NR Cembalo II
02:47 53 Matrix Outerspace
02:57 05 FM Midnight Bell
03:05 51 Matrix Strange Tones
03:15 14 MM DL Arpeggio
03:25 15 MM DL Arpeggio FM
03:33 16 MM DL Arpeggio FMS
03:52 55 OB-Xa Sweep Chords
03:57 56 OB-Xa Porta Chords
04:03 57 OB-Xa Slow Upsweeps
04:25 26 OB-8 Superwarm Strings
04:43 58 OB-Xa Warm Sawsolo
04:48 64 OB-Xa P-Sync Solo II
04:54 66 Prophet-5 Lead
05:01 67 Prophet-5 Sine Pad
05:10 68 Prophet-5 Full Brass
05:19 70 Prophet-5 Mod Strings
05:30 72 Prophet-5 Mod Strings L
05:48 73 Prophet-5 Sync Lead
05:55 74 Prophet-5 Wah Chords
06:06 75 Prophet-5 Reso Chords
06:17 76 Prophet-5 LFO Pad
06:31 78 Prophet-5 Upsweeps II
07:16 17 JP-8 Perc Chords
07:22 18 JP-8 Power Chords
07:25 19 JP-8 Power Chords DB
07:33 20 JP-8 Resonant Brass
07:43 21 OB-8 Slow Fullbrass
07:53 22 OB-8 Superfull Brass
08:05 25 OB-8 Warm Perc
08:14 46 Ujiie Matrix Brass
08:20 06 Jupiter-6 Octave Brass
08:28 07 Jupiter-6 HP Brass II
08:33 35 SEM Fat Bass II
08:41 09 Jupiter-6 Sinesync Bass
08:50 49 Ujiie Matrix Clav II
08:53 48 Ujiie Matrix Clav
08:57 40 Synthex Double ARP
09:03 41 Synthex Speed ARP
09:23 45 S-Pulse ARP ST PM
Note that the youtube audio compression takes away a lot of depth and smoothness and makes the sounds small. Played in real using good d/a converters is like night and day.
The download page features a better sounding high quality mp3 demo of the same. For a real reference the bank can be checked with the demo version of OP-X PRO-II:
http://www.sonicprojects.ch/opxpro2/freedemo.html