Nice experiment

Hooked up my mono synths with my Encore Expressionist and recorded a little video to show of the sound. I had the Acidlab Miami triggering the ARP Sequencer which was sequencing the filter cutoff (making that rhythmic sound in the background). The glidey/squelchy bass is the minimoog model D and the 4 voice poly is made up of the 2 ARP 2600′s and 2 voices from the Macbeth M5 – osc 1 and 3 through filter 1 and oscillator 2 through filter 2. It makes for a rather unsurprisingly fat sound and the expressionist makes it really easy to set everything up (I just need some more long 1/4 cables)! The Acidlab Miami was the drum accompaniment. Anyways, hopefully I can record more soon.
"This is a sound demo of a CMOS based polyphonic synthesizer that I made. A keyboard controlled top octave synth that uses almost exclusively simple CMOS circuits to create and modify the sound. The full explanation is here. This is the technical explanation of a CMOS based top octave synthesizer. Check out my other video for a sound demo. The synth uses mostly CMOS chips to generate a the top octave twice, then divides it to get the rest of the notes. The sound is then shaped and processed uses more CMOS circuits, before finally going through dual Wasp filters."
Enjoy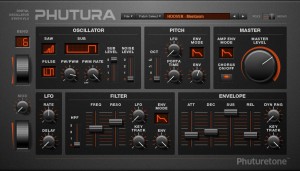 Phutura is a virtual synthesizer inspired by 80′s hardware synth Alpha Juno, best known for the Hoover sound. Its edgy and futuristic feel makes it perfect choice for Lead and Chord Stab type of sounds, suitable for use in dark & energetic styles of music, i.e.: Techno, Rave, Drum&Bass, Electro, Hardstyle, Dubstep.
Specifications:
Polyphony: 8 Voices (+ 8 release reserve).
Oscillators: 3 Oscillators (Sawtooth, Pulse and Sub, with 4-6 subtypes each) and White Noise Waveform.
Filters: Non-resonant High Pass Filter (4 modes) and Resonant Low Pass Filter.
Modulators: LFO, ADSR Envelope, Pitch Bender, Mod Wheel and Key Tracking.

Effects: Chorus.
MIDI: Automation of all interface controls is possible.
Patches: 128 Patches (80 presets in Hoover, Bass, Lead, Pad, Polyphonic, Synth & Sound FX categories; and 48 blank User Patches).
System: Windows with 32-bit host.
By the way these guys also has a nice free Reason Refill that you can download:
"Thor based virtual analog emulation of Transistor Bass synth 303, Transistor Rhythm synths 808 & 909."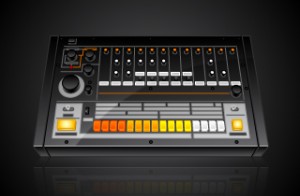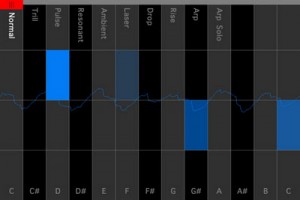 The Grantophone is an extremely expressive and playable musical instrument app. It merges the polyphonic capabilities of a keyboard instrument such as a piano, with the more expressive qualities of instruments like the cello. It supports as many touch points as the device you're using supports. For iPhone that's 5 touch points and for iPad 11. You can control articulation, vibrato, volume and slide from note to note or between octaves. It also comes with several modes you can choose from.
Grantophone is a free app and if you want a cool, unique way to play music – it's worth checking out.
Here's some background information:
When I touch the big knob under the screen I'm changing the filter type or tweaking filter parameters for the CS80 filter. I picked up a fully loaded 4 month old Code 8 this week, with 8 Arp 2600 and 8 CS80 filters! I was up late last night playing it for hours….Sounds a bit like an Oberheim OBX. When you turn on all the waveforms it will saturate a bit, so it's not super clean like everyone says.
Filter demo here
http://soundcloud.com/coolcolj/studio-electronics-code-8
And CS80 filter demo
http://soundcloud.com/coolcolj/code8-cs80-filter
Arp2600 filter demo
http://soundcloud.com/coolcolj/studio-electronics-code-8-1
nnoiz Papp testing animoog with TUNESIA´s UPRISING playback
Animoog does not need any further introductions by now, but in case you've missed it – here's some highlights: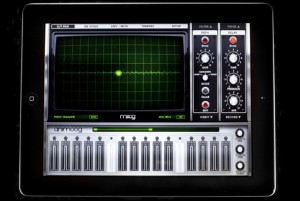 Animoog, powered by Moog's new Anisotropic Synth Engine (ASE), is the first professional polyphonic synthesizer designed for the iPad. ASE allows you to dynamically move through an X/Y space of unique timbres to create a constantly evolving and expressive soundscape. Animoog captures the vast sonic vocabulary of Moog synthesizers and applies it to the modern touch surface paradigm, enabling you to quickly sculpt incredibly fluid and dynamic sounds that live, breathe, and evolve as you play them. Visually captivating and sonically immersive, Animoog brings iPad based music production to the next level. Whether you are new to synthesis or a professional, Animoog's unique user interface gives you the power to easily create a visually vibrant and sonically rich universe. It is the ultimate tool for total creative expression! Animoog's diverse library of timbres is derived from analog waveforms captured from classic Moog oscillators, both vintage and modern, and run through a boutique's worth of high-end outboard and analog signal processors. These include modular synth panels, Moogerfooger pedals and more.
·      Anisotropic Synth Engine (ASE) – An exciting new Moog technology that allows the user to move dynamically through an X/Y space of unique timbres to create an expressive and constantly evolving soundscape.
·      Timbre page – Assemble unique sounds in the X/Y space from timbres of a wide variety of vintage and modern Moog synthesizers and pedals Note: this is NOT simple sample playback.
·      Polyphonic Modulation – Simply slide your fingers to control multiple modulation parameters in Animoog right from the keys.
·      Polyphonic Pitch Shifting – Easily manipulate the exact pitch of each note in a chord by rotating or sliding your fingers.
·      Delay Module – A classic analog style ping pong delay.
·      Thick Module – From bit crushing to unison voice detuning and drive, this module adds depth, edge and character to Animoog's already massive sound palette.
·      Moog Filter – The classic four-pole Moog ladder filter with High Pass, Low Pass and Band Pass modes.
·      Record Module – Record your performance and overdub new layers, or play along live. Transfer recordings between Animoog and any other apps which support AudioCopy/AudioPaste
·      Path Module – Direct ASE through Animoog's X/Y space to create new expressive and shifting sounds that will blow your mind!
·      Orbit Module – Control the rate of orbit in the X/Y space around the path you created for subtle to insane voice manipulation.
·      Flexible Modulation Matrix – Amp,Filter and Mod Envelopes, LFO with infinitely variable wave shapes and sync, and four super flexible and assignable modulation slots.
·      MIDI in/out – Use your LittlePhatty or any other MIDI controller to control Animoog.
ANIMOOG the first polyphonic synth software app by Moog reviewed in detail by Mark Jenkins, author of "Analog Synthesizers: Understanding, Performing, Buying – from the Legacy of Moog to Software Synthesis".
Mark performs using Animoog and other iPad apps at the BIRMINGHAM THINK TANK SCIENCE MUSEUM PLANETARIUM (UK) on Saturday November 26th 2011, tickets on sale now, and on the EAST COAST USA in March 2012. www.markjenkins.co
Btw, here's one more

Moog released Animoog today as their first synthesizer on the iPad and I absolutely love it!
This video gives a brief overview of the Animoog's features and also shows how expressive it is when played with an Eigenharp Pico over MIDI using poly-pressure.
The Eigenharp and Animoog seems like a match made in heaven since the Eigenharp is able to send three independent detailed per-note performance data streams and the Animoog is able to react to this on a per-note level. Also, the visualization of the sound on the Animoog is marvelous, it gives a great representation of what your sound is doing.
The iPad is hooked up to my MacBook Pro using USB MIDI from the Alesis iODock, the Eigenharp Pico is also hooked up to the laptop and sends MIDI from the EigenD application to the 'dock' MIDI port. This uses a small MIDI-only Eigenharp Pico setup that loads very quickly and provides 16 MIDI playing keys with poly-pressure and three independent data streams for each key (pressure, left/right, up/down), as well as two 3D controller keys that are somewhat similar to little joysticks and are sending each three independent streams of MIDI CC data also.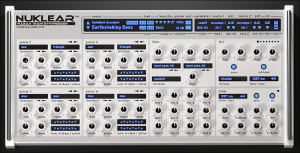 NUKLEAR is a polyphonic pulsar train synthesizer with step-sequencer and effect section, as well as advanced LFO and envelope routing capabilities.
At the core of NUKLEAR are 4 pulsar train generators comparable to oscillators known from classic analog synthesizers. However, pulsar synthesis differs from classic synthesis techniques in many respects.
The development team of NUKLEAR put great effort into developing the synthesis routing capabilities, and state-of-the-art audio algorithms in order to integrate pulsar synthesis into production environments supporting VST2, VST3 or Audio Unit plugin technology. The result is a synthesizer producing a multiverse of previously unheard sounds enriching music production with innovative audio synthesis.
Main features
- Advanced pulsar synthesis with 4 pulsar train generators and up to 16 voices
- 26 pulsar waveforms and 4 pulsar envelope waveforms
- 8 low frequency oscillators
- 8 ADSHR envelope
- Built-in delay effect with sync option
- Built-in distortion effect with 3 distortion types
- 16-step sequencer with 8 programmable patterns for note and multiple parameter modulation control

Homegrown Sounds has introduced ARP, an advanced polyphonic arpeggiator and note sequencer with scale remapping for powerful sequencing possibilities.
Here's what they have to say about it:
With ARP, sequences can be re-mapped based on the played note – so, for example, a sequence can be forced to fit to the major scale. The idea behind this is to break away from the typical note sequencer where every key simply transposes the sequence, the ability to remap each note results in a much more creative sequence.
The Muter Section is a gate sequencer which decides which notes will play. ARP is also polyphonic and so can be used as a typical Gate Sequencer, or even more interesting as a polyphonic sequencer that syncopates. There is also the ability to offset the start note of each sequence so that when 2 notes are pressed together they automatically play syncopated. Finally there is OmniChorder which allows triggering up to another 2 notes when one note is pressed to create a chord, this becomes interesting when used with the Scale Remapper which can leave you with a selection of interesting one finger chords.
The demo version is fully featured, but times out after 10 minutes, it can downloaded here.
Full Feature List:
Arpeggiator - Can be used as a classic ARP with the usual UP/Down/Alternate modes.

Note/Sequence Repeats – This is used to play the note or sequence x amount of times before moving to the next note in sequence.
32 Note Sequencer Mode - This has a 2 octave range, centre value represents actual note pitch.
32 Note Muters – Basically a gate sequencer that decides if a note should play or not, can be used with the Sequencer or the Arpeggiator.
1-4 Octaves – Once the sequence is complete it will go up an octave as far as 4 Octaves.
Fixed Velocity Mode – can use a fixed Velocity instead of played velocity, which is set via a knob.
Latch Mode – Holds the note until the next one is played.
Pulse Width – When Latch is off, this determines how long the pulse is, affecting how long the note trigger is held.
Hold – This will hold any pressed keys until hold is depressed.

OmniChorder - This can be used along with the Sequencer and also when the ARP is disabled. It allows setting 2 further notes to trigger to form a chord from pressing one key. Once this is enabled, the Scale Remapper can be used to manipulate the chord for each note in the octave, reminiscent of the classic Omnichord.
Scale Remapper – Allows changing the Scale on each note (C – B) so that a sequence can be squashed to the scale:
Over 70 scales to choose from.
Sequence Offset – This allows offsetting the start note of each sequence when it is triggered. For example in Poly Mode pressing 2 keys together will start both sequences running, one could be set to start on step 2 so that it will syncopate. In Monophonic mode it allows building more complex sequence patterns as they iterate.
Pitch Disable per note – This can prevent a sequence playing on the selected note, so that for example note C won't play the sequence but just C notes. This is useful in Polyphonic mode so that one key can be consistent whilst another note can play a sequence alongside it.
7 Scale Mapping Modes – The mode decides how the scale is altered, when a note doesn't match the scale, Up will select the next above, Down the next one down etc. There is also nearest, furthest and alternate. There is also a mode which holds the pitch of the octave, and simply uses the scale remapper to force the scale, useful for music without key changes.
Works with the OmiChorder even when the ARP/Sequencer is switched off.
Polyphonic – When used with a polyphonic instrument, notes can trigger individual sequences which is great for use with the Muters(Gate Sequencer) which can create complex rhythmic patterns.
Midi Out – Can be used with any software or hardware midi instrument with host that support midi routing such as Reaper and Cantabile.
Midi Volume and Pan – These can be used to set the volume and Pan of external gear (CC7 and CC10).
Midi Channel – Use this to set which midi channel should be used.
Manual Tempo – Normal Operation is based on the Host Tempo so that it remains in sync with the project, however manual mode can be used in the fashion of an old analog sequencer.
Swing – Swing can be applied when the tempo is set to 32, speed can be reduced by changing the master clock tempo.
Full VST Automation.
Global / Local Randomizer/Default Buttons.
ARP for Windows (VST) is available now for US $20.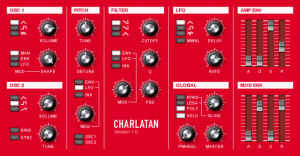 BlauKraut Engineering has released Charlatan – a free polyphonic, subtractive virtual analog software synthesizer for Windows.
Charlatan is a polyphonic, subtractive virtual analog software synthesizer plugin whose design focuses on sound quality and easy usability. The design philosophy was to provide a feature set just large enough to cover a wide range of sounds rather than an infinite number of parameters and modulation options cluttering the user interface and distracting from the creative process. That said, Charlatan's synthesis architecture is flexible enough to create all kinds of sounds, from conventional classic leads, basses and pads to weird blips and noises.
While making no compromises about sound quality, the algorithms have been optimized for efficient CPU usage making Charlatan well suited as a "bread and butter" synth even in projects with a large number of plugin instances.
Charlatan is available for free download via BlauKraut Engineering.
Features
Main features of Charlatan:
2 oscillators with triangle, sawtooth, rectangle and noise waveforms
oscillator pulse-width modulation (PWM) and slew rate modulation (morphing between triangle and sawtooth)
oscillator hard synchronization and ring modulation
2 ADSR envelope generators
1 LFO
3 filter types emulating nonlinear characteristics of classic hardware: 4-pole (24 db/oct) and 2-pole (12 db/oct) lowpass, bandpass
3 voice modes: Monophonic with retriggering, Monophonic Legato and 8-voice Polyphonic
low CPU usage
100% coded in C++
native 64-bit support