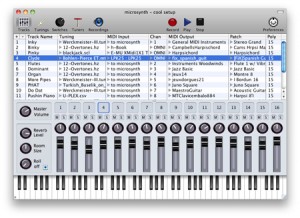 Make some microtonal music on your Mac with Hπ Instruments Microsynth, a polyphonic multi-timbral microtonal synthesizer application (standalone). It's now available in two versions: the multi-timbral version and the mono-timbral (single-track) version dubbed Microsynth-mini.
Both are Mac OS X SoundFont synthesizers for microtonal music, supporting seven types of tuning files, instant retuning, audio file recording, routing to and from standard MIDI hardware controllers, and sequencing and notation software such as Sibelius and Finale. Overall, Microsynth is designed to give you total control of tuning in your music.
The tuning features are the same in both Microsynth and Microsynth-mini. There are 16 independent tracks, each with tuning, MIDI I/O, SoundFont, and patch selection. Check out all the synth features, below.
Microsynth features:
Unlimited tunings, any key to any pitch
Individual tuning per track
Supports MTS real-time Sysex messages
Supports .scl .tun .hz .csv .mtx .gly and .tonex tuning files
Supports single channel tuning tables of 128 tones
Supports OMNI-channel tuning tables of 2048 tones
Allows real-time transposition and remapping of scales
Unlimited user-defined MIDI CC tuning switches and tuners
Supports pitch bending of microtonal pitches
Comes with GM / GS sound set
Built in reverb
Loads .sf2 SoundFonts
Unlimited MIDI connections
One virtual MIDI input and output
Records WAV audio files
Loads and saves scenes
Multiple Undo
The Hπ Instruments Microsynth synth for Mac (standalone) is available for $19.99. Microsynth-mini (single-track) is half as much, at $9.99. For more information, go to the company's Web site at h-pi.com.
This is a short HQ sound demo of the Crumar Trilogy. I played it dry without any additional effects.
The Crumar Trilogy is a multi keyboard instrument / string machine from 1981. It has 3 polyphonic sections: ORGAN, SYNTHESIZER and STRING ENSEMBLE. The best about the Trilogy is the polyphonic synth section, which has 2 VCOs per voice, 24 dB filters which employ the famous SSM chips… The STRING ENSEMBLE and ORGAN sections sound somewhat cheesy, but hey, sometimes you need some vintage cheesy sounds
Very impressive looking. It has no patch memory like you might think. The Oberheim-type led buttons just recall presets.
On a Vangelis record (I don't remember the title) you see a picture of the Trilogy.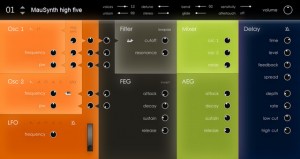 Pekka Kauppila has released a new beta version of MauSynth, a free polyphonic synthesizer plug-in for Windows.
MauSynth is a basic subtractive synthesizer with emphasis on high sound quality and friendly interface.

The plugin is written in c++. It is currently in beta stage, feedback is welcome. MauSynth will stay free even after beta.
Changes in the new beta version

Improved oscillators.
Improved filter.
Improved GUI.
Aftertouch support.
Adjustable velocity sensitivity.
Improved legato mode.
The MauSynth beta is available to download as a VST instrument plug-in for Windows.
The Jupiter-8 is an eight-voice polyphonic analog subtractive synthesizer introduced by Roland Corporation in early 1981.
The Jupiter-8, or JP-8, was Roland's flagship synthesizer for the first half of the 1980s. Although it lacked the soon-to-be standard of MIDI control, later model Jupiter-8s did include Roland's proprietary DCB interface, and all of them sported advanced features such as "Four on Four" and the ability to split the keyboard into two zones, with a separate patch active on each zone.
Here are some details:
CASSINI Polyphonic Synthesizer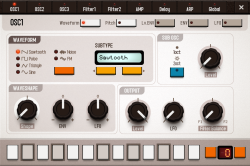 - 3 Oscillators plus 1 Sub-Osc
- Sawtooth, Pulse(PWM), Triangle, Sine, Noise, FM
- Waveshape Modulation
- Oscillator Sync
- Ring Modulation
- 2 Filters
- LP24, LP18, LP12, LP6, BP, HP
- AMP
- Overdrive
- 3 Band EQ
- Auto Pan
- 9 Envelope Generators
- DAHDSR(Delay, Attack, Hold, Decay, Sustain, Release)
- Velocity, Keyboard Tracking
- 6 LFOs
- Sawtooth, Pulse, Triangle, Random, 16 Step Sequence
- Waveshape Modulation
- Envelope(AD/AR)
- Modulation Delay
- Delay Time: 1-2000ms / Tempo Sync
- Delay Time Modulation
- Filtered Stereo Delay
- Resonant Filter (LP, BP, HP)
- Filter Modulation
- Programable Polyphonic Arpeggiator
- Scale/Chord Remapper
- CoreMIDI
- Recorder
- Audio Copy (Compatible with INTUA BeatMaker, Apple GarageBand and so on.)
- Export wav file via iTunes File Sharing
The recording time is limited to 3 minutes.
Here's a new video featuring the Sledge at MusikMesse:
For many synthesizer enthusiasts, it is the particular interaction of the sound engine and user interface that makes a great instrument. A quick look at Sledge shows you the generous set of controls available to interact directly with the sound engine.  When you touch the knobs and switches of the front panel, you will instantly be aware of the meticulous attention to detail our engineers have refined, during many decades building the best electronic keyboards.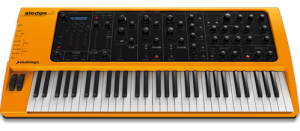 You will experience the logical set-up of the synthesizer modules, mirroring the signal flow of a classic analogue synthesizer.  But what really distinguishes any synthesizer is its sound. Fortunately, our friends at Waldorf Music have happily shared their experience and know-how on this crucial part of the Sledge Synthesizer.
Read more about the new Sledge Synthesizer 
Nice experiment

Hooked up my mono synths with my Encore Expressionist and recorded a little video to show of the sound. I had the Acidlab Miami triggering the ARP Sequencer which was sequencing the filter cutoff (making that rhythmic sound in the background). The glidey/squelchy bass is the minimoog model D and the 4 voice poly is made up of the 2 ARP 2600′s and 2 voices from the Macbeth M5 – osc 1 and 3 through filter 1 and oscillator 2 through filter 2. It makes for a rather unsurprisingly fat sound and the expressionist makes it really easy to set everything up (I just need some more long 1/4 cables)! The Acidlab Miami was the drum accompaniment. Anyways, hopefully I can record more soon.
"This is a sound demo of a CMOS based polyphonic synthesizer that I made. A keyboard controlled top octave synth that uses almost exclusively simple CMOS circuits to create and modify the sound. The full explanation is here. This is the technical explanation of a CMOS based top octave synthesizer. Check out my other video for a sound demo. The synth uses mostly CMOS chips to generate a the top octave twice, then divides it to get the rest of the notes. The sound is then shaped and processed uses more CMOS circuits, before finally going through dual Wasp filters."
Enjoy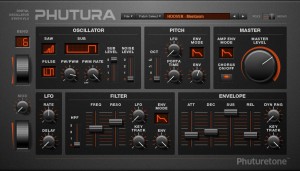 Phutura is a virtual synthesizer inspired by 80′s hardware synth Alpha Juno, best known for the Hoover sound. Its edgy and futuristic feel makes it perfect choice for Lead and Chord Stab type of sounds, suitable for use in dark & energetic styles of music, i.e.: Techno, Rave, Drum&Bass, Electro, Hardstyle, Dubstep.
Specifications:
Polyphony: 8 Voices (+ 8 release reserve).
Oscillators: 3 Oscillators (Sawtooth, Pulse and Sub, with 4-6 subtypes each) and White Noise Waveform.
Filters: Non-resonant High Pass Filter (4 modes) and Resonant Low Pass Filter.
Modulators: LFO, ADSR Envelope, Pitch Bender, Mod Wheel and Key Tracking.

Effects: Chorus.
MIDI: Automation of all interface controls is possible.
Patches: 128 Patches (80 presets in Hoover, Bass, Lead, Pad, Polyphonic, Synth & Sound FX categories; and 48 blank User Patches).
System: Windows with 32-bit host.
By the way these guys also has a nice free Reason Refill that you can download:
"Thor based virtual analog emulation of Transistor Bass synth 303, Transistor Rhythm synths 808 & 909."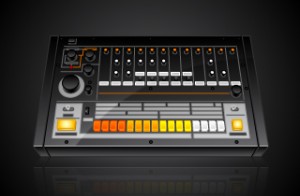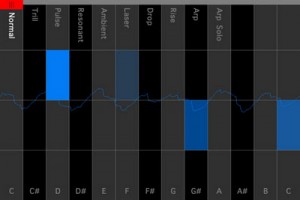 The Grantophone is an extremely expressive and playable musical instrument app. It merges the polyphonic capabilities of a keyboard instrument such as a piano, with the more expressive qualities of instruments like the cello. It supports as many touch points as the device you're using supports. For iPhone that's 5 touch points and for iPad 11. You can control articulation, vibrato, volume and slide from note to note or between octaves. It also comes with several modes you can choose from.
Grantophone is a free app and if you want a cool, unique way to play music – it's worth checking out.