A demonstration of some of the features and sounds from Tronto. The aim of this synth was to make it as analogue and characterful as possible, sampling the waveforms through vintage valves to quarter inch tape.
Available very soon from : www.tronsonic.com
Sign up to the site to be eligible for a 50% introductory discount (terms to be announced).
More sounds from Tronsonic:
Background description:
Korg MS-20 Series :
Ten ways to have fun with a Korg MS-20
1-Basic Plogue Bidule polysynth passing through the filters of my Korg MS-20
2-Korg MS-20 acting very strange
3-Duophonic Korg MS-20
4-Duophonic Korg MS-20 (2)
5-Korg MS-20 complexely arpeggiated by Plogue Bidule
6-Korg MS-20 arpeggiated – Filters's resonance only !
7-FM-like sounds with a Korg MS-20
8-Crazy feedback loop with a Korg MS-20
9-Let's jam ! Korg MS-20 sequenced by Plogue Bidule
10-Let's jam again ! Korg MS-20 sequenced by Plogue Bidule
Hello ! My name is Frederic Gerchambeau. I have made this movie and this music. The music has been made in one take using a Korg MS-20, Plogue Bidule and Audacity. Enjoy !
http://www.myspace.com/fredericgerchambeau
/////////////////////////////////////////////
I am a (proud !) member of the french association PWM (Patch Work Music) :
http://patch-work-music.blogspot.com/
John from Mungo Enterprises demonstrates a brass patch on the State Zero polyphonic modular. By coincidence someone was rehearsing on a french horn in another room which served as an ideal reference.
The Mungo State Zero modular synthesize is pure digital hardware, but uses a hands-on patch-cord interface. It offers 8-voice polyphony, full patch recall and knobs for everything. When you recall a patch, the knobs turn relative to the saved state, and the saved patch cord state is used until you make changes.
Because it's a purely digital synth, you can't patch analog gear into the front panel, but this is supported via rear connections.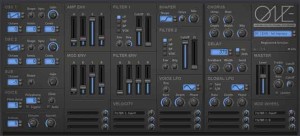 Kilohearts lets us know that kHs ONE was not designed to be a fat analog beast with a massive warm sound… that just happened anyway. A spokesperson told us,
"We have put a lot of time and effort into making oscillators and filters of the highest quality which gives kHs ONE a pleasantly warm and analog sound. Working with professional musicians and producers throughout the development process, we have made sure that the sound meets their high standards."
kHs ONE is available as VST and AudioUnit plug-ins. Both 32 bit and 64 bit versions are available on MacOS X and Windows operating systems.
Features
2 Oscillators (saw/square/noise)
Sub oscillator
2 Filters
Per voice wave shaper
2 LFOs
3 Envelopes (amp/filter/mod)
8 voice unison
24 voice polyphony
Env/LFO legato on/off
Portamento/Glide
Onboard FX: Chorus, Delay, Equalizer and Limiter
Pricing and Availability:
79 Euros
More information:
An introduction to the CASSINI Polyphonic Synthesizer for iPad
http://iphone.icegear.net/cassini_ipad/
3 OSCs + 2 Filters + AMP + 9 EGs + 6 LFOs + 3band EQ + Saturator + 2 Delays + Arpeggiator
A closer look at the Cassini synth, below you can find the details of this polyphonic iPhone instrument
Polyphonic Synthesizer for iPhone/iPod touch
3 OSCs + 2 Filters + AMP + 9 EGs + 6 LFOs + 3band EQ + Saturators + 2 Delays + Arpeggiator
* 3 Oscillators plus 1 Sub-Osc
– Sawtooth, Pulse(PWM), Triangle, Sine, Noise, FM
– Waveshape Modulation
– Oscillator Sync
– Ring Modulation
* 2 Filters
– LP24, LP18, LP12, LP6, BP, HP
* AMP
– Overdrive
– 3 Band EQ
– Auto Pan
* 9 Envelope Generators
– DAHDSR (Delay, Attack, Hold, Decay, Sustain, Release)
– Velocity, Keyboard Tracking
* 6 LFOs
– Sawtooth, Pulse, Triangle, Random, 16 Step Sequence
– Waveshape Modulation
– Envelope(AD/AR)
* Modulation Delay
– Delay Time: 1-2000ms / Tempo Sync
– Delay Time Modulation
* Filtered Stereo Delay
– Resonant Filter (LP, BP, HP)
– Filter Modulation
* Programable Polyphonic Arpeggiator
* Scale/Chord Remapper
* CoreMIDI (input)
* Virtual MIDI-IN & Background Audio
* Scrollable keyboard (Horizontal scrolling at the bottom edge of the keyboard)
* Recorder
– Audio Copy (Compatible with INTUA BeatMaker, Apple GarageBand and so on.)
– Export wav file via iTunes File Sharing
– The recording time is limited to 3 minutes.
Further information at http://iphone.icegear.net/cassini/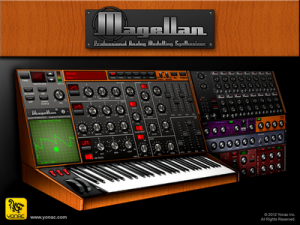 Magellan is a new synth with two independent polyphonic engines from Yonac, here's what they have to say about it:
We've been hard at work this year, and are very excited to present our new synthesizer. Magellan boldly travels waters where others have not dared to sail: Two independent polyphonic synth engines, with a total of 6 configurable oscillators. Polyphonic unison mode giving 24 simultaneous wave generators. Two filter banks per synth engine, each bank with its dedicated envelope and 11 unique filter types to choose from. FM synthesis module with blend and dedicated envelope. Dual LFOs in each synth with 4 freely assignable destinations each. Complete FX rack with modulation, time-delay, reverb and wave shaping effects. Dual traditional keyboards, as well as dual touch pad performance interfaces with individual parametric control over each voice. Built in arpeggiator for each synth engine, allowing you to run two different arps simultaneously, as well as a built in analog-inspired polyphonic step sequencer, and much more!
Listen to it here: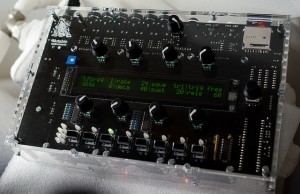 Mutable Instruments has announced the Ambika – a new DIY polyphonic synthesizer.
Translucent, polyphonic, DIY and even a bit sexy – the Ambika will allow for six voices. It can be configured so that all of the voices have the same synth design or with unique synth designs on a per-channel basis.
"It's huge," they note, "And it draws a lot of power!"
Mutable Instruments Ambika Features:
Up to 6 voices, each with an individual output — in addition to a global mix output.
MIDI channels/patches/voices are distinct entities, allowing many different flexible configurations, from 6 independent monophonic parts each on a different MIDI channel, to 1 polysynth, with everything in-between (unison, keyboard split, layering, voice doubling).
Connectors for up to 6 voicecards. In true Mutable Instruments spirit, you can mix and match voicecards with different filters, and in the future with different synthesis engines.
Easy to use sound programming interface with a large 2×40 LCD display, 8 knobs, 8 switches and 15 bicolor LEDs. Each module of the synthesis engine has a page, each page has a direct access button.
Massive patch memory, easy backup/data exchange, fast firmware upgrades with the integrated SD card reader. And there might be other things you'll load from the SD card in the future…
Patch versioning and undo/compare/redo of editing operations.
Sequencer, arpeggiator and rhythmic chord generator available for each part. 2 step-sequences per part. Each part can be clocked at a different multiple of the MIDI clock.
And of course: DIY friendly, through-hole assembly.
Testing out some code having sphero control arpeggio, delay and the filter in shape synth.
Shape is a polyphonic synthesiser allowing the user to draw the shape of the oscillator wave form. The positive side of the oscillation is represented by 32 blocks and the negative side is its mirror, generating all sorts of possible raw retroish sounds. Shape is best experienced with akai synthstation 25 or any other midi device.
Powered by Sparrow.
+++ 16 voices.
+++ Attack.
+++ Decay.
+++ LFO envelope.
+++ Delay.
+++ Akai synthstation 25 compatible.
+++ On screen 25 key stylophone style keyboard.
+++ Arpeggio.
+++ Finite inpulse respons pong filter.
+++ sequencer.
+++ sampler.
+++ coreMIDI (usb and network).
+++ MAPI audio copy.
+++ Soundcloud upload.
http://www.pointblankonline.net/courses/logic-courses.php This week Paul Yarrow shows you how to open up a new world of performance capabilities for Korg's Monotron by turning it into a polysynth enabling it to play chords.
Learn more techniques like this on our wide range of Logic courses: http://www.pointblankonline.net/courses/logic-courses.php
Check out even more free tutorials at http://www.logic-cafe.com/