Around 1983-84 Sequential Circuits, in order to break into the Japanese market, shipped the Curtis SENTE (CEM 3394) chip and the firmware for the Sequential Six-Trak to an other Japanese manufacturer. It was their plan to have that that manufactuer design a synthesizer more targeted at the Japanese buyer. This Japanese company created an 8-voice bi-timbral version of the Six-Trak. They added a 5-octave, 61-note (C-C) keyboard to it and sold it in Japan, calling it the Pro-8. Sequential, liking what the Japanese manufacturer had done with their design and worrying that they might market their synth with one of their competitors (ie. Korg), asked for some design changes and a name change, and sold the Japanese-made synth as the Split-8.
The Split 8 makes for a very nice programmable polyphonic analog synthesizer with complete MIDI implementation. With 8 voices and 8 oscillators (Curtis 3394 SENTE chips) the Split 8 is a heavy contender against the Roland Juno-106! However programming the synth, while straight forward and intuitive, is limited to adjusting one parameter at a time assigned to one Data knob. This limits performance ability but is no problem during studio use.

The keyboard features splits and layers, all of which can be saved with patch data. Choose between 8 voice polyphony with 1 oscillator per voice, 4 voice polyphony with dual oscillators per voice, 2 voice polyphony with a mega 4 oscillators per voice, or the unison mode which is just a fat 8-voice solo mode for trance bass and lead heaven! Similar to the Juno-106, the Split-8 uses a Chorus effect to liven up the sounds. Sonically the Split-8 sounds much 'thinner' than a Roland Juno-106, however this 'thin' sound is characteristic of Sequential and is quite nice.
Developer Jean-Pierre Martineau has released EpicSynth – a new $5 software synthesizer for the iPad. EpicSynth is a polyphonic synthesizer supporting CoreMIDI and Line 6′s Midi Mobilizer MIDI interface.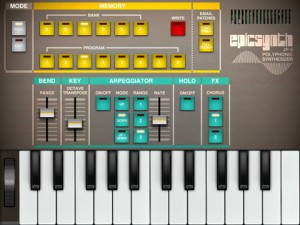 EpicSynth was inspired by legendary analog synthesizers of the 1980s. It's designed from the ground up to be EASY TO USE, POWERFUL, and FUN!
EpicSynth distills the essence of subtractive synthesis into a simple yet powerful app. Epic Synth's sound architecture is simple enough for beginners to learn about synthesis yet powerful enough to satisfy experienced sound modelers. Its straightforward interface is never an obstacle and lets you focus on the essential: the pleasure of creating new sounds!
Details below:
FEATURE LIST:
Transposable two-octave keyboard (C to C) with pitch bend control.
Multi-mode arpeggiator
- Key hold function
- Stores 48 sound patches in 6 banks of 8 programs
Single patch sharing via email
Full memory backup via email
- Compatible with Midi Mobilizer MIDI interface by Line6
- Compatible with CoreMIDI compliant USB keyboards via Apple's Camera Connection Kit
- Four voices of polyphony
EPIC SYNTH IS EASY TO USE
EpicSynth's layout is very intuitive and efficient: you'll spend your time tweaking sounds instead of searching through endless pages of complicated parameters you never use. After all, synthesizers are tools for exploring sound, not exploring user interface pages!
EPIC SYNTH IS POWERFUL
EpicSynth's features have been hand-picked to preserve the essence of classic synthesizers. Without being overwhelming, EpicSynth's sound architecture provides tons of room to create great sounds, from classic leads to juicy acid basses, from 8-bit-like effects to complex evolving sonic textures.
EPIC SYNTH IS FUN
EpicSynth's straightforward layout, inspired by the classic analog synths of the 1980s, yields instant tweaking gratification, while the arpeggiator assists you in creating awesome rhythmic soundscapes. Lose yourself in a sea of virtually infinite possibilities! Be warned that fooling around with EpicSynth can make you lose track of time!
SOUND ARCHITECTURE:
- Each of the four voices has:
- A simultaneous-multi-mode oscillator comprised of a pulse wave with pulse-width-modulation, a sawtooth wave, a sub-octave square wave and white noise generator.
- A standard envelope generator with attack, decay, sustain and release
- A lowpass (ladder) filter with resonance control and modulation routings
- Dual-mode Amplifier using Envelope Generator or Key Gate
- Shared components include
- LFO with adjustable delay
- High-pass Filter
- Chorus effect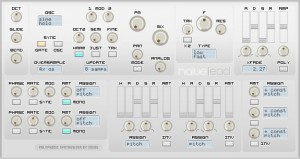 xoxos has announced the release of Naive Lead, a polyphonic synthesizer instrument plugin for Windows.
Naive Lad is a concept synth.. oversampling is used to antialias (to an extent) trivially rendered oscillators. This may offer some benefit in contrast to other methods (especially if you like aliasing!). This VST is presented to offer some insight into dsp to promote informed application of synthesis. If you know what you're using, you'll know when it's best used.

Up to five filter algorithms are available (fast, Stilson/Smith Moog, Karlsen, SV, biquad) for four modes. The licensed version has 6 voices of polyphony (or more at request). Two banks of presets contributed by ten sound designers are included.
Naive Lead for Windows (VST) is available to purchase bundled with W VST for $10 USD.
Above is a capture of the current version and as can be seen in the text below we will soon be treated with a Poly update. TempoRubato has announced the forthcoming release of NLogPoly Synth for Mac OSX. Availability in Mac App Store is scheduled for Saturday, May 21st. Here's their press release with the details…
With the release of NLogPoly Synth for Mac OSX including an Audio Unit version TempoRubato's virtual analogue synth technology – currently known from the iPad app NLogSynth PRO – is now available across both Apple's major platforms: Mac OSX and iOS.
Musicians, composers and producers now have a synth platform which allows them freely to move between mobile devices and their studio environment without any loss of quality. You can easily share all your patches made on iPad with NLogSynth PRO with NLogPoly Synth on Mac and vice versa.
NLogSynth has started on iOS devices recreating professional virtual analogue synthesis freshly from scratch to unveil the power of their specific hardware architecture. Based on 32 bit floating point processing NLogSynth utilizes advanced signal processing optimizations of Apple's A4 & A5 CPUs. After successfully running this new architectural approach for two years, we are now proud to provide the same algorithms on Mac's Intel architectures.
Thus, TempoRubato's NLogPoly Synth is bridging the gap between mobility and the studio.
NLogPoly Synth for Mac comes in currently two parts: A standalone app and an Audio Unit plug-in both supporting 32- & 64-bit environments. Depending on market response a VST version for Mac will be added later this year.
The standalone app is a multi-timbral engine providing the power of 8 polyphonic virtual analogue synths. Each with 4 OSC, 2 Filter, 4 LFOs, 4 Envelopes, Modulation Matrix and an individual Effect Rack with Reverb, 4 Band Parametric EQ, Chorus, Phaser, Flanger, Stereo Delay and Distortion. All 8 synths can be assigned to individual MIDI channels. With assigning them to the same MIDI channel NLogPoly Synth provides a polyphonic multi-layered synth with up to 8 layers.
The Audio Unit version is running in as many instances your hardware allows within your DAW. It provides the full set of more than 200 parameters of the NLogSynth engine for automation or remote control by external hardware controller. NLogPoly Synth for Audio Unit has been tested with the recent versions of major hosts like Apple's Logic Studio, GarageBand, MainStage, Ableton's Live, Native Instruments' Maschine or Renoise.
TempoRubato is a synthesizer 'microbrewery' located in Frankfurt, Germany founded by Rolf Wöhrmann. We believe in the good life and doing things at work we really like to do for the pleasure, creativity and joy of our users.
Pricing and Availability:
NLogPoly Synth can be downloaded from the Mac App Store as a standalone application for 19.99 EUR / 24.99 USD. Owners of the standalone app can further download the Audio Unit plug-in as a free extension in parallel with the standalone app release starting on May 21st.
More information:
Some informations and audio snippets from Radikal Technologies advanced subtractive polyphonic synthesizer. 8 powerful voices in the basic version – expandable to 32 voices with a 8 part multitimbrality.
PolyKeys by ASWAVE is a freeware Virtual Analog Polyphonic Softsynth Synthesizer and as been around since 2006 in beta form and is still updated for time to time. filled with a few presets that show the diversity of the vsti plugin and is capable of a who lot more sounds to create another true classic synth from the freeware world of vst plugins instruments and effects.
in this video i have tried to show the range of sounds that can be made with this synth classic, rather that make it sound musical.
please note
the most irrating thing about downloading this classic synth is that you have to add a websearch engine to your web browers as homepage or add to tabs before refreshing and downloading this plugin, i say except it and delete later on if you wish
For more infomation visit
http://aswave.altervista.org/
http://proemio77.altervista.org/
extra presets
http://rekkerd.org/patches/plug-in/po…
Here's what they have to say about it:
Both the Moog Little Phatty keyboard and the Slim Phatty module are monophonic instruments, but chain them together with MIDI and you can create a polyphonic Moog system! I wish we had more Slim Phatties lying around but at time of writing are currently sold out :'~|
That's a good thing though, right? If you have one of these synths (or a Voyager which can also be chained), and know someone else who does too, get over there and try this out!
Anyhow. This vid is unfortunately in mono (onboard camera sound too), and most certainly not a musical statement, as we had just received the Slim Phatty and I was just testing that the setup works! I had individual synths to individual speakers and in stereo, in person, it sounded AMAZING. You'll have to forgive my complete inability to play a keyboard. God bless MIDI. And Dr Bob Moog.
Synthmate is a new $2.99 musical synthesizer for the iPad.
Synthmate features a simple, elegant interface, programable scales, wave type, lfo and y-axis control and a low-latency audio engine.
Features:
real-time control, low latency
multi-touch interface, change anything while playing
5 note polyphony
1 oscilator unit per touch : control pitch, volume
1 lfo unit per touch : control speed, amount
1 delay unit : control time, feedback
Y axis assignable control
edit scales, range, portamento and micro-tune
load/save all settings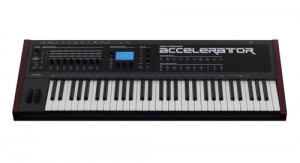 The Accelerator, Radikal Technologies' new flagship instrument, is a full featured polyphonic synth with eight powerful subtractive voices (expandable up to 32). With the introduction of its Radikal Spectralis synthesizer back in 2004 Radikal's R&D department already had established a reputation for having created the best sounding synthesis engine in the world. Six years later the Spectralis' sound quality remains unmatched – until now! Recent advances in DSP performance and the designer's relentless perfectionism in the development of sound synthesis algorithms have taken things up yet another level. The result is this brand new polyphonic instrument sporting a sound quality never heard before from digital synthesizers.
Added Snyderphonics Manta support to SevenUpLive 2.0.x beta this weekend. The beauty here is that you get velocity sensitivity on the plates and SevenUp can use that in its pattern recorders. The Manta supports polyphonic-aftertouch as well which I plan to add to SevenUp later.
This jam was just a fast improv to show off. Everything in the track was sequenced and performed live with the Manta and SevenUpLive. Tracked to 2-track, no edits besides start and end fades.