Testing out some code having sphero control arpeggio, delay and the filter in shape synth.
Shape is a polyphonic synthesiser allowing the user to draw the shape of the oscillator wave form. The positive side of the oscillation is represented by 32 blocks and the negative side is its mirror, generating all sorts of possible raw retroish sounds. Shape is best experienced with akai synthstation 25 or any other midi device.
Powered by Sparrow.
+++ 16 voices.
+++ Attack.
+++ Decay.
+++ LFO envelope.
+++ Delay.
+++ Akai synthstation 25 compatible.
+++ On screen 25 key stylophone style keyboard.
+++ Arpeggio.
+++ Finite inpulse respons pong filter.
+++ sequencer.
+++ sampler.
+++ coreMIDI (usb and network).
+++ MAPI audio copy.
+++ Soundcloud upload.
http://www.pointblankonline.net/courses/logic-courses.php This week Paul Yarrow shows you how to open up a new world of performance capabilities for Korg's Monotron by turning it into a polysynth enabling it to play chords.
Learn more techniques like this on our wide range of Logic courses: http://www.pointblankonline.net/courses/logic-courses.php
Check out even more free tutorials at http://www.logic-cafe.com/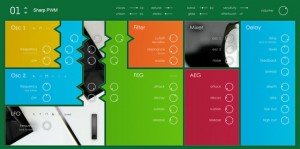 Pekka Kauppila has released MauSynth, a free polyphonic synthesizer plug-in for Windows.
MauSynth is a polyphonic analog-modeling substractive synthesizer VST plugin by Pekka Kauppila. You can create all sorts of awesome sounds with it.
MauSynth features
Band-limited oscillators.
Zero-delay feedback filter.
Audio-rate modulation.
32 voice polyphony.
Stereo unison.
Friendly user interface.
MauSynth for Windows (VST) is available to download as donationware.
It's time for a second short demo from the Oberheim Matrix 1000. Maybe a good alternative for a cheap and good sounding polyphonic rack synth.
As always a multitrack recording with some FX.

The analog Matrix 1000 is essentially 1,000 Matrix 6 patches in a single-space compact rackmount MIDI module. It has the same synth architecture as the Matrix 6. Each of its 6 voices have two DCO's (digitally controlled analog oscillator), a low pass filter, 2 VCA's, 3 envelope gens, 2 LFO's, and 2 ramp gens. The sounds are plentiful and good enough, however sounds can only be edited via MIDI, so you'll need an external MIDI editor (such as MOTU's Unisyn) or Access' Matrix Programmer to edit parameters. You can also load sounds from the Matrix 6 via SysEx or software.
The Matrix 1000 provides an excellent source of pads, textures and ambient sounds. It has 195 "keyboard" sounds, 118 "strings", 130 "woodwinds & perc", 239 "synthesizer", 119 "bass", 74 "lead" and 125 "effects". For the price, there is no better way to find genuine analog Oberheim Matrix sounds in a compact and very in-expensive rack module that is loaded with more sounds than you'll ever need! The older versions of the Matrix 1000 have a black front-panel. The newer models in the '90′s have a cream colored face-plate.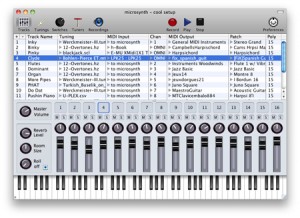 Make some microtonal music on your Mac with Hπ Instruments Microsynth, a polyphonic multi-timbral microtonal synthesizer application (standalone). It's now available in two versions: the multi-timbral version and the mono-timbral (single-track) version dubbed Microsynth-mini.
Both are Mac OS X SoundFont synthesizers for microtonal music, supporting seven types of tuning files, instant retuning, audio file recording, routing to and from standard MIDI hardware controllers, and sequencing and notation software such as Sibelius and Finale. Overall, Microsynth is designed to give you total control of tuning in your music.
The tuning features are the same in both Microsynth and Microsynth-mini. There are 16 independent tracks, each with tuning, MIDI I/O, SoundFont, and patch selection. Check out all the synth features, below.
Microsynth features:
Unlimited tunings, any key to any pitch
Individual tuning per track
Supports MTS real-time Sysex messages
Supports .scl .tun .hz .csv .mtx .gly and .tonex tuning files
Supports single channel tuning tables of 128 tones
Supports OMNI-channel tuning tables of 2048 tones
Allows real-time transposition and remapping of scales
Unlimited user-defined MIDI CC tuning switches and tuners
Supports pitch bending of microtonal pitches
Comes with GM / GS sound set
Built in reverb
Loads .sf2 SoundFonts
Unlimited MIDI connections
One virtual MIDI input and output
Records WAV audio files
Loads and saves scenes
Multiple Undo
The Hπ Instruments Microsynth synth for Mac (standalone) is available for $19.99. Microsynth-mini (single-track) is half as much, at $9.99. For more information, go to the company's Web site at h-pi.com.
This is a short HQ sound demo of the Crumar Trilogy. I played it dry without any additional effects.
The Crumar Trilogy is a multi keyboard instrument / string machine from 1981. It has 3 polyphonic sections: ORGAN, SYNTHESIZER and STRING ENSEMBLE. The best about the Trilogy is the polyphonic synth section, which has 2 VCOs per voice, 24 dB filters which employ the famous SSM chips… The STRING ENSEMBLE and ORGAN sections sound somewhat cheesy, but hey, sometimes you need some vintage cheesy sounds
Very impressive looking. It has no patch memory like you might think. The Oberheim-type led buttons just recall presets.
On a Vangelis record (I don't remember the title) you see a picture of the Trilogy.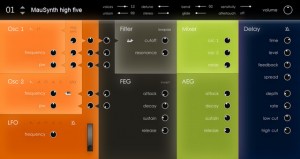 Pekka Kauppila has released a new beta version of MauSynth, a free polyphonic synthesizer plug-in for Windows.
MauSynth is a basic subtractive synthesizer with emphasis on high sound quality and friendly interface.

The plugin is written in c++. It is currently in beta stage, feedback is welcome. MauSynth will stay free even after beta.
Changes in the new beta version

Improved oscillators.
Improved filter.
Improved GUI.
Aftertouch support.
Adjustable velocity sensitivity.
Improved legato mode.
The MauSynth beta is available to download as a VST instrument plug-in for Windows.
The Jupiter-8 is an eight-voice polyphonic analog subtractive synthesizer introduced by Roland Corporation in early 1981.
The Jupiter-8, or JP-8, was Roland's flagship synthesizer for the first half of the 1980s. Although it lacked the soon-to-be standard of MIDI control, later model Jupiter-8s did include Roland's proprietary DCB interface, and all of them sported advanced features such as "Four on Four" and the ability to split the keyboard into two zones, with a separate patch active on each zone.
Here are some details:
CASSINI Polyphonic Synthesizer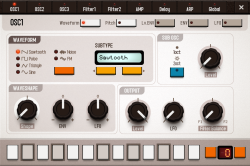 - 3 Oscillators plus 1 Sub-Osc
- Sawtooth, Pulse(PWM), Triangle, Sine, Noise, FM
- Waveshape Modulation
- Oscillator Sync
- Ring Modulation
- 2 Filters
- LP24, LP18, LP12, LP6, BP, HP
- AMP
- Overdrive
- 3 Band EQ
- Auto Pan
- 9 Envelope Generators
- DAHDSR(Delay, Attack, Hold, Decay, Sustain, Release)
- Velocity, Keyboard Tracking
- 6 LFOs
- Sawtooth, Pulse, Triangle, Random, 16 Step Sequence
- Waveshape Modulation
- Envelope(AD/AR)
- Modulation Delay
- Delay Time: 1-2000ms / Tempo Sync
- Delay Time Modulation
- Filtered Stereo Delay
- Resonant Filter (LP, BP, HP)
- Filter Modulation
- Programable Polyphonic Arpeggiator
- Scale/Chord Remapper
- CoreMIDI
- Recorder
- Audio Copy (Compatible with INTUA BeatMaker, Apple GarageBand and so on.)
- Export wav file via iTunes File Sharing
The recording time is limited to 3 minutes.
Here's a new video featuring the Sledge at MusikMesse:
For many synthesizer enthusiasts, it is the particular interaction of the sound engine and user interface that makes a great instrument. A quick look at Sledge shows you the generous set of controls available to interact directly with the sound engine.  When you touch the knobs and switches of the front panel, you will instantly be aware of the meticulous attention to detail our engineers have refined, during many decades building the best electronic keyboards.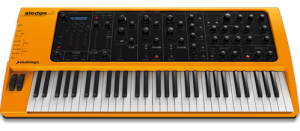 You will experience the logical set-up of the synthesizer modules, mirroring the signal flow of a classic analogue synthesizer.  But what really distinguishes any synthesizer is its sound. Fortunately, our friends at Waldorf Music have happily shared their experience and know-how on this crucial part of the Sledge Synthesizer.
Read more about the new Sledge Synthesizer