PAM's getting back to her shredding roots. PAM (Poly-tangent, Automatic (multi-)Monochord) was built by Expressive Machines Musical Instruments (www.expressivemachines.org).
MARIE are a set of virtuosic and expressive music robots that are portable, reliable, user-friendly, and fit within the dimension/weight limits for international checked baggage. In other words, these are music robots for touring musicians. The hope of EMMI and the EAR Duo is that the usability and portability of MARIE and similar music robots will finally push this powerful technology out of research labs and onto stages around the world. Within this aim, the entire project will be publicly documented online and the source code and hardware diagrams all provided as public knowledge for other enterprising musicians and technicians to construct similar robots.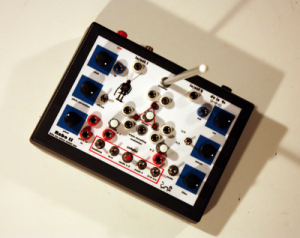 ASAM – Audio Synthetic Artifact Manager. Modular version of a Robo Synth. Ultimate source of anti music – drone madness and radio beating, pitch-shifter and digital distortion… All futures of old Robo + modular banana routing options and external control capabilities.
general features:
- 4 main sound modes
- feedback oscillation
- triple morphing modulator
- pitch control
- theremin mode
- analog oscillation and "drone" mode
Here's a quick overview what bots can do currently.
The Trons are a garage band made up of music robots. All instruments are played by the music robots. The Trons are controlled by "the green looking amp head thing
Video by Emit Snakebeings (http://www.snakebeings.com ), filmed at the Matangi Dairy Factory, Hamilton, New Zealand. All instruments played by The Trons robot band. Trons controlled by the green looking amp head thing. Song written and coded during the Trons European tour 2009, while hanging out at "Time's Up" headquarters, Linz, Austria
Album available at http://thetrons.bandcamp.com. Double disk digipack includes 10 track CD and 8 track DVD. Also downloadable at iTunes, or if you are in NZ go to Real Groovy Records!
More info and stuff at the Trons website http://www.thetrons.com or check out the band on Facebook too, http://www.facebook.com/thetrons
"Crickets From Outer Space" by New Wave Solar Powered Robots – Its Robots vs. Crickets in this Sci Fi animated music video. NWSPR recorded this track using three bass guitars, analog synthesizers, vocoder and drum machines.
How to use a Vocoder (Robot singing)
This video explains how to create the robot voice sound using the Vocoder in Ableton Live, as well as a bit of a run down of how Vocoders work. This is part of my latest sound design series on Vocal effects. www.cosm.co.nz
The software I used is from www.photosounder.com
The look at Robby, the most famous robot, in "Engineering a Sci-Fi Icon"
http://www.youtube.com/watch?v=I9c5_fH_JsA
Have a great weekend
When you have a robot, I actually saw this robot live at CEATEC in Japan two weeks back in time, enjoy
A video on Youtube featuring the Tetr4 and the Tenori in a massive robotish interaction, enjoy

Tetra is DSI's next-generation analog poly synth. Tetra takes the award-winning sound and features of Mopho, multiplies them by four, and packs them in a box less than half an inch larger!
Tetra has multiple personalities. It is a four-voice, analog poly synth, a sort of "mini Prophet." It's a four-part, multitimbral synth with separate outputs, essentially four Mophos in one very compact box. And it's a voice expander for other Tetras or the Prophet '08.
Shimon, an adaptive, improvisational, percussion-playing robot