Princess Pangolin's cover of the Flaming Lips' "Yoshimi vs.The Pink Robots," featuring omnichord, violin and telephone. Also, some hasty stop motion. No robots were harmed in the making of this video. Featuring Julie Carpenter on vox, violin & omnichord, and Dain Luscombe on Commodore 64, Kitten & other technological marvels. Album available from
http://princesspangolin.bandcamp.com/
Saturday morning synth music with robotic voices – original tune from SBC, enjoy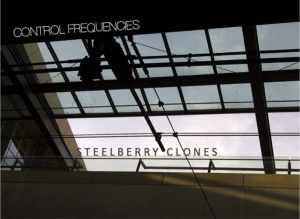 Steelberry Clones – Control frequencies by Stereoklang Produktion
Nice animated video featuring synths and more:
Just like modular synthesizers, people connect with each other in order to achieve diverse objectives. In Voltage, robots, half-human and half-synthesizer, powered by a huge amount of energy, connect to each other in an electric and chaotic trance.
Directed by:
Filippe Lyra e William Paiva
Nice little singing robot

The great Star Trek Theme starring Bebot the singing robot for iPhone/iPad/iPod Touch!
More about MusicApps and Mobile Music on www.MusicApps.com.br
PAM's getting back to her shredding roots. PAM (Poly-tangent, Automatic (multi-)Monochord) was built by Expressive Machines Musical Instruments (www.expressivemachines.org).
MARIE are a set of virtuosic and expressive music robots that are portable, reliable, user-friendly, and fit within the dimension/weight limits for international checked baggage. In other words, these are music robots for touring musicians. The hope of EMMI and the EAR Duo is that the usability and portability of MARIE and similar music robots will finally push this powerful technology out of research labs and onto stages around the world. Within this aim, the entire project will be publicly documented online and the source code and hardware diagrams all provided as public knowledge for other enterprising musicians and technicians to construct similar robots.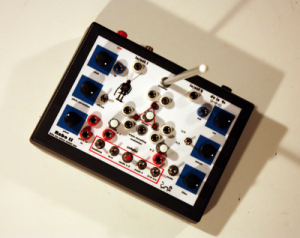 ASAM – Audio Synthetic Artifact Manager. Modular version of a Robo Synth. Ultimate source of anti music – drone madness and radio beating, pitch-shifter and digital distortion… All futures of old Robo + modular banana routing options and external control capabilities.
general features:
- 4 main sound modes
- feedback oscillation
- triple morphing modulator
- pitch control
- theremin mode
- analog oscillation and "drone" mode
Here's a quick overview what bots can do currently.
The Trons are a garage band made up of music robots. All instruments are played by the music robots. The Trons are controlled by "the green looking amp head thing
Video by Emit Snakebeings (http://www.snakebeings.com ), filmed at the Matangi Dairy Factory, Hamilton, New Zealand. All instruments played by The Trons robot band. Trons controlled by the green looking amp head thing. Song written and coded during the Trons European tour 2009, while hanging out at "Time's Up" headquarters, Linz, Austria
Album available at http://thetrons.bandcamp.com. Double disk digipack includes 10 track CD and 8 track DVD. Also downloadable at iTunes, or if you are in NZ go to Real Groovy Records!
More info and stuff at the Trons website http://www.thetrons.com or check out the band on Facebook too, http://www.facebook.com/thetrons
"Crickets From Outer Space" by New Wave Solar Powered Robots – Its Robots vs. Crickets in this Sci Fi animated music video. NWSPR recorded this track using three bass guitars, analog synthesizers, vocoder and drum machines.
How to use a Vocoder (Robot singing)
This video explains how to create the robot voice sound using the Vocoder in Ableton Live, as well as a bit of a run down of how Vocoders work. This is part of my latest sound design series on Vocal effects. www.cosm.co.nz
The software I used is from www.photosounder.com