Info about the project below:
Intially I was working on my own version of Mad World and I did complete it however the Robot Cello didn't work out because the sound of the solenoinds and stepper motor was drowning out the song. So I scrapped the project altogether. One night I was working on the Cello and the stepper motor started to jitter almost ripping the Cello sting and Bow apart. As I was jumping over to the power switch I noticed that the jittery sound reminded me of a song. That song turned out to be The Beautiful People by Marilyn Manson. I programmed a small part for the Cello and it sounded great. Who would have ever though to use a Cello in that song? 2 months later…. my video was complete. So Enjoy. I may follow up with a another video showing what circuits, parts and tools that were used to make these robots.
I would also like to thank jtodd900 for his YouTube video "The Beautiful People guitar cover WITH TABS". It was very helpful with respect to programming my Robot Guitar. Muting the strings was a bitch but if you look at the solenoids on Fret 4 and 8 you will see that I covered the pads with foam and velvet. It is soft enough to stop the strings from vibrating.
Creepy I know

DigInfo TV – http://diginfo.tv
This robot is doing a pretty good job

My fellow lab mate, Tatsuhiko Itohara, created a program for HRP-2 to follow his hand while playing the guitar. By watching and listening to the beat, HRP-2 can sync to the sound of an acoustic guitar! What a great job he's done!
Song: Auralee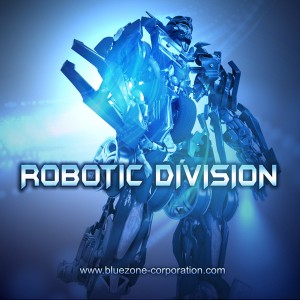 Bluezone has released Robotic Division, a collection of sci-fi sound effects.
Robotic Division: Sci-Fi Sound Effects' has been designed to offer you the ultimate robotic sound library, with extremely great precision for sounds, either in dynamic or stereo width.

Including mechanical robotic modern sounds, futuristic communications, textured outer space ambiences, heavy impacts and tension raising, this sample pack take your creativity to the next level.

'Robotic Division: Sci-Fi Sound Effects' is an overdose of 243 powerful samples including ascending and descending frequencies, robot malfunctions, transformations and more.
Robotic Division is available to purchase for €16.95 EUR.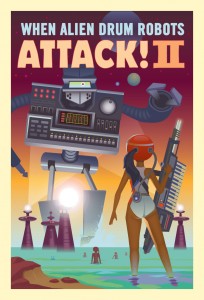 Goldbaby Productions has released When Alien Drum Robots Attack II, a new sample library featuring drum and fx sounds for electronic music.
WHO IS THIS FOR? People who make: Hip Hop, Drum & Bass, Dub Step, Techno, House, Dub, Break Beat… any genre that needs solid punchy drums with lots of character and plenty of variety.

WHAT WAS USED TO MAKE IT? Everything in Goldbaby's studio! Using a studio full of vintage and new drum machines, samplers, synths, rack effects, vinyl, tape, real drums and perc, field recordings… this product will give you a huge palette of super solid drums and sweet FX.
When Alien Drum Robots Attack II features
2112 samples (24 bit).
129 Rex loops.
81 Battery 3 Kits.
40 Presets and 67 kits for Geist.
40 Bundles for Guru.
81 EXS24 Patches for Logic.
40 Kong Patches and 41 x NNXT Patches for Reason 5.
When Alien Drum Robots Attack II is available to purchase for $39 USD.
The CYLON VOICE is voice transformer on your iPhone. When you talk to this App, it repeats your words soon in robot voice.
If you tap their face, it turns gold color and change their voice.
Download from this link:
http://bit.ly/lGFmvI
KORG DS-10 is a music creation program for the Nintendo DS that emulates the Korg MS range of synthesizers. The DS-10 creates sound with two analogue synthesizer emulators, each with two Voltage-Controlled Oscillators (the Korg MS-10 had only one VCO). The VCOs feature a sawtooth, a pulse (with a non-modifiable pulse width), a triangle and a noise waveform. There is also a four part drum machine that uses the same sound creation techniques as the synthesizers. The sounds made by each of the synthesizer emulators are modified using virtual knobs to change the value of standard synthesizer parameters such as cutoff frequency and waveform shape. Additionally there is a screen where users can patch certain parameters to be modified by an LFO, the envelope generator, or VCO2. Those new to Korg synthesizers may find the original Korg MS-10 Manuals[4] useful in understanding the function of its components.
In this video:
100% Korg DS-10 European version (no PLUS version)
Flipnote Studio on Nintendo DSi XL + Nintendo 3DS
video recording: JVC Everio GZ-HM330
sound recording: Lenovo Laptop + Audacity
Until now I checked out Nintendo DSi music applications like RYTMIK, Rhythm Core Alpha, Music On: Drums and Music On: Retro Keyboard. This time I tried to make music with Korg DS 10.
Is collaboration between humans and robots possible in music?
Now the answer is yes.
This is a live performance-demonstration of an innovative research project made by Italian Institute of Technology (IIT – Advanced Robotics Department), mixing electronic music, a robot arm as a music interface, and the experience of interactive 3D projections. The robot interacts with the artist to create and modify musical parameters during the performance. On the background, 3D figures represent the robot trajectories, figuring musical parameters.
Artist: Valerio Solari (K)
soundcloud.com/​veryelectromusic
Credits: Victor Zappi – Antonio Pistillo – Sylvain Calinon – Andrea Brogni – Darwin Caldwell
iit.it
Project Abstract: "The availability of haptic interfaces in music content processing offers interesting possibilities of interaction between human users and novel instruments and controllers for musical expression. The capability to precisely modulate haptic feedback on the user establishes a direct connection with the sonic output, which enhances the modalities of artistic content creation. The use of robots as both manipulators and actuated interfaces o ers new perspective in a combined context of human-robot interaction and music playing. With this project we investigate
the use of a compliant robotic arm as a bidirectional tangible interface for musical expression. We exploited the robot capabilities to con gure a system in which a human user and the robot interact for the creation of recursive modulations of music parameters. An experimental session has been carried out with the collaboration of a musician, who performed with the robot as part of his live stage setup."
Spacedog's homage to Stooky Bill, ventriloquial sidekick of John Logie-Baird who appeared on the second ever television image, c1925. Baird was the inventor of an early, mechanical television apparatus that was tested at Alexander Palace, London.
This song features Spacedog's own Stooky-like Hugo, a 1930s vent doll who was rescued from the attic of a dead magician.
If you'd like to see and hear more curiosities from Spacedog, do check out our new website:
www.spacedogmusic.com
This piece was recorded live, in one take, during Televisor, a live music and robotic show created by Spacedog and performed at the Brunswick Theatre, Brighton Festival Fringe, May 2011. Professor Elemental was guesting on the night.
This song is based on an original composition by Stephen Hiscock, with vocal and other samples composed by Sarah Angliss
Musicians:
Hugo as "Stooky Bill"
Sarah Angliss
theremin
Stephen Hiscock
vibraphone
Robots and televisor built by Sarah Angliss and Colin Uttley, Spacedog.
Video edit: Sarah Angliss.
Princess Pangolin's cover of the Flaming Lips' "Yoshimi vs.The Pink Robots," featuring omnichord, violin and telephone. Also, some hasty stop motion. No robots were harmed in the making of this video. Featuring Julie Carpenter on vox, violin & omnichord, and Dain Luscombe on Commodore 64, Kitten & other technological marvels. Album available from
http://princesspangolin.bandcamp.com/