You may have seen that we have had a new banner from SoundCells up for a while now >>>>>>>>>
Here are some more details on this really nice free Refill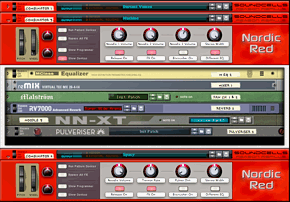 Nordic Red is based on samples from the ever popular Nord Modular G2X synthesizer.
Besides unlimited possibilties of creating a wide range of individual sounds – from 80's retro sounds to modern club patches, emulations of acoustic instruments to a world of sounds that never have delivered before – the main feature of this version of Nordic Red are the G2's "self-playing" patches, called 'Noodles'.
Contains:
– 20 combinator patches.
– 35 NNXT patches containing the basic patches which were used to build the combinators.
– 24 recordings (up to 1.30 minutes per sample) from the Nord Modular G2X, 305 MB uncompressed.
– Great for all styles of music where deep atmosphere is desired.
– All samples are included into this download in Wave format – ready to use in any other DAW.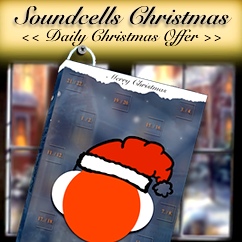 Soundcells is announcing their Christmas offer of this year!
While the last days before Christmas are knocking at our door it´s time to offer something special. Along with regular Christmas sentiments Soundcells would like to present all Reason / Record users with an almost 25% discount on their products! This is the perfect opportunity to make a present to yourself…
Soundcells are back with a new Refill for Propellerhead's Reason suite:
"WaveDrummin" is not just another percussion ReFill.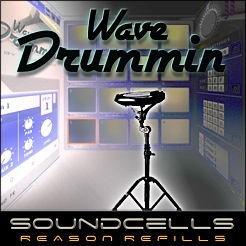 By finding a whole new continent Columbus redrew the map of our planet. Now it´s your turn to do so. By making use of this ReFill you can combine enchanting and haunting rhythms coming from all continents, maybe even from other planets as well as Wavedrummin opens doors to percussive bliss that have never been opened before. At the studio in Central Europe Soundcells recorded their favorite hits and bits coming from the ever popular Wavedrum by Korg while being caught by rhythms coming from distant worlds. The result of this all has become this ReFill, a work of art, a tool that lets you draw your own restyled map of our precious planet.
Realism vs mixability
Lots of samples taken from acoustic, real percussion instruments have the tendency to sound kind of dull in your mixes. The power of their sound often gets mudded by the rest of your instruments. With this in mind Soundcells processed all DSP generated percussion coming from Korg´s Wavedrum Oriental in such a way that the sounds will always sit conveniently in your mixes. Their impact and power will never get lost. Another point that needs to be highlighted is this special stereo knob coming with lots of combinators that works wonders for the mixability of our loops. Check it out!
Genre Crossover
The sounds of this percussion library are as authentic as you wish and at the same time they can be as electronic as you wish. There is no limit to their sonic possibilities. So whether you are a dance producer druling over techno or electro beats or you are a vegetarian ethno guru spiritualist… Wavedrummin will help you getting there. Check out the demos!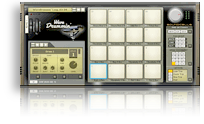 WaveDrummin Contents:
• 115 combinator patches stuffed with inspiring new energy.
• 107 rex loops that range from authentically acoustic to crazy electronic stuff, 20 Kong kits, 20 NNXT patches and 7 Redrum kits.
• 210 single hits to build your own kits from.
• Recorded impact noises coming from Brushes, Rods, Sticks and Fingers to add extra realism to the loops. The combinators carry knobs to control their volumes.
• All single loops and samples are included into this download in Rex and Wave format.
By purchasing this pack you are not restricted to Reason only. However there is a lot more magic to be found within the ReFill.
A web address to link to for more info and many "WaveDrummin" only MP3s:
Offering price per unit is 19,90 ,- EUR (normal price is 24,90 ,- EUR)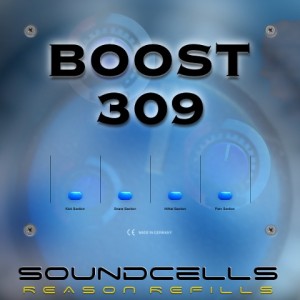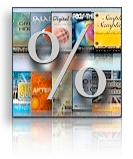 Soundcells announces their ReFill summer sale 2011: 20 % discount on the single ReFills, and 15 % discount on the Soundcells bundles until the end of August. Customers are always welcome to ask for a specific combination of products!
For more information please visit: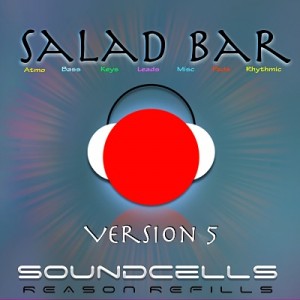 Reason Refill maestros Soundcells are at it again

Salad Bar from Soundcells showcases a magnificent collection of Reason patches brought together in this ever growing ReFill since many future patches in the upcoming ReFill range from Soundcells will be added to Salad Bar…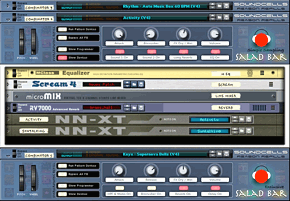 Every time when a new Soundcells ReFill will be released, Salad Bar will get its next update. And in this way Salad Bar versions 2, 3, 4 etc, will be created. Besides this, Soundcells will also be developing lots of unique 'Salad Bar Only' patches. With the coming of Greenhouse (http://www.soundcells.de/Soundcells_Greenhouse.html) it was clear that it wouldn´t take very long for Soundcells´ evergrowing Salad Bar ReFill to get its latest update. So they put 20 Greenhouse patches in there and they also added 15 exclusive Salad Bar patches (75 SB-exclusives in total now). With its 260+ combinators this ReFill becomes more and more a fully-fledged workstation. Apart from that it´s a real bargain and "must-have" for the user and an excellent ambassador for Soundcells.
Soundcells' Signature Sound:
Salad Bar's patches will cover all kinds of music styles showing you the very best Soundcells has to offer. It's a great ReFill to get to know Soundcells' work, introducing you to their signature dimension in designing sound.
Salad Bar v5 Contents:
• 262 combinator patches in 8 different folders: Atmospheres & Textures, Bass, Keys, Leads, Miscellaneous, Pads, Rhythmic, SaladBar_exclusive (currently 75 'Salad Bar Only' ones).
• 261 well balanced patches for Thor, Malstroem, Subtractor, NNXT and ReDrum and also 45 rex loops.
• The modules folder contains the basic synth and NNXT patches which were used for the combinator sounds.
• 8 tracks in RNS format – inspiring with highl 'tutorialesque' value.

In modern molecular biology, the genome is the entirety of an organism´s hereditary information. It is encoded either in DNA or in case of this fine ReFill it´s the AMIGA1200 encoded in Reason´s NNXT samples. The AMIGA1200 (code-named 'Channel Z') with it´s 8-bit Paula chip was extremely popular among producers all over the world in the early nineties. "Digital Genome" picks up the thread where Soundcells left with "bitBUMPER deluxe" with it´s funky, housy and spacy lo-fi character! Warm, gritty, sleezy, dangerous and nostalgic are the keywords. This ReFill can be used as a full workstation since everything the old Amiga had to offer is in there: basses, keys, lead synths, warm pads and enough drums and percussion to eat your heart out. And do not forget the wonderful FX section. The 170+ Genome combinators are conveniently built up with the right button functionality. Version 2 adds 25 new combinator patches, some minor additions/changes in detail as well as great new backdrops…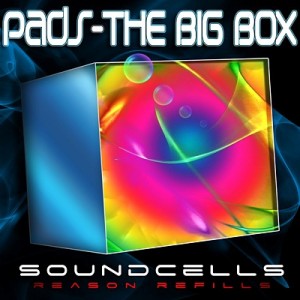 "Pads – the BIG box V2″ contains all patches from the three Mystic Dream Pads – 2, 4 and 5 – in ONE really big ReFill with (since version 2) 62 new combinator patches that have not been released before – and all this at a sharp "bundle"-price. All patches were revised to match perfectly together. This ReFill gives you all you need when searching for atmospheric patches, conventional pads – bright or dark, inspiring soundscapes, rhythmical pads, fx & experimental sounds and more… The variety of sonic atmospheres coming from three original ReFills makes this collection very complete so chances are big that you´ll find what you are looking for while browsing for the right pad. Version 2 is adding 30 new combinator patches, furthermore every original combinator patch has been reworked – same sound as before, but highly expanded button / knob assignment, consistent naming of the functions and new backdrops…
'Pads – the BIG box' Contents:
– 447 combinator patches (62 "BIG box" only ones).
– 11 different folders: Ambient, Atmospheres, Electric Keys, Exclusive Big Box Patches, FX & Experimental, Miscellaneous, Old MDP Reminiscence, Pads Conventional, Pads Dark, Pads Light, Rhythmic.
– The modules folder contains the basic synth and NNXT patches which are used for the combinator sounds:
183 Thor patches, 156 NNXT patches, 105 Malstroem patches, 59 Subtractor patches, 38 RV7000 patches
– All patches & demo tracks coming from MDP2, MDP4 & MDP5 are included.
More info here:
"Greenhouse" is an awesome ReFill which is based on samples coming from the popular Synplant software synthesizer which is without any doubt one of the most innovative plugins of recent years. 125+ combinator patches provide an insight into the great and highly characterful sound capabilities Synplant has to offer. Greenhouse patches sound deep and murky, sometimes wishful and dreamy, but overall atmospheric and full of the typical and widely acclaimed Synplant character… In addition, some "One-Shot-FX" kits are included to let you produce some glitchy electro beats. The 24 bit samples were recorded through an analog mixing console to bring the "real world" flavour into our digital world – ready-to-use within this ReFill. And let´s not forget about he 35+ drum samples (as well as 11 Rex files highly processed with additional EQing, compressing…) from the MicroTonic PlugIn which has been recorded the same way as the Synplant samples…
Greenhouse Contents:
– 129 combinator patches full of the typical and widely acclaimed Synplant character.
– Deep, murky, evil but also wishful and dreamy are the main keywords.
– 114 NNXT patches containing the basic sounds which were used for the combinators, 7 Redrum kits.
– 432 Synplant samples, 392 MB uncompressed.
– 35+ drum samples & 11 Rex loops coming from the MicroTonic PlugIn.
A web address to link to for more info and many "Greenhouse" only MP3s:
Offering price is 18.90 ,- EUR per Unit (normally 24.90 ,- EUR)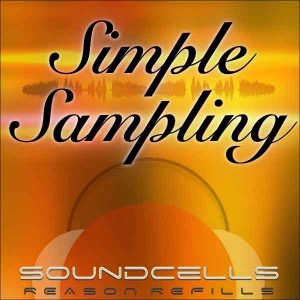 At first Soundcells started working on a fun ReFill based on a Stylophone only, which was recorded for sampling purposes. Besides programming a patch that matches the real thing, the NNXT sampler in Reason was tweaked to go some extra steps and some fat funky clavinet-style patches caught by surprise. While producing the Stylofunk mini track (apart from the loop it's entirely based on stylophone samples) some extra cool stuff was added to this ReFill: a "single-sample-rhodes", a "single-sample-piano", a "single-sample-kalimba" and a lot of other nifty stuff…
"Simple Sampling" gradually turned into a product full of "simple samples" coming from different sound sources. If you are looking for classic old-school sampled sounds instead of huge patches built by hundreds of individual samples, you will love this ReFill. Patches are super-fast loading, CPU-friendly and they are full of 'retro' character… Version 2 is an awesome update which adds 25 new combinator patches, some minor additions as well as reworked backdrops…
Simple Sampling Contents:
126 combinator patches for many different styles of music, subdivided in 6 folders: Bass, Drum Machines, FX & Atmo, Keys, Leads, Pads.
A note by note (a2 – e4) sampled and looped Stylophone including it´s typical release click
"Simple Samples" coming from the Rhodes Mark 1, Doepfer MS404, Supernova 2, microKORG, G2, Kawai K5000…
The modules folder contains the basic NNXT patches which are used for the combinator sounds.
10 Rex loops, 5 Redrum kits
Pricing and Availability:
Offer price is 17,90 EUR (normally 24,90 EUR)
More information: