Soundcells Christmas offer!
While the last days before Christmas are knocking at our door it´s time for Soundcells to offer something special.
Along with regular Christmas sentiments Soundcells would like to present all Reason / Record users with an almost 25% discount
on most of their products! Click the windows on the Advent calendar…
For more information please visit:
http://www.soundcells.de/Home.htm
SoundCells has introduced something that I personally believe will be a classic: Thor Source Version 3 – the Moog Source ReFill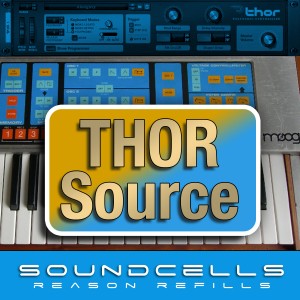 "Thor Source V3″ – when Thor first saw the light of day Soundcells couldn't resist to test his strength by comparing him to a well known classic from Moog: the Source. Thor's modular design gave them the chance to rebuild the Source's details with great accuracy. Then Soundcells copied their favorite Source patches with great ease into Thor and after this they managed to take those sounds numerous steps further. The sounding results however stayed amazingly close to the Source's character. In this ReFill's documentary folder you'll find proof of this. Thor makes the Source polyphonic and velocity sensitive as well. By now you'll understand that this ReFill goes way beyond only emulating the past. Thor Source offers deep and fat basses, retro and nu style leads, wonderfull keyboard sounds, mouth watering pads, analog drums and more. Version 2 added four sampled raw oscillator settings from the original Moog Source, new combinator patches and new backdrops – with version 3 this ReFill comes with even more samples from the Source…
And let´s not forget to mention the 25 new version 3 combinator patches based on those new samples.Those will be there to give your music an extra greasy analog retro-Moog-bite.
Tweak the rebuild Source sounds in whatever direction using Thor´s tools or just "build" your own Moog Source while using the raw oscillator samples and/or the sampled Source sounds embedded within our NNXT patches. Please always take your time to try every button and knob as well as the Modwheel to get a good taste of all flavours these 214 fine combinator patches will present you with!
Thor Source Version 3 Contents:
- The 25 original documentary patches as described above plus 25 contemporary velocity versions of these patches
- 25 legato versions of the documentary patches, and also 25 legato versions of the contemporary velocity patches
- 69 "processed" combinator patches making full use of Reason's devices like the RV7000, the Scream and other gear.
This folder is subdivided into 4 sections: bass, keys & leads, misc and pads.
- 45 combinator patches based on the sampled raw oscillator settings and the fully sampled Source sounds which were
added to version 2 and version 3.
- 35 new and grooving rex loops.
A web address to link to for more info and "Thor Source V3″ only MP3s:
Offering price is 19,90 ,- EUR per Unit (normally 29,90 ,- EUR)
At first Soundcells started working on a fun ReFill based on a Stylophone only, which was recorded for sampling purposes. Besides programming a patch that matches the real thing, the NNXT sampler in Reason was tweaked to go some extra steps and some fat funky clavinet-style patches caught by surprise. While producing the Stylofunk mini track (apart from the loop it's entirely based on stylophone samples) some extra cool stuff was added to this ReFill: a "single-sample-rhodes", a "single-sample-piano", a "single-sample-kalimba" and a lot of other nifty stuff… "Simple Sampling" gradually turned into a product full of "simple samples" coming from different sound sources.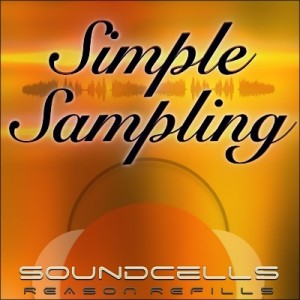 If you are looking for sampling like it was done in the old days instead of patches with hundreds of individual samples, you will love this ReFill. Super quick loading patches, very cpu-friendly and most of all full of character and very charming…
Simple Sampling Contents:
- 101 combinator patches for many different styles of music, subdivided in 6 folders: Bass, Drum Machines, FX & Atmo, Keys, Leads, Pads.
- A note by note (a2 – e4) sampled and looped Stylophone including it´s typical release click.
- "Simple Samples" coming from the Rhodes Mark 1, Doepfer MS404, Supernova 2, microKORG, G2, VL1…
- The modules folder contains the basic NNXT patches which are used for the combinator sounds
- 10 Rex loops, 5 Redrum kits
A web address to link to for more info and many "Simple Sampling" only MP3s:
Offering price is 14,90 ,- EUR per Unit (normally 19,90 ,- EUR)
Soundcells has released Afterglow v2, an updated version of the atmospheric ReFill for trance producers, jungle heads and ambient artists.
It's analog, it's digital, it's tender and raw, glitchy at times but above this all: Extremely Atmospheric!

All sounds have been meticulously designed to be combined with each other in the exact way the user would like it to be heard. Get great malstroem-, surprising subtractor- and fantastic thor patches, furthermore over 260 samples from analog and digital gear and also physical modeling synths. Version 2 adds 30 mind-blowing combinator patches mainly based on the field recordings which are included in this version. Further every original combinator patch has been reworked – same sound as before, but expanded button assignment…

The combinators are programmed in such a way that they behave like real instruments. Soundcells has taken special care of this aspect by assigning the knobs, wheels and buttons for total musical, atmospherical and emotional control. Not only the lead patches offer the possibility to perform with emotion but also the pads and textures will give the user the feel of being a virtuoso soloist!
Afterglow v2 features
254 combinator patches (30 new ones since version 2).
100+ NNXT patches, 65+ Malstroem patches, 50+ Thor patches and 15 Subtractor patches.
Analog leads full of character, lots of atmo textures and pads, bleeps, glitches, strange effects and field recordings.
Highly original and inspiring drum and percussion machines.
Especially great for designing/composing game and film scores.
Afterglow v2 for Reason 4 and higher is available to purchase for the introductory price of 34.90 EUR until the end of September (regular 44.90 EUR).
More information: Soundcells / Afterglow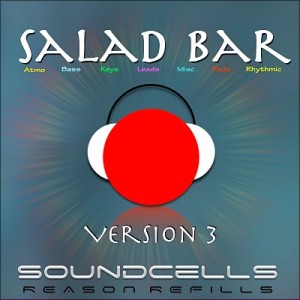 Salad Bar from Soundcells showcases a magnificent collection of Reason patches brought together in this ever growing ReFill since many future patches in the upcoming ReFill range from Soundcells will be added to Salad Bar…
Every time when a new Soundcells ReFill will be released, Salad Bar will get its next update. And in this way Salad Bar versions 2, 3, 4 etc, will be created. Besides this, Soundcells will also be developing lots of unique 'Salad Bar Only' patches. With the coming of Digital Genome (http://www.soundcells.de/refill_genome.html) it was clear that it wouldn´t take very long for Soundcells´ evergrowing Salad Bar ReFill to get its latest update. So they put 16 mind blowing Digital Genome patches in there and they also added 10 exclusive Salad Bar patches (45 SB exclusives in total now). With its 190+ combinators this ReFill becomes more and more a fully-fledged workstation. Apart from that it´s a real bargain for the user and an excellent ambassador for Soundcells.
Soundcells' Signature Sound:
Salad Bar's patches will cover all kinds of music styles showing you the very best Soundcells has to offer. It's a great ReFill to get to know Soundcells' work, introducing you to their signature dimension in designing sound.
Salad Bar Contents:
• 192 combinator patches (currently 45 'Salad Bar Only' ones).
• 8 different folders: Atmospheres & Textures, Bass, Keys, Leads, Miscellaneous, Pads, Rhythmic, SaladBar_exclusive.
• The modules folder contains the basic synth and NNXT patches which were used for the combinator sounds.
• 194 well balanced patches for Thor, Malstroem, Subtractor, NNXT and ReDrum.
• 45 rex loops
• 8 tracks in RNS format – inspiring with highl 'tutorialesque' value.
A web address to link to for more info and many "Salad Bar" only MP3s:
http://www.soundcells.de
Price per Unit is 9,90 ,- EUR
'Digital Genome' has been released!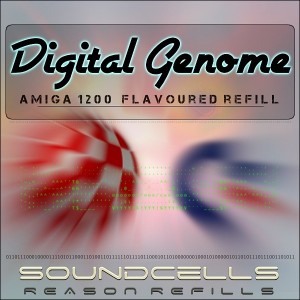 Soundcells started working on this ReFill late 2008. "Digital Genome" slowly matured towards the final form in which it is now:
In modern molecular biology, the genome is the entirety of an organism´s hereditary information. It is encoded either in DNA or in case of this fine ReFill it´s the AMIGA1200 encoded in Reason´s NNXT samples. The AMIGA1200 (code-named 'Channel Z') with it´s 8-bit Paula chip was extremely popular among producers all over the world in the early nineties. Using a specific trick it was possible to make recordings at 14-bit. "Digital Genome" picks up the thread where Soundcells left with "bitBUMPER deluxe" with it´s funky, housy and spacy lo-fi character! Warm, gritty, sleezy, dangerous and nostalgic are the keywords. This ReFill can be used as a full workstation since everything the old Amiga had to offer is in there: basses, keys, lead synths, warm pads and enough drums and percussion to eat your heart out. And do not forget the wonderful FX section – check the mp3 demos to convince yourself. The 150+ Genome combinators are conveniently built up with the right button functionality.
'Digital Genome' Contents:
- 153 combinator patches, great for many different styles of music.
- 6 different folders: Bass, FX, Keys, Leads, Miscellaneous, Pads.
- 171 NNXT patches containing the basic sounds which were used for the combinators.
- 230 original AMIGA1200 samples, 178 MB uncompressed.
- 21 fresh and great useable rex loops.
A web address to link to for more info and many "Digital Genome" only MP3s:
Offering price is 24,90 ,- EUR until July 15 (normally 34,90,- EUR).
Don't miss out on this
Soundcells are definitely among the top three Reason Refill producers on the market today, at least if you are in on electronic music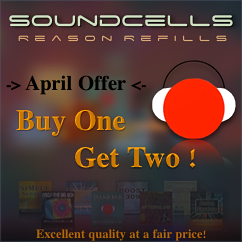 Soundcells has been featured in reviews on this blog before and gotten really high scores for their innovativeness, here is one example:
After listening in on hundreds of different refills for Reason it is quite seldom that I find something that feels totally new and fresh, but I am inclined to change my mind on this one. Sure other refills have been published in this space before but rarely with this amount of breadth. There are not just the traditional CMB files and NNXT files that you have become accustomed to but also a several new live performance CMBs that allows you to actually be very creative on stage. I really enjoyed bringing these up during some live jamming in the studio, and to spice things up there are a several really nice Dr.Rex loops also included – and not just endless variations of the same loop  in different pitches and sounds but actually quite a nice mixture of experimental, bass and pure chip sounds – I like