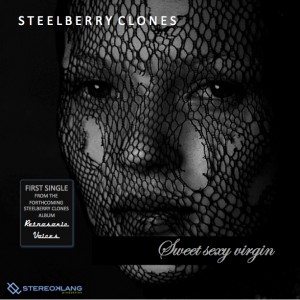 After a couple of years working on other projects Steelberry Clones returns with a new single titled  "Sweet Sexy Virgin". This is the first release from their upcoming album called "Retrosonic Voices" that will be released in Q1 next year.
The new single features Adelinne as guest vocalist and the song deals with a hot topic – women trafficking. Steelberry Clones has always tried to do a blend of music that deals with subjects that concerns us, paired with retrospective quests into things that intrigues them, such as space, 1950's, technology advancements, historical events and personal experiences. The new single combines hard beats, 8bit sounds, massive synth basses and the strong voice of Adelinne, to create something that pushes the envelope in modern electronic pop music.
The new release "Sweet sexy virgin" will be accompanied with a video in the coming week, and yet one other single will be released before Christmas. The new album "Retrosonic Voices" is due next year and will combine the best of modern electronic pop music with old-school sounds from the past 30 years of electronic music.
Track details:
Artist: S T E E L B E R R Y   C L O N E S – featuring Adelinne
Title: Sweet sexy virgin
Album: Retrosonic Voices (Q1-2013) – will be released on iTunes, Spotify, Amazon and Limited edition hard copy
Label: Stereoklang Produktion
Earlier this Summer, Stefan Poiss, the mastermind of THYX and mind.in.a.box announced about a new project he was starting. This was a project he was doing together with all of the fans to THYX and mind.in.a.box and everyone could send him sound material and Stefan would be creating a song from that material. The experiment is now finished and you can listen to the result. The video is created by Justin Arnold.
Background description from Thyx:
This is an experiment I did with all mind.in.a.box and THYX fans via facebook. Everyone could send me some sound material, noises, whatever they want and my challenge was to create a whole song with this material.
It was not so easy. Most of the people sent me whole songs not just sounds. So first I had to listen carefully what I can cut and use. Bassdrum and Snare for example was cutted out from some songs they've sent me. I created sample sets from every sound. but it was too less. I needed some more and different sounds and so I began to build waveforms from the sounds. Zoom in, cut only one wave… load it into the sampler and let it loop.
The Lyrics I got from two guys. I mixed it so half of the lyrics are coming from one guy, half from another guy. I hope they will forgive me.
After creating a structure of the song I did a small loop for the refrain and posted it on facebook. Everyone should play this loop and record their singing with their handy or whatever device they have. I got about 25 recordings and I tried to build a chorus with them. Most important was that the timing from the singing from every recording was good. So I had to cut and trim a lot (and laughing a lot

) but in the end it went far better than I expected.
So this was it. The experiment called "Tape Evidence". Every sound source from this song comes from the fans, except my voice of course. I really learned a lot and had a lot of fun during this project. I think even this song, where every sound source came from different people, sounds a little bit like mind.in.a.box or THYX. This is one of my big realizations of this project.
Big thanks to Justin Arnold who did this amazing LEGO style video!
…and thanks to everyone who was involved!
The song is free to download via our facebook page. I will post a link there soon.
http://www.facebook.com/thyxmusic
After the acoustic performances I:Scintilla did with Lacuna Coil and at Dragon*Con 2010/2012, the electronic-rock quartet decided to record a 5-track acoustic EP: "Marrow 1". The "Marrow 1" EP is the first of what will be a long line of themed "Marrow" EP's.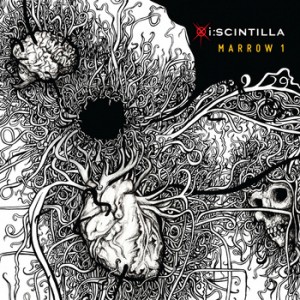 Included in the set are the new song "Drag Along", two reworked songs from 2010's "Dying & Falling" ("Ammunition", "The Shake"), and two covers (IAMX, Devo). As a special treat, the father of singer Brittany Bindrim, Julius Bindrim, contributes his vocal and guitar talents to 3 tracks.
New track from the upcoming solo album of Douglas McCarthy, the frontman of EBM pioneers Nitzer Ebb
Tuesday morning synth music, enjoy
Welle:Erdball Live in Glauchau, Alte Spinnerei!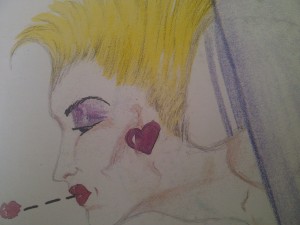 OK so here's a little test for you all on this nice sunny Monday morning (at least here in Northern Europe)
Let us know if you know which single this is – artist and title of the track
Hints: There's a synth pioneer involved and it was released in 1985
Drop your votes in the "comments"
//SBC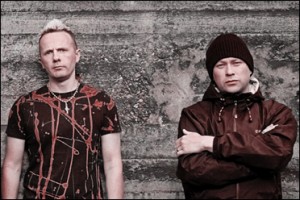 The Bristol based act Mesh have given a sign of life. The two-piece synth pop outfit have announced their new album, "Automation Baby". As SBC reported last year, the band had entered studio mode for a while already. Via making-of video clips, fans could already hear a few bits and bytes of the new material. "Automation Baby" should be out somewhere in mid February, a single is planned in January.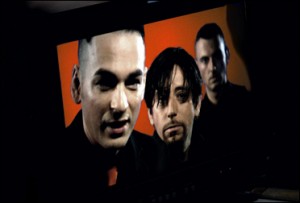 According to various sources and frequent rumors And One has called it quits. Label changes, fights between past and present band members finally made Steve take the decision to through ion the towel. Here's a text from Side-Line exploring the situation further – too bad for a band that had so many good EBM / synth pop tracks in their portfolio:
Whereas the band insinuated earlier this week that they would sign to Out Of Line, it now seems that And One will simply stop all activity and cease to exist. The news is also confirmed by other scene magazines, such as Sonic Seducer which reports "Schluss, aus, vorbei: And One lösen sich auf".

And since Steve thinks we can't read German, here are his words: "Für And One besteht kein Bedarf mehr, weder bei einer neuen Plattenfirma zu unterschreiben, noch für And One ein eigenes Label zu gründen. Die letzten Werke lassen wir einfach nur pressen und verkaufen sie selber auf Konzerten und online oder so. Mal sehn. Scheiß auf Charts oder Konventionen. And One ist durch mit der Branche." Even our colleagues at Sonic Secucer interpretate this as the end.

The end of the band was written in the stars after endless battles with labels and (ex-members), ego-tripping ramblings on the bands blog attacking other artists, doll fights, plus the odd cat fight between frontman Steve Naghavi and Side-Line.

And One was a German New Wave, synthpop and EBM band founded by Steve Naghavi and Chris Ruiz in 1989. The band's first release was "Metal Hammer". On June 4, 2011 Chris Ruiz and Gio van Oli announced they were leaving And One and formed a new band entitled PAKT. It got the PAKT members lots of public shouting and denigrating comments from Steve Naghavi who increasingly seemed to have lost the pedals. The band's last album was 2012's "S.T.O.P."
A couple of their most recent releases can be found below:
Stay tuned for more info…..
Dangerously close to the original sounds 😉 – You all know what I mean…me like
METROLAND – 'Mind The Gap' 2CD Label: Alfa Matrix
The album 'Mind The Gap' – OUT NOW !
http://www.alfa-matrix.com/shop_comments.php?id=2197_0_8_0_C
http://www.alfa-matrix.com/shop_comments.php?id=2198_0_8_0_C
http://www.alfa-matrix.com/bio-metroland.php
Monday morning synth spotting, including Roland Juno 60, Roland SH101 & Moog Little Phatty,  in this french video:
Extrait de l'album Le trou noir – Ego Twister – 2012 (sortie le 10-10-12)
Version originale : http://soundcloud.com/amnesie1/jai-tu-le-chat
Enregistré et filmé live dans les studios du CNDC au Quai à Angers.
Avec : Yan Hart-Lemonnier, Maxime Dobosz et Wilfried Thierry
Technique son : Loïc Lebris
Réalisation : Wilfried Thierry