New track from the upcoming solo album of Douglas McCarthy, the frontman of EBM pioneers Nitzer Ebb
Tuesday morning synth music, enjoy
Welle:Erdball Live in Glauchau, Alte Spinnerei!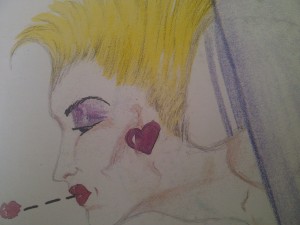 OK so here's a little test for you all on this nice sunny Monday morning (at least here in Northern Europe)
Let us know if you know which single this is – artist and title of the track
Hints: There's a synth pioneer involved and it was released in 1985
Drop your votes in the "comments"
//SBC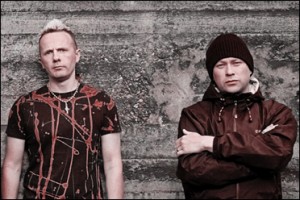 The Bristol based act Mesh have given a sign of life. The two-piece synth pop outfit have announced their new album, "Automation Baby". As SBC reported last year, the band had entered studio mode for a while already. Via making-of video clips, fans could already hear a few bits and bytes of the new material. "Automation Baby" should be out somewhere in mid February, a single is planned in January.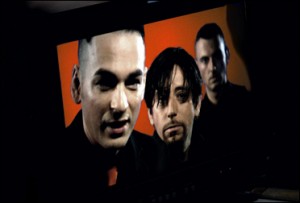 According to various sources and frequent rumors And One has called it quits. Label changes, fights between past and present band members finally made Steve take the decision to through ion the towel. Here's a text from Side-Line exploring the situation further – too bad for a band that had so many good EBM / synth pop tracks in their portfolio:
Whereas the band insinuated earlier this week that they would sign to Out Of Line, it now seems that And One will simply stop all activity and cease to exist. The news is also confirmed by other scene magazines, such as Sonic Seducer which reports "Schluss, aus, vorbei: And One lösen sich auf".

And since Steve thinks we can't read German, here are his words: "Für And One besteht kein Bedarf mehr, weder bei einer neuen Plattenfirma zu unterschreiben, noch für And One ein eigenes Label zu gründen. Die letzten Werke lassen wir einfach nur pressen und verkaufen sie selber auf Konzerten und online oder so. Mal sehn. Scheiß auf Charts oder Konventionen. And One ist durch mit der Branche." Even our colleagues at Sonic Secucer interpretate this as the end.

The end of the band was written in the stars after endless battles with labels and (ex-members), ego-tripping ramblings on the bands blog attacking other artists, doll fights, plus the odd cat fight between frontman Steve Naghavi and Side-Line.

And One was a German New Wave, synthpop and EBM band founded by Steve Naghavi and Chris Ruiz in 1989. The band's first release was "Metal Hammer". On June 4, 2011 Chris Ruiz and Gio van Oli announced they were leaving And One and formed a new band entitled PAKT. It got the PAKT members lots of public shouting and denigrating comments from Steve Naghavi who increasingly seemed to have lost the pedals. The band's last album was 2012′s "S.T.O.P."
A couple of their most recent releases can be found below:
Stay tuned for more info…..
Dangerously close to the original sounds
– You all know what I mean…me like
METROLAND – 'Mind The Gap' 2CD Label: Alfa Matrix
The album 'Mind The Gap' – OUT NOW !
http://www.alfa-matrix.com/shop_comments.php?id=2197_0_8_0_C
http://www.alfa-matrix.com/shop_comments.php?id=2198_0_8_0_C
http://www.alfa-matrix.com/bio-metroland.php
Monday morning synth spotting, including Roland Juno 60, Roland SH101 & Moog Little Phatty,  in this french video:
Extrait de l'album Le trou noir – Ego Twister – 2012 (sortie le 10-10-12)
Version originale : http://soundcloud.com/amnesie1/jai-tu-le-chat
Enregistré et filmé live dans les studios du CNDC au Quai à Angers.
Avec : Yan Hart-Lemonnier, Maxime Dobosz et Wilfried Thierry
Technique son : Loïc Lebris
Réalisation : Wilfried Thierry
Anton Corbijn Inside Out film clip Depeche Mode
Released on region 2 DVD on 17 September 2012
DE/VISION – Brotherhood Of Man – Final Version
SCHRAMM "Musclecar" (Official Video)
Album: Schramm (2012) //
Label: Future Fame (http://www.futurefame.de/) //
mixed and mastered by Vladimir Popov //
music, lyrics and video by SCHRAMM //
http://www.schramm-klang.de/ //
This is the official video for Dupont´s "Entering the ice age" taken from the album with the same name released on Progress Productions. Directed by Einar Friðjónsson.

Out tomorrow is the debut album by the Kraftwerkian project Metroland. Based in Belgium the duo, Passenger A and Passenger S, the band will see their debut album "Mind the gap" released in 2 different versions, a normal CD format and a double CD box set featuring 11 remixes executed by the likes of Komputer, Celluloide, Franck Kartell, Keen K, Növö, Sophie Watkins, etc.