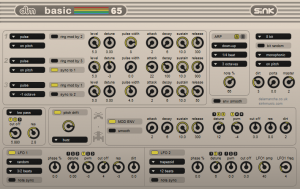 de la Mancha has announced the release of basic 65, a monophonic synth, inspired by the classic 80s home computer, the Commodore 64 and its legendary SID chip.
Building on the waveforms and signal path of this famous chip, basic 65 adds further features and options to take things a step further.

The double arpeggiator allows complex versions of that retro 8-bit game sound and the modulation options inspire experimentation via the mod envelope and 2 comprehensive LFOs. Pulse width modulation, ring modulation and oscillator detune/sync are key ingredients in the signature sound. Throw in some pitch drift, bit drift, a sprinkle of dirt and randomisation and you have a wide range of lofi, chiptune, retro-tastic sounds at your disposal.

This version is the update to the popular basic 64, redesigned from scratch, with many improvements, new features and all new presets. basic 65 was co-developed with sink, who also made the amazing presets.
Basic 65 features
Monophonic synth in VST format for Windows based hosts.
3 oscillators with pulse, saw, triangle and noise waveforms.
Pulse width can be modulated by envelope or both LFOs [NEW – pwm modulated by envelope].
Each oscillator can be sync'd to another and/or ring modulated by another.
Each oscillator has its own ADSR envelope and can be routed to filter individually.
Resonant filter with low pass, high pass, band pass and notch modes [NEW – notch mode added].
2 tempo-sync Arpeggiators in series for complex arp sounds [NEW – 2nd arp, added arp patterns].
Arp tempo, range and note length can be adjusted [NEW – more tempo-sync options, note length knob].
Modulation envelope can control pulse width and pitch of individual oscillators as well as filter and dirt [NEW – modulates pwm, cut-off, res, dirt].
2 tempo-sync LFOs with wide range of waveforms, including random [NEW – more waveforms, more tempo-sync options, added phase].
Both LFOs can control pulse width and pitch of individual oscillators [NEW – individual oscillator pitch and pwm].
One LFO also controls filter and dirt, the other can modulate the depth and speed of the first LFO [NEW – modulates res, dirt and LFO1].
Envelopes are non-linear and can be retriggered from zero or smoothed on each new note [NEW – separate smooth for amp and mod envelopes].
Pitch drift models instability with variable depth and frequency [NEW – depth and frequency added].
Options for 4, 6, 8, 12 or 16 bit audio with randomising feature [NEW – added randomising, added 4 bit and 12 bit].
Developed with SE 1.1, so no problems with multiple instances [NEW].
128 presets by sink covering arps, leads, bass, drums and lofi sounds [NEW – all new presets].
basic 64 is also included in the download.
Basic 65 for Windows (VST) is available to purchase for $24 USD. A free copy of dirty harry and PULS is included with a purchase until October 7, 2011.
"Der Kalte Krieg" is the name of Welle:Erdball new album featuring covers of songs during the Cold War era. We wanted to know more of what has happened with the band since the DVD Zeitsturm was released and really understand what this Homo Futura project is all about. Honey and Freuline Plastique took some time to chat with us and transmit the latest buzz from the Funkhausstudio.
Why did you start Homo Futura and what is it that you can do there that you cannot do in Welle:Erdball?
In the begining it was "Das Präparat" that started as an official Welle:Erdball side project. However, when we split up there were still some shows to do, so we did them anyway with a different set up (F.Nstein & Plastique). This worked out really fine and was a lot of fun. So we decided to keep going and it was really fun to create a new band, new image, new stage show etc.
Official video of "homo~futura – Links-Rechts"
The Zeitmaschine played an important role in the DVD you released last year. Do you see yourself as time travellers when it comes to your music and the band image?
We're traveling through time constantly – just take a look at your watch! Apart from that, music is definately a good way to travel through time with your mind.
You once said (some 10 years ago) that Welle:Erdball had a long way to go before reaching the goal of Welle:Erdball – The goal was to sound like Welle:Erdball. Have you reached that goal now and how is it shown in your music and visuals?
I think we are really close with the new album "Der Kalte Krieg". But we haven't really reached our goal yet. It might sound hard to believe, but since the start of Welle: Erdball, all the concepts and partly the names of the broadcasts and songs were already set. And we still have to accomplish a couple of things on this list.
So it won't be over for a long time.
Could we expect a radio show by Welle:Erdball including only Gainsbourg song? We feel that the work of Serge matches the Welle concept very well. We're sure he would approve of you bringing his work to a younger generation.
Probably not. We're not a "cover band" although we appreciate Gainsbourg's work a lot.
But actually the upcoming release "Der Kalte Krieg" will contain only cover versions of favorite songs from different artists about the cold war and others.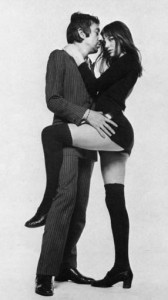 Serge Gainsbourg was a French singer-songwriter, actor and director. Gainsbourg's extremely varied musical style and individuality make him difficult to categorize. His legacy has been firmly established, and he is often regarded as one of the world's most influential popular musicians.
You have a lot of political and social ambitions with your songs, ranging from the criticism of gaming consoles to the man-machine integration. What areas are your main concerns today and why, and would you agree on the theories of a technological Singularity that has been put forward by e.g Kurzweil?
It is hard to comment on this. Since the opinion of Welle: Erdball not always is the personal opinion. I find it important that you first have an opinion at all and that there is a message in the music and in the lyrics. Not: "Come on, let's have a party tonight!" :). And we see it as our duty to have a social commitment but we are no judges, who tell the audience what to think.It is only important that you form your own opinion or that there is a chance to do so."
What is it that you like about the 50's sound?
Well we're using 50s asthetics since the beginning and we're all big fans of this aera. The sound of the 50s and the subculture behind it was one of the first "punk" movements in music history.
Probably the most charming way of going against the mainstream.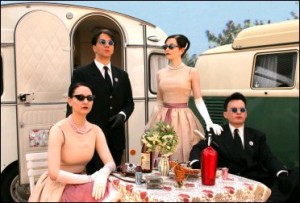 You describe yourself as hard working, keeping you self busy 28 hours a day. Is that just the German spirit and work morale showing or do you have an artistic fire burning inside?
I don't know if it is the German mentality, maybe a little…But under any circumstances is it the Welle: Erdball-mentality.
Read the full interview here >>
Back in the days

Drum Studio on Commodore 64
Version v2.80A
Year 1990
Copyright (c) 1990 Mark Wilson
Mail Order Monsters performing the song Fairlight, live in studio at WKTV.
"We play exclusively through the 'SID' chip, taken directly from Commodore 64 computers and placed in a new hand built circuitry that allows greater flexibility, and compatibility with modern MIDI equipment. We utilize over 20 chips in our performances."
http://www.mailordermonsters64.com
Messing around with a C64 8 bit machine with an old 8 bit sampler.
Makes great lo-fi drones.
Background:
The Commodore 64 (C64) is an 8-bit home computer system that was released in 1982 and discontinued in 1994. However, groups such as C64.com and other individuals continue to use the commodore 64 for gaming, programming and music composition. Music software for the C64 includes sequencers, digital recorders, notation programs and software for mastering with new music production still being developed as recently as 2009.
Using the 259e for C64 style music. Full length audio at soundcloud.com/7thdansound/bitsandbuchla
The Buchla 259e:
Popular demand does work occasionally – we've resurrected and renamed the original 259e Complex Waveform Generator. The new 259e is practically identical to the original, and is replete with all of the original digital waveshaping, aliasing noise, and foldover frequencies. However, we've added new self-modifying, screeching, snarling responses that reflect weird internal origins. Hence the name "twisted".
Otherwise similar to the 261e Complex Waveform Generator, with voltage-controlled modulation of pitch, amplitude, and timbre, both hard and soft synchronization, and pitch tracking.
In conjunction with the model 225e MIDI Manager, the 259e's pitches respond to internally routed MIDI messages. Up to four 259's can peacefully co-exist in a single system, each with its private MIDI channel.
As in all 200e series modules, the settings of the 259e's pots and switches can be memorized as a part of a preset configuration. Provided you have a 225e or a 206e in your system.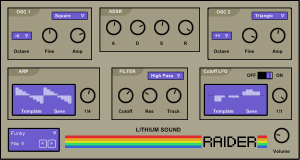 Raider is a 2 oscillator modulation sequencer based synthesizer. Raider allows you to modulate pitch and filter cutoff via two step sequencers. Each sequencer allows one to simply draw in their own pitch and filter modulations or use one of the pre-configured templates. Both sequencers are tempo synced and the filter sequencer can be switched on or off. Raider makes sounds suitable for techno, electro, house, breakbeat, glitch and many other styles. Sounds are remanecent of the 303 and 8-bit game sounds of the 1980's and one can produce a wide range of sounds from FX and screaming acid leads to Arps and house grooves to percussion and a whole lot more.
Features:
2 oscillators (sine, saw, square, triangle)
1 step sequencer pitch control
1 step sequencer filter control
1 ADSR Amp envelope
1 State Variable Filter (Lowpass,Highpass,Bandpass)
32 presets
Listen to it:
Raider Audio Demo (Raider + drum kits)
The Arkanoid Commodore 64 remix features the Roland MC505 which has a massive collection of professional and coveted electronic synth and drum sounds, effects, built-in real-time VCF and envelope knobs for tweaking, a sequencer/arranger, and many other great additions. This is the successor to the MC-303 and is now much more advanced. Its sounds will be familiar to any techno-head.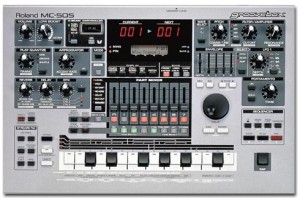 The LFO and resonant filters allow quick and easy sound manipulation. The new D-Beam allows you to randomly tweak your sounds by passing your hand over an infrared beam! It has a great sequencer for building your songs (with groove quantizing and part level faders for mixing) as well as many idea catchers like the phrase sampler and arpeggiator.
This is an all-in-one music machine that's great for DJ's or anybody else who wants to create slamming dance tracks. Designed as a stand alone machine, they do not work quite as well when incorporated into a multi-synth keyboard rig. It's perfect for beginners and advanced users, but offers the most possibility to those who will use it exclusively.
In this video:
DOWNLOAD THIS SONG HERE
https://8bc.org/music/Danimal+Cannon/Gorelax+++DMG+and+Guitar+and+LSDJ+TUTORI…
In this tutorial I break down my chiptune song "Gorelax" and show how I made the song in LSDJ. Hopefully this will inspire you get creative with LSDJ! I go into several things like:
– humanizing
– creating effects using commands
– channel optimization
– stereo tricks
– general sound design
AND MORE
Shared by danimal201
Retro footage of Dan Laskowski demonstrating his 1984 Lead Synthesizer software for the Commodore 64