Using the 259e for C64 style music. Full length audio at soundcloud.com/7thdansound/bitsandbuchla
The Buchla 259e:
Popular demand does work occasionally – we've resurrected and renamed the original 259e Complex Waveform Generator. The new 259e is practically identical to the original, and is replete with all of the original digital waveshaping, aliasing noise, and foldover frequencies. However, we've added new self-modifying, screeching, snarling responses that reflect weird internal origins. Hence the name "twisted".
Otherwise similar to the 261e Complex Waveform Generator, with voltage-controlled modulation of pitch, amplitude, and timbre, both hard and soft synchronization, and pitch tracking.
In conjunction with the model 225e MIDI Manager, the 259e's pitches respond to internally routed MIDI messages. Up to four 259's can peacefully co-exist in a single system, each with its private MIDI channel.
As in all 200e series modules, the settings of the 259e's pots and switches can be memorized as a part of a preset configuration. Provided you have a 225e or a 206e in your system.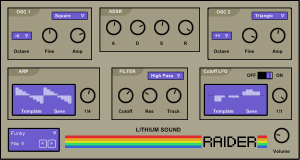 Raider is a 2 oscillator modulation sequencer based synthesizer. Raider allows you to modulate pitch and filter cutoff via two step sequencers. Each sequencer allows one to simply draw in their own pitch and filter modulations or use one of the pre-configured templates. Both sequencers are tempo synced and the filter sequencer can be switched on or off. Raider makes sounds suitable for techno, electro, house, breakbeat, glitch and many other styles. Sounds are remanecent of the 303 and 8-bit game sounds of the 1980's and one can produce a wide range of sounds from FX and screaming acid leads to Arps and house grooves to percussion and a whole lot more.
Features:
2 oscillators (sine, saw, square, triangle)
1 step sequencer pitch control
1 step sequencer filter control
1 ADSR Amp envelope
1 State Variable Filter (Lowpass,Highpass,Bandpass)
32 presets
Listen to it:
Raider Audio Demo (Raider + drum kits)
The Arkanoid Commodore 64 remix features the Roland MC505 which has a massive collection of professional and coveted electronic synth and drum sounds, effects, built-in real-time VCF and envelope knobs for tweaking, a sequencer/arranger, and many other great additions. This is the successor to the MC-303 and is now much more advanced. Its sounds will be familiar to any techno-head.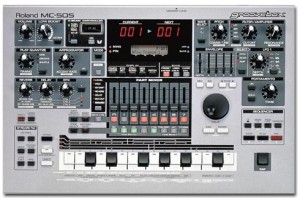 The LFO and resonant filters allow quick and easy sound manipulation. The new D-Beam allows you to randomly tweak your sounds by passing your hand over an infrared beam! It has a great sequencer for building your songs (with groove quantizing and part level faders for mixing) as well as many idea catchers like the phrase sampler and arpeggiator.
This is an all-in-one music machine that's great for DJ's or anybody else who wants to create slamming dance tracks. Designed as a stand alone machine, they do not work quite as well when incorporated into a multi-synth keyboard rig. It's perfect for beginners and advanced users, but offers the most possibility to those who will use it exclusively.
In this video:
DOWNLOAD THIS SONG HERE
https://8bc.org/music/Danimal+Cannon/Gorelax+++DMG+and+Guitar+and+LSDJ+TUTORI…
In this tutorial I break down my chiptune song "Gorelax" and show how I made the song in LSDJ. Hopefully this will inspire you get creative with LSDJ! I go into several things like:
– humanizing
– creating effects using commands
– channel optimization
– stereo tricks
– general sound design
AND MORE
Shared by danimal201
Retro footage of Dan Laskowski demonstrating his 1984 Lead Synthesizer software for the Commodore 64
Princess Pangolin's cover of the Flaming Lips' "Yoshimi vs.The Pink Robots," featuring omnichord, violin and telephone. Also, some hasty stop motion. No robots were harmed in the making of this video. Featuring Julie Carpenter on vox, violin & omnichord, and Dain Luscombe on Commodore 64, Kitten & other technological marvels. Album available from
http://princesspangolin.bandcamp.com/
The iridescent SammichSid. Inside there's 2 6580 SID chips from Commodore 64s. Depending on the angle of the light, the SammichSid's color is purple, blue or gold. Mix those colors and sounds well with an Elektron Octatrack and you get a blend of old and new.
I modded this Commodore C64 by putting a MSSIAH Cartridge, 6 pots and 2 switches in it.
4 pots are for the MSSIAH Software, 1 for Volume and 1 for a Feedback Loop I built in it.
Maybe in the future I will give this thing a nice painting or a new housing and of course pot knobs

Shared by Malte Horstmann
100% Rhythm Core Alpha. This time I used the lo-fi sounds (mainly Square, Saw and C64 samples) and tried to assemble retro tunes whith many tones and some arpeggio sounds, which personally remind me of my Game Boy childhood. Are you a Lo-Fi Johnny, too?

Amazing: You can play all your patterns (blocks) in realtime and even change the key/mode of your created tunes automatically. LIVE !!!

Thank you very much again for this awesome DSiWare release and keep up the good work, SoftEgg!!!
MSSIAH has posted this really cool 8bit video, enjoy
A test of the 8bit ventures Mssiah on the Commodore64
2 Tracks with the MSSIAH Bassline
1 iPad for controlling the Bassline Parameters
1 iPhone for un-/muting the Audiotracks
1 BCR-2000 for Reverb- and Delay-Control
1 MFB 503 (Kick)
1 MFB 522 (all the rest)
3 takes (1 for Beat and first Bassline / 1 for the second Bassline / 1 for the FX-Controllings)
Videorecording on iPhone4