Greetings from electro performer Jon Johnson
http://www.youtube.com/watch?v=eOhFTZl5Q2w
Back in 2002 I was asked to compose and perform a Christmas themed piece of music in a more modern Electronic, Chillout type composition. The music of this video is a slightly modified and beefed up mix of that piece interfaced with pics from the Holiday Greetings from Karma Labs OASYS user forum and a few of it's members greetings. the music in no way is related to Karma or the Korg OASYS. I thought I would include them for some backround gazing however this video is more about the music after all. The music was recorded and performed using Propellerhead's Reason. All music was played in realtime when possible. A couple familiar Yuletide themes are played here and there in the music with several soundbites. Enjoy!
Nice weekend fun

The 40th anniversary of Jimi Hendrix's legendary Electric Lady studios in New York. To celebrate the event the Audio Engineering Society will host an event in recognition of the guitar legend and his incredible legacy.
In this video, Jimi's sound engineer, Eddie Kramer, talks about the construction of the studio which started way back in 1969. He reveals the original plans for Electric Lady to be a night club, and his involvement in turning the project into the first artist led recording studio.
Acts such as Bowie, The Rolling Stones, Bob Dylan, Patti Smith and The Strokes have all recorded at Electric Lady. Guests at the anniversary celebration will include Janie Hendrix, and Eddie Kramer himself.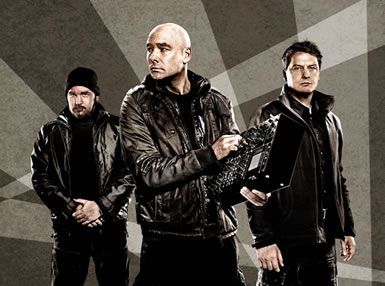 Germany's Rotersand announces a new nine track EP which will clock in at nearly one hour. The title track "Waiting to Be Born" is taken from the album "Randon Is Resistance" and appears in a reworked and a full version alongside remixes and exclusive tracks, among them a cover of Peter Murphy's "A Strange Kind of Love". The release date is September 28.
Listen to the entire album here
Smoking Kills (The Horrorist-Electrofied Mix) – Millimetric by thingstocome
Here's a clip of a remix I just finished for Millimetric. I played it live in Stuttgart and it past the club test so it's in his inbox. From a production standpoint your hearing Vermona DRM-1 drums through Izotope Trash, white noise crashes from a Yamaha CS5, the 90's T99 or 80's Vomito Negro sample is in an Ableton Simpler going through various Sugar Bytes Effectrix presets. My vocals are through a Shure KSM32 and Wavearts plug-ins.
Article : http://nightwall.com/la-video-du-jour-linvasion-des-pixels-geek-tetris-pacman-467
Pixels by patrick Jean – Invasion pixels : geek tetris pacman and spider invasion !
Patrick Jean is DIVISION's latest signature.
This is Patrick Jean's new project feat. Naïve New Beaters "L.A. trumpets".
The video's been produced at OneMoreProd and Patrick's represented for commercial projects by DIVISION.
http://www.youtube.com/watch?v=qASf5DEN_c4&feature=player_embedded
Pixel is the video of the day. The new creation of Patrick John was an immediate success on the web. And it is deserved, since it is very successful: Imagine a rebellion by a few pixels in our all-digital world, and here we are at the heart of the games we had imagined: a portion of Tetris with buildings, stations Pacman eats subways, Space Invaders and Donkey Kong invade us balance his barrel in the street!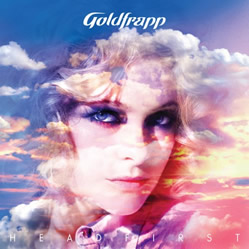 After the calm "Seventh Tree", UK duo Goldfrapp will release their most powerful album to date on March 22. "Head First" is preceded by single "Rocket" on March 8, a track that has been remixed by among others Richard X and Tïësto.
"Head First", Goldfrapp's fifth album, is written and produced by the band – Alison Goldfrapp and Will Gregory – and was recorded last year in London and Bath.
A tour will follow later this year.
Enter the ambient world of OSMOS: elegant, physics-based gameplay,
dreamlike visuals, and a minimalist, electronic soundtrack.
Your objective is to grow by absorbing other motes. Propel yourself by ejecting matter
behind you. But be wise: ejecting matter also shrinks you. Relax, good things come to
those who wait.
Progress from serenely ambient levels into varied and more challenging worlds. Confront
attractors, repulsors and intelligent motes with similar abilities and goals as you.
Osmos soundtrack featuring Gas, High Skies, Biosphere, Julien Neto, Loscil and others.
Demo available now from www.hemispheregames.com/osmos/
happy to see that ISC are back, with a slightly more mellow touch

"My Despair" from the upcoming same-titled new EP-CD. Out 20th november 2009.
www.instrictconfidence.com
Video directed and edited by Julien Petin, assisted by Julien Wagner, produced by Minuswelt Musikfabrik. Cameras by Cedric Zak and Fred Bak. Post-production by Yves Brua. Make up artists: Nathalie Sienko and Elke Bardolatzi. Light-engineer: Michel Nicolas. Costume design by Fabienne Ley (Opera national du Rhin). Female model: Dana E./Toxica. Technical support by Lothaire Burg (arte).