Austrian industrial EBM Dark band PsioniC debuts with "Self revelation, here's a recently released EP" snippet-mix by Dj funker101 (PsioniC)
__________________________
Special Thanks to:
the remixer: Nachtmahr, Freakangel, Shiv-R, Powerbeat Studio
our Mastering-Studio: Powerbeat Studio
our supporters: EBM Elite Graz, Stromschlag, Infection Graz, Electronic Fallout, and many more…THANK YOU!
And very special Thanks to our label INFACTED RECORDINGS
Finally, the NACHTMAHRpropaganda office permitted the release of a second trailer to the upcoming video of "Can You Feel The Beat?". The pictures allow for a extensive insight into the elaborate visual world of the clip that will soon be released in its entirety.
True to aforementioned motto, Thomas Rainer created his new musical project NACHTMAHR in 2007. Over the past 11 years, the Austrian artist achieved worldwide success with L'AME IMMORTELLE and SIECHTUM, and here he returns to his roots: the boiling dancefloors of industrial and goth clubs alike.
Inspired by numerous years of DJing, NACHTMAHR is the missing link between merciless and provocative industrial and the hammering power of techno.
The first release, "Kunst ist Krieg (i.e., Art is War)", and it's club hit, "BoomBoomBoom", instantly conquered the dancefloors and earned the band a slot on the soundtrack of the American block-buster movie, SAW 4.
official mailorder: http://www.infrarot.de/nachtmahr
official website: http://www.nachtmahr.at
CREDITS:
Directed by Carlo Roberti
Written by Thomas Rainer, Carlo Roberti and Marco Colassi
D.O.P.: Alessandro Leone
Camera assistant Francis J. D'Costa
makeup Francesca Meli
www.solobuio.com
www.trisol.de
http://youtu.be/LdvMefdvBA8
Cullorblind from HanDover.
http://youtu.be/1RXRGm6lO2U
Ovirt from HanDover.
Released October 25/28 2011
Official filmclip for "Parasite (Repossession)" by SHIV-R. The UK/Australian band Shiv-R are soon to release their follow-up album to last years critically acclaimed debut album "Hold My Hand".
As of today the band released a new video with the track "Parasite (Repossession)" taken from the debut album.
Filmed, edited and produced by http://www.scissors.cc
Live bugs and insects are filmed under a microscope with a special camera to produce the content for the experimental video clip.
Bring out the noise

I think the creator of this video sums it up pretty nice:
BOOM BA BOOM BA CLASH BAMM BANG Bip… Ping… BOOOM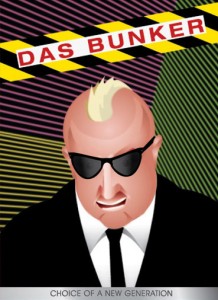 The reknown Los Angeles-based club Das Bunker will release a special compilation with bands from the Industrial scene covering 80′s songs.
The compilation, entitled "Choice Of A New Generation", includes Modcom, Leaether Strip, Combichrist, Assemblage 23 and System Syn to name a few. See full tracklist below.
Limited to 500 copies, the physical package will be delivered as a standard CD in a DVD box together with a Das Bunker USB dogtag. Release date is May 30th.
Tracklist:
01. Straftanz – Looking for Freedom
02. God Module – Round and Round
03. Northborne – No Sleep till Brooklyn
04. HexRx – Living on Video
05. FGFC820 – We Don't Need No World War III
06. Gentleman Junkie – When I Hear Music
07. Modcom feat. Leæther Strip – Native love
08. Sars feat. Amanda Jones – Two of Hearts
09. Combichrist – Gonna Make You Sweat (Everybody Dance Now)
10. Assemblage 23 – Don't Change
11. Continues – Perfume Garden
12. System Syn – A New England
13. SD6 – As The End Draws Near
14. iVardensphere – The Dogs of War
Dance Or Die prepare a comeback in June 2011 with their 6th (concept) album, "Nostradamnation". Tracks known so far include "Sleeping in your grave", "432000", "Purgatory", "Empty hearts", "Northern Winter" and "Helios". The news was announced on the band's official website.
Dance or Die – remember their 1992 hit "Psychoburbia" – is an electronic band, formed in 1988 by the two Berlin residents Andreas Goldacker and Gary Wagner. Falgalas (born Heiko Duus) joined the band in 1993, first for live touring, later as full member. Chris L. (born Christian Lorenz) joined in 1998, so far only for live performances.
Their first, eponymously-titled mini album was the first release ever of Berlin-based label Machinery. After the label's demise, they signed with Polydor in 1997. But after one album ("Dehumanizer") that partnership ended. 2001 saw the release of their final (until now) album "Schlafende Energie" on Synthetic Symphony. For the new album the band has joined hands with Out Of Line. (Via SL)
V2A Immortal – (OFFICIAL MUSIC VIDEO) – (2011)
British-German V2A, consisting of Kevin Steward and Ines Lehmann, has on their two previous albums delivered a dancefloor friendly mix of cyber-influenced electro, EBM and more industrial noises.
The project was born as a trio (along with Matthew Hawkes) at the beginning of the millennium, and made ​​his debut through Trisol Music Group in 2002 with the album "EBM".
Now the duo returns with new album 'Machine Corps, which under the record label's press release presents a more mature, darker and more elaborate sound than before.
V2A – MACHINE CORPS – SONG IMMORTAL
OUT on 29th April 2011 NOITEKK / BLACKRAIN
Pre-Order @ www.emmo.biz
www.v2a.co.uk
"Set Me Free", taken from the current In Strict Confidence album "La Parade Monstrueuse", is now being released as a 14-track EP-CD. The CD includes the videoclip of "Silver Bullets", an 8:30 minutes extended version of the title-track, a piano interpretation, remixes of other artists of various songs. More details as they get release.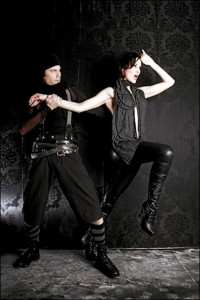 Formed in 1989/1990, they were known as Seal of Secrecy until 1992. They started out as a quartet, but stripped down to a duo (Dennis Ostermann and Joerg Schelte) in 1992, releasing two demos tapes on the way to their debut release "Cryogenix" on Zoth Ommog in 1996, shortly followed by the EP "Collapse".
The band left the label after releasing the follow-up effort "Face The Fear" in 1998, releasing their third album "Love Kills!" on the very short lived Bloodline label two years later.
Bluezone has a new Youtube channel up, here is a video from their latest release:
http://www.bluezone-corporation.com/catalogue/details/66/6/products/ambient-b…
Ambient Breaks from Bluezone Corporation is the ultimate collection to jump into professional production of Ambient soundtracks for film, video games, TV series and action. Ambient Breaks is a perfect mix of calm, refined pads reworked with rich, deep synth lines. This new sound bank pushes the limits of ambient sound and can be easily adapted to other styles such as Dubstep, Drum n Bass, Hip Hop, Nu Metal, Pop, Grime and Industrial.
The producers from Bluezone studios are pleased to announce Ambient Breaks. This sound library offers a balance between strong, hard sounds and refined sounds, to keep the finesse of Ambient and Chill Out. With more than 240 loops and samples, Ambient Breaks offers a multitude of possibilities.
This pack also includes an arsenal of drum loops, no-kick loops ( hi-EQ ), drums hits that provide a solid rhythmic basis. Add to this bass lines, synths, (fat synth loops, synthetic loops, infra bass loops and key loops ) as well as sound effects, synth sounds and layers. To make your job easier, all synth lines are in the same key, which means you have a huge kit with which to build your work from start to finish with rich and innovative sequences.
Like all Bluezone Corporation products, this pack is royalty-free and does not require any additional costs or permissions – it's 100% ready to be used in your commecial productions.
Suitable for styles such as : Ambient, Soundtrack, Game & TV series, Breaks, Downtempo, Glitch, Pop, Dub, Dubstep, Grime, Drum and Bass, Industrial, Nu Metal, Hard Rocks, Chill Out, Lounge, Hip Hop, Trip Hop, Electronica, Jazz, Big Beat and Experimental.