Sign up and learn more here: http://www.djtechtools.com/2013/11/03…
On the surface, each Midi Fighter Twister is equipped with 16 endless encoders, each with a push state, plus a full ring of LEDs. Capped off with 2 full-color LEDs at the bottom, each encoder can transform into a wide range of displays and functions depending on the mapping, configuration, or page. This provides infinite levels of control with clear visual feedback similar to a touch screen, while maintaining the tactile feel of a real knob.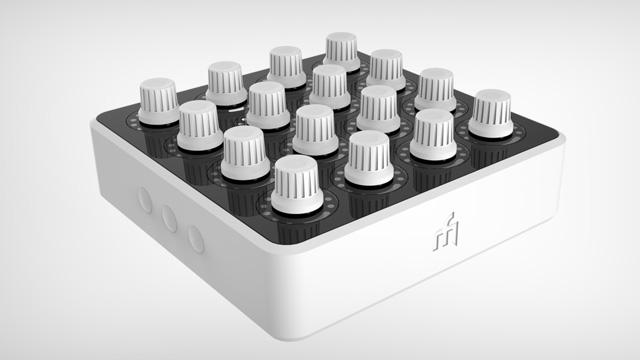 The possibilities – from Ableton control to Traktor effects – are endless, but to really showcase the potential of this dynamic work surface we decided to go a little nuts and create something totally next level.
The Bleep Drum has been upgraded with full MIDI control.
Now you can trigger the four samples, toggle noise and reverse modes, as well as change the pitch of all four samples with any device that can send MIDI.
Retrofit kits available to upgrade any previous Bleep or Dam Drum.
Order now at bleeplabs.com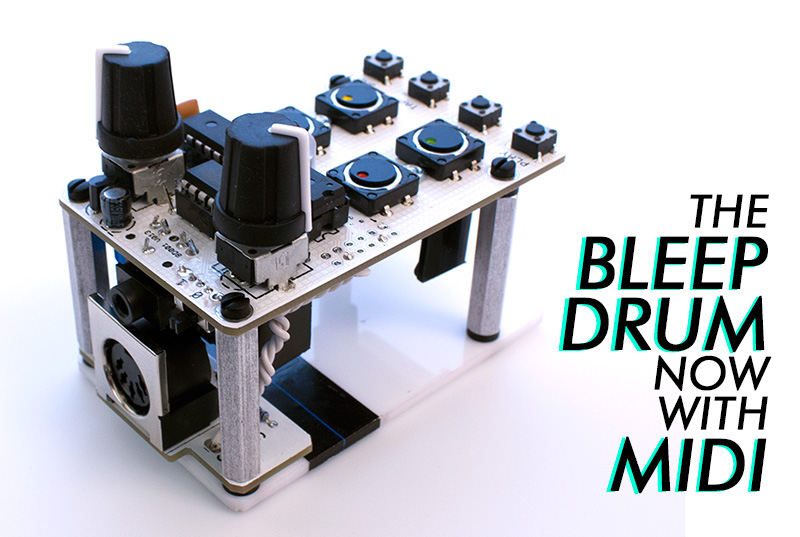 The Bleep Drum is an Arduino based lo-fi rad-fi drum machine designed by Dr. Bleep.
– Four sounds, two with pitch control
– Four selectable sequences
– Record patterns just by playing them
– Tap tempo
– Reverse mode
– Hypernoise 30XX mode
– Stereo 1/8″ output
The Clipper is a compact, portable and programmable LED-lit fingerboard that can remotely run an Ableton Live session. With 144 touch-sensitive buttons you can record and play a Live set in one area and perform guitar, bass, drums, add Live beat-repeats, whatever, in another area of the Lightboard. You can now record and play clips into the Live Session View interface and control Live at the tips of your fingers while you're moving across the stage or interacting with your audience. The Clipper's Lightboard offers 32,000 colors and can match the colors from the Live session running in your computer, and completely wirelessly when the AirPower option is installed.
This full-color LED fingerboard controller is also very versatile and can easily be programmed to display text messages, JPEGs, and animations. In addition to that, you can set up separate colored zones on the fingerboard to play bass, drums, piano, or any sounds using Live while connecting to hardware synths via MIDI.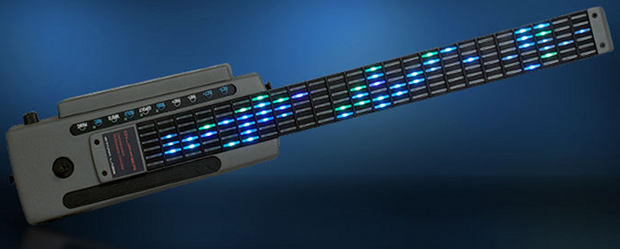 Gaining more popularity in the electronic music genre, Ztar fingerboard controllers are a welcome alternative for Electronic Music performers who want to interact with their audience. Noteworthy clientele include Pendulum and Excision as well as the Chemical Brothers, Linkin Park, Maroon5, Vernon Reid, Bob Weir, Lou Reed and many others. Electronic musicians and DJs can now better express themselves and interact with the audience with this advancement in MIDI controllers.
In addition to portability and convenience, the Clipper's LED fingerboard can be programmed to display text messages, JPEG images, animations and lighting FX in response to your touch or streamed in from an external computer. The fingerboard offers 32,000 colors that can be matched to your computer's Ableton Live session. Separate colored zones can also be set up on the fingerboard to play clips, bass, drums, piano, or any other sounds by using Live or connecting to hardware synths with MIDI. With 144 touch-sensitive keys, a live set can be recorded in one zone while solo performances can be played in another.
Ableton Live Portable Control Surface
At the core of the Clipper's lighting control is a library of lighting commands that can be programmed on the Clipper and performed directly by playing the Clipper's fretboard, drumpads, ribbon, knobs, joystick, and pedals. By connecting the Clipper's USB port to a computer, you can stream live lighting FX from Max-for-Live, any sequencer, or create your own software.
Now you can control all your sounds with animated colors at the tips of your fingers, and all while moving across the stage. This Ztar Clipper LightBoard Controller is unlike any other and offers an entirely new experience to electronic musicians everywhere.
The Clipper has a full complement of hardware and software features:
144 velocity-sensitive RGB LED keys with over 32,000 colors
6 programmable Knobs
6 Programmable touchpads for Notes, Chords, Loops, MIDI CC's, Lighting EFX
Embedded bi-directional MIDI Wireless capability as an option. Be completely cable-free!
Multi-purpose programmable Slider
4 way programmable joystick
Sustain and Volume Pedal inputs
MIDI I/O and USB2.
Onboard Programming interface
Easy user command set for controlling the LED lighting with any external MIDI sequencer or computer. Display and scroll text, images, and lighting effects. Get creative with Max for Live.
Embedded step sequencer and arpeggiator
Clipper – Clip-based Live Interactive Performance Controller
Price for the basic Clipper: $1695 MSRP, $1995 MSRP for the Clipper with bi-directional MIDI Wireless and Battery Pack
REAKTOR's Vectory can make your beat slicing dreams come true—provided you can control the chaos. Here's how.
Another small Reaktor jam using some unfinished instruments.
The "Drone-Osc" uses a weird combination of phase modulation (like in the DX-7 and other FM synths) and phase distortion (Like the Casio CZ-1000). It can easily go from warm tones to harsh noise!
CA based Retronyms and highly respected iOS music creation app developers takes a closer look at iOS7 and inter-app audio capabilities
"Playing around with the new inter-app audio features in iOS7. I'm using Yamaha Tenori-on to control the Arturia iMini synth. Neat :)"
Another example:
Here's a little preview of what's coming in Auria 1.13. Inter-app audio allows you to route audio from another app into Auria without needing any additional software. It's fast, easy and sample accurate.
RN9090 is a 16 step TR style sequencer with 12 rows (looks like it can display 1 octave or 12 instruments) 12×16 matrix. made for the 909 clone DIY project (drums) hence the name.
A short demo of my Arduino based MIDI sequencer the RN-9090.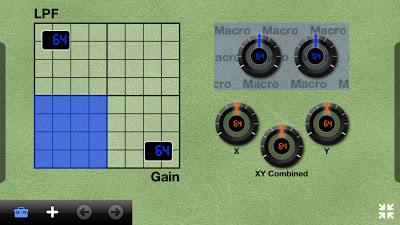 Dream, create and play your perfect MIDI controller with MIDI Designer.
"We're adored by Recording Magazine, loved by Sound on Sound, raved about by enthusiastic users, and winner of the Sonic Touch Gold Award for Best App. Trusted on stage by touring acts like Todd Rundgren, POSTYR and Electroband. Used in studios, theaters, VJ and DJ booths all around the world, MIDI Designer is also the platform for community- and professionally-sourced layouts for top-flight gear, including synths by Korg, Roland and Casio. If you can dream it, you can create it in MIDI Designer."
Sometimes you need a professional MIDI controller, but with just a few controls. MIDI Designer 12 provides the same rock-solid platform, ease of use and awesome playability with just 12 controls. Embrace the simplicity.
MIDI Designer is the top choice for controlling ANYTHING via MIDI—from hardware synths to DAWs, lighting rigs to other iOS apps:
Design your perfect controller using customizable knobs, sliders, XY pads, labels, panels and more
Choose background color, texture and LED color for up to 8 banks of 6 pages
Save, load and share your layouts and pages with other users
Send and receive all MIDI message types, including sysex, NRPN and 14-bit CC.
Connect any way CoreMIDI can: use Wi-Fi or hardware such as the Line6 MIDI Mobilizer II, iRig, iConnect, and others
Use supercontrols and subcontrols to create simple and complex relationships between controls
Full support for external hardware via the "Pedalboards Feature"
Presets and other features make a mature, reliable platform for your future development
MIDI Designer is easy to use, infinitely flexible and customizable, and battle-tested in performance. It's the most-respected MIDI controller for iOS.
The app is only $0.99 at the moment.
One of the greatest misconceptions in Music history, finally explained! What is MIDI? How does it sound? What is MIDI used for? If you are unsure about this, then you might want to watch this free video presentation. You are also invited to post questions and comments.
MIDI stands for "Musical Instrument Digital Interface" and describes a protocol for music devices to communicate with each other. This is done with so-called "Event Messages", which include data about Key Pitch, Key Velocity, Aftertouch, etc. When a musical instrument receives MIDI Events from a MIDI keyboard or sequencer, it interprets them and creates its sound accordingly. That sound might be anything and depends on the instrument and your settings. A MIDI sequence might play a piano sound or a phat dubstep wobble-bass on a synthesizer. So MIDI doesn't transmit any audible sound, but just control data.
Just a quick little demo to show the Mother of ALL Sequencers controlling four virtual instruments in Abelton Live 8. The plugins where: Arturia MiniV, Artutia ModularV, 2 instances of Alchemy and drum Impulse
While sequencers are machines to control synthesizers, Octopus stands out for a broad user base as a musical instrument. The merit lies in the directness, intuitiveness and creativity that gets unleashed by interacting with Octopus.
User experience and musical creation are the centerpieces of the Octopus design: a no-compromise machine built from metal, wood, and modern real-time software technology. The thorougly structured user interface, its stunning looks, the materials and our care going into hand-assembling every unit make each Octopus a unique piece to stand the test of time.
Octopus' tactile and visual feedback is a physical experience so typical for traditional musical instruments. Music is being felt, heard and played with Octopus. And the numbers behind it all.. no display? Well, do you really care? Yes, computers love them. We love light, color, and most of all music!
The family of Octopi has three members which differ in the enclosure they come in: Octopus New Classic for the piano lacquered wood look, comes with white painted panels and a red-green-yellow LED matrix. Octopus Lion Head carries on the nature wood look legacy that our original (and now discontinued) model has set, and which many users still long for. And finally Octopus The Shell– thisone you will never have to leave again! Built in an industrial strength road case, it features black anodized panels, and sparkles with red-green-yellow LEDs.
This is an overview of the Electrix Tweaker mapping for Traktor's Remix Decks. NI just released Traktor Pro 2.6.2 which enables the remix decks to be mapped to any MIDI controller. The mapping is available at http://www.electrixpro.com/downloads
The Remix Deck mapping was designed to allow the user to directly access Remix Decks C/D. The Tweaker's layout assists in more easily controlling the remix decks, with its 32 button grid giving direct access to the 16 sample cells on each deck. The Tweaker's grid section also provides direct access to sample settings like Punch, Monitor, FX, and Keylock functions.
Additionally, the Tweaker?s pads allow the user to Mute sample slots, switch Trigger Type, as well as Play Mode (e.g. Loop or One-Shot). The mapping also allows the user to switch back and forth between Mixer Mode and Deck Mode. In Mixer Mode the knobs and faders act as EQs and Channel Faders. In Deck Mode, the knobs and faders are used to control the pitch, loops, sample pages, and more. This allows users to quickly switch between the mixer functions and deck functions.
The Remix Deck mapping can be used in a variety of situations. Two sample use cases include:
1 x Tweaker (Decks A/B), 1 x Tweaker (Decks C/D)
For users who want to make full use of Traktor?s Track Decks and Remix Decks, a two-Tweaker setup is the perfect fit. Performers can utilize the Tweaker?s native Track Deck mapping for Decks A/B and the newly released Remix Deck mapping for Decks C/D. Utilizing two Tweakers in this setup allows the user to perform entirely in Traktor?s internal mixing mode and thus take full advantage of Traktor?s FX, looping, and sampling features.
1 x MIDI Controller (Decks A/B), 1 x Tweaker (Remix Decks B/C)
For users looking for additional MIDI control over the remix decks, the Tweaker is the perfect addition to an existing digital DJ setup.Plug the Tweaker into an extra USB port and load the Remix Deck mapping. This effectively allows the user to continue using Decks A/B as usual, while expanding the user's ability to remix on the fly by adding samples via the Decks C/D (Remix Decks).