In this video tutorial one converts a snare drum recording to MIDI data through Melodyne's Editor Plugin. With this new MIDI file one can now replace the original Snare drum sound, re-enforce it, or completely change it all together.
Kenton Retrofit kit adds MIDI to the MacBeth M5N synthesiser
Sneak preview from Sonic Logic version 1.2
The MIDI broadcast button allows you to map controls in your DAW easier and faster.
Download Sonic Logic for iPad here: https://itunes.apple.com/us/app/sonic…
App description below:
Sonic Logic is a modular MIDI controller allowing you to edit and control MIDI controller setups from your iPad.
Control Ableton Live, Logic Pro, Cubase, Protools, Traktor, and other popular DAWs right from your iPad.
Sonic Logic uses CoreMIDI to send MIDI signals so you can even hook it up to hardware synths using and iPad to MIDI cable.
Edit on your iPad! Super easy interface to create, edit, control, manipulate, assign MIDI controllers and notes live, using touch gestures. (No external editor needed).
Add Buttons, switches, toggle buttons, XY pads, sliders and text objects.
Their look and feel is meant to emulate real life controls, with real feedback.
* Create your MIDI controller easily from your iPad.
* Edit component's color, size, MIDI channel and controller number.
* Time advancing gestures for buttons, create a timed MIDI transition from 0 to 127 with just a press of a button.
* Control everything with multi touch.
* Snap to middle feature on sliders.
* Built in, editable templates.
* iCloud support, always stay synced with all your setups on any device.
* Low latency.
Improvised live performance by Jon-Eirik Boska.
The Nord Drum 2 is sequenced from the Nord Beat 2 MIDI step sequencer for iPad (connected via an iRig MIDI interface).
Thanks to Petra, Roman and Jon-Eirik for making this video!
Direction, camera and editing: Petra Hermanová and Roman Přikryl
Music and performance: Jon-Eirik Boska
Read more about the new Nord Drum 2 modeling percussion synthesizer here:
http://www.nordkeyboards.com/main.asp…
Get the free Nord Beat app for iPad here:
http://www.nordkeyboards.com/main.asp…
The Nord Pad is available as an optional accessory for the Nord Drum 2.
Bounce Back is a new feature for MIDI Designer 1.5.3 (coming in early July 2013). Bounce Back allows the user to define the 2nd Action Press for Button Groups.
Dream, create and play your perfect MIDI controller with award winning MIDI Designer: reviewed in Sound on Sound (June 2013), featured in Keyboard (May 2013), awarded Sonic Touch Gold Award for Best App (Episode 11 and featured in 23), loved by musicians, DJs, VJs, sound engineers, lighting and robotics experts the world over. If you can dream it, you can create it in MIDI Designer. Now available for iPad, iPhone and iPod touch.
Find out more at http://midiDesigner.com.
iTRIGGER is a midi controller app for iPad. It allows you to control Ableton Live and other DJ software using your iPad over a wireless or usb connection. It allows you to launch clips and scenes and control many other features of Ableton.
POJ Studios enter the app world with iTRIGGER, a grid-based MIDI controller for iPad. It is designed specifically for use with Ableton Live but also works with other music software. iTRIGGER allows bi-directional communication to mix music, launch clips, change parameters like levels and panning, and provides feedback to the user through the multi-coloured grid display.

When the user first connects iTRIGGER to their computer either by WIFI or a compatible iPad midi accessory iTRIGGER becomes a standard x-y midi controller allowing the user to assign the buttons as they wish. Once iTRIGGER is correctly synced with Ableton Live all of the buttons are automatically assigned and lit up by the software in 4 separate modes, selectable within the app:

'CLIPS' mode: The 8×8 grid is assigned to an 8×8 area of clips from Live's 'Session View' with the buttons lighting up to signify whether a clip is loaded, playing or empty. The user can navigate their way around Live's 'Session View' using the directional buttons in the top corner of iTRIGGER and press the corresponding button to play clips or scenes using the scene play buttons at the end of each row.
MISC' mode: A miscellaneous set of controls including track levels, panning, effect levels, enable/disable track, cue track and track record.
'D.RACK' mode: For playing instruments using the 4×4 drum rack layout.
'X-Y' mode: For custom assignment using an X-Y layout.

iTRIGGER supports AirPlay to stream video performances live to compatible devices via WiFi. The app's background and button colours can be changed and the button images can be completely hidden against a black background for light shows.

iTRIGGER will be available in all regions from JUNE 22, 2013 exclusively on the iPad App Store. iTRIGGER will have a special week long launch price of $2.99 USD (priced accordingly in other regions) returning to the standard price of $7.99 USD on June 29.
AeroMIDI uses the Leap Motion controller to track your fingers in 3-dimensional space, allowing you to trigger notes and MIDI continuous controller messages. Works with any MIDI software or hardware! Control synthesizers, lighting rigs, DAWs, effects, virtual instruments, and any other MIDI-capable hardware or software with AeroMIDI!
AeroMIDI is the virtual 3D glue between your synths and your fingers. Prepare to create music in a whole new way.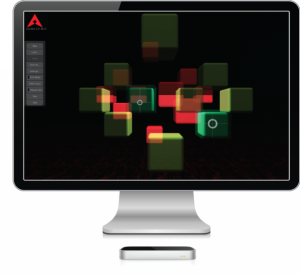 Welcome to AeroMIDI – New Dimensions in MIDI Control!
**AeroMIDI and the Leap Motion are expected to be released in late July 2013.**
To learn more, go to:
http://aeromidi.net
Mac OS/X 10.6+, Windows 7+
If you could breed an Omnichord with a Stylophone you might end up with some of these babies….
Use combinations of the buttons to select a chord type (maj, min, 7, maj7, min7, dim, aug) and root note. The chord is then mapped across the pads, which you play with a wired stylus, sending output by MIDI.
This is an old idea of mine that I've now turned into an open hardware kit, so anyone can make one. The updated firmware has some new goodies like guitar open chord fingerings, chord variations (sus4, add6, add9), two channel lead + chord drone and control over velocity.
Kit is available for purchase on Tindie at https://www.tindie.com/products/hotch… and the firmware/hardware source code is on GitHub at https://github.com/hotchk155/Voici-Le…
This video demonstrates some of the wild possibilities with aftertouch and the Livid Base MIDI controller, including a novel way to integrate the iPhone with the Base. The 32 touch sensitive pads can output polyphonic aftertouch, so if your synth is great enough to use that (such as the Madrona Labs Aalto plugin), you've got some fantastic possibilities at your fingertips. Stay tuned: after the audio weirdness, there's a short explanation on how to quickly configure the Base using the online Editor.
Links:
lividinstruments.com/hardware_base.php
madronalabs.com/products/aalto
lividserver.com/editor
There are LEDs everywhere on the Livid Base. With the online editor, you can change the color of every LED, and save your setup to the Base so it always boots up with the colors you want. This tutorial shows you how to use the editor with the Base to change the colors on the drum pads.
Livid Artist Interviews Presents Alluxe (aka Laura Escudé). Alluxe stopped by our studio to perform a track from her new EP and with the BASE, her custom Ohm RGB, Ableton Live, Wii remote, and violin. She discusses her live performance setup with Livid founder Jay Smith, and explains the integration of her controllers. Check out part two of this video where she performs a track.
Just a preview of the Brain Jr shields we will be releasing for the Brain jr. These shields will have one for a breakout, expanding the IO of the Brain jr. A Shield for connecting an omni board, and one for direct solder connections. Coming soon to lividinstruments.com
The Brain Jr. is a MIDI micro controller that lets you create your own custom MIDI controller. The three new shields are designed to make connecting other electronics to the Brain Jr. easier.