A custom MIDI controlled NES Gamepad controller.
We tap into homebrew titles created by stellar NES developers by syncing them with MCTRL. From midi controlled lightshows to cool retro 8 bit sounds all can be used effectively in any music studio or live club setting.
More information is available at www.Ninstrument.com
Take MIDI control of your NES (Nintendo Entertainment System) with the MCTRL (pronounced M-CONTROL) .  There are many homebrew audio/video titles for the NES that can't easily be synced with your traditional DAW or MIDI keyboard/device, until now.   MIDI 'IN', 'OUT' and 'THRU' allow you to seamlessly add this to your existing MIDI setup.  We have built the MCTRL out of durable ABS plastic, strong enough for the hard rigors of live shows. We use an original NES Gamepad that retains its full functionality and use.  We add a full feature MIDI pcb from HighlyLiquid.com that is fully powered from the Gamepad and requires no additional power interface.  We insure full NTSC and PAL compatability for all of our MCTRL's including the free Cartridges we include with every MCTRL sale.  You can resell your MCTRL and cartridge to anyone in the world and not have to worry about compatibility problems or issues.  The cartridges feature the Ciclone chip from RetroUSB.com.

The LED's light indicating what your MIDI device has triggered.  This makes it very easy to see exactly what is happening.  You can still use the Gamepad buttons simultaneously.
Dave Smith at his home studio in Napa Valley, CA. Interviewed by Eric Chasalow, filmed by Barbara Cassidy 1997.
Copyright 1997 The Video Archive of Electroacoustic Music, all rights reserved.
At NAMM 2013, MIDI creators and innovators Alan Parsons, Tom Oberheim, Dave Smith, Jordan Rudess, George Duke and Craig Anderton discussing the past, present and future of MIDI.
Danielle of the MIDI Manufacturer's Associates demonstrates how devices separated by 30 years of technological development can communicate because of their common support of MIDI.
Nate from Akai Professional shows of the new Max 25 MIDI keyboard controller at Winter NAMM 2013.
Nate from M-Audio shows us their latest keyboard controller the M-Audio Axiom Air 25.
New M-Audio Keyboards Controller range extended with three new Axiom AIR models
The Midi Fighter Spectra is a brand new redesign of the Midi Fighter Classic, with full-color button lighting, a variety of customizable color and material options, and additional controls to make playing this device like an instrument.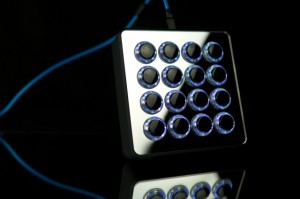 audio: Klangkarussell – Sonnentanz
Want your own? Grab on on the DJTT store: http://bit.ly/13V6Ac5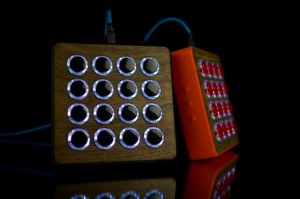 Specs:
4×4 arcade button matrix
Class-compliant USB MIDI operation
Custom-built colors for your buttons, faceplate
Silicon case
Full-color ring lighting, customizable with included software (including animation functionality)
Six function buttons on the side
Mappings for Traktor, Serato, Ableton Live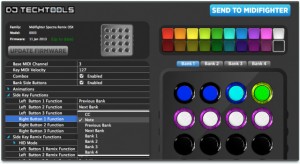 Electronic artist collective Machina has announced the MIDI Jacket – a wearable MIDI controller, being developed as a Kickstarter project.
The MIDI Jacket MJ v01 is designed to control digital music instruments, computers, and other devices. It allows users to control and make music kinetically (through body movements), through body sensors, and by detecting your acceleration and flexion.
The MIDI Jacket has multiple built-in controllers:
Four flexible sensors which can detect your finger's position
One accelerometer which can detect your arm's acceleration
A joystick
4 push buttons
All of these sensors and buttons can be configured by the user, but they come with presets and initial configurations. While the sensors are there, the jacket looks like a regular jacket, and can be worn under normal conditions.
Imagine being able to create music by using your body as an interface. Imagine being able to extend that jacket to make it work not only with music, but with whichever devices you have: A Kinect, an iPod, Nike Plus. We believe that the way we interact with our clothing is changing; clothing should not only be a way of covering your body while helping you get laid, our relationship with clothing should be much more than that: clothing should be an extension of our body, and we're using wearable technology to do that. 
We are working with the best musicians, DJ's and electronic artists worldwide to make this project a success. Our first product is the MIDI Controller Jacket. A MIDI (Musical Instrument Digital Interface) allows communication between digital music instruments, computers, and other devices (for example, using the jacket's sensors to send music notes to your DAW). It allows users to control and make music kinetically (through body movements), through body sensors, and by detecting your acceleration and flexion.
Brain Jr. is a compact and affordable micro controller platform for artists, students, educators, and professional controller builders. This video explains the basic operations of the device.
It features:
16 digital connections (switches, buttons, etc.)
16 analog connection (faders, potentiometers, sensors)
16 LED connections (monochrome and RGB)
USB connectivity
Class compliant, no drivers needed
One standard started it all. One technology allowed different musical devices and computers to all speak the same language and make beautiful music together. Thirty years ago, MIDI was born…and the rest is history.