During a recent visit to the Moog Factory, Professor Herb Deutsch, synth pioneer and collaborator of Bob Moog, gave an impromptu discussion on the evolution of the Minimoog.
http://www.moogmusic.com/legacy
Background video description:
Using the QMVS-48 S-Trig cable from Synthesizers.com for the Gate ( with a Mono 1/4 to mono 1/8 adapter since the minibrute uses minijacks) and a ad infinitum cable for the pitch to control a 1976 MiniMoog. Works pretty well and sequences well from Ableton.
Being able to use hardware with a DAW opens things up.
also the sequence at the end is a NIN bassline from SIN. I did not adjust for for latency.
Any comments or something i missed or are totally ignorant about please let me know
Moog Engineer Rick Shaich discusses the Ladder Filter, the first Voltage Controlled Filter, which is the heart and soul of the Moog modular synthesizers of the 60s, the Legendary Minimoog of the 70's, and is still the same filter topology used in all Moog Synthesizers to this day. The Ladder Filter creates the massive, thick sound for which Moog instruments are renowned.
The Minimoog is probably the most famous hardware synthesizer of all time—and likely the most emulated in the world of software. So does the world really need another Minimoog emulation? Native Instruments thinks so: Their new REAKTOR-based synth, MONARK, is based on years of research—but how does it sound?
Sonic takes a look at the new Arturia iMini software realisation of the classic Moog Mini – supplied by Dan from Hideawaystudio.co.uk
Hear Gaz's output recording tests:
https://soundcloud.com/gazgoldstar/im…
https://soundcloud.com/gazgoldstar/im…
Jake Widgeon from Moog Music demonstrates the Moog Slim Phatty analog synthesizer at Kraft Music.
Jake Widgeon from Moog Music demonstrates the Moog Minimoog Voyager Rack Mount Edition analog synthesizer at Kraft Music.
Jake Widgeon from Moog Music demonstrates the Moog Little Phatty analog synthesizer at Kraft Music.
Enjoy
The Minimoog was designed in response to the use of synthesizers in rock and pop music. Large modular synthesizers were expensive, cumbersome, and delicate, and not ideal for live performance; the Minimoog was designed to include the most important parts of a modular synthesizer in a compact package, without the need for patch cords. It later surpassed this original purpose, however, and became a distinctive and popular instrument in its own right. It remains in demand today, nearly four decades after its introduction, for its intuitive design and powerful bass and lead sounds.
The Minimoog is monophonic (only one note can be played at a time) and its three-oscillator design gave it its famous fat sound. Four prototypes were made over the years before a final design was decided upon to release as a commercial product. The Minimoog Model D adapted some of the circuitry (such as the filter section) from earlier modular instruments, but designed other circuitry (such as the oscillators and contour generators) from scratch. To produce a sound, the musician would first choose a sound shape to be generated from the VCO(s) and/or the type of Noise (White or Pink).
As announced yesterday, Arturia is rolling out an iPad version of its Minimoog-emulating Mini V softsynth called iMini.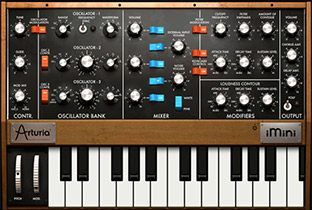 The Mini V, released back in 2003, was the French music tech company's first software synth. So it's fitting that a version of it represents Arturia's first foray into the app world, a sector that seems to be growing by leaps and bounds of late. Like the Mini V, iMini has three oscillators and a 24dB-per-octave filter based modeled on those found on the Moog classic, plus analog-style chorus and delay effects. The synth also does things the original couldn't, like play polyphonically, and it features a number of presets to help you get started on creating sounds.
A performance page in the app, geared toward touchscreen play, features a latch mode and two assignable XY pads. iMini easily syncs with other iPad apps, and it's compatible with the Retronyms Tabletop modular environment, so you can pair the iMini with a number of other effects or make music with multiple copies of the synth. You can grab a copy of the synth as of today through the App Store, and part of the proceeds of your purchase help benefit the Bob Moog Foundation.
A demo of the new iMini synth based on the classic Minimoog..
Background video description:
http://apps4idevices.com/read/imini
I don't know if I can… Ok, I will do it… Sorry… Amongst all the car manufacturers, I was sure that BMW would be the first to bring one of it's cars to our iDevice… So, the day has arrived! Let's launch the App! … … Oups, it is not a car, it is a Moog, a mini Moog! Top! (And sorry again… I promise, I will be serious from now on…). So, let's play a sound… Wahoo!!! So fat!!! I love it!!! The main screen is exactly the same as a real mini Moog… Another window allows you to control parameters with 2 Pads (X / Y), an Arpeggiator too and a third window the Fx (Chorus & Analog Delay). That's all… I think that some of you think that I'm kidding… No, I'm not kidding. That's all! If you want more, download Tabletop (it's Free, with a lot of Apps within the purchase that you don't need to buy. Note also that Tabletop gets better and better, so if you don't know this App, don't hesitate to try it… I will update its Post as soon as possible…). So, iMini in Tabletop allows you to do everything..(almost!)… First, to record an automation or your performances: you will be able to share them on SoundCloud or via the Sonoma Audio Copy feature. But you will be also able to create your own Arpeggiator or Sequence, to add FX, Filters, to Glitch your sound, and much more… In fact, I realised today that Retronyms has created its AudioBus version for iOS (iMPC is also available in Tabletop…). So, my rating… A Killer App! (The sound quality is… So fat!). I understand that some of you will not really appreciate having to use Tabletop for the extra features… I use so many Apps everyday, even for my personal projects, that today it is no longer a problem for me, on the contrary, I love to be able to jump from one App to another… But I can understand those who don't…

Improvisation in one go by REWO on the Moog Minimoog Voyager supported with a 3-line sequence by the DSI Mopho, Moog Little Phatty and the Arturia MiniBrute. The bass-strings come from the Korg Wavestation EX.
REWO = René van der Wouden = www.renevanderwouden.net
Arturia is introducing its first Ipad application, the iMini.
iMini is an application recreating the classic Minimoog™ synthesizer that is based on the TAE™ technology found in Arturia award winning Mini V software.
iMini is designed to allow users the classic sound, look and feel of this iconic synthesizer.
iMini endorsers include Stephan Bodzin, Richard Devine, Banco de Gaia
https://itunes.apple.com/WebObjects/M…
Mike Hosker presents to you a tutorial video of the iMini, Arturia's first application for Ipad.
iMini is an application recreating the classic Minimoog™ synthesizer that is based on the TAE™ technology found in Arturia award winning Mini V software.
iMini is designed to allow users the classic sound, look and feel of this iconic synthesizer.
iMini endorsers include Stephan Bodzin, Richard Devine, Banco de Gaia
DESCRIPTION
iMini is a recreation of the classic 1971 Minimoog™ synthesizer, one of most iconic synthesizers of all time.
Based on the TAE® technology found in our award winning Mini V software, iMini offers a level of sound quality never before found on the iPAD as well as over 500 sounds by leading sound designers.
We have also partnered with the Bob Moog Foundation so that a portion of each sale goes to support their work in music education via the Dr. Bob Sound school program, making available the archives of Dr. Bob Moog and funding the dream to build the Moogseum.
The Minimoog™ synthesizer was made famous by artists and bands such as Stevie Wonder, Depeche Mode, Kraftwerk, Keith Emerson, Devo, Jean Michel Jarre and more. We now bring the features and sound of this classic to the iOS platform.
The iMini not only recreates the look and feel of the most legendary synthesizer, it does it with unparalleled sound quality. iMini is based on the award winning Arturia Mini V software that was created in partnership with Dr. Robert Moog himself, back in 2003. Thanks to this heritage, continuous research and refinements over the years, iMini comes with amazing sound quality and a large collection of preset sounds created by top sound designers such as Klaus Schulze (Tangerine Dream) and Geoff Downes (Asia).
What will you do with it?
First you can play the iMini's numerous sounds from the iPad keyboard. You can create your own sounds and start building your personal sound palette.
If you are an owner of the Arturia Mini V software on your Mac or PC, you can import and export sounds between your laptop or desktop Mini V and iMini.
You can also control iMini from a MIDI keyboard via CoreMIDI and integrate it into your studio or live performances.
But this is not all; iMini is 'Tabletop Ready'. Tabletop is a free iPad application that allows you to integrate iMini into a full studio of devices. With Tabletop you can build an entire song, with drum machines, FX's, sequencers… and of course the inimitable Minimoog™ sound.
Tabletop Ready™
The connect page is also your avenue to open up a whole new world of possibilities with iMini via Retronyms Tabletop application.
Tabletop™ is a free app for your iPAD that allows you to integrate iMini into a complete studio environment. In Tabletop you can use multiple instances of iMini; record your performance into a real-time sequencer; automate any of the parameters; add effects; process other modules through the iMini filters, etc. Tabletop also features number of in app purchase options to add more effects and instruments from other 3rd party companies.
Features include
Classic Minimoog™ sound.
3 Oscillators
24db per octave filter.
Simulated headphone jack/external input feedback.
2 Assignable XY pads
Chromatic or tuned scale keyboard modes
Polyphonic mode
Full featured arpeggiator
Repeat
HOLD and MEMORY latch modes
Octave span
5 note order modes
Speed and sync controls
Virtual Analog Chorus
Virtual Analog Delay
Owners of both the iMini and Mini V software apps can transfer sounds from one platform to the other via iTunes.
Full user MIDI mapping of panel controls.
Supports WIST sync with other iOS devices.
'Tabletop Ready'
Soundcloud seeder (via Tabletop)
Render to .wav file (via Tabletop)
'Audiocopy' to paste your audio into another iPAD application. (via Tabletop)
COMPATIBILITY
iMini is compatible with iPAD 2, iPAD 3 and IPAD Mini
iMini is priced at $9.99