Nice experiment

Hooked up my mono synths with my Encore Expressionist and recorded a little video to show of the sound. I had the Acidlab Miami triggering the ARP Sequencer which was sequencing the filter cutoff (making that rhythmic sound in the background). The glidey/squelchy bass is the minimoog model D and the 4 voice poly is made up of the 2 ARP 2600′s and 2 voices from the Macbeth M5 – osc 1 and 3 through filter 1 and oscillator 2 through filter 2. It makes for a rather unsurprisingly fat sound and the expressionist makes it really easy to set everything up (I just need some more long 1/4 cables)! The Acidlab Miami was the drum accompaniment. Anyways, hopefully I can record more soon.
Enjoy
http://youtu.be/QbgdF_idbgg
VELVET VOYAGE – "Astral Landscape" – performed live by Bruno Ender Lee; December 27. 2011
Synthesizers.com Studio-88, MiniMoog Voyager (OS), Moog Little Phatty Stage II, MacBeth M5N (& Doepfer MAQ-sequencer), ARP Odyssey, Analogue Solutions Vostok, Roland Juno-60, Korg Delta, Korg Polysix, Korg MS2000, Korg DS-8 & MoonSonoSx (VST)
…please take a look at the video-response "Surreal Landscape" by JampyKeys
http://youtu.be/2cWN9Pl02ww
Alright, got a quick demo of the Minimogue free vst synth, one of the best as far as emulating the original Moog synthesizer.
"Let me know if you have any questions or would like to see more demos, thanks and enjoy!!"
Based on the most popular analog monosynth of all time! This amazing softsynth sounds very close to the original Minimoog, yet has tons of additional features not present on the original Mini (as well as the Minimoog Voyager!), including 5-note polyphony, an Arpeggiator and 16-note Step Sequencer, dedicated Release knobs for the two Contour Generators (envelopes), Tuning of Osc 1, Fine Tuning sliders for Osc2 and Osc3, Aftertouch control, adjustable filter Velocity curve, 3 independent Overdrive sliders (one per oscillator), Global Overdrive with hi and lowpass cutoff, Oscillator Sync, Chorus, an independent LFO that includes oscillator drift and stereo panning, and a fully programmable Digital Delay! Like the original Mini, you can turn Osc3 into an LFO with dedicated modulation for the Osc Pitch and the Filter. There is no dedicated Noise Generator as on the original Mini, but pink and white noise are selectable on Osc 3. All controls are mapped to MIDI CC#'s, and you can override the default settings by using the MIDI Learn feature. Use as a simple stand-alone synth (.exe file included), or copy the DLL into your favorite DAW or sequencer's plugin folder.
By the way you can also find an emulation of the ARP 2600 on the same page: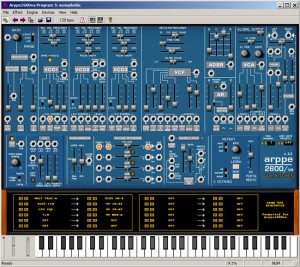 Based on ARP's legendary semi-modular analog monosynth! This amazing softsynth sounds very close to the original ARP 2600. Like the original, it's a monosynth (no polyphony). But, also like the original, it has a multitude of Frequency Modulation options which enable it to create some truly awesome sound effects. PWM, Sample & Hold, virtual Spring Reverb, Ring Modulation, and a dedicated Noise Generator are all there! Also, there are some things even the original Arp 2600 didn't have, like Oscillator Sync and Filter Color (to adjust between LowPass and HiPass filter types). Most important of all, beginning with version 2.0 the Arppe2600va is now completely patchable via a cleverly designed Mod Matrix! You can have up to 12 patch routings with a very user-friendly (and visible!) drop-down menu interface, instead of messy virtual patch cables cluttering up the screen. All controls are mapped to MIDI CC#'s, and you can override the default settings by using the MIDI Learn feature. Use as a simple stand-alone synth (.exe file included), or copy the DLL into your favorite DAW or sequencer's plugin folder.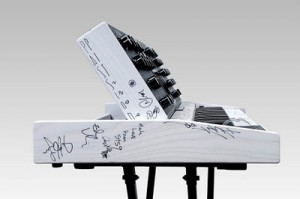 Moogfest Minimoog Voyager signed by over 20 Moogfest artists including Moby, Chromeo, Brian Eno, Edgar Froese, Terry Riley, STS9, Beak, TV on the Radio, Ghostland Observatory, Passion Pit, Holy F@*k, Suicide and more.
Find out more about the raffle to win this synth at:" [link]
The Bob Moog Foundation ignites the creative and innovative spirit through Dr. Bob's Sound School, our educational outreach program that teaches the science of sound through the magic of music. We aim to inspire generations of children nationwide. Join us by participating in our SoundSchool campaign at Indiegogo.com: http://www.indiegogo.com/Bob-Moog-Foundation-Dr-Bobs-SoundSchool.
Wired Magazine has an article out featuring synth virtuous Tycho and a set of pictures of his most precious jems, here are two of them: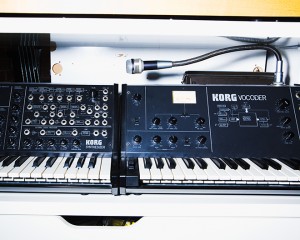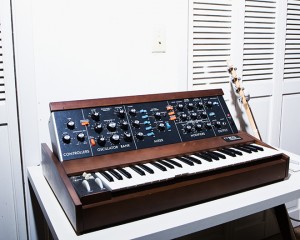 I guess these two are of no surprise to anyone

Excerpt from the article:
Scott Hansen owns a lot of synthesizers. Moogs. Korgs. Obscure Italian synths from companies that don't exist anymore. He loves them and protects them, because they make the music that makes him famous.
But whatever you do, don't call Hansen, who performs under the name Tycho, a "synthesizer collector."
Leading Wired.com through the basement studio here that houses his wares, Hansen lovingly showed off each item, but stressed that having so many synths isn't about amassing fetish items — it's about trying lots of machines in order to find particular sounds.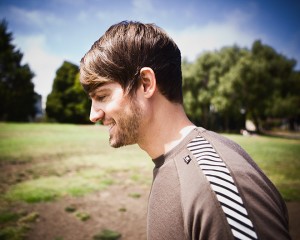 "I know it looks bad right now, but that's why I have to get rid of some of them because there is some redundancy and waste here," Hansen said. "I'd rather sell all of them than refer to myself as a collector. It seems sacrilegious. It's wasteful if it's not getting used because there are only so many of these in the world. Somebody else could put it to good use."
That doesn't mean there aren't a few prized items Hansen, who is also a graphic designer under the name ISO50 (see his blog of the same name here), simply couldn't live without. When making his latest album, Dive, which came out last week on Ghostly International, Hansen fell in love with the Minimoog and ended up using it to create many of the sounds on the record. He also used string synths to get the ambient, atmospheric vibes he was looking for.
"We were fortunate to have Herb Deutsch join us for Moog Fest 2010 in Asheville, North Carolina. In this video, Herb shares his thoughts on the events that led to the birth of the Minimoog." Background: Deutsch had assembled a theremin based on Moog's design in 1962 and in November, 1963 he introduced himself to Moog at a music-education conference in Rochester, NY. In 1964 Moog and Deutsch started investigating the possibilities of a new instrument to aid composers. Deutsch has been credited with the keyboard interface of the Moog. He composed the first piece ever for the Moog ("Jazz Images – A Worksong and Blues) and performed early Moog concerts at The Town Hall and The Museum of Modern Art in New York (1969′s Jazz in the Garden.
Live performance of the Doctor Who Theme Tune on a MiniMoog Old School. The backing has been made using Stylus for drums, Arturia Minimoog for synths and Tardis samples off the internet.
And a comparison of course:
http://youtu.be/6J_3rsEwYVE
Doctor Who: The Doctor Who Themes 1963 – 2010. Every version of the titles & theme music (including Matt Smith.)
– Doctor Who Theme composed by Ron Grainer –
The Themes:
1. William Hartnell (1963 – 1966)
(Arrangement: Delia Derbyshire)
2. Patrick Troughton (1966 – 1969)
(Arrangement: Delia Derbyshire)
3. Jon Pertwee (Version 1: 1970 – 1973)
– Featuring the 'Delaware' theme –
(Arrangement: Paddy Kingsland, Brian Hodgson & Delia Derbyshire)
4. Jon Pertwee (Version 2: 1973 -1974)
(Arrangement: Delia Derbyshire)
5. Tom Baker (Version 1: 1974 – 1980)
(Arrangement: Delia Derbyshire)
6. Tom Baker (Version 2: 1980 -1981)
(Arrangement: Peter Howell)
7. Peter Davison (1981 – 1984)
(Arrangement: Peter Howell)
8. Colin Baker (1984 – 1986)
– Featuring the 'Trial Of A Time Lord' theme –
(Arrangement: Dominic Glynn)
9. Sylvester McCoy (1987 – 1989)
(Arrangement: Keff McCulloch)
10. Paul McGann (1996)
(Arrangement: John Debney)
11. Christopher Eccleston (2005)
(Arrangement: Murray Gold)
12. David Tennant (2005 – 2010)
– Featuring the 'Voyage Of The Damned' theme –
(Arrangement: Murray Gold)
13. Matt Smith (2010 – ?)
(Arrangement: Murray Gold)
Marc Doty on the Voyager XL from Moog Music on Vimeo.
Designed in celebration of the 40th anniversary of the Minimoog, the Minimoog Voyager XL is a sonic powerhouse that pays homage to important milestones in the Moog synthesizer legacy. It starts with the heart of a Minimoog Model D. Fat oscillators and warm Moog filters give it that unmistakable Moog sound and the rugged construction and intuitive user interface design immediately tells you that you're playing a high-quality musical instrument.
From the current Voyager lineage, the XL inherits a 100% analog signal path with stable oscillators, patch storage, touch surface, pot mapping and extensive MIDI control functionality. To all this, add a ribbon controller and 61 note keyboard and you have a monster analog monosynth built on a 40 year legacy of sonic exploration. The MINIMOOG VOYAGER XL Synthesizer is a monophonic analog performance and production synthesizer. Based on the Minimoog Voyager sound engine, it incorporates virtually all of the sound resources and functions of the original Minimoog Model D and Voyager, with the addition of a number of exciting features from Moog's modular synthesizer legacy.
Arturia has released a major update to its virtual take on the Minimoog synthesizer, the Minimoog V.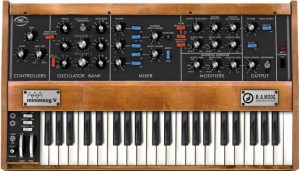 Here's what's new in Minimoog V 2.5:
Support for 64-bit VST and Audio Unit
Support for Pro Tools 9
MIDI Control Assignment Improvement
Update of toolbar look and feel
Added support for NRPN MIDI controls
Added triangle LFO waveform
Features:

All the parameters of the original minimoog V
Advanced automation mode
Revolutionary preset navigation system called the SoundMap
New formant-based FX called the Vocal Filter
New Chorus and Stereo Delay Effect section
More than 1000 presets created by talented artists and sound designers,
Minimoog V 2.5 is a free upgrade for all registered users.