Grove Audio has posted information on their BusyBox synthesizer.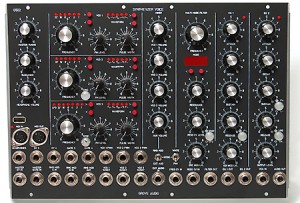 This 6MU module contains a complete synthesizer voice and an internal MIDI to CV converter. Internal routing is roughly based on the Moog Minimoog Model D.
An analog routing system controlled by a processor offers alternative routing schemes to extend the usefulness of the unit as a standalone synthesizer. A couple of extra features not found on the Minimoog have been added such as ring modulator, linear FM modulation of the VCOs, and voltage controlled amplifiers on each VCO and external audio sources.
The MIDI to CV converter can produce up to four CV/gate pairs and internal control voltages based on channel control messages from an external sequencer or keyboard controller can extend or replace internal modulation sources for the VCOs, the audio mixer or the filter.
The filter core is a 4 pole low pass filter which feeds a signal matrix and analog switch that allows one of sixteen possible filter modes to be selected. Two envelope generators can be used to modulate parameters of the filter and apply a contour to the main audio output VCA.
The depth of modulation can be controlled by the modulation wheel of a connected MIDI keyboard controller.
Pricing and availability are to be announced.
SimSynth Live captures the big multi-oscillator sound of a MiniMoog, and combines it with the warm, fat sound of Oberheim style SVF filters.
The result? Rich strings, wall to wall brass, and fat punchy basses. And we haven't forgotten techno sounds either. SimSynth Live uses a filter technique that gives the EMPH knob a sound you can crank.
3 oscillators, each with a dual (warm) mode effectively making 6 oscillators
Ring modulator
A dual SVF filter that programs like an old Oberheim SEM, (lets you mix lowpass, bandpass, and highpass)
Two discrete envelopes and an LFO.Stereo chorus effect, (in case 6 oscillators aren't warm enough)
Studio quality alias free rendering
FX Panel with EQ, Reverb, Phaser & Delay
FL Studio & VSTi versions included
Background data:
BRUNO ENDER LEE – "Astral Odyssey" – composed, arranged & performed by Bruno Ender Lee, April 22. 2012
Pre-recorded live tracks: ARP Odyssey & Doepfer MAQ-sequencer / MiniMoog Voyager OS (bass)
Filmed live tracks: MiniMoog Voyager OS (leads) / Moog Etherwave Theremin / ARP Odyssey (fx-sequence)
2012 Velvet Voyage Productions
BRUNO ENDER LEE – "Spaceship" – performed live, March 3. 2012
MacBeth M5N, Doepfer MAQ-sequencer, ARP Odyssey, Synthesizers.com Studio-88, MiniMoog Voyager OS, Moog Little Phatty, Analogue Solutions Vostok, Roland Juno-60, Korg Delta, Korg Polysix, Korg MS 2000
(through 5 different stereo-panning-delays, 4 Behringer DD600 & 1 Boss ME-50)
composed, arranged & produced by Bruno Ender Lee; 2012 Velvet Voyage Productions
Herb Deutsch, the co-inventor of the first Moog synthesizer discusses the history and functions of the Mini Moog as well as its impact on the music of the time. Deutsch also plays one of his original jazz fusion pieces.
Though its design impacted the industry in a way that set the stage for all the synthesizers that came after it, the Minimoog is probably most famous for its excellent analog sound and arguably the best filters in a portable synth. It featured three oscillators (one of which can be used as an LFO) that could be individually tuned and offered multiple waveforms. The Minimoog is monophonic (only one note can be played at a time) so the three oscillators allow for an incredibly rich sound – three de-tuned oscillators each playing a different waveform can create some pretty thick analog sounds! There are also some very cool modulation possibilities when using one of the oscillators as an LFO.
But you can't talk about the Minimoog without mentioning its filters. The Minimoog uses a 4-pole (24 dB/oct) low-pass filter with cutoff, resonance, ADS envelope, and keyboard tracking controls. Amazingly, Dr. Moog's filter design has yet to be surpassed by a better sounding filter. It's a filter that sounds so warm and smooth that Moog's rival, ARP, tried to copy it for their 2600 and Odyssey synths.
The Minimoog's internal wiring configuration and front panel layout has defined the general synthesizer configuration for decades. Every adjustable parameter is so clearly laid out on the front panel that the Minimoog makes a great teaching tool for anyone interested in classic subtractive synthesis. It even has a built-in A-440 tone generator so you can manually tune the oscillators-which is nice since (like mosts analog synths that heat up) the tuning of even this machine can be a little bit unstable. Though input jacks allow you to run your own external audio through the Minimoog's filters, modulation and amplifier circuits too!
Directed by Michael Sterling
Background information on this video from Andy:
Hi All,
Better late than never. Having issues making anything stick, Fell upon this idea and just went with it…..Suggest a Decent pair of Headphones or Monitors – Turned up!!!
A piece of music that started out in Reason 5 using Dr Rex Loop player, I exported a couple of loops to use in my Cubase Project and worked up from there. This piece was recorded live into Cubase using a total of 8 Tracks of audio. I hope to add more tracks and make it last longer for better effect and pad this piece out with some extra sounds to add to the ambient effect (located somewhere in this track)
Some big Pad sounds from both Kawai and Radias – earning them their right to stay in the studio. The Minimoog giving me that nice deep growling bass I wanted for this music and taking full advantage of the Pitch and Mod Wheels. The Radias and the XL set the theme to start the Music off into the Voyage into the unknown
The main part of this video is of me (apparently struggling) unpacking the Voyager XL – Yes this is a heavy unit and one I did not want to drop, not that it would hurt the Moog, just probably crack the floor

Probably the sexiest looking synth ever – if you like the retro look and love analogue (digital is nice …But……)
The very last part of this video with the Drums and Moog – The stereo effect is direct from the Voyager XL by using the Touch Panel to effect change in EG and its Position in the Stereo image – This will form part of the continuation for this piece of Music – Not sure on what direction I am heading in yet with this, needless to say the Moog's will be out to play
Hope you enjoy this as much as I did putting this together.
Many thanks for dropping by and watching
Andy
Nice experiment

Hooked up my mono synths with my Encore Expressionist and recorded a little video to show of the sound. I had the Acidlab Miami triggering the ARP Sequencer which was sequencing the filter cutoff (making that rhythmic sound in the background). The glidey/squelchy bass is the minimoog model D and the 4 voice poly is made up of the 2 ARP 2600′s and 2 voices from the Macbeth M5 – osc 1 and 3 through filter 1 and oscillator 2 through filter 2. It makes for a rather unsurprisingly fat sound and the expressionist makes it really easy to set everything up (I just need some more long 1/4 cables)! The Acidlab Miami was the drum accompaniment. Anyways, hopefully I can record more soon.
Enjoy
http://youtu.be/QbgdF_idbgg
VELVET VOYAGE – "Astral Landscape" – performed live by Bruno Ender Lee; December 27. 2011
Synthesizers.com Studio-88, MiniMoog Voyager (OS), Moog Little Phatty Stage II, MacBeth M5N (& Doepfer MAQ-sequencer), ARP Odyssey, Analogue Solutions Vostok, Roland Juno-60, Korg Delta, Korg Polysix, Korg MS2000, Korg DS-8 & MoonSonoSx (VST)
…please take a look at the video-response "Surreal Landscape" by JampyKeys
http://youtu.be/2cWN9Pl02ww
Alright, got a quick demo of the Minimogue free vst synth, one of the best as far as emulating the original Moog synthesizer.
"Let me know if you have any questions or would like to see more demos, thanks and enjoy!!"
Based on the most popular analog monosynth of all time! This amazing softsynth sounds very close to the original Minimoog, yet has tons of additional features not present on the original Mini (as well as the Minimoog Voyager!), including 5-note polyphony, an Arpeggiator and 16-note Step Sequencer, dedicated Release knobs for the two Contour Generators (envelopes), Tuning of Osc 1, Fine Tuning sliders for Osc2 and Osc3, Aftertouch control, adjustable filter Velocity curve, 3 independent Overdrive sliders (one per oscillator), Global Overdrive with hi and lowpass cutoff, Oscillator Sync, Chorus, an independent LFO that includes oscillator drift and stereo panning, and a fully programmable Digital Delay! Like the original Mini, you can turn Osc3 into an LFO with dedicated modulation for the Osc Pitch and the Filter. There is no dedicated Noise Generator as on the original Mini, but pink and white noise are selectable on Osc 3. All controls are mapped to MIDI CC#'s, and you can override the default settings by using the MIDI Learn feature. Use as a simple stand-alone synth (.exe file included), or copy the DLL into your favorite DAW or sequencer's plugin folder.
By the way you can also find an emulation of the ARP 2600 on the same page: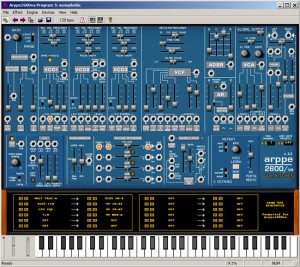 Based on ARP's legendary semi-modular analog monosynth! This amazing softsynth sounds very close to the original ARP 2600. Like the original, it's a monosynth (no polyphony). But, also like the original, it has a multitude of Frequency Modulation options which enable it to create some truly awesome sound effects. PWM, Sample & Hold, virtual Spring Reverb, Ring Modulation, and a dedicated Noise Generator are all there! Also, there are some things even the original Arp 2600 didn't have, like Oscillator Sync and Filter Color (to adjust between LowPass and HiPass filter types). Most important of all, beginning with version 2.0 the Arppe2600va is now completely patchable via a cleverly designed Mod Matrix! You can have up to 12 patch routings with a very user-friendly (and visible!) drop-down menu interface, instead of messy virtual patch cables cluttering up the screen. All controls are mapped to MIDI CC#'s, and you can override the default settings by using the MIDI Learn feature. Use as a simple stand-alone synth (.exe file included), or copy the DLL into your favorite DAW or sequencer's plugin folder.