Improvisation in one go by REWO on the Moog Minimoog Voyager supported with a 3-line sequence by the DSI Mopho, Moog Little Phatty and the Arturia MiniBrute. The bass-strings come from the Korg Wavestation EX.
REWO = René van der Wouden = www.renevanderwouden.net
Arturia is introducing its first Ipad application, the iMini.
iMini is an application recreating the classic Minimoog™ synthesizer that is based on the TAE™ technology found in Arturia award winning Mini V software.
iMini is designed to allow users the classic sound, look and feel of this iconic synthesizer.
iMini endorsers include Stephan Bodzin, Richard Devine, Banco de Gaia
https://itunes.apple.com/WebObjects/M…
Mike Hosker presents to you a tutorial video of the iMini, Arturia's first application for Ipad.
iMini is an application recreating the classic Minimoog™ synthesizer that is based on the TAE™ technology found in Arturia award winning Mini V software.
iMini is designed to allow users the classic sound, look and feel of this iconic synthesizer.
iMini endorsers include Stephan Bodzin, Richard Devine, Banco de Gaia
DESCRIPTION
iMini is a recreation of the classic 1971 Minimoog™ synthesizer, one of most iconic synthesizers of all time.
Based on the TAE® technology found in our award winning Mini V software, iMini offers a level of sound quality never before found on the iPAD as well as over 500 sounds by leading sound designers.
We have also partnered with the Bob Moog Foundation so that a portion of each sale goes to support their work in music education via the Dr. Bob Sound school program, making available the archives of Dr. Bob Moog and funding the dream to build the Moogseum.
The Minimoog™ synthesizer was made famous by artists and bands such as Stevie Wonder, Depeche Mode, Kraftwerk, Keith Emerson, Devo, Jean Michel Jarre and more. We now bring the features and sound of this classic to the iOS platform.
The iMini not only recreates the look and feel of the most legendary synthesizer, it does it with unparalleled sound quality. iMini is based on the award winning Arturia Mini V software that was created in partnership with Dr. Robert Moog himself, back in 2003. Thanks to this heritage, continuous research and refinements over the years, iMini comes with amazing sound quality and a large collection of preset sounds created by top sound designers such as Klaus Schulze (Tangerine Dream) and Geoff Downes (Asia).
What will you do with it?
First you can play the iMini's numerous sounds from the iPad keyboard. You can create your own sounds and start building your personal sound palette.
If you are an owner of the Arturia Mini V software on your Mac or PC, you can import and export sounds between your laptop or desktop Mini V and iMini.
You can also control iMini from a MIDI keyboard via CoreMIDI and integrate it into your studio or live performances.
But this is not all; iMini is 'Tabletop Ready'. Tabletop is a free iPad application that allows you to integrate iMini into a full studio of devices. With Tabletop you can build an entire song, with drum machines, FX's, sequencers… and of course the inimitable Minimoog™ sound.
Tabletop Ready™
The connect page is also your avenue to open up a whole new world of possibilities with iMini via Retronyms Tabletop application.
Tabletop™ is a free app for your iPAD that allows you to integrate iMini into a complete studio environment. In Tabletop you can use multiple instances of iMini; record your performance into a real-time sequencer; automate any of the parameters; add effects; process other modules through the iMini filters, etc. Tabletop also features number of in app purchase options to add more effects and instruments from other 3rd party companies.
Features include
Classic Minimoog™ sound.
3 Oscillators
24db per octave filter.
Simulated headphone jack/external input feedback.
2 Assignable XY pads
Chromatic or tuned scale keyboard modes
Polyphonic mode
Full featured arpeggiator
Repeat
HOLD and MEMORY latch modes
Octave span
5 note order modes
Speed and sync controls
Virtual Analog Chorus
Virtual Analog Delay
Owners of both the iMini and Mini V software apps can transfer sounds from one platform to the other via iTunes.
Full user MIDI mapping of panel controls.
Supports WIST sync with other iOS devices.
'Tabletop Ready'
Soundcloud seeder (via Tabletop)
Render to .wav file (via Tabletop)
'Audiocopy' to paste your audio into another iPAD application. (via Tabletop)
COMPATIBILITY
iMini is compatible with iPAD 2, iPAD 3 and IPAD Mini
iMini is priced at $9.99
The P3 Sequencer is an 8 track, hardware MIDI sequencer, with a user interface comprised of knobs, keys and LEDs. A sixteen character by two line PLED display provides confirmation of pattern data and access to advanced features and configuration options.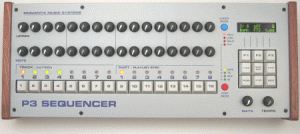 P3 allows real-time control of track mutes and simple pattern or pattern chain selection across multiple tracks, plus analogue-style editing of patterns. Each of its 384 patterns has independent values for note, velocity, tie, gate, length, gate delay, and a combination of up to four MIDI controllers, extra notes, or 'auxiliary events', per step.
P3's unique auxiliary events allow the creation of dynamically self-modifying patterns. They can grab values from other tracks, randomise steps, alter track and global settings, and much more. There are three modulation 'accumulators' per track, that can be used as LFOs, perform arpeggiation effects or enable complex pattern progressions.
Furthermore, you can assign front panel knobs to modify or mask these events in real-time, allowing you to create interactive patterns that change predictably as you adjust the knobs – varying in complexity, controlling levels of randomness, even 'morphing' from one pattern to another.
A Force-to-scale option provides preset and user-defined scales to keep everything in key (but defeat-able per pattern step if required), and a configurable 'change mode' allows patterns with different lengths and/or time-bases to free-run, or be synced to a global bar.

Jim Debardi from Moog Music takes us on a tour of the Moog Factory to give us a history of the Minimoog synthesizer and to show us how they handcraft the Minimoog Voyager.
We'd like to extend a heartfelt thank you to our exceptional customers for allowing our small company to thrive while staying true to our ideals. Ten years ago Bob Moog combined modern engineering and detailed craftsmanship to realize his dream of reimagining the Minimoog. The release of the Minimoog Voyager allowed us to realize another dream: that our dedicated employees would be able to provide for their families through their work at Moog. The decade long success of the Minimoog Voyager has enabled us to continue handcrafting analog synthesizers in Asheville, NC today. To show our gratitude all registered Minimoog Voyager owners will receive a small gift for joining us on our ten year voyage. And…one very lucky Moog enthusiast will win the gift of a lifetime, the 10th Anniversary Minimoog Voyager—created with the finest materials, it stands as a testament to American craftsmanship. Thirty proud owners, one lucky winner.
To find out more about the Minimoog Voyager's 10th Anniversary go to:
Music courtesy of Marley Carroll, composed entirely on piano and Minimoog Voyager.
Check out Marley's work at:
http://marleycarroll.com/blog/
David Baron goes through keyboards one by one. Yamaha Piano, Elka Synthex, Glockenspiel, RMI Electrapiano, Roland System100, Arp Omni 2, Korg PS-3200, Celesta, Korg MS-20, Oberheim 4-Voice, Multivox MX3000, Oberheim OB8, Moog Minimoog, Synton Syrinx,Moog Vocoder.
Here's a new video noodle session from SynthMania:
"A quick noodling session with Minimoog, Emulator, LinnDrum. Again, my audio interface is being exchanged and I'm using the computer's internal card, so apologies for the noise floor. The Emulator going out of tune in a couple of parts is because I inadvertently moved the pitch bend wheel with my elbow :-D"
First song by I SATELLITE in over 8 years. This is a cover version of "This Heart's Not Made of Stone" by Television Personalities. Preliminary demo vocal.
Instruments used: Minimoog (x2), Roland VP-330, Minikorg, Oberheim DX, Roland MC-4b MicroComposer, MPC-3000.
Just the name of the video make you wanna check it out 😉
It performed with this friend. ———- roland tr909 tr808 tb303 sh101 sre555 moog minimoog analogue solution vostok ems vcs3 korg sq10 sherman filterbank2 and more

————————————————-
analog_techno_improvisation 2
http://youtu.be/MiVaIc3F8go
————————————————-
analog_techno_improvisation 3
http://youtu.be/dCKMVOnIpQo
————————————————-
Keith McMillen QuNeo controlling Arturia Minimoog V Origina in Ableton LIVE, X controlling bend on all drum pads with note, sliders controlling oscillator volumes with pressure, and filter cutoffs with slider location.
QuNeo is a different species of pad controller for electronic musicians, DJs, VJs and DIY hackers. While it covers all of the functionality of other pad controllers, QuNeo adds the power of touch recognition in other dimensions.
Tactile Pads, Sliders, Rotary Sensors and Switches
Each of the 27 pads, sliders and rotary sensors are pressure, velocity, and location sensitive. Even the 17 switches respond to how hard you press.
LED Light Feedback
A remarkable lumination scheme combines variably diffusive elastomers with 251 multi-color LEDs providing visual feedback that is immediately responsive and delightfully informative. Man and machine are coupled through light, feel and sound.
Trigger Pads
16 square pads provide 127 levels of Velocity response. And X-Y location. And continuous pressure. For each pad. Times sixteen.
Rotary Sensors
2 rotary sensors allow you to scrub, trigger, stretch, pinch and play phrases and sound files, manipulate continuous controllers and more . Each rotary sensor measures angle, pressure and distance from the center.
Multi-touch Sliders
9 touch sensitive sliders can be mapped to fader and effects controls. LEDs within each slider act as VU meters or remind you where you were. Multi-touch lets you select a length between two fingers to set stereo locations or filter resonances. Tapping a slider can mute or toggle any track or function.
Switches
The switches are located in smart groupings to select samples, fader banks, and transport controls. Each of the switches can scan up and down through files at speeds variable with your touch. Great for quickly locating that perfect fill or telling your looper you really meant it.