January 23, 2013 · Posted in
Uncategorized
·
Comments Off

on Arturia Minibrute Oscillator Test
Background video description:
I just bought a MiniBrute. Being the synth geek that I am, I had to see the waveforms! I plugged in my new synth and began testing starting from the sub oscillator. This is a video of each oscillator being tested one by one.
The large draw for the MiniBrute lies within the fantastic oscillators. Each one offers an extra timber control to sculpt a unique sound with out even adding any more effects. This is what the waveforms look like with a clean signal.
January 8, 2013 · Posted in
Uncategorized
·
Comments Off

on The Yamaha CS-50 – The Oscillator
Here is part 1 of a series of demonstrative videos regarding the Yamhaha CS-50. This is a demonstration of the oscillator section of the Yamaha CS-50.
The CS-50 was released just one year before its famous big brothers, the CS-60 and CS-80. The CS-50 looks like a scaled-down version of the monstrous CS-80, and it is! This will benefit those who crave the famous classic Yamaha synth sound without the struggle of lugging around the 215 pound CS-80! The CS-50 weighs in at about 100 pounds. The CS-50 is also just 4-voice polyphonic, and lacks the quality weighted 61-note keyboard of the CS-80. The CS-50 has just a 49-note standard keyboard. It does feature pressure (aftertouch) sensitivity route-able to several destinations, however.
The CS-50's sound is unmistakably related to other classic CS-series synthesizers. At just four voices with one osc. per voice and lacking warm filters (at just 12dB/oct) the CS-50's sound can be thin. There are 13 preset sounds of various instruments and synth sounds but, unfortunately, no on-board memory storage for your edited presets. At its low street price, the CS-50 makes a great way to get your hands on these classic sounds without going broke! It's too bad their tuning is just as unstable as the other CS-series synths. It's housed in a built-in travel-case like the other (big) CS-synths.
December 25, 2012 · Posted in
Uncategorized
·
Comments Off

on S.O.O.G. – Sub Octave Oscillator Generator for Reaktor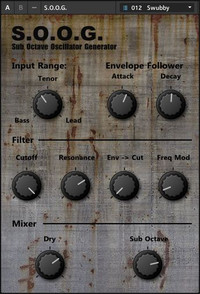 Icebreaker Audio has announced the release of S.O.O.G. (Sub Octave Oscillator Generator), a free analogue style octaver effect for Native Instruments Reaktor 5.8.
The effect produces a fuzzy version of the input signal, by generating a modulated square wave one octave below the tracked pitch. This fuzzy octave can then be filtered to smooth out the tone, or to create synth style sounds.

The effect works best on monophonic instruments with strong fundamental frequencies like bass guitars or clear vocals.
The ensemble is a free download from Icebreaker Audio.
December 9, 2012 · Posted in
Uncategorized
·
Comments Off

on The Mellow Sounds of the Make Noise DPO
Youtube alias 'skrapadelix' takes us through the softer side of the Make Noise DPO:
I just wanted to share the softer side of the remarkable Make Noise DPO, the most organic and alive oscillator I have in my rack. This simple patch is just the Noisering into the uScale into the DPO in 'Lock' mode with a slow envelope softly plucking the Waveshaper 's vactrol. The result is a subtle mysterious timbre of understated beauty…
September 21, 2012 · Posted in
Uncategorized
·
Comments Off

on Reaktor Tutorial: Building a Basic Synth
This Reaktor Tutorial serves as an introduction to Reaktor, and covers building a two oscillator synth.
The video starts with an overview of the Reakor manuals, and then looks at building the synth example from the getting started manual.
The example ensemble can be found at flipmu.com/work/software/
September 17, 2012 · Posted in
Uncategorized
·
Comments Off

on Analog synthesizers – GRP A4 x8 24 Oscillators in unison
Paolo Groppioni plays eight Grp A4 Analog Synthesizers in unison. Twentyfour wild VCOs under the same MIDI master keyboard control.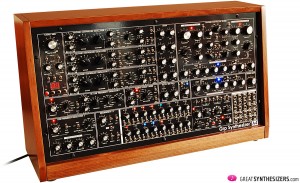 Grp A4 in details
Voltage Controlled Oscillator 1, 2, 3

Wide audio range (64'-2') w. Tune & Fine; six analog waveforms (sine, triangle, triangle & saw, saw, saw & variable pulse summed, variable pulse); manual pw & pwm (from VCLFO1, EG1, S&H, Aft); FM 1 Amt (lin/exp –from VCLFO1, LFO2, VCO1, 2, 3, Noise, S&H, EG1, EG2, Aft, ModW, KeyVel, EnvFoll) w. phase rev; FM 2 Amt (only exp – from VCLFO1, Env Foll); sub oscillator (on VCO 1, 2) -1/-2 oct; hard sync (VCO 1 master); kybd on/off (w. user's selectable octave offset from MIDI Interface).

Ring Modulator

Ring Mod Sources: VCO 2 & VCO 3/Ext Input (user's selectable).

Noise Generator

White & Pink Noise selectable.

External Input

Input gain from line to mic level; freely adjustable Gate Threshold (Gate to EG 1-2); enclosed envelope follower (goes into mod buss).

Audio Mixer

Separate level controls for VCO 1, 2, 3, Sub 1, 2, Ext Input, Ring Mod, Noise.

Filter Section

Dual analog filter section: 24 db/Oct Low Pass Transistor Ladder Filter w. pole selection & 12 dB/Oct State Variable Low, Band, High, Notch Filter.
Each filter has a separate Distortion/Level control.
Filter section can be configured in LP 24 Only, SV 12Only, Serial (LP into SV), Parallel, Direct Out (LP 24 goes on Left Audio Out, SV 12 goes on Right Audio Out).
Low Pass Filter:

Slope selection (6, 12, 18, 24 dB); Cutoff Frequency; Resonance; Overload LED; FM1 Amt (from VCLFO1, LFO2, VCO 1, 2, 3 Env Foll, Noise, S&H, EG2, Aft, ModW, KeyVel) w, phase rev.; FM 2 Amt (from VCLFO 1); FM 3 Amt (from Step Sequencer, Kybd Track 0-120%; Key Vel On/Off.

State Variable Filter:

Mode (12dB HP, 6 dB BP, 12 dB LP, 6 dB Notch); Cutoff Frequency; Resonance; Overload LED; FM1 Amt (from VCLFO1, LFO2, VCO 1, 2, 3 Env Foll, Noise, S&H, EG2, Aft, ModW, KeyVel) w, phase rev.; FM 2 Amt (from VCLFO 1); FM 3 Amt (from Step Sequencer, Kybd Track 0-120%; Key Vel On/Off.

Voltage Controlled Amplifier

Dedicaded Envelope Generator (see below); Control Selection (dedicated EG2, ON-hold, External CV); VCLFO1 Amt.

AutoPan
AutoPan Off/Internal Clock/VCLFO1; Pan Frequency Control; LED (red = internal clock; blue = VCLFO1).
Stereo Main
Envelope Generator 1

Multi Stage Loopable Env (Attack, Hold, Decay, Sustain Lev, Sustain Time-Only in Loop On, Release); Gate Source Selection (Keyboard, S&H, ExtIn/ Step Seq); independent EG Amt for 24 dB LP Filter and 12 dB State Variable Filter, both w. user's selectable EG polarity.
EG time goes from 1msec to 60 sec.
LED: red = EG under Gate sources; blue = EG under Step Sequencer control;
Loop Envelope: loop from Attack to Release, w. Sustain Time selectable.
Loop Mode Switch:

Loop Off: EG as standard AHDSR, no Sustain Time.
Gate: EG loops from A to S (w. Sustain Time max 60") as long as Gate is On.
Auto: EG full loop, from A to R; independent from Gate.

Envelope Generator 2

Same as EG 1, without Hold segment.

Voltage Controlled Low Frequency 1

Frequency (from very low to 2500 Hz); Waveform (sine, ramp, triangle, saw, square w. variable pulse); FM Amt (exp, w. phase normal/rev); FM Sources (Key, EG1, EG2, LFO2, Seq A, B, A+B, S&H, Aft, ModW, EnvFoll); Sync (Off, Gate, Seq, MIDI – dividing factor selectable from internal MIDI Interface); Shaping LFO out (from: Off, EG1, EG2, Lfo2, SeqA, B, A+B, S&H, Aft, ModW, EnvFoll).
LFO act as modulation buss for auxiliary sources: EG1, EG2, S&H, Noise, VCO2, EnvFoll. The aux source can be amplitude modulated with the Shaping Select.

Voltage Controlled Low Frequency 2

Frequency; Freq Range (Low-Mid-High); Waveform (Triangle, Square); Shaping Select (Off, Aft, ModW).
Independent Send Modulations for: VCO 1, 2, 3 freq; PWM 1, 2, 3; VCF 24/12 Cutoff; VCA Level.

Sample & Hold

Frequency; Frequency Source (Int, VCLFO1); LED (red = Internal, blue = VCLFO1); S&H Source (Pink Noise, White Noise, VCLFO 1, LFO 2, VCO 1, 2, 3); Glide.
The S&H Clock can be routed to EG firing; there are three options: Off – no routing; Gate – the S&H clock is ANDed with keyb/ext/manual Gate; Auto – EGs always fired from S&H.

Tuning/MIDI

Master Tune; Portamento Time; Bend Amount; VCO 1 Portamento On/Off, VCO 1, Bend On/Off; Hold On/Off; A440 On/Off; Retrig On/Off; Manual Gate.
MIDI Interface: MIDI Channel Select; Keyboard Off Octave Offset; External CV In Octave Offset; MIDI Clock Divider on LFO Reset.
A4 receives: MIDI Note On/Off, Bend, Modulation, Aftertouch, Key Velocity, Expression Pedal, Damper.

Step Sequencer

User's configurable Mode Select 8×2 or 16×1.
Clock Source: Int, VCLFO1, Ext, MIDI.
Clock Divider on all Clock Sources; dividing factor MIDI: 1/1, ¼, 1/4t, 1/8, 1/8t, 1/16; dividing factor TTL: 1/1, /2, /4, /16, /32.
Sequencer Mode: FW, BW, FW/BW, PNDL, ALT, RND, TRG.
CV Seq Clock: A, Off, B on internal Clock.
VCO Seq Enable: VCO 1, 2, 3, Off/A/B/A+B
VCF Seq Enable: 24dB Off/A/B/A+B; 12dB Off/A/B/A+B.
Step Repeat: Off, x2, x3, x4.
Permutations: n,n+1; n, n+1, n; n, n, n+1, n.
Loop On/Off.
Hold On/Off.
Manual Controls: Reset/Step Advance, Run/Stop, Continue
Pulse Width (legato/staccato) on Internal & MIDI Clock.
Row A & B Parameters: Glide Amt; Range (x2, x4, x8); Quantizer On/Off.
Step Parameters: LED; Step Value; Gate On/Off; Step Mode (End, Skip, Normal).

Connections

Audio: Mono Out; Phones Out; Left/24dB Out; Right/12 dB Out; Audio External In.
Filter: CV In 24 dB; CV In 12 dB.
Amplifer: CV In VCA.
Synth Control: CV In; Gate In.
External Modulation Buss: Ext 1/AftT; Ext 2/ModW.
Sequencer Connections: Row A/B/A+B CV Out; Row A/B/A+B Gate Out; Run/Stop In; Continue In; Loop On/Off In; Clock Input; Clock Output; CV In Clock Modulation.v
September 1, 2012 · Posted in
Uncategorized
·
Comments Off

on Raspberry Pi Synthesizer – live demo (Oscillators and Phase Distortion)
Background video information below:
You lot should be happy that it was a grim, wet, windy Bank Holiday as I got to plug in my Pi and make a video. Sorry the frame rate of the second half is low, it's my Mac not being fast enough to capture everything.
So – here's an indication of quite how rich a single-oscillator synth can be (as in, I left OSC B cranked down to zero throughout). OSC A is set to a 'sin' wave (which does actually have a *little* bit of harmonic content as it's not really a sin, it's a short power series), but all the amazing richness comes from manipulating the phase of the oscillator during each cycle of the waveform. An EG is used to stretch and squash the phase over the lifetime of each note, then the LFO is pulled in to add a warbly, squishy immenseness.
And no explicit frequency manipulation – everything here is being induced by messing with the phase within each cycle of the waveform, the fundamental is not being manipulated, at all. Things get beyond awesome when you add in pitch modulation at the same time as Phase Distortion.
But messing about with frequency is for next time – for the time being, let's get PHASEY!!!!
August 27, 2012 · Posted in
Uncategorized
·
Comments Off

on Alesis Andromeda Tutorial – Oscillators
'gstormelectro' continues to provide us with good tutorials on the Alesis Andromeda, in this one he checks out the oscillators:
http://gstormelectronica.blogspot.com/
In this video I will examine the OSCILLATOR and PRE-FILTER MIX sound modules in more detail. I will introduce and explain topics for Oscillator FM, Filter FM, SYNC, Ring Modulation and Filter Feedback. And I will also show how to program a couple of basic patches along the way.
CONTENTS
0:10 Introduction
0:35 Tune Page
1:32 Wave Page
2:39 ENV1 Page
3:13 Patch: Classic Or Deviant Sync
4:56 OSC2FM Page
7:57 NZEXT Page
8:48 Modulations + Control Routes
9:49 Patch: Mod-Wheel PWM
11:23 Pre-Filter Mix: Ring Mod + Filter Feedback
12:14 Closing
Join me for my next video which will cover the Filters in more depth, including examples of Filter FM and Filter Feedback. Thanks for watching!
July 5, 2012 · Posted in
Uncategorized
·
Comments Off

on Two Moogs and five oscillators
A short video showing the powerful sound of 5 analog oscillators and actually being able to play more than one note. Simply adding another Moog via a MIDI cable, using last note priority on the Moog SP, you get to play 2 notes without having to go into the menu and setup a chain (both Moogs have this ability in the menu – Voyager 1, Voyager2 etc and the same deal with the SP).
A rather quick and dirty video – but you get the benefit of having your ear drums pummeled by the 5 osc's
Best with Headphones
July 4, 2012 · Posted in
Uncategorized
·
Comments Off

on Roland Jupiter 4 Self Oscillating Filter and Strymon TimeLine ICE mode
Nice video featuring the first Jupiter synth from Roland.
All sounds from Jupiter 4 are produced by its self oscillating filter with VCO waveforem set to "OFF". Modulating filter with ENV-1 and LFO and adding a little noise from time to time. Strymon TimeLine is being used in ICE mode with 1.5 octave interval.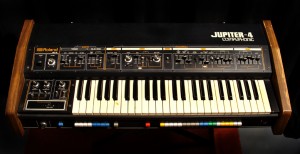 The first Jupiter synth. It was among one of the first poly synthesizers (4 individual voices which could be synced together for one fat monophonic lead), it had a pitch wheel that could be assigned to the VCA, VCF, VCO or all together, there are 8 memory locations and a cool arpeggiator – the arpeggiator can in the Duran Duran classic, "Rio". It also has a very slow LFO for those ever-so-long filter sweeps. Pretty good for 1978!
Not so cool however, are the 10 preset sounds which sound nothing like the piano, brass or strings they claim to be. The placement of all the preset buttons below the keyboard can be inconvenient, especially while playing it. And as with most old analog synths, the Jupiter-4's tuning can go out often. Still it is a nice analog synth for creating weird trippy analog sounds.