OSC Physics sending data to Max/MSP and Ableton Live.
Max receives OSC messages from the iPad and visualizes and converts it midi. Midi messages are sent to Ableton Live to control audio effects.
A demonstration of a patch involving the CGS01 Sub Oscillator and Harmonic Sequencer. It is generating the two voices heard at first. The I mixed in a few other voices coming from the Q960 and Q119 sequencers. The sequencers are shifted by the events going on in the CGS01 unit.
I recorded a tune with this patch as a basis but I thought the patch in itself was pretty fun so I made a video of it for people to see.
http://youtu.be/ipIu8u4pIxo
This is a demo of the Pittsburgh Modular Generator synthesizer module. The Generator is a dual oscillator built around two triangle core, wide range, periodic waveform generators. Ideal as the basis for tuned percussion/noise, abrasive amplitude, frequency and timbral modulation. Tones, drones and textures. As a multipurpose signal generator, Generator can provide the basis of a wide range of complex sounds from drums to atonal, nintendo zipper/fart noises. This module was made for FM madness.
The Generator is modulated by a Doepfer A-145 LFO.
Testing what the Mod oscillator sounds like, raw and modulated, through the 292e in filter mode, VCA mode and both. Modulation proved to be quite hard but I liked the sound of the whole thing and as usual, there are gems to be found in there!
Synth School enters its final and most advanced device starting this week. Strap in and get ready because we're about to tackle the Thor Polysonic Synthesizer. Thor is called "polysonic" because it offers a smorgasbord of various oscillator types, filter types, and signal routing options.
This week we'll be focusing on the first major oscillator types in Thor. Each oscillator has a specific synth technology behind it and each one has a particular sound that will be suitable for different uses. If you've found yourself relying on presets for Thor or if you tend to go straight to the analog oscillator because it's familiar to you, you'll definitely want to get to know these other oscillators. They'll expand your sonic palette and ramp up your sound design chops.
A simple "controlled randomness" experiment wherein three oscillators randomly change pitch with each new trigger via the Source of Uncertainty. The pulsing is achieved from the ring modulator and, of course, the filter sweep is touch controlled.
Shared by T Barton
Filthpig is a monstrous, six oscillator hybrid synthesizer with an extreme potential for tweakability. Geared towards drones, noise, sirens and circuit-bent style glitching, Filthpig employs two full, three oscillator synth sections — one to produce sound and the other to act as a dedicated modulation source. Each section contains two tuning controls, a modulation depth knob, a waveform selector (five waveforms) and an amplitude envelope for each oscillator as well as a 3 x 3 modulation matrix that lets the output of any oscillator modulate any other oscillator (including itself). These modulation matrices also contain sync switches, and the modulator part of the synth also links oscillator output to the pitch values for the sound-producing section. Although a monosynth at heart, Filthpig also has the ability to be switched into a three voice poly mode for added functionality, and also has two cascaded filters (hicut and then locut) for tone shaping. Whether you are an experimentalist or just like crazy sounds, Filthpig is sure to crawl out of the garbage can and into your heart (where it will undoubtedly lay eggs and die).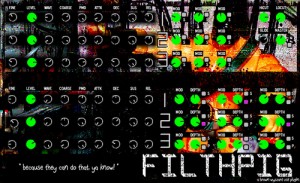 Check out Filthpig demos now on the the official product page at http://urthwurk.com/tlrvst/s…
Made with the Jones MVIP and a sequenced AFG oscillator. The MVIP is a Euro module for image processing. It was controlled by a Z8000 sequencer that changed the speed of the AFG oscillator. A pair of A-110 oscillators and a multi-mode filter were also controlled by the sequencer to make the sounds.
Info on the MVIP (Mini Video Image Processor) can be found at www.jonesvideo.com
A fluid simulation drives a stack of detuned oscillators, brings pleasure to initiated and otherwise, facilitates the making of musick. New synth coming ASAP from The Strange Agency to your local App Store.
Shared by strange agency
lzxindustries has shared a video that introduces the video oscillator
Conceptualizing the use of a Voltage Controlled Oscillator as an image generation tool is difficult. This demo attempts to explain a basic pattern synthesis technique using 3 Video Wave Form Generator modules and frequency modulation to generate a monochrome, animated video pattern.
LZX makes a line of Eurorack format modular video synthesizer modules, designed for creating and manipulating video and images.