The BeatStep is much more than a pad controller–it's a groove sequencer that features analog CV-gate as well as MIDI out. We saw one driving a vintage Oberheim SEM and grooving hard!
Enjoy
Arturia's Beatstep offers a new degree of functionality and performance for a portable pad controller. BeatStep is highly versatile, capable of triggering clips in such applications as Ableton Live, playing drums in conjunction with such applications as BFD or EZDrummer.
But BeatStep is also a 16-step analog sequencer for creating all kinds of musical phrases to be sent to analog synthesizers, MIDI drum machines, MIDI keyboard devices, or computer programs.
Its vast connectivity allows you to connect the BeatStep to a computer or iPAD using USB, a drum module using MIDI or an analog synthesizer equipped with CV/GATE.
more info:
http://www.arturia.com/evolution/en/p…
FM get a video demo of a new USB hardware step sequencer with CV and MIDI. Plus, see an update to the Spark software.
This machine, normally associated with beats, can transmit MIDI notes from each of the drum triggers. I tuned the first seven triggers to the Eb scale, with the further three notes on the lower octave.
The accent control functions in the same way, allowing you to vary it`s relative level.
Second half of the video has the synth output going into the ER-1, allowing the use of `Motion Sequence` and `Tempo Delay` effects.
The ARP 1601 sequencer controls VCO pitch
The Doepfer Dark Time modulates the ARP's filter
The Doepfer Dark Energy provides some LFO action.
All sounds are live, unprocessed and from the ARP only.
A patch & setup pic can be viewed here:
http://djjondent.blogspot.com.au/2014…
The MICRO is beeing treated with ext Cotoff Trigger Seqencer Doepfer A.-155. In Sync with the internal sequencer + Modular Kick..
The music has been made using a Moog Slim Phatty and an analog modular system including an A-115 and an Echophon.
Background video information:
Just messing around with the new toy. I will have more detailed info up soon over at Fluxwithit.com
Don't forget to sighn up for the free Newsletter to get FREE Maschine packs.
Introducing Robotic Drums, a new Universal iOS app by Big Robot Studios.
Robotic Drums is a drum synthesizer with a probability sequencer.
It features:
– 6 analog-modeled synth voices with realtime control
– A probability sequencer for each voice
– Dropbox support
– Midi-clock sync support
– AudioBus support
– Quantized patterns switching
– An optimized, simple UI
For more info see: http://bigrobotstudios.com or find it on the App Store.
Sign up and learn more here: http://www.djtechtools.com/2013/11/03…
On the surface, each Midi Fighter Twister is equipped with 16 endless encoders, each with a push state, plus a full ring of LEDs. Capped off with 2 full-color LEDs at the bottom, each encoder can transform into a wide range of displays and functions depending on the mapping, configuration, or page. This provides infinite levels of control with clear visual feedback similar to a touch screen, while maintaining the tactile feel of a real knob.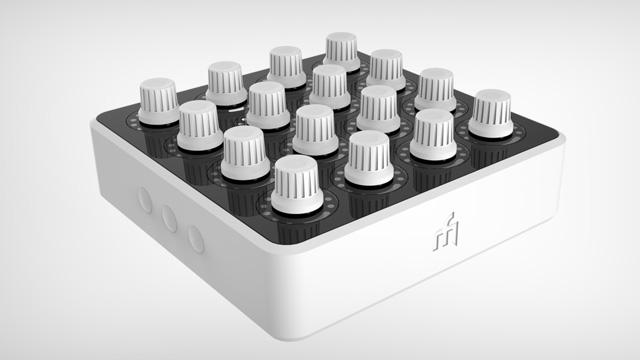 The possibilities – from Ableton control to Traktor effects – are endless, but to really showcase the potential of this dynamic work surface we decided to go a little nuts and create something totally next level.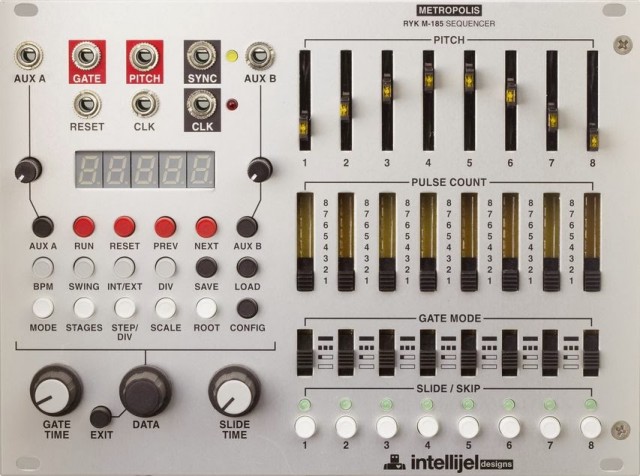 This is a teaser image of the Intellijel Metropolis Sequencer – a new Euro step sequencer, based on the RYK M-185 sequencer.
Features:
Sequencer modes:
Forward, Forward-fixed, Reverse, Reverse-fixed, PingPong, PingPong-Fixed, Random, Random-fixed, Brownian, Brownian-fixed
TB-303 style slide (constant time portamento) with adjustable time
Stage skipping (double click slide buttons)
Internal quantizing with selectable scales and keys
Can act as a master clk with BPM control or slave to an external (using clk src function)
Save/load panel settings
shuffle
Internal clock divider
Sync output (sets output pulse on last clock step of a sequence, used to slave other sequencers via reset)
Two assignable AUX inputs which can control: gate length, transpose, key shift, root shift, sequence length, and step divisor.
config menu to set slider pitch range, clock div type, clock offset
tap tempo when in internal clock mode and tempo lock with bpm detect in external mode.
All menu actions are one level deep. i.e. press the menu button and spin the encoder. There are no hidden levels or sub menus.
First go around with the Intelljel Metropolis. This is a pretty basic setup; I didn't get into using the aux inputs to modulate things within the Metropolis. I'll try that next! As you can see though, the Metropolis really lends itself to performing and improvising. Very hands-on and easy to go all sorts of crazy ways, melodically. Similar to the Rene, in that regard, but from a totally different point-of-view.
Patch notes. Pamela is sending clock to Metropolis, Trigger Riot, Modcan Dual Delay, and Sound of Shadows.
Metropolis is sending the same note info to three different oscillators. The third one going through a uScale first to create intervals. All going into the Dubmix. The Trigger Riot is controlling Tiptop drums, mixed through a VCA Matrix then an M277 for a little grit. That's into channel 2 on the Dubmix, where I add a little Spring Reverb at one point.
The kik and snare are ultimately doubled with the Cwejman BLD and DPO. Lastly, I dialed into some sustained notes on the Pressure Points and a Modcan Triple OSC. The uStep is advancing the Pressure Points.
I had some troubles with the Trigger Riot losing sync when I would change presets. I'll have to delve into that some more.