SECTOR – stochastic sample slice sequencer, for iPad.
Wish List:
Maintain pitch while changing bpm.
Choose probability (as is) OR a definite 1 in X jump OR warp.
Ability to rotate the 'wave form ring' to match the slots better.
Import individual samples into each slot.
Set custom lengths for each slot (perhaps by merging slots): – select when the 'jump' would take place. – enable polyphony or x-fade to continue the sound after the 'jump'
Be a midi controller.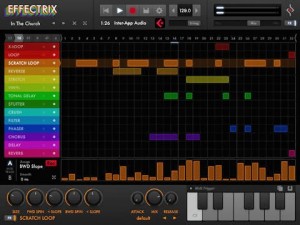 The game-changing tool for creative and effective music production is now available on the App Store: scatter 14 intelligent effects across a sequencer matrix and create unheard-of sound patterns and cheeky loop collages.
A playful workflow, refined algorithms and carefully parameterised effects lead to outstanding results – fast! The effects, each exceeding conventional wisdom, cover a wide spectrum from classy standards to scandalising splatter sprees.
This iOS port faithfully recreates the desktop engine, today's de-facto standard of finest audio manipulation.

INSTANT INSPIRATION
quickly create variations and mutations for productive sound design
20 fine audio samples installed
230 factory presets (100 global, ca. 9 per effect)
14 high-quality effects
redesigned GUI for a smooth iOS workflow
DIG DEEP
manipulate each individual effect with up to eight parameters
two modulator tracks per effect
Seamless iOS integration: full MIDI, IAA, Audiobus
save your own presets & use them on your desktop version of Effectrix
iOS WORKFLOW
You name it: Inter-App Audio, AudioBus, Full MIDI Support (Virtual, Network, Extern, Clock Sync), Audiocopy™ / Audiopaste™. Integrated Audio Player and Recorder (iTunes FileSharing, Music Library, Factory Loops).
The app is priced at $17.99.
NAMM 2014: Moon Modular Sequencers Guided tour of the large cabinet and sequencer
The Zilion is a very compact masterclock and sequencer with a weird sliding data entry control. It is still in the prototype stadium probably coming still this year from production. Jered Flickinger as the inventor is explaining the idea and the possibilities of the product in this video giving examples of what to do with it on the fly.
The BeatStep is much more than a pad controller–it's a groove sequencer that features analog CV-gate as well as MIDI out. We saw one driving a vintage Oberheim SEM and grooving hard!
Enjoy
Arturia's Beatstep offers a new degree of functionality and performance for a portable pad controller. BeatStep is highly versatile, capable of triggering clips in such applications as Ableton Live, playing drums in conjunction with such applications as BFD or EZDrummer.
But BeatStep is also a 16-step analog sequencer for creating all kinds of musical phrases to be sent to analog synthesizers, MIDI drum machines, MIDI keyboard devices, or computer programs.
Its vast connectivity allows you to connect the BeatStep to a computer or iPAD using USB, a drum module using MIDI or an analog synthesizer equipped with CV/GATE.
more info:
http://www.arturia.com/evolution/en/p…
FM get a video demo of a new USB hardware step sequencer with CV and MIDI. Plus, see an update to the Spark software.
This machine, normally associated with beats, can transmit MIDI notes from each of the drum triggers. I tuned the first seven triggers to the Eb scale, with the further three notes on the lower octave.
The accent control functions in the same way, allowing you to vary it`s relative level.
Second half of the video has the synth output going into the ER-1, allowing the use of `Motion Sequence` and `Tempo Delay` effects.
The ARP 1601 sequencer controls VCO pitch
The Doepfer Dark Time modulates the ARP's filter
The Doepfer Dark Energy provides some LFO action.
All sounds are live, unprocessed and from the ARP only.
A patch & setup pic can be viewed here:
http://djjondent.blogspot.com.au/2014…
The MICRO is beeing treated with ext Cotoff Trigger Seqencer Doepfer A.-155. In Sync with the internal sequencer + Modular Kick..
The music has been made using a Moog Slim Phatty and an analog modular system including an A-115 and an Echophon.