Introducing Chroma, a unique sequenced monosynth for Reaktor featuring sound and sequence morphing and multiple control methods – use your mouse, a MIDI controller, Konkreet Performer, TouchOSC or Lemur.
available now at http://www.reaktortips.com/2012/12/chroma-and-gris-gris-sequenced-monster.html
Chroma is a performance oriented monosequencer and VA carefully tuned for ergonomic ease of use and glitch free operation in standalone and plugin mode. Slur features in Chroma match up with legato and glide features in the Gris-Gris synth to create a slinky sinuous note articulation.
Sequences can be created and controlled via mouse, MIDI, Konkreet Performer, TouchOSC and Lemur. Since there is now full OSC support in the Reaktor plugin version, you can do everything with Chroma in your preferred DAW that you can do stand-alone. A dream come true!
TouchOSC and Lemur templates are included in the package but there's something special about Konkreet Performer that sets things on fire when it's paired with Chroma and Gris Gris, a certain magic in the way it morphs and distorts sound. It is my firmly held opinion that not nearly enough people use KP and if you want something really special and unusual on your iPad you should rush right over to  Konkreet Labs or head straight for the App Store and buy a license.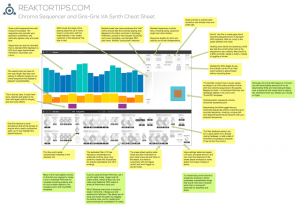 Chroma is 24.99 USD and can be purchased and downloaded immediately. Remember, Chroma is a Reaktor ensemble and requires a full installation of Reaktor 5.8.0, not just Reaktor player.
Background description below:
This is the first patch I made with XAOC Devices 'Moskwa Bipolar Rotosequencer'.
This patch features The Moskwa's CV out to Anti & Uncle OSC, OSC's outs to Optomix top and bottom section.
Moskwa's Gate out pinging the Optomix, Optomix out to mixer.
Oh yeah uLFO square out to 8NU8R, 8NU8R out to Moskwa's direction in.
More features of upcoming metropolis sequencer demonstrated including:
quantizer scale selection
root note
skip stage (blinking leds via double click)
current step note display
tb-303 style slide
This is a proto module (hence some of the crazy wires and lack of panel). Code is %95 done and this is set to be released very soon.
The knobs of a home-made synth are tweaked while it plays a sequence of notes (Syncuino DIY 16-step sequencer, see link below).
—————————————————————–
https://sites.google.com/site/synthaquarium/
http://chemiker1981.blogspot.de/
Arpie is the novel musical composition system. Put balls as many as you like, and watch as they make nice music. Higher balls hit the keys with long pauses, as opposed to lower balls which hit fast and repeatedly. By combining them you can easily make a wide variety of musical sequences.
Bangarang by Skrillex, remixed on Noisepad. Noisepad, a powerful soundboard, sequencer and live-set DJ app, available for iPad & iPhone. Load your own samples or use the in-app shop, create beats, apply real-time effects, be creative!
Soundbanks: Each bank holds 12 samples Load unlimited samples: Organize, create, (re)name, add and remove soundbanks
Sequencer: The onboard sequencer allows you to program up to 12 patterns on-the-fly, each with their own duration (1 – 99 bars).
Rhythm: Set BPM manually. Tap button for BPM: Set amount of swing (0% 100%)
Import / Export: Export individual patterns (.wav) Share samples/patterns between apps with AudioCopy/Paste
Sample settings: Noisepad offers a number of settings which determine how samples are played. Cut, hold, volume , mute, solo.
Effects panel: Real-time effects such as pitch, delay, cut-off, phase, reverb and bit-crush will bring your noise to life.
BRUNO ENDER LEE – "ARP Odyssey – spiral sequence" – November 2. 2012
Every sound was created with ARP Odyssey MK III, recorded on 4 stereo-tracks (sequence with Doepfer MAQ 16/3, bass, effects & leads) with stereo-panning-delay. Filmed during recording of the bass
composed, arranged & produced by Bruno Ender Lee; 2012 Velvet Voyage Productions
A little song made possible by the new Brick Shaft accessories!
SoundMachine is a 4 track 8-step drum sequencer that uses the LEGO Mindstorms NXT to scan a set of drum "notes" which are then played using Ableton Live. The NXT uses four colour sensors to detect the colour of 2×2 LEGO bricks as the plate is scanned in. A controller written in Processing interprets the colour pattern and sequences MIDI note messages to send to Ableton Live, which in turn plays the sounds you hear.
The music on the video was created by SoundMachine itself – music you can build!
Jamming with iSequence for iPad
iSequence is one of the most powerful music creation studio designed exclusively for iPad. Thanks to intuitive 8-track sequencer, tons of instruments and flexible mixer with DSP effects you can easily program and record profesional loops, beats and melodies. Now you control every aspect of your music project.
The iPad edition has been rewritten and redefined to take advantage of a bigger screen and better performance.
The workflow is extremely fluid, you record tracks and controls movement in real-time, edit them using step sequencer and automation editor, switch between instruments, tracks and views without stopping playback. You can compose, jam and mix at the same time!
Features [specification]
165 built-in high quality instruments embedded in 3 banks; acoustic, drum kits, pads, leads, sweeps and ambient atmospheres recorded with top classic and modern hardware synthesizers. Additional banks available in the BankShop.
Pattern sequencer: 8 tracks and FX curves editor. Instruments are not bound to tracks, so you can play chords or use multiple instruments on a single track. Up to 999 patterns in the project.
Piano keyboard (6 octaves) or drum pads.
Event parameters: note duration, panning, velocity and gliss
Real time recording; metronome and 'slow down' mode.
Sampler; mapping, loops, ADSR envelope, sample start
Copy/paste, move and transpose selected area or patterns.
Mixer: 8 tracks, 5 configurable effect slots with flexible routing. Effects: Filter, Reverb, Flanger, Delay, LO-FI crusher, Equalizer, Compressor. All parameters can be recorded in real-time or edited using automation editor.
WIFI-sharing: HSQ, MIDI, WAV export. HSQ import.
Gear used: Elektron Machinedrum as main sequencer, Waldorf Blofeld, Akai mpc500, Korg Ms2000, Clavia Nord Modular G2 and DSI Tetr4.