Our ever so persistent friend AfroDJMac explores the world of space music. Keep wondering if he will fail to deliver any week soon, LOL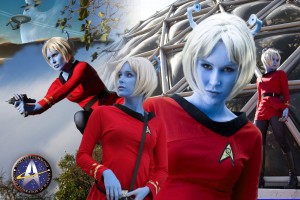 The 34th Free Weekly Ableton Live Rack from AfroDJMac is a warm textured and evolving pad sound created from a heavily processed vocal sample. The perfect soundtrack to an a day in an intergalactic forest in deep space. Space out with this fun synth

Download @ http://bit.ly/freesynth34
For anyone looking for a space aged, intergalactic sound straight out of an alien planet, this week's free Ableton Live rack is for you.  Here is a sound that is alive with movement and textures.  Created from a heavily processed vocal sample, the Space Forest Synth offers some exciting sound sculpting possibilities.  The synth is then racked up with some effects to add to the spacey feel, as well as a built in arpeggiator, allowing you to morph it to taste.

Lately, I've been having a lot of fun resampling chords from all kinds of instruments from guitars to synths.  In the following video, after taking you through the Ableton rack, I show you my technique for creating all new sounds by resampling instruments.  From there, it's quick and easy to create all new sounds and progressions from your preexisting material.  It's a total blast!  Below is an instrumental track I created last night using that exact technique (drums from my Operator Drums Rack and resampled arpeggiated chords and baseline created with the new Kasio M4L Instrument)  Enjoy
AstroCantus converts the celestial map into an infinite musical soundtrack that you define: from a delicate nocturne to a vast space symphony, all at a touch on your mobile device.
A 1960s Space-Age/Lounge style song with Yamaha YPT-400, Moog Memorymoog, Synthesizers.com modular and Fender Stratocaster.
Here's the message from outer space!
Time is rolling on and we've been über busy with preparations! Finally we're ready to give you some more news!
electriXmas is delighted to announce that Swedens legendary space cadets S.P.O.C.K. have landed just in time to join the party! We've been informed in the latest sub-space transmission that during their long voyage into the unknown they've been secretly working on new material! They're looking forward to make this years electriXmas extra-special with a world-exclusive performance of a couple of new tracks!
So, the lineup now looks like this:
HOCICO (mx)
S.P.O.C.K. (se)
TYSKE LUDDER (de)
NECRO FACILITY (se)
Get the sounds here: http://xenossoundworks.com/virus.html
Astral Voyage contains 100 high quality ambient style patches by sound designer Effrain Beccera, which are perfect for space music and new age compositions, as well as excellent material for film and videogame soundtracks.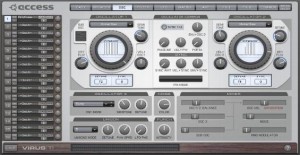 This is one of a series of podcasts exploring the ways sound and sound effects can be used to help bring stories to life.
Meet Ben Burtt, Sound Designer for films like Star Wars, Raiders of the Lost Ark and WALL-E. Learn how he comes up with sounds that complement the amazing things seen on the silver screen – from laser blasts to whirring, buzzing lightsabers. Find out the story behind some of his signature effects and how he first got interested in sound design.
"Several months ago I volunteered my skills to create a large, interactive control panel for an upcoming space-themed exhibit for the Kearney Area Children's Museum. The project is multi-faceted and took quite a bit of time and energy to create, but in the end it came together very well!
Using the Auduino synth sketch for Arduino as a starting point, I created a synthesizer that uses two rotary potentiometers, two linear potentiometers and one infrared rangefinder to generate fun, interactive music. The sketch works best when multiple inputs are being used at once (i.e., moving your hand while moving a slider), but will generate some sort of tone regardless. The circuit board on the back is a simple class A amplifier and parallel 3.5mm audio jack to allow for more control over the volume of the synth. Now let's just hope those kids don't destroy the thing the first chance they get!"
Auduino: code.google.com/​p/​tinkerit/​wiki/​Auduino
Kearney Area Children's Museum: kearneykidzone.com/​
The Auduino is a sound synthesiser based on the Arduino platform. It works on all Arduinos running at 16MHz – everything from the original Arduino serial to the Arduino Mega. It uses granular synthesis techniques to generate a distinctive filter-sweep sound that had much more character than boring square waves. Sound is generated by playing the same noise ('grain') repeatedly at very high speed. This merges into a tone that is an audible hybrid of the repetition rate and the original grain. It sounds quite similar to an oscillator with two resonating bandpass filters, although the different architecture means there are lots of additional interesting noises at parameter extremes. The grain consists of two triangular waves of adjustable frequency, and adjustable decay rate. This is based on FOF synthesis model, but using triangle waves instead of sine and using a rectangular window. The repetition rate is set by another control.
Highway scene from Tarkovsky's Solaris (1972)
Here's a nice and inspiring article focusing on the vintage sci-fi music scene:
Eduard Artemiev first met Andrei Tarkovsky at a house party thrown by the painter, Mikhail Romadin, in the spring of 1970. The conversation somehow turned to the subject of electronic music and, to Artemiev's surprise, the director soon invited himself to the electronic music studio in Moscow where the composer worked, keen to see the working methods behind the ANS synthesizer that was housed there.
Artemiev had been one of the first composers to work with the ANS, after its inventor, Yevgeny Murzin, posted a note up at the Moscow Conservatoire where Artemiev was a student, looking for composers interested in electronic music. This machine, the first Russian synthesizer, operated using a unique system of drawn sound synthesis. The composer would paint on a sheet of glass which was scanned by the synthesizer, becoming a kind of graphic score, allowing the composer to work like a painter, tinting and shading, forming textures and tone colours directly. Due to the similarities such a method conjured up with the colouristic music of Murzin's idol, the Russian composer Alexander Nikolayevich Scriabin, the device was named after his initials.
Tarkovsky was evidently impressed with what he saw at Artemiev's studio for he soon asked him to compose all the music for a new science fiction film he was working on with Romadin, Solaris, having recently fallen out with regular musical collaborator, Vyacheslav Ovchinnikov. Tarkovsky gave Artemiev a completely free hand on Solaris, insisting on just one stipulation: that the film must include JS Bach's Choral Prelude in F-minor, 'Ich ruf zu Dir, Herr Jesus Christ'.
Though the soundtrack to Solaris uses both orchestral and electronic textures (from the ANS), Artemiev has said in interviews that in terms of its treatment, the orchestra "functioned like one giant synthesizer." From the composer's notes written before he started work on the film, we can see that he delineated five general areas: landscapes; personal sound perceptions; various transformations and distortions of the Bach theme; recollections of the Earth; and the sounds of the living ocean, Solaris, itself. Of this final category, Artemiev remarked, "It is, obviously, composed of the sounds of terrestrial life as if processed by the Ocean. . . The characters of the film hear (or are trying to hear) sounds either similar to terrestrial ones, or sounds which are kind of little cells or islands remaining from the Earth which they manage to identity out of the mass of strange and yet incomprehensible noises."
As Tatiana Yegorova notes in her study of Artemiev's "musical universe" (1), there is something strangely homely about the space station upon which much of the film is set, and Tarkovsky and art director Mikhail Romadin at one point considered basing the design for the interiors on that of an ordinary Moscow apartment. Artemiev's score thus becomes one of the sole sources of the sense of the alien and exotic in the film. Characteristically, though, some of the most alarming music is reserved for a scene set on earth, as Henri Berton (played by Vladislav Dvorzhetsky) drives through a tagliatelli of motorway underpasses and flyovers (shot in Osaka and Tokyo). Here, the 'natural' sounds of the road and passing cars are swollen with feedback echoes and combined with coruscating electronic textures to create a maelstrom of sound, as if we were experiencing the Earth through the eyes – or rather ears – of the Solaris ocean itself. This scene exemplifies perfectly the Russian formalist Viktor Shklovsky's notion of 'otstranenie' – the experience of one's own everyday lifeworld as observed by an alien being.
Read the full article by Rober Barry here >>
Discovery has recently published a great interview with Richard Devine, the electronic musician with many labels: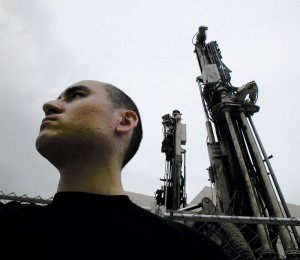 I recently had the chance to interview electronic musician Richard Devine for the Discovery News article "Is Electronic Music 'Real Music?'" The man had loads to share about his own creative process and advice for aspiring artists, so I figured a Space Music post was the perfect place to share more.
For those of you who aren't familiar with his work, Richard Devine creates the sort of electronic soundscapes that generally attract the label "intelligent dance music" or IDM. But as with most artists of talent, his work defies such labels. His music is at times melodic and ethereal, other times jarring and chaotic.
Let's hit an example of his work before descending straight into the interview.
Galaxy Mesmer by RichardDevine
What experience are you looking for the listener of your music to have when they listen to your work?
RICHARD DEVINE: I like to put the listener in an unusual space and in an emotional space, as well. A lot of music that's out typically touches on normal subject matter and emotions that people — common emotions like love and happiness and sadness. A lot of my compositions are a bit more abstract where I like to take the listener on a strange cerebral sonic adventure. It almost be like if you were trapped inside a H.R. Giger visceral world of corridors and spaces.
I've always been drawn more to the kind of music that takes me to places I've never been to before. I don't know how to describe it. It's just a collage of strange sounds and textures that make you feel a certain way. You can't really put your finger on the emotion that you're experiencing. Some of it can be unsettling; some of it can be just bizarre at times. Sometimes the outcome is pleasant or very unpleasant; I guess it goes to far extremes at either end of the spectrum.
SONOiO – Not Worth Remembering – Richard Devine-Remix by RichardDevine
How do you view the impact of electronic music production on human creativity?
When I first started making music, there were hardly any music programs available for the personal computer. Now applications like GarageBand and Reason offer full production environments for creating any type of music. Many of these applications come free with some of these operating systems. How that affects us, I think, is positive and negative. I think that, on one side of the coin, you have a lot of new music coming out. And the flip side of that is you get a lot of bad music, too, at the same time. It doesn't necessarily mean the quantity equates to quality, but it does put everything kind of in a perspective where you see that thousands and thousands of people now can get opportunity to make music and it takes something that was very difficult to get into in the past and now make it more accessible for the masses.
But there's almost too much electronic music coming out right now. I feel like it's harder to stand out these days. There are so many people trying to emulate specific styles, so now you have hundreds and hundreds of people trying to sound a particular way. I find that there is less and less innovation in music, but more and more people creating it. So I think it's harder for people to get discovered than it was ten years ago, when I was starting out and we were actually recording onto DAT tapes and releasing vinyl records. Now with digital distribution, anyone can just upload a track to Sound Cloud or any other site and promote it through social media networks. Now it's a whole different animal all in itself. And I think it's much harder to stand out and to get recognized now in the sea of millions.
Heavy stuff I must say, enjoy
Dark Ambience theme made mainly with the A-100 Analog Modular System. for some harmonic elements i included a layer from Reaktor Space Drone and 2 samples from Novation X-Station. The beat at the end comes from Roland MC-909.