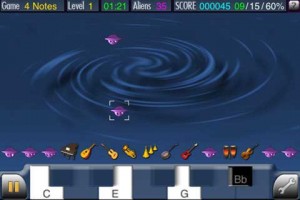 PG Music Inc has released the Pitch Invasion app for iOS. Based on old-style classic arcade games, aliens descend upon your home planet, intent on destroying your prized collection of musical instruments. It's your job to blast them out of the sky by recognizing the pitch that they are playing, and playing that pitch yourself before they reach the ground. If they reach the ground, one of your 15 musical instruments is destroyed. Once your instruments are all destroyed, it's game over. As you blast the aliens, you can move up to harder, faster levels.
Pricing and Availability:
Free
Background data:
BRUNO ENDER LEE – "Astral Odyssey" – composed, arranged & performed by Bruno Ender Lee, April 22. 2012
Pre-recorded live tracks: ARP Odyssey & Doepfer MAQ-sequencer / MiniMoog Voyager OS (bass)
Filmed live tracks: MiniMoog Voyager OS (leads) / Moog Etherwave Theremin / ARP Odyssey (fx-sequence)
2012 Velvet Voyage Productions
VELVET VOYAGE – "Live in Goldau 2011″ – performed by Bruno Ender Lee, November 18. 2011 as supporting act to Bruno Stanek's space-lecture.
www.stanek.ch
Our ever so persistent friend AfroDJMac explores the world of space music. Keep wondering if he will fail to deliver any week soon, LOL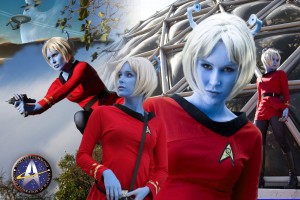 The 34th Free Weekly Ableton Live Rack from AfroDJMac is a warm textured and evolving pad sound created from a heavily processed vocal sample. The perfect soundtrack to an a day in an intergalactic forest in deep space. Space out with this fun synth

Download @ http://bit.ly/freesynth34
For anyone looking for a space aged, intergalactic sound straight out of an alien planet, this week's free Ableton Live rack is for you.  Here is a sound that is alive with movement and textures.  Created from a heavily processed vocal sample, the Space Forest Synth offers some exciting sound sculpting possibilities.  The synth is then racked up with some effects to add to the spacey feel, as well as a built in arpeggiator, allowing you to morph it to taste.

Lately, I've been having a lot of fun resampling chords from all kinds of instruments from guitars to synths.  In the following video, after taking you through the Ableton rack, I show you my technique for creating all new sounds by resampling instruments.  From there, it's quick and easy to create all new sounds and progressions from your preexisting material.  It's a total blast!  Below is an instrumental track I created last night using that exact technique (drums from my Operator Drums Rack and resampled arpeggiated chords and baseline created with the new Kasio M4L Instrument)  Enjoy
AstroCantus converts the celestial map into an infinite musical soundtrack that you define: from a delicate nocturne to a vast space symphony, all at a touch on your mobile device.
A 1960s Space-Age/Lounge style song with Yamaha YPT-400, Moog Memorymoog, Synthesizers.com modular and Fender Stratocaster.
Here's the message from outer space!
Time is rolling on and we've been über busy with preparations! Finally we're ready to give you some more news!
electriXmas is delighted to announce that Swedens legendary space cadets S.P.O.C.K. have landed just in time to join the party! We've been informed in the latest sub-space transmission that during their long voyage into the unknown they've been secretly working on new material! They're looking forward to make this years electriXmas extra-special with a world-exclusive performance of a couple of new tracks!
So, the lineup now looks like this:
HOCICO (mx)
S.P.O.C.K. (se)
TYSKE LUDDER (de)
NECRO FACILITY (se)
Get the sounds here: http://xenossoundworks.com/virus.html
Astral Voyage contains 100 high quality ambient style patches by sound designer Effrain Beccera, which are perfect for space music and new age compositions, as well as excellent material for film and videogame soundtracks.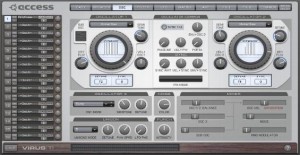 This is one of a series of podcasts exploring the ways sound and sound effects can be used to help bring stories to life.
Meet Ben Burtt, Sound Designer for films like Star Wars, Raiders of the Lost Ark and WALL-E. Learn how he comes up with sounds that complement the amazing things seen on the silver screen – from laser blasts to whirring, buzzing lightsabers. Find out the story behind some of his signature effects and how he first got interested in sound design.
"Several months ago I volunteered my skills to create a large, interactive control panel for an upcoming space-themed exhibit for the Kearney Area Children's Museum. The project is multi-faceted and took quite a bit of time and energy to create, but in the end it came together very well!
Using the Auduino synth sketch for Arduino as a starting point, I created a synthesizer that uses two rotary potentiometers, two linear potentiometers and one infrared rangefinder to generate fun, interactive music. The sketch works best when multiple inputs are being used at once (i.e., moving your hand while moving a slider), but will generate some sort of tone regardless. The circuit board on the back is a simple class A amplifier and parallel 3.5mm audio jack to allow for more control over the volume of the synth. Now let's just hope those kids don't destroy the thing the first chance they get!"
Auduino: code.google.com/​p/​tinkerit/​wiki/​Auduino
Kearney Area Children's Museum: kearneykidzone.com/​
The Auduino is a sound synthesiser based on the Arduino platform. It works on all Arduinos running at 16MHz – everything from the original Arduino serial to the Arduino Mega. It uses granular synthesis techniques to generate a distinctive filter-sweep sound that had much more character than boring square waves. Sound is generated by playing the same noise ('grain') repeatedly at very high speed. This merges into a tone that is an audible hybrid of the repetition rate and the original grain. It sounds quite similar to an oscillator with two resonating bandpass filters, although the different architecture means there are lots of additional interesting noises at parameter extremes. The grain consists of two triangular waves of adjustable frequency, and adjustable decay rate. This is based on FOF synthesis model, but using triangle waves instead of sine and using a rectangular window. The repetition rate is set by another control.