Background information:
This is not intended as a 1-to-1 reproduction of Jean Michel Jarre's famous classic. It is more like my shot at it using the instruments that I have.
It's funny that just because JMJ used an Eminent U310 and later an Elka X-705 then these exact organ models sells for astronomical prices while most other organs can be bought for peanuts.
So therefore I have used Elka X-30 and Technics SX-C600 to play most of the arrangement. I don't have a MiniPops 7 drum machine so I used a Rhythm Ace. One thing I did to make it more authentic was that I manually added the quijada sound to the rhythm. I synthesized it on my Roland JX-8P because I felt that it was vital for the mood of the melody. The sequence that runs through the first part was programmed on the little Korg Poly 800 and most of the sound effects was made on my Roland SH-2000. Finally I added the sound of my homebuild zimbelstern because I hadn't got a clue on how to make the huithuithuithuithuit sounds of the EMS synthesizer that I assume Jarre used.
For once I had the sheet music. I found it at the public library – you know, the house with books made of real paper in it. But it's not easy when the composer doesn't follow his own notes on the recording he made!
I haven't added many effects efter the sounds were recorded. Just some panning, reverb, and echo.
Final version of this EMW-200 introductory video:
Opening for the EMW-200 Synthesizer videos. Computer Graphics by EMW – Soundtrack by Malte Steiner.
A progger's journey into electronic music
"For many years I have been active in progressive rock. But in the background I have always been fond of synthesizer music. Lately I found I was getting more interested in this genre, so I figured it was a good moment to add some EM to Live prog, to offer more diversity in music.
This special is my introduction to EM as experienced by a prog rock fan. It includes some short reviews of a few of my favourite EM albums, a lot of music and a nice video clip. It's a bit of a long special, but I do hope you like it. There will be more EM on Live Prog soon!"
Musicians presented in this special:
Erik Norlander (www.eriknorlander.com)
Picture Palace Music (www.picture-palace-music.com)
Morpheusz
Ron Boots (www.ronboots.com)
Can Atilla (www.canatilla.com)
Synth.nl (www.synth.nl)
All samples used © their respective owners
This video special ©2010-2012 Live Prog
All righst reserved
Earlier this week we saw Adrian trying out the Arturia MiniBrute now it is time to check out his own studio and large synth collection
Source visited Portishead's Adrian Utley in his home studio to get his reactions to the Arturia MiniBrute analog synth. While we were there Adrian gave us a tour of his analogue synth collection (the stuff that was there, that is!).
Massive thanks go to Adrian Utley for kindly letting us visit, and for sharing his thoughts.
Information on the Arturia MiniBrute can be found here:
http://www.arturia.com/evolution/en/products/minibrute/intro.html
Find a UK Dealer to pre-order a MiniBrute:
http://sourcedistribution.co.uk/dealers/area.asp?item=arturia
For more on Portishead and Adrian Utley:
http://www.portishead.co.uk/
A quick tutorial on creating a simple Trance-type arpeggio sound with the Roland Juno-60.
Among the first in Roland's amazing Juno family! Six analog voices of polyphony and patch memory storage!! The Juno-60 sounds great, however, like the Juno-6 it lacks MIDI control. The Juno-60 includes 56 patches of memory storage. The Juno-60 is still popular due in part to opinions that it sounds better (punchier) than the Juno-106. The Juno-6 and 60 are very rich sounding synthesizers and are great analog machines as long as you can withstand the absence of MIDI control. The JSQ-60 sequencer is an external sequencer controller for the Juno-60 and is usually worth acquiring.
A voyage into the heart of the Roland SH-101 from the year 1983. Exploration by Marko Ettlich monophonic analog synthesis 1 VCO I Saw, Square, PWM, Noise Filter – 24dB lowpass step sequencer, arpeggiator It has been used by The Prodigy, 808 State, Apollo 440, Devo, Aphex Twin, Astral Projection, Nitzer Ebb, Chemical Brothers, Boards of Canada and many more.
The SH-101 is very cool, especially for techno, drum&bass and ACID! It's a monophonic bass synthesizer. Its sound lies somewhere between the TB-303 and a Juno bass sound. It has a lot of simple but cool features. You can control the VCF, pitch, LFO or all from the pitch bender. It has a white noise generator, arpeggiator with up, down and up/down patterns and a simple real-time sequencer. The LFO offers random, sine, square or noise waveforms. And normal or auto portamento effects give you that elastic bass sound. There are external clock inputs for the sequencer and arpeggiator, CV/GATE inputs and outputs and a CV hold pedal.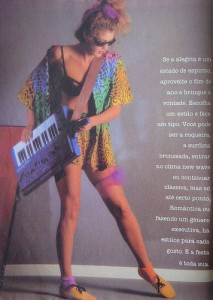 Unfortunately there is no patch memory storage and although it has no MIDI there are upgrades available for it from many analog service companies that will allow you to incorporate it into any MIDI studio environment. It can also be controlled by MIDI using a CV/MIDI converter. It's great for bass sounds or bubbly analog effects. They come in three different flavors – gray, blue or red (there was a VERY rare white version too)! It can also be strapped on like a guitar for live performance using the optional Hand Grip.
http://youtu.be/GxrBHGFFOjg
A short test setup, controlling the iOS PPG with the M569 sequencer via the M552 CV2MIDI module.
Download or stream the audio at SoundCloud: http://snd.sc/RuFf7x
Live looping with Ableton Live, a DSI MoPho, an Akai MPD26 and APC20, a DJ TechTools MIDI Fighter 3D, and three iPads running PPG Wavegenerator, Lemur, and Animoog. An iConnectMIDI is sending and receiving MIDI notes from Animoog to MIDI clipslots in Ableton Live. Bass from the PPG app is being looped with Ableton's looper plug-in, controlled by Lemur. All loops are recorded live, nothing was pre-recorded.
A new episode from the guys at Sonic:
"We talk MiniNova, Krome, Integra-7, New Maschines and Raspberry Pi Synths
Guests: Gaz Williams, Rich Hilton and Dave Spiers join sonicstate.com editor Nick Batt"
Introducing the Krome Music Workstation. Powerful yet affordable, Krome provides sound quality and features unheard of in its class. Experience huge, Kronos-derived acoustic piano and drum sample libraries, large electric piano libraries, and hundreds of additional sounds to jump-start your creativity. The widescreen color TouchView™ display and hands-on controls make performing or creating your music easy, fun, and inspiring. For more information, please visit www.korg.com/krome.
The next step in the legendary Micro line of synthesizers is here! MicroKorg XL+ delivers a fresh update to the sounds and look of the MicroKorg XL, making it an ideally versatile compact keyboard. It includes a reimagined palette of analog modeled sounds, PLUS new dedicated PCM for Korg's SGproX piano and M1 organ, well-known VOX organs, and instantly recognizable "Tape" instruments. The new all-black panel ups the "New vintage" vibe that looks great on stage or in the studio.
microKORG XL: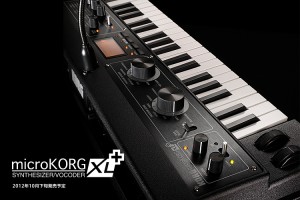 With its unmistakably unique exterior and its inimitable sound, the microKorg set the standard for analog modeling synthesizers. The year 2008 saw the introduction of the microKorg XL, which inherited the microKorg's fat and powerful sounds, while adding keyboard staples such as electric piano and the CX-3 organ. And now, in the next evolutionary step, the microKorg XL+ delivers a fresh update to the sounds and design of the microKorg XL, making it the ideal compact keyboard.
Googlish from Japnese:
Became the standard model microKORG analog modeling synthesizer with a unique look anything, the sound of the place of work is not authentic. MicroKORG XL to take over the powerful sound while its thick and enhanced, such as the CX-3 organ and electric piano, the function as a keyboard appeared in 2008. microKORG XL +, the brush-up and design of sound microKORG XL. Pursue the ideal that users expect in this compact keyboard, I have evolved further.
Piano SG, such as the organ of the VOX and M1, vintage sound is more comprehensive.
Program genre selector that matches the needs of the times.
New to nostalgic, vintage New design black panel.
Crystal analog modeling technology Korg, with MMT.
Comes with a gooseneck microphone, featuring vocoder function.
Effects engine adopted Korg boasts intense.
Equipped with a natural touch mini keyboard Korg's proprietary with an emphasis on ease of play.
Corresponds to the drive battery easy to carry.
"MicroKORG XL + Sound Editor", available for free download preset programs, such as further microKORG.
KORG Krome: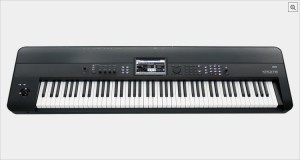 Googlish description from Japanese:
And 73 in KROME-61, Natural Touch keyboard employs a semi-weighted, from tone to tone synthesizer piano, you can play with a natural touch. In KROME-88, adopted the keyboard (Natural weighted Hammer Action) NH, in a tone that can be expressed, exhibits a strong power, such as electric piano piano and subtle nuances.
And aluminum panel to produce a sense of luxury, design full of personality.
Side surface to form a line flowing which made full use of the curve, body dressed in color very dark, making it the elaborate design that combines aluminum, two panels with different design to the panel surface. Unique design and it can be seen on stage lined with a lot of equipment, will leave a strong impression on the audience with a clear sound.
View with color LCD display with large touch with excellent visibility.
Excellent visibility to KROME, 7-inch color display that can be many parameters at once, with a large LCD display of WVGA (800 x 480 pixels). You can come into direct contact with a parameter that also features touch graphical user intuitive interface view is displayed on the display, and edit the parameters of the sound-making. We're also supports drag-and-edit feature that can be manipulated to direct the knob and slider also. In addition to this, I was with a number, such as a calculator handy stop watch handy, in numeric input features, convenient touch unique view started playing the piano roll editor, to count the time a live performance.
Updated with press releases from KORG:
KORG microKORG XL+ Synthesizer/Vocoder
Vintage … and more!
With its unmistakably unique exterior and its inimitable sound, the microKorg set the standard for analog modeling synthesizers. The year 2008 saw the introduction of the microKorg XL, which inherited the microKorg's fat and powerful sounds, while adding keyboard staples such as electric piano and the CX-3 organ. And now, in the next evolutionary step, the microKorg XL+ delivers a fresh update to the sounds and design of the microKorg XL, making it the ideal compact keyboard.
Highlights
Even more vintage sounds, including the KORG SGproX piano, the M1 and the VOX organs
New program genre selector that fits today's needs
New yet nostalgic – black panel "new vintage" design
Featuring MMT – the distillation of Korg's analog modeling technology
Vocoder feature with included gooseneck microphone
The powerful effect engine you expect from Korg
Korg's proprietary natural touch mini-keyboard, designed with an emphasis on playability
Battery powered operation is supported for increased portability
More Vintage Sounds than Ever
Lush analog modeled synthesizer sounds that are characteristic of the microKORG have been freshly added to the microKORG XL+. In addition, for band use, the microKORG XL+ comes equipped with the piano sound from Korg's classic stage piano, the SGproX (famous for its ability to stand out in your band's mix), as well as its hard-edged grand-type electric piano. This compact package also includes sounds from the M1 and the VOX organ, vintage tape-type string and flute machines, as well as other gorgeous sounds from keyboard history. Each of these 128 programs are genuinely usable sounds, giving the microKORG XL+ plenty of variety to serve as your main keyboard or of course as a secondary keyboard in your rig.
Program genre selector
The microKORG XL featured a sound selector that lets you choose your sound using two large dials: "music genre" and "instrument category." The new microKORG XL+ offers an additional selection of
these "music genres" to fit today's fast-moving music scene. Now you can select a program that matches your song more intuitively than ever. For even more convenience, you can also leave one of the dials fixed and only use the other dial to make program changes during a song (music genre fixed), or use the dial to select vocoder variations (instrument category fixed).
New Yet Nostalgic – "New Vintage" Design
The microKORG XL+ projects a style that's reminiscent of vintage electric pianos, featuring a futuristic yet retro design with a stylish black panel. High-quality parts such as metal levers, dials that move with an audible click, and knobs with a sturdy operating feel are some of the ways that the microKORG XL+ outclasses other instruments in its range and enhances your experience editing synthesizer sounds.
MMT — the distillation of Korg's analog modeling technology
The microKORG XL+'s sound engine uses MMT (Multiple Modeling Technology), borrowing from Korg's well proven wealth of analog modeling technology. The MMT sound engine has been featured on numerous products, and provides two oscillators that generate huge powerful sounds. Oscillator 1 (OSC1) gives you a total of seven types of oscillator algorithm to choose from, including formant waveforms such as human voice, and PCM/DWGS waveforms for vintage keyboard and strings. It also lets you use techniques that cannot be imitated on typical PCM synthesizers, such as cross modulation, unison, and VPM (Variable Phase Modulation). By taking advantage of modulation (sync or ring) with oscillator 2 (OSC2), it's easy to create complex and powerful sounds.
Vocoder Function with Included Gooseneck Microphone
The microKORG XL+ can function as a powerful vocoder that lets you connect a mic and use its audio input to shape the tonal character of the oscillator's sound to create "talking" effects. The vocoder consists of a 16-band filter bank that can simulate the vocoder sounds of the past and also shift the filter frequencies (Format Shift function) or adjust the level and pan of each band to dramatically change the sonic character. Using the Vocoder is an easy way to add sounds that can be found in today's popular electronic music. Since a gooseneck microphone is included, you can immediately start using thevocoder in your songs.
The Powerful Effect Engine You Expect From Korg
Two master effects utilize the effect engine that was brought to perfection in Korg's Kaoss Pad series, giving you a total of 17 powerful effect types including delay and echo effects as well as dramatic effects such as ring modulator and grain shifter. In addition, effects such as delay can be synchronized to MIDI clock for a wide range of possibilities in live performance.
Natural Touch Mini-keyboard
The new Natural Touch mini-keyboard offers an even better playing feel than ever before. The proportion of the keys has been adjusted to make chords easier to play, and the touch has been refined for greater ease when playing rapid phrases. The waterfall-type keys project an aura of sophistication, and they also help when playing a glissando.
Battery-powered for Convenient Portability
The microKORG XL+ can take advantage of the included AC adaptor or it can run on six AA alkaline batteries. Checking in at a mere 22 inches long and 4.4 lbs. in weight (main unit only; not including batteries or mic), the microKORG XL+ is a convenient size to take with you, opening up new performance possibilities on the go.
Expanded Sonic Possibilities via USB
By using a USB cable to connect the microKORG XL+ to your computer and using the sound editor software, you can edit all of the parameters easily from your computer. In addition to this software, you can also download preset program data from the microKORG and the MS2000/MS2000B free of charge to gain access to an even larger number of programs.
PRICE: £407.99 RRP (£339.99 RRP ex VAT) AVAILABLE: October 2012
KORG KROME MUSIC WORKSTATION
On Stage. On the Go. On Top.
Offering full-length, unlooped samples of every key for a spectacular piano sound, this new keyboard redefines your expectations for an instrument in this class. Taking its name from the Greek word meaning "color," KROME is the new standard for sonic excellence in a gigging musician's keyboard, providing a limitless palette of sound to bring vivid inspiration your music. Introducing the KROME Music Workstation.
Product Highlights:
The Korg workstation ideal for any style of piano playing
KRONOS-derived full length, unlooped piano and drum sounds, plus new electric pianos designed to shine on stage
Electric pianos with eight-level velocity switching for unmatched expressive power
Clear, intuitive control with Korg's exclusive 7-inch color TouchView™ display
Drums offering separately mixable direct and ambient sounds for studio-grade quality
Drum Track plays back realistic, inspiring grooves at the touch of a button
Expertly created, in-demand sounds including 640 Programs and 288 Combinations
Powerful Effects with 5 Inserts, 2 Master, and 1 Total FX, plus per track/timbre EQ
Distinctive aluminum panel design exudes a sense of quality
USB connection to your computer, plus an SD Card slot for data storage
You can use the KROME editor to edit sounds on your computer
Available in 61, 73, and 88 key models.