Here is a recording of Jordan Passmore playing the Roland SH-2 analog synth and Roland CR-5000 analog drum machine. The CR-5000′s trigger out is connected to the external in on the SH-2, allowing the synth to sort of pulse with the drum machine.
"The drum machine is ran through an analog chorus pedal while the synth is being ran through an analog delay. Both were mixed on probably the "worst" mixer I have ever heard; an early Bogen transformer line mixer. You can hear the distortion very well on the drums but it is also distorting the synth as well. The overall mix was treated lightly through an Ibanez SDR-1000+ reverb."
A quick comparison between Doepfer Dark Energy Mk I (CEM-based, just lopass w. lin fm) and Mk II (state variable filter, discrete circuit, etc.). Both machines under the same CV/Gate control from Dark Time step sequencer (courtesy of a bunch of multiples…). Mk I is panned more on Left audio channel; Mk II is more on Right audio channel. When they plays together, its a real GAS!!!

Pearl Drum-X ( Kick, Snare, Tom ), Roland TR-808 ( open/close Hihat ), Roland TR-707 ( Master Clock ), Oberheim OB-1 ( Noise ), OSCar ( Bassline ), OSCar ( Funny Sound ), Roland Juno-60 + RE-201 ( Pad ), Elka Synthex ( Pad + Space Sound ), Minimoog ( Space Sound ), Roland Jupiter-4 ( Space Sound ), Fender Rhodes + Yamaha NE-1 + Electro Harmonix vintage Bass Micro Synthesizer playing " Catching Sound Waves "

)
Roland is proud to introduce JUPITER Synth Legends, a series of free sound libraries for the JUPITER-80 and JUPITER-50 synthesizers. Featuring all-new Tones, Live Sets, and Arpeggio patterns, the collection uses the powerful and flexible SuperNATURAL sound engine to capture the essence of a number of historical synths. We've fully maximized the Live Set architecture and multi-effects capabilities of the modern JUPITERs, layering and processing the classic sound emulations to create a huge library of "dream patches" comprised of the most legendary synths ever produced.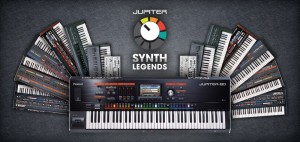 Download JUPITER Synth Legends Volume 1 for free:
http://www.JUPITER-80.com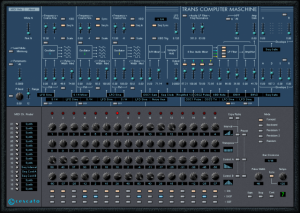 Developers have created 55 new free synths and audio effects as part of the KVR Developer Challenge 2012.
49 of the free music apps run on Windows, 7 on Mac OS X and 6 are soundware for other products.
Entrants include:
Heliox - a simple experimental synthesizer
Aliquoter - an aliquote simple synth built from 6-aliquote tuned oscillators. It is an additive/subtractive synth, but oscillators are tuned to aliquote intervals.
Total Composure Orchestra (TCO) is a full orchestral sample library created using only samples that are in the public domain.
Hot Robot Vocoder is a vocoder VST effect.
Hydra PL is a digital/analog hybrid style polyphonic synthesizer.
Orchestral Strings One is an orchestral string library.
HYDi is a simple 3 osc subtractive synth, but with some twists.
Trans Computer Maschine is a semi-modular Vintage Lead Synthesizer + Pattern Sequencer, modeled after two legendary mono synths and a custom analog sequencer from Germany.
Kamioooka is a polyphonic Full-Modular synthesizer with patch cable system.
See the KVR site for details and downloads.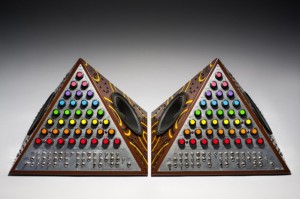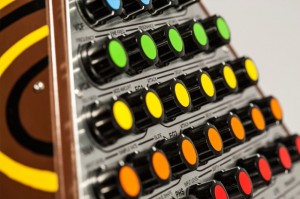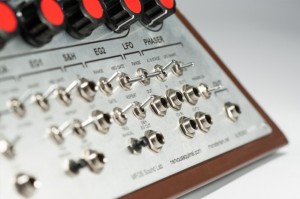 The Pyramid Synth is a unique collaboration between instrument designer David Cranmer and monsterist Pete Fowler. They created two pyramid-shaped analogue synthesizers with hand painted casings. The design began as part of an animated music video that Pete made for The Horrors, and then afterwards Richard Russell (XL Recordings) decided to commission a real life version. It was decided to make two synths in the end, one for Richard and one for The Horrors to use.
Each synth contains a Music From Outer Space Sound Lab mark II. This provides each synth with two stable VCOs, a state variable VCF, two envelope generators, VCA, LFO, patchable sample and hold, white noise generator and an audio mixer.
There are plenty of switches and sockets for creative signal routing, and external inputs to process your microphone, guitar or electric ocarina. Control voltage inputs allow other synths and sequencers to control different parameters. Each pyramid also has a MFOS 8-stage phaser, built in speakers and 72 colour changing LEDs.
Nebulophone synthesizer built from parts kit.
There appears to be a trend to do micro synths right now – the Nebulopone is one example, another one is the one we showcased earlier this week, watch below:
Steelberry Clones had the opportunity to try out one of only 50 copies of the unique micro synth Travel Weevil at a Bug Brand hosted modular synth meet up in Sweden, on October 29th
all sounds self-programmed: PPG wave 2.2 Wavetable Synthesizer from the year 1982
recording: multi-track without midi
fx: a little bit delay and reverb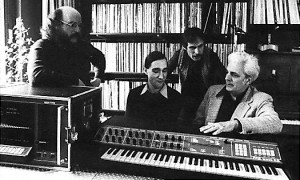 The German made PPG (Palm Products GmbH) Wave 2 series of synthesizers are incredibly great sounding analog/digital hybrid vintage synths. They use digital samples of wavetables and feature analog VCA envelope and VCF (filter) sections for a classic and warm sound. The Wave 2.2 has oscillators that can generate over 2,000 different single-cycle 8-bit digital waveforms! Covered by knobs, the Wave still looks analog and this comprises the "Analog Control Panel". More complex and new-wave editing of the wavetables and samples is covered by the "Digital Control Panel" where there are several key-pad buttons and an LCD screen. Another familiar treat to analog junkies is the inclusion of an 8-track sequencer which features automation of pitch, loudness, filter cutoff, waveforms and more. A cool feature – its onboard sequencer will also record any filtering and wave changes, in real-time!!
The more commonly encountered Wave 2.3 followed the 2.2 and had enhanced sample-playback capabilities. The sampler was pretty full-featured for its time and included upgraded 12-bit digital waveforms, Fourier analysis and linear playback of samples. The 2.3 model also featured 8-parts multitimbrality and MIDI implementation. The PPG Waves are know to create excellent pads, brass and bass sounds.
In fact it was Tangerine Dream who helped the company and the Wave develop. 1978 saw the development of the PPG Wave Computer 360. But the Wave Computer sounded harsh and tinny. In 1981, the PPG Wave 2 was released which added analog VCF and VCA filter and envelopes to warm the digital sound. The original Wave 2 had 8-voice polyphony, like the 2.2 and 2.3, but it had only one oscillator per voice. The 2.2 offered two oscillators per voice which opened up a whole new realm of sonic possibilities because two separate wavetable sounds could now be combined.
more info: http://www.retrosound.de
MX Serie Synthesizer Introduction with Adrian Zalten: MX61 & MX49
Differentiated only by keyboard size, each of these 61-part multitimbral keyboards contains over 1000 of Yamaha's flagship MOTIF sounds, effects and an 'easy' split/layer/performance mode that enables you to quickly come up with custom tones.
What's more, the MXs are designed to integrate tightly with your DAW: audio can be piped directly over USB, and you can switch to a DAW Remote mode that enables you to use the hands-on controls to adjust parameters in your software.
You can also use the Ms as an audio interface, though disappointingly, the only input comes in the form of an aux mini-jack. Another thing that's lacking at present is the option to use the MX's synth as a VST instrument (complete with software editor) though we're told that this is on the way.
The MX49 and 61 both ship with a copy of Cubase AI, plus Steinberg's Prologue synth and Yamaha's own YC-3B virtual organ. As such, anyone who buys one is getting a full music production starter kit.
Perhaps the most striking thing about these keyboards, though is their price: the MX49 has a target price of £499 and the MX61 should be available for £649. Both models will be shipping in December.
Yamaha MX49 and MX61 specs
166MB of internal Wave ROM
More than 1000 Voices taken directly from MOTIF
USB Audio/MIDI interface built in
VCM Effects
Auxiliary input and WAV/MIDI file playback
One touch Layer and Split function
128 note Polyphony / 16 part multitimbral
999 arpeggio patterns
Advanced synth editor
Remote Mode for DAW control
Bundled with Cubase AI, YC-3B organ emulator, Steinberg Prologue analog synth
Lightweight design: (MX49: 4kg, MX61: 5kg)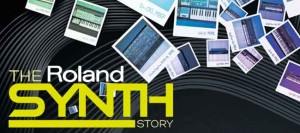 Roland has come a long way since its inception in 1972. Its synths, drum machines and effects have been used on some of the most famous records ever and have helped artists push sonic boundaries, creating new sounds and even radical new musical genres.  Taking part over three dates in November, the Roland Synth Story tour will explore this rich history through a roster of artists and experts. Roland says that it's an exciting opportunity for visitors to learn more about the company's synths, speak to three musical icons and even get their hands on some classic Roland vintage gear.
The panel of experts, including Richard Barbieri (Porcupine Tree and Japan), Graham Massey (808 State) and Jody Wisternoff (Way Out West) will all talk about their experiences creating electronic music as well as discussing their favourite Roland synths. They'll also be on hand to answer questions and chat to visitors after the event. All three guests are intrinsically linked to the history of the synthesizer. Richard Barbieri's first ever synth was the Roland System 700, and he's never looked back. His band, Japan, notched up numerous hits in the '80s and they became a cornerstone of the influential synth-pop movement.
Graham Massey infamously named his band '808 State' after the famous Roland TR-808 drum machine, which – along with the TB-303 – was an essential component to the way the band produced their music.
Jody Wisternoff uses a stable of Roland synths, including the Juno-106 and the legendary Jupiter-8, to make progressive house and breaks as one half of Way Out West. Their music didn't just hit the charts, it also found its way into TV shows and video games.
Guests will also have the chance to get their hands on some rare and ultra-covetable Roland gear, including the following: Jupiter-8, Juno-60, Jupiter-6, Jupiter-4, Juno-106, JX-8P, D-50, JD-800, JV-1080, JP-8000 and XV-5080.
Dates and Venues
26 Nov. – The Roland Music Academy, Walsall College, Walsall
28 Nov. – The Roland Music Academy, Ealing, Hammersmith & West London College
29 Nov. – Huddersfield University, Huddersfield
Pricing and Availability:
Free but spaces are limited and demand is high (two tickets per person)
More information: