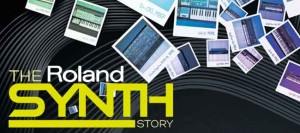 Roland has come a long way since its inception in 1972. Its synths, drum machines and effects have been used on some of the most famous records ever and have helped artists push sonic boundaries, creating new sounds and even radical new musical genres.  Taking part over three dates in November, the Roland Synth Story tour will explore this rich history through a roster of artists and experts. Roland says that it's an exciting opportunity for visitors to learn more about the company's synths, speak to three musical icons and even get their hands on some classic Roland vintage gear.
The panel of experts, including Richard Barbieri (Porcupine Tree and Japan), Graham Massey (808 State) and Jody Wisternoff (Way Out West) will all talk about their experiences creating electronic music as well as discussing their favourite Roland synths. They'll also be on hand to answer questions and chat to visitors after the event. All three guests are intrinsically linked to the history of the synthesizer. Richard Barbieri's first ever synth was the Roland System 700, and he's never looked back. His band, Japan, notched up numerous hits in the '80s and they became a cornerstone of the influential synth-pop movement.
Graham Massey infamously named his band '808 State' after the famous Roland TR-808 drum machine, which – along with the TB-303 – was an essential component to the way the band produced their music.
Jody Wisternoff uses a stable of Roland synths, including the Juno-106 and the legendary Jupiter-8, to make progressive house and breaks as one half of Way Out West. Their music didn't just hit the charts, it also found its way into TV shows and video games.
Guests will also have the chance to get their hands on some rare and ultra-covetable Roland gear, including the following: Jupiter-8, Juno-60, Jupiter-6, Jupiter-4, Juno-106, JX-8P, D-50, JD-800, JV-1080, JP-8000 and XV-5080.
Dates and Venues
26 Nov. – The Roland Music Academy, Walsall College, Walsall
28 Nov. – The Roland Music Academy, Ealing, Hammersmith & West London College
29 Nov. – Huddersfield University, Huddersfield
Pricing and Availability:
Free but spaces are limited and demand is high (two tickets per person)
More information:
D16 Group has announced the availability of LuSH-101 (formerly known as SHIOITOR), the long awaited authentic sounding virtual synthesizer for Windows and Mac.
LuSH-101 is a synthesizer created from modules that can be found in many modern virtual synthesizers, all combined into a single compact and logically intuitive design. This basic simplicity combined with its multilayer architecture turns it into an easy-to-use but extremely powerful instrument that can be programmed and tweaked quickly.

The multilayer architecture guarantees that both the sound design possibilities and number of unique situations in which LuSH-101 can be used are virtually limitless. Any combination of keyboard splits, layers, and multitimbrality is possible with just a single instance of LuSH-101. Each layer working as an independent synthesizer with its own polyphony, parameters, enhanced arpeggiator, and a palette of eight insert effects.

LuSH-101 comes complete with a powerful built in mixer, complete with layer-independent parametric equalizers, compressors and three send effects: reverb, delay and chorus.

Innovative oscillator algorithms developed by D16 Group make LuSH-101 sound exactly like a sampled hardware analog synth. Filters with constant resonance across the entire frequency domain has natural warmth and character.

A generous factory library contains more than 1600 presets of every type, while intuitively designed preset browser keeps everything organized and easy to locate.
LuSH-101 for Windows and Mac (32 & 64bit VST/AU) is available to purchase for 149 EUR/$199 USD/£119 GBP incl. taxes (if applicable). LuSH-101 is now also included in the Total Bundle. Discounts are available to registered product owners from their User Area at the D16 Group website.
Motif Sounds for Inspiration,
Xtensive Controller Integration.
It doesn't get better than this.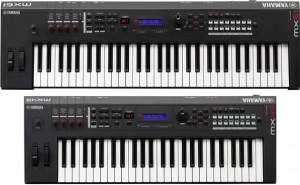 The MX series synthesizers feature carefully selected sounds taken from the Yamaha MOTIF XS. That powerful sonic palette is packed into sleek packages (available in 49- and 61-note versions) that fit today's on-the-go life style. But the MX Series aren't just synthesizers; they are designed to bridge the gap between hardware and software. By adding extensive audio and MIDI USB connectivity, advanced DAW and VST controller features and a suite of powerful music production software, the MX integrate hardware reliability with controller flexibility to give you the best of both worlds at a ground breaking level of affordability.
The new MX series combines Motif XS sounds, USB Audio/MIDI connectivity and advanced DAW/VST controller
features at a ground breaking level of affordability.
- Over 1000 sounds from the MOTIF series
- Equipped with VCM effects
- Easy Split /Layer Performance Mode for Instant Inspiration
- 16-Part Multi timbral and 128-note polyphony
- Extensive Hands-On controls for VSTs and DAWs
- Bi-directional USB Audio/MID interfacing
- A complete suite of music production software included
- A lightweight design with a quality Yamaha keyboard
- Complete analog and digital connectivity
Old secret illuminati base discovered underground. This video reveals some of its secrets.
Jack Girouard explores hidden waves on the Ensoniq, here are the details:
An electronic piece called "Time Synthis" explores some of the hidden waves of the SQ-80 "Cross Wave Synthesizer". Photo slide show of pictures I took showing the steps of the upgrade as well as other shots inside and outside. This is a very special synthesizer, super clean inside too! (its not for sale).
I bought this synth from an ebay member: thomasb93. I don't want to give a source away, but he does a great job refurbing synths! I found this one, and was well worth it!
Here is a description of what he did with this SQ-80: "All buttons, wheels, faders, keys and disk drive work as they should. It has a new 3V lithium installed. The power supply passes the correct voltage at all test points and the CEM 3360 analog filter sounds great. This synth also features polyphonic aftertouch. The insides of the synth look new and the key contacts, foam pads and keyboard pcb look new as well." I feel proud to own this well cared for instrument! Thanks Tom!
I did the upgrade when I got it. Had a little scare, I put the Hi Lo eproms in backwards, for the record, when doing that and restarting your SQ-80, the display shows nothing but a single digit 3 off to the very left bottom corner of the display. Note: in the dark angle view shot of the main board, if you look closely enough you'll see the eproms in reversed. I wouldn't recommend doing this but fortunately taking them out and putting them in correctly brought me to the Soft Reset screen seen here. Press one button and the new OS version can be read…none of the patches were lost because it was a soft reset and had the latest eprom previously, 1.8. These eproms, Oshi and Oslo, are designated as version 1.8HW, I believe it can be refered to as version 1.83 as well.
This is an improvisation done on two tracks, all SQ-80 with a Lexicon MX-300 doing some effect processing. Note: these are patches I've created, the upgrade to 1.8HW doesn't give you a new set of patches, it just gives you 52 more wave types that can be used for the three oscillators. They simply add to the list of waveforms simply as numbers 75-127. The patches used in this video used hidden waveforms 78, 79, 80, 82, .
"I hooked up a USB bus-powered tiny TV to Piana. Now the little children of Stonehenge can play synthesizers. Or they could if I could find a similarly tiny keyboard."
Get a glimpse of the factory in Stockholm where all Nord keyboards are made…
Clavia have released a short video offering a glimpse inside their Stockholm factory where all Nord keyboards are handmade. The video shows the manufacturing process and stringent quality controls as a Nord Electro 4D is put together.
Highlighted are some of Nord's unique practices and attention to detail throughout the manufacturing process. For example, one section of the video shows Nord's heat room in which every Nord keyboard is placed once fully assembled. Each keyboard is tested for 48 hours running continuous CPU tests at 40 degrees centigrade to simulate the most challenging of stage environments.
Music by Federico Solazzo (http://www.federicosolazzo.com/).
All sounds except drums from the Nord Stage 2 and Nord Wave.
Thanks to Hasse & Lasse (http://www.hasseochlasse.se) for making the video!
Official Website:
http://www.nordkeyboards.com
see this post for more info/address etc:
musicofsound.co.nz/blog/implant-4-osaka-synth-shop
While the Harajuku, Tokyo based Five G Synth store is very well known, it took me two attempts to locate Implant 4 in Osaka – the first time I was pushed for time and had an erroneous google maps link and visited an interesting part of the city… but this time I doubled checked the location with the map on their website, bookmarked the location on my iPad & set off feeling more confident…. If you happen to be in Osaka, save this location to your google map and you can't go too far wrong! This is the street it is located on, find the pink slug sign & go up the stairs…
Clothing sounds synthesized using the approach from our SIGGRAPH 2012 paper, and PhD thesis work by Steven S. An.
http://www.cs.cornell.edu/projects/Sound/cloth/
Steven S. An , Doug L. James, and Steve Marschner, Motion-driven Concatenative Synthesis of Cloth Sounds, ACM Transactions on Graphics (SIGGRAPH 2012), August 2012.
Abstract: We present a practical data-driven method for automatically synthesizing plausible soundtracks for physics-based cloth animations running at graphics rates. Given a cloth animation, we analyze the deformations and use motion events to drive crumpling and friction sound models estimated from cloth measurements. We synthesize a low-quality sound signal, which is then used as a target signal for a concatenative sound synthesis (CSS) process. CSS selects a sequence of microsound units, very short segments, from a database of recorded cloth sounds, which best match the synthesized target sound in a low-dimensional feature-space after applying a hand-tuned warping function. The selected microsound units are con- catenated together to produce the final cloth sound with minimal filtering. Our approach avoids expensive physics-based synthesis of cloth sound, instead relying on cloth recordings and our motion-driven CSS approach for realism. We demonstrate its effectiveness on a variety of cloth animations involving various materials and character motions, including first-person virtual clothing with binaural sound.
In this Video Neil takes a detailed look at the advanced features of the Arturia Mini V, An expanded software emulation of the classic MiniMoog Vintage Synthesizer.