UVI has released Digital Synsations, a new virtual vintage synths collection inspired by four 90s classic keyboards – the Yamaha SY77, the Korg M1, the Roland D50 and the Ensoniq VFX.
❐ Buy Digital Synsations : http://bit.ly/digital-synsations
❐ UVI Official Website : http://www.uvi.net
❐ UVI Official Blog : http://blog.uvi.net
A brand-new massive library inspired by four 90s classic keyboards — the Yamaha SY77, the Korg M1, the Roland D50 and the Ensoniq VFX : UVI Digital Synsations
Digital Synsations includes over 500 patches expertly programmed on a fully restored Yamaha SY77, Korg M1, Roland D50 and Ensoniq VFX' used by many of the greats including Depeche Mode, The Cure, Pet Shop Boys, Vangelis, Brian Eno, Toto, 808 State, Jean Michael Jarre and more.
We deeply multi-sampled these custom patches using top-shelf equipment and edited them to perfection before sending them off for professional mastering. These sonics became the foundation for our new hybrid instrument and combined with the UVI Engine give you the true character of these classic synths with all of the peculiarities and programming by products intact. Not only that but you get them in an extremely easy to use and fast to edit environment complete with all the features you expect from a modern virtual instrument.
If you're looking for a new take on the 90's sound, or just some new classic synth inspiration then look no further.
———————————————————————————
* UVI is not affiliated, endorsed or sponsored by the Yamaha Corporation, the Korg Corporation, the Roland Corporation or the Ensoniq Corp. All trademarks are held by their respective owners.
** iLok required
Novation appears to have a bass synth in the making, teasers pics from thier Facebook site yesterday below:
Or perhaps a a two oscillator mono synth
MFB has introduced the Tanzbär Drumcomputer – a new analog drum machine.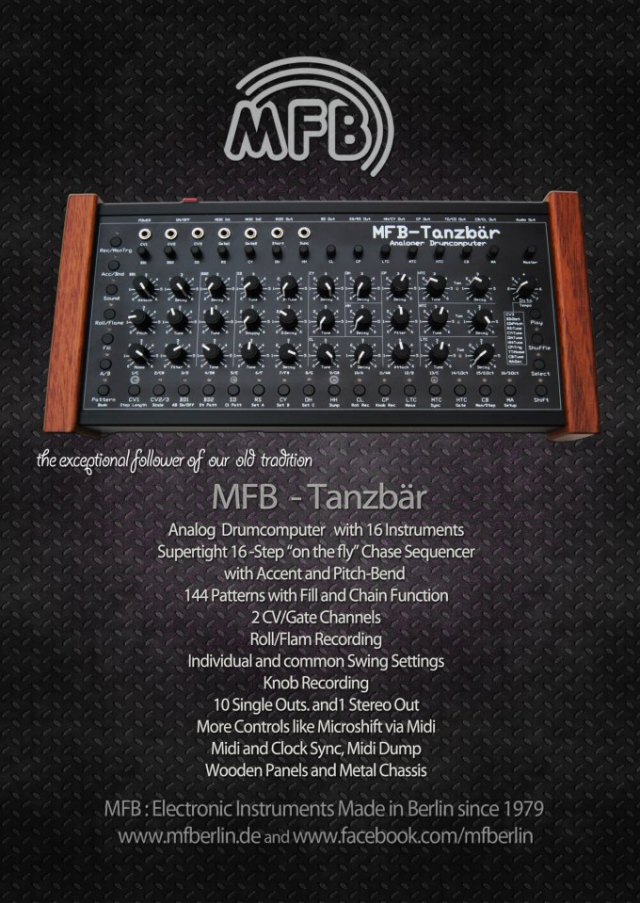 Audio demo below:
MFB Drum Computer Session 2 by Yapacc on Mixcloud
And finally a new electronic instrument from Dualo: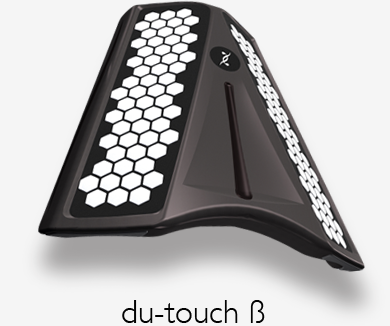 Dualo, a start-up company etablished in 2011 by two musicians and engineers, has designed a musical instrument based on a innovative and intuitive keyboard: the du-touch ß.
This original key layout, which is closer to harmony, is an alternative to the layout encountered in a piano, and is called the dualo keyboard.The manner in which the keys have been laid out has been validated by several musicians, and is designed to provide an opportunity to learn, to read and to play music faster than traditional instruments.
In Decembre 2012, after two years of extensive research and development, Dualo has released a limited edition of his first instrument, dualo du-touch ß, already sold-out. Several famous artists decided to support our project, including Cyril Atef (-M-, Bumcello, …), Fixi (Java) and Khalid K.
In view of the enthusiastic reception for our instrument, Dualo is now launching a crowd-funding campaign on KissKissBankBank.com to finance the professional edition, which will be delivered from Decembre 2013.
Our first instrument, "dualo du-touch ß" is designed for amateurs and professionals.
innovative : it's the first instrument in the world which use a layout of keys based on the dualo principle
compact, portable and featuring a wide tessitura : light, designed to come with you everywhere, 5 octaves for 29cm high
standalone : battery-powered, built-in synthesizer, built-in multi- effect processor, built-in multitrack looper ; audio line out and amplified audio headphones out
versatile : thanks to the built-in features which allows to play with a wide palette of sounds and to organize them in songs
original and allowing a wide stage presence : fitted with gesture and movement sensors offering a new generation of musical gesture, a new feel and a new phrasing
intuitive and instructive : thanks to the dualo principle and to the built-in help system : screen, light display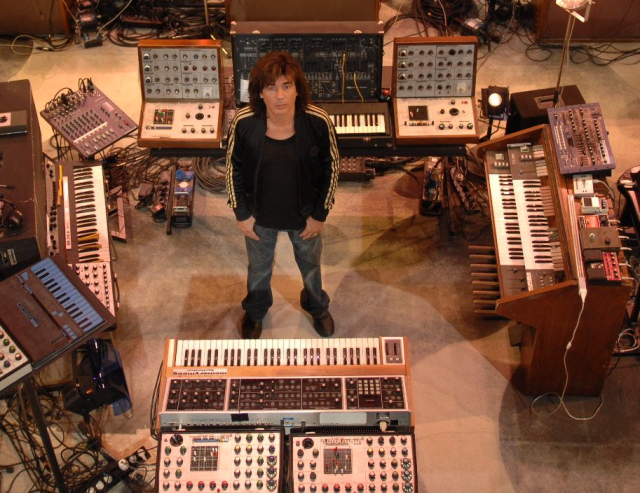 In a new interview, synth music pioneer Jean Michel Jarre explains why, despite all the advances in electronic music technology, he still has a love for vintage gear:
Jean Michel Jarre is reeling off some of the music he's been listening to lately: Actress, Fuck Buttons, Zomby… It's not the average 64-year-old's playlist, but Jarre has never really done average. His presence has loomed over electronic music for some four decades. The Frenchman studied under musique concrète progenitor Pierre Schaeffer—one of electronic music's earliest pioneers—and released the seminal Oxygene LP in 1976, which proved the catalyst to a sustained period of commercial and artistic success throughout the '80s and '90s. His career has been defined not just by his achievements themselves, but also the scale of them: on Bastille Day in 1979 he played to a live audience of one million in Paris, while a further 100 million tuned in on TV; nearly two decades later in Moscow he performed to a crowd of 3.5 million. He's also sold around 80 million albums (Oxygene alone has sold more than 18 million copies).

Jarre now exceeds the French pension age by four years, but he's not showing any signs of slowing down. He talks excitedly of two new albums he has on the boil. His most recent project, InFiné by JMJ, saw him delve into the French label's back-catalogue and pick out his 12 favourite tracks for a compilation. It was a low-key affair—by Jarre's standards at least. In conversation, he's clearly enthused by the project, earnestly discussing the merits of each inclusion and explaining his shared roots with the label—both he and former label boss Agoria hail from Lyon in southern France—with pride. We called up Jarre at his studio to discuss the compilation's origins, his current musical interests and his ambitious plans for an electronic music academy in East London.

Can you tell me about how the InFiné compilation came about?

It's a concept that started in my hometown. Like me, InFiné has its roots in Lyon, and lots of the label's artists are also from that part of France. I collaborated with some of the InFiné artists at the Nuits Sonores festival in Lyon last year, and we had a special evening where some of them revisited my work on stage. When InFiné decided to celebrate their tenth anniversary with a compilation, they asked if I would look into their catalogue and make some selections for a compilation.

How did you go about compiling it?

I went through lots of different tracks, and tried to build a kind of journey, using songs and artists that fit well together. As the music on InFiné is quite varied—there are artists from all kinds of different musical worlds—it was important to have some sense of direction on the compilation. A selection like this is always subjective; [the final selection] doesn't come down to which track is better than the other, it's just more reflective of my own tastes.

How did that sense of direction develop?

One of the reasons why InFiné is so important to me is that lots of artists on the label have been influenced by my own music. For the compilation I chose tracks that I felt were close to my own music in some way. The first track [Oxia's "Exaila"] could almost be a kind of introduction to one of my own albums; it's a short piece and I think it opens the door to the compilation nicely. Then there's Murcof's "Como Quisiera Decirte." I've admired this guy's work for a while, at times it's very close to the kind of stuff I was doing when I studying with Pierre Schaeffer at the musique concrète studio in Paris, when we were experimenting with sound design in pretty abstract ways. Murcof has an approach to music that I really enjoy—he mixes an experimental approach with Latin flavour. I've always been interested in trying to mix the Spanish or Italian soundtrack ambience of people like Pedro Almodóvar or Fellini into music. I find "Como Quisiera Decirte" quite haunting. It has a Mexican feel but it's still definitely electro. I love that mix, that hybrid feeling between two different worlds.

Which other artists on the compilation did you find yourself drawn to?

Rone is a good one—he has a very interesting sound. The problem with so much electronic music now is that more often than not, you hear a track, and it's interesting, but you don't feel it belongs to somebody in particular, or has a particular style, even if it's OK and you like it. In the case of Rone, for instance, or Agoria, and some of the other artists on this compilation, they have a definite sound world of their own. That's rare these days

Talking more broadly, which other contemporary artists do you listen to?

I'm listening to lots of different music. I really love Zomby's work, I've listened to a lot of his tracks over the past two years. And there's Actress—I've been appreciating his style of music recently. Then there are more established electronic artists in France like Air, Vitalic, M83, Justice or Sébastien Tellier—actually in fact I've just finishing a recording session with Sébastien today, we are working on a track together. I also really like Fuck Buttons. The first time I listened to their music I thought, "Wow, they've got such a special and unique type of sound." I mean, those guys build a kind of wall of sound in front of you, a fog of audio, with a kind of techno beat lost in smoke. It's a vaporized sound. I really love their direction and their Olympians EP was very nice.

How much time do you find yourself spending in the studio each week?

I try to spend as much time as possible in the studio, but it's never enough. There are always other things to do. My dream is to be like a writer, and spend four or five hours every day locked in the studio, but I can't really do that, I don't know why. I'm a workaholic in short spurts—I'll go into the studio and work for three or four days and nights, then I'll stop, take a break, and go back to the studio a week or so later. So for me, it's three or four days on, then three or four days off.

I read in an interview that you said when you're in the studio you feel more like a "painter than a producer, mixing with colour and light, and experimenting with textures." Do you still feel that way even when you're not in the studio as much?

Yes, more than ever. I think that's the beauty of electronic music. I used to do a lot of painting when I was a student, and I even hesitated between pursuing a career in painting or music. Over the years, when I've been faced with electronic instruments, oscillators and all these kind of strange machines, it occurred to me that mixing colours and mixing audio frequencies is actually the same thing. You are a craftsman, you are a painter, mixing colours and textures. For me, electronic music is very close to abstract painting, which is all about textures, shapes, colours and contrasts. These days, I like mixing analogue synthesizers with pure digital elements. I think this combination is actually reflective of society itself, because we aren't analogue anymore, but we're also struggling to deal with being in a virtual, digital world. I think it's quite nice when you can mix both worlds.
Full interview can be found here >>
Held on October 28th, 2006. This is the full movie and some preparations of the day before. The goal of this meeting was to do an improvised electronic music concert like those of the Tangerine Dream in the seventies by some fans.
The Gasometer in Oberhausen is an unique location. The Oberhausen gasometer, the largest disc-type gas holder in Europe, is an industrial monument located in Oberhausen, Germany. It was constructed between 1927 and 1929. It has a long reverb because of its height 117.5 m (385 ft) and its diameter of 67.6 m (222 ft).
The three guys who performed this unique concert are:
Hajo Liese
Till Kopper
René van der Wouden
About a cute happy Korg MS family having good time together
Used gear:
– Korg MS-50
– Korg MS-20 (2x)
– Korg MS-10
– Korg VC-10
– Korg SQ-10
– Doepfer MSY-1
– Mackie Onyx 1620i
– Ableton Live
I'll update the description soon with some information on the setup
Enjoy!
The first of 3 short videos featuring a quartet of the up and coming MacBeth Micromac-D desktop analogue synthesizer.
"I called it The Sweep- two Micromac-D units having their filters swept in stereo! A third unit is doing the lead stuff- and the first one that you see/hear- effects….."
http://youtu.be/Y_K9RQKVUG0
Info on the OB-XA:
The OB-Xa is a massive analog synthesizer with a very familiar and classic Oberheim sound. Its sound, size and power are very similar to the Prophet 5 from Sequential. However this one has up to 8 voices which can be split, layered and stored!
The OB-Xa was available in four, six or eight voice polyphonic models. They all featured patch memories, also in varying degrees. A minimum of 32 patches were available on early models (4 banks of 8). The maximum amount of patch memory storage found on many OB-Xa's is 120 patch memories. All models of OB-Xa, however, featured the new Curtis chips which offered great stability for an analog synth and they are attributed to its great filters and sounds.
The OB-X was very similar to the OB-Xa except that its voices could not be split or layered and, more significantly, the OB-X had a lowpass-only discrete SEM 12dB/oct state variable filter, which had a great and classic Oberheim sound. The OB-Xa changed that in an attempt to economize manufacturing and increase stability by switching to CEM3320 Curtis chips for its filters. The Xa offered two switchable filter modes: 12 dB/oct (2-pole) or 24 dB/oct (4-pole). This hardware change resulted in a more agressive sound, not quite as creamy as the OBX original, but what still became a "bread and butter" sound of the Oberheim line.
Splitting the keyboard mode separates the OB-Xa into two 4-voice synths with two available patches. The Layer mode plays the two patches simultaneously. There are also some added effect sources, perfect for any analog polysynth, including portamento, unison, sample & hold, chord memory and three LFO's!
Single track twisting and turning of the Studio Electronics Boomstar 4075 – nothing too fancy as requested – for the sole purpose of getting to know the structural tonality and flexibility of this ARP-filtered SE synth.
Direct Boomstar audio out .wav file link: http://studioelectronics.com/assets/A…
A Deep House-inspired improvisation using Roland Juno-60, Korg M1, Roland TR-909
Vintage synthesizer demo track by RetroSound
"Games"
bass and sequencer sounds: ARP Odyssey Mk III Analog Synthesizer from the year 1980, sequenced by the SCI Pro-One internal step sequencer
all other sounds: Oberheim OB-Xa Analog Synthesizer from the year 1981
drums: Roland TR-707
recording: multi-track without midi
fx: a little bit delay and reverb
more info: http://www.retrosound.de