The first of 3 short videos featuring a quartet of the up and coming MacBeth Micromac-D desktop analogue synthesizer.
"I called it The Sweep- two Micromac-D units having their filters swept in stereo! A third unit is doing the lead stuff- and the first one that you see/hear- effects….."
http://youtu.be/Y_K9RQKVUG0
Info on the OB-XA:
The OB-Xa is a massive analog synthesizer with a very familiar and classic Oberheim sound. Its sound, size and power are very similar to the Prophet 5 from Sequential. However this one has up to 8 voices which can be split, layered and stored!
The OB-Xa was available in four, six or eight voice polyphonic models. They all featured patch memories, also in varying degrees. A minimum of 32 patches were available on early models (4 banks of 8). The maximum amount of patch memory storage found on many OB-Xa's is 120 patch memories. All models of OB-Xa, however, featured the new Curtis chips which offered great stability for an analog synth and they are attributed to its great filters and sounds.
The OB-X was very similar to the OB-Xa except that its voices could not be split or layered and, more significantly, the OB-X had a lowpass-only discrete SEM 12dB/oct state variable filter, which had a great and classic Oberheim sound. The OB-Xa changed that in an attempt to economize manufacturing and increase stability by switching to CEM3320 Curtis chips for its filters. The Xa offered two switchable filter modes: 12 dB/oct (2-pole) or 24 dB/oct (4-pole). This hardware change resulted in a more agressive sound, not quite as creamy as the OBX original, but what still became a "bread and butter" sound of the Oberheim line.
Splitting the keyboard mode separates the OB-Xa into two 4-voice synths with two available patches. The Layer mode plays the two patches simultaneously. There are also some added effect sources, perfect for any analog polysynth, including portamento, unison, sample & hold, chord memory and three LFO's!
Single track twisting and turning of the Studio Electronics Boomstar 4075 – nothing too fancy as requested – for the sole purpose of getting to know the structural tonality and flexibility of this ARP-filtered SE synth.
Direct Boomstar audio out .wav file link: http://studioelectronics.com/assets/A…
A Deep House-inspired improvisation using Roland Juno-60, Korg M1, Roland TR-909
Vintage synthesizer demo track by RetroSound
"Games"
bass and sequencer sounds: ARP Odyssey Mk III Analog Synthesizer from the year 1980, sequenced by the SCI Pro-One internal step sequencer
all other sounds: Oberheim OB-Xa Analog Synthesizer from the year 1981
drums: Roland TR-707
recording: multi-track without midi
fx: a little bit delay and reverb
more info: http://www.retrosound.de
Tara Busch explores the Swarmatron at NAMM
Dewanatron Swarmatron Controlled by Moog Voyager and MP-201
Time to sum up this years Winter NAMM show with a gallery of the 10 things that made this year's event so great. I guess there will be few surprises to those who regularly follow our web magazine or any other of our web mag colleagues in the msuic creation business either

Overall trends for this year include:
a. More vendors takes the route of Arturia's MiniBrute – analog, low price point, performance sized
b. Modular synths are hotter than ever, as well as the DIY micro synths
c. The controller / control surface segment is getting over crowded – who needs them all
d. Software retro clones of vintage classics has come to its peek
e. All analog synths are alive and kicking
f. All you can eat tablet instruments – iOS is all fed up, now vendors are looking to Android and other platforms
g. More innovation is needed in the DJ space
Here is Steelberry Clones' top 10 list!
1. Moog Sub Phatty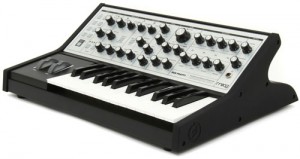 2. KORG MS-20 Mini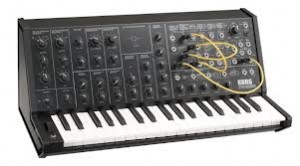 3. KORG KingKORG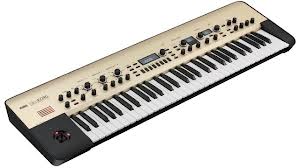 4. Arturia SparkLE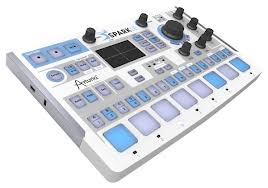 5. Dave Smith Instruments – Prophet 12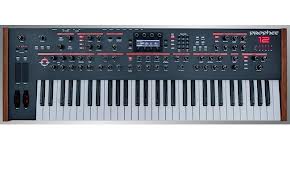 6. Roland V-Combo VR-09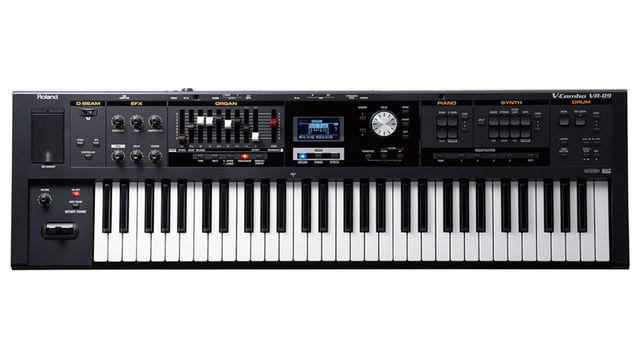 7. AKAI MAX49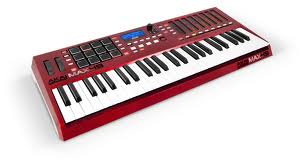 8. NORD Electro 4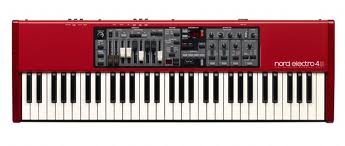 9. NUMARK Orbit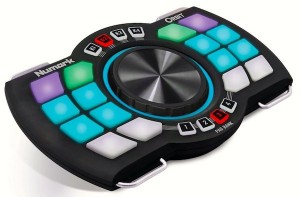 10. KOMA Elektronik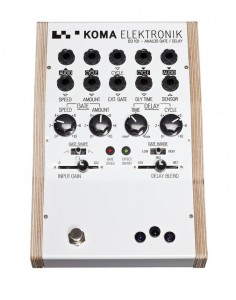 That's it for this year's NAMM show, next up is MusikMesse in Frankfurt.
Please leave your comments if you agree or disagree with the listing or if anything ought to be added. We know that we probably should have included some software products as well, but we might come back to that later in the week.
Leon Dewan demonstrates the Swarmatron at the Big City Music booth at NAMM 2013.
Akai AX73 Sounddemo (ohne externe Effekte)
Copyrights Volker Hein – 2013
Weitere Infos unter www.tastronauten.de
Crumar Bit One / Bit 99 Sounddemo (ohne externe Effekte)
Copyrights Volker Hein – 2012
Weitere Infos unter www.tastronauten.de
Going behind the scenes of the Moog factory to look at the Moog Slim Phatty, the Moog Little Phatty, and the Moog Guitar.