September 14, 2010 · Posted in
Uncategorized
·
Comments Off

on Well he is not a ninja after all…
Just "slightly" of topic, hehe, but I just had to share this with you: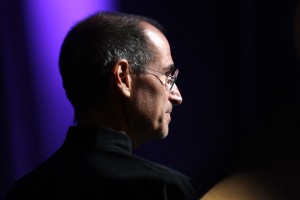 Apple this morning debunked a juicy rumor that Steve Jobs vowed never to visit Japan again after security guards forced him to throw away ninja stars that he attempted to carry onto his private jet.
The rumor was first published by Japanese tabloid SPA! Magazine and reiterated by Bloomberg, who quoted a spokesman confirming that a passenger was stopped at the end of July for carrying shuriken.
However, Apple in a statement suggested that the CEO is not a ninja after all.
"Steve did visit Japan this summer for a vacation in Kyoto, but the incidents described at the airport are pure fiction," Apple told All Things Digital. "Steve had a great time and hopes to visit Japan again soon."
July 5, 2010 · Posted in
Uncategorized
·
Comments Off

on Take a look at the Shiseido synth
"Shiseido @ Nordstrom, 2010, analog and digital synthesizers featured here. The sounds of the Shiseido synthesizer are featured, via a bank of two Apple Imacs running Supercollider and Imovie
February 17, 2010 · Posted in
Electronic Music
·
Comments Off

on Introducing Nanoloop for the iPhone
Hi sending this off from a busy tradeshow in Barcelona (Mobile World Congress)
Had a chance to play around with this little beauty yesterday evening

Nanoloop for iPhone (App Store link) combines sequencer, synthesizer and sampler in one package to bring vintage 8-bit Gameboy music goodnesss to the iPhone and iPod touch.
The app builds on Nanoloop for the Gameboy, but features a new software synth and features not possible on the Gameboy.
Features:
Six channels, each can be synth or sampler
Fast and easy to use stepsequencer
Synthesizer with envelope, filter, LFO and other parameters
Sample external audio or nanoloop's own sound output
Song editor with loop function
Save function
Works on 1st gen iPod touch and 2.2 software
Send and receive projects via e-mail, using the iPhone's / iPod's e-mail program
Details below.
Sequencer
The sequencer displays the pattern as a grid of 4 x 4 rectangles. Notes can be set, removed and edited just by tapping and swiping. This editing without mode-changes and the straight, generous layout ensure a smooth workflow.
Unlike the Game Boy versions, nanoloop for iPhone only allows to set pitch and one additional value step-wise in the sequencer. All other sound parameters are controlled channel-wide through the synth panel.
Synthesizer
The simple but powerful synthesizer allows to create a great bandwidth of sounds, including beats, noises, basses and pads. Available synthesis types are:
rectangular wave with filter
FM
LFSR noise generator
Rectangular wave and LFSR sound similar to the Game Boy's and other console's soundchips but offer more fine control and additional effects (lfo / envelope for pulse width or filter, simple phaser for noise).
The FM synth is the simple type with two sine wave oscillators, with fixed base frequency and variable modulator frequency. An envelope / LFO can be applied to modulation amplitude or frequency. For a sweeping spatial effect, the modulator can be slightly detuned, with inverted phase for left/right.
Each synth channel is two-voice polyphonic and a stereo effect can be applied.
Sampler
Samples of one second length @ 44 kHz, mono (or about 5.5 sec @ 8 kHz mono or 0.5 sec @ 44 kHz stereo) can not just be used in a drum-machine style, but also be pitched and played as notes.
Recording sources for samples are the built-in microphone (iPhone only), a headset microphone (iPhone, iPod touch 2nd gen only) and nanoloop's own sound output. The latter allows to create new samples from scratch, using up to five channels to create one single sound. Typical applications would be percussion (claps, snares etc), chords, arpeggio and microrhythmic / microtonal elements.
Share
With nanoloop for iPhone, you can send your saved projects to other nanoloop users via e-mail. If nanoloop is installed on the recipient's iPhone / iPod, she/he can simply tap on the file name in the received e-mail to start nanoloop and import the attached file so that it is available for editing. This makes collaboration very easy, multiple users around the world can work on the same project by simply e-mailing the file back and forth. This function may also be used to backup projects on a PC.
This does not mean that files are sent as audio, data are in the native nanoloop format which can be read only by nanoloop. An export function to wav or mp3 is planned for future versions.
February 11, 2010 · Posted in
Electronic Music
·
Comments Off

on First glimpse of the iHolophone
http://www.youtube.com/watch?v=Vbb_UQykYk4&feature=player_embedded
This is a sneak preview of Amidio's iHoloPhone – an unreleased new performance music instrument for iPhone, iPod Touch & iPad.
About Amidio:
Amidio Inc is a group of mobile music enthusiasts, founded by Toyo Bunko and Vlad Conan. We hire other people on a per-project basis, and always looking for other talented people that might join in at some point.
We're into developing of music programs since 2005. First, we were making custom VST synths, also experimenting with different gadgets and robots. We started developing for the iPhone in early spring of 2008, when one of us got an iPhone (jailbroken) and thought: "Hell, this could become a nice little synth!"
We are a very open company. At the bottom of the index page there's a full list of ways how you can reach us, no matter what issue/question/wish/dream you have. Or you can use the contact form, if you like.
February 10, 2010 · Posted in
Electronic Music
·
Comments Off

on The new Apple "banjo" synth
8BitWeapon has announced a new Apple II Digital Music Synthesizer:
The DMS is the only wavetable synthesizer for the Apple //e, IIc, and IIc+ computers that is suitable for performance use.
It supports up to 8 voices, which can be selected from the 10 on disk, and played (monophonically) from the Apple II keyboard. It can be used to "record" a performance for later playback as well. Also, the DMS doesn't require a monitor! Just turn on your Apple II and when the drive light goes off. Then hit the space bar you're ready to play live!
Sounds on disk are: Acoustic Piano, Vibraphone, Acoustic Guitar, Electric Bass, Trumpet, Clarinet, square wave, sawtooth wave, sine wave, and (for Bud Melvin)… Banjo!
Requirements: A2.DMS requires an Apple //e, IIc, IIc+, or IIgs computer with 80-column capability, at least one 5.25" floppy disk drive. Monitor is optional.
January 28, 2010 · Posted in
Electronic Music
·
Comments Off

on Apple launches iPad – of course I had to mention it :-)
Apple has introduced the iPad, a revolutionary device for browsing the web, reading and sending email, enjoying photos, watching videos, playing games, reading e-books, and much more.
Its high-resolution Multi-Touch display lets you interact with content — including 12 innovative new apps designed especially for iPad and almost all of the 140,000 apps available on the App Store.
At just 0.5 inches thick and 1.5 pounds, iPad is thinner and lighter than any laptop or notebook.
iPad will be available in March (Wi-Fi models, 3G models will be shipping in April) starting at $499 USD.
September 4, 2009 · Posted in
Electronic Music
·
Comments Off

on Apple on tour with Logic 9 – Pro Studio World Tour
As stated by Apple:
The tools of the trade. Now on tour.
The latest releases of Final Cut Studio and Logic Studio are loaded with tools designed to make video production and music creation easier and more intuitive than ever. Join us as Apple product experts dive deep into the groundbreaking new features of each software suite.
Meet the new Final Cut Studio.
With an expanded ProRes family, powerful new ways to collaborate, and even tighter integration between applications, the new Final Cut Studio is the ultimate post-production suite, allowing you to edit, animate, mix, grade, and deliver like never before. The Final Cut Studio session covers:
Final Cut Pro 7 — Do more, and do it faster, with new versions of ProRes, time-saving interface improvements, and easy collaboration tools.
Motion 4 — See how easy it is to add excitement to your motion graphics with dynamic 3D shadows, reflections, and depth-of-field effects, as well as new text tools and animations.
Soundtrack Pro 3 — Learn how to repair common audio problems in a few clicks, and work faster than ever using the new, streamlined navigation tools.
Final Cut workflow — Follow a project through post-production with the new Final Cut Studio and the new Final Cut Server. Edit in Final Cut Pro 7, add motion graphics with Motion 4, repair damaged audio using Soundtrack Pro 3, grade in Color 1.5, deliver with Compressor 3.5 — and manage your entire workflow with Final Cut Server 1.5.
Learn the ins and outs of the new Logic Studio.
The new Logic Studio includes over 200 new features that let you write, record, edit, mix, and perform your music. It also comes with the largest collection of software instruments, effect plug-ins, and Apple Loops ever packed into a single box. The Logic Studio session covers:
Logic Pro 9 — Explore everything you need to make great music even better with the most advanced creation and production tools in the industry.
MainStage 2 — Learn how to perform live with the same sounds, instruments, and effects you use in the studio, and see why your Mac is the best live rig you'll ever have.
Amp Designer and Pedalboard — Get an in-depth look at the huge collection of guitar gear these new plug-ins deliver, and see how easy it is to re-create realistic versions of the most iconic guitar tones.
Tour dates:
Pro Studio

World Tour 2009
Cities and Dates
June 28, 2009 · Posted in
Electronic Music
·
Comments Off

on Apple's corporate tune
A complete re-recording of the Apple corporate song (sans cheesy 80s lyrics). The keyboard featured is a Clavia Nord Lead 3. The original track appears heavily based on 'What a Feeling' from the musical Flashdance, with similar instrumentation, melody and singing style – Apple obviously wanted to reference or parody this.
[youtube=http://www.youtube.com/watch?v=ThosIwczZDA&feature=player_embedded]
April 6, 2009 · Posted in
Electronic Music
·
Comments Off

on Good news for iPod and iPhone lovers
audioMIDI.com and VirSyn have announced iSyn, a virtual music studio for the iPhone/iPod Touch.
iSyn features
Touch keyboard for live playing.
Eight drum pads- tap for live beats.
Two synth and one drum grid sequencer track.
Two fully-programmable three-oscillator virtual analog synths.
32 song projects, each with 32 independent patterns.
Incredible modulation effects using tilt and X/Y touch screen.
Eight sample-playback drum machines- including 808, 909, synth drums and classic 80's drum machines.
Effects generator with delay, chorus, flanger and phaser.
KEYBOARD PAGE
Pressing the "Live" button with track 1 or 2 selected lets you play the iSyn keyboard in real time. Transpose the keyboard range up and down with the arrows above the keyboard. Dragging your finger after notes are played lets you add slides and vibrato; dragging up and down adds mod parameters for extra expression!
DRUM PAD PAGE
Press the "Live" button while the "D" (drum)
track is selected and bang on the eight drum pads all day!
SEQUENCER GRID
Tap and drag to insert notes on the grid. The piano keyboard can be swiped up and down to transpose the note range.
PATTERN PAGE
Press the "Pattern" button to select from 32 user-programmable patterns. Each project contains its own separate set of 32 patterns. Use the "AUTO" button to automatically play patterns one after the other and create entire songs!
SOUND SELECT PAGE
Choose from 32 user-editable preset sounds.
PROJECT PAGE
Here you can choose a complete song to work on.
A "project" consists of sound settings for synth tracks 1 and 2,
drum track settings, effects setting and 32 patterns.
SYNTH EDIT PAGE
iSyn features two powerful virtual analog synthesizers with the same sound quality and editability of computer-based virtual instruments! Simply tap each "building block" to access in-depth editing parameters.
September 25, 2008 · Posted in
Electronic Music
·
Comments Off

on If you missed out on the latest version of the MAC SID player
You might have missed out on the new user interface which I have come to enjoy
SIDPLAY is a Commodore 64 music player. It emulates the sound chip and other internals of the Commodore 64 home computer to play back music that was originally written on it. The sound chip of the C64 is called the "Sound Interface Device" or SID, and therefore this music is known as SID music. The SID chip is basically a three voice synthesizer on a chip. The unusual combination of digital and analogue circuitry is the reason for its distinctive sound.
SIDPLAY strives to offer the best possible SID music experience on any platform. It has been designed with the High Voltage SID Collection (HVSC) in mind. This collection is the biggest and most complete collection of SID music on the Internet. It can be obtained for free from http://hvsc.c64.org/.