Teenage Engineering OP-1 meets Propellerheads Reason in a very short demo of the OP-1 / Reason control surface functionality.
Working with Reason 6.0.2, OP-1 OS #12234 and newer.
http://www.teenageengineering.com/
http://www.propellerheads.se/
http://youtu.be/VDdEMezZxek
And here's the background info:
SmithsonMartin Inc. has done it again. This time it's called Kontrol Surface 1974.
Launching at NAMM 2012, combine this amazing new controller with the Emulator Modular software and you have the most powerful midi controller on the planet!
Create your own custom multi-touch layouts for ANY midi software;
DJ
Traktor, Virtual DJ, Torq, Mixvibes, Ableton, Serato (with external mixer), ProDJ, MixMeister
Music Production
ProTools, Ableton, Reason, Kore, FL Studio, Sonar, Logic, Acid
Video
Resolume, Arkaos, Grand VJ, PCDJ, Virtual DJ, Serato, Modul8, Mixvibes VFX
Pro Audio
iLive, Cakewalk, ADK, Soundforge, Yamaha PM5D, Digidesign
Lighting
GrandMA, Lightjockey, ShowXpress, Venue Magic
First performance with QuNeo controlling sounds in Abelton Live. Pressure is mapped to repeat rate and X and Y control Filter and a Bit Crusher. Lotsa fun – we were fighting over who gets to go next.
Check out our KickStarter Page for more information: http://kck.st/taqBsn
QuNeo is a different species of pad controller for electronic musicians, DJs, VJs and DIY hackers. While it covers all of the functionality of other pad controllers, QuNeo adds the power of touch recognition in other dimensions.
Trigger Pads
16 square pads provide 127 levels of Velocity response. And X-Y location. And continuous pressure. For each pad. Times sixteen.
Rotary Sensors
2 rotary sensors allow you to scrub, trigger, stretch, pinch and play phrases and sound files, manipulate continuous controllers and more . Each rotary sensor measures angle, pressure and distance from the center.
Multi-touch Sliders
9 touch sensitive sliders can be mapped to fader and effects controls. LEDs within each slider act as VU meters or remind you where you were. Multi-touch lets you select a length between two fingers to set stereo locations or filter resonances. Tapping a slider can mute or toggle any track or function.
Switches
The switches are located in smart groupings to select samples, fader banks, and transport controls. Each of the switches can scan up and down through files at speeds variable with your touch. Great for quickly locating that perfect fill or telling your looper you really meant it.

Solid State Logic in Oxford, UK, releases new features for its Nucleus control surface. Nucleus users can now download dedicated DAW control profiles for Ableton Live and Propellerhead Reason, in addition to existing profiles for Pro Tools, Logic, Cubase/Nuendo, and any other DAW applications that support MCU or HUI.
SSL states that OS X Lion is now fully supported for Nucleus, with a revised Java-based Console Browser. The Nucleus soundcard now also supports 64-bit for Mac users.
Sam Counihan, International Sales Manager at Ableton AG, says, "This new template tightly connects the feature sets of both the Nucleus and Ableton Live. Live's unique and dynamic workflow is brought to life through the Nucleus' tactile worksurface, and is complimented by the console's high-end audio interface featuring the same SuperAnalogue technology as found in the company's flagship Duality and AWS consoles. In other words, bring a laptop with Ableton Live to any studio with an SSL rig and you're good to go."
This download contains the latest upgrades for the Nucleus console: Nucleus console software Version 1.5; Nucleus browser V. 1.06; Mac Soundcard driver V. 2.00.05; IpMIDI (latest versions for both Mac and PC).
Additional documentation is available via the Documentation tab on the Nucleus product page.
Registered Nucleus users with a serial number can download the upgrade bundle by clicking on the download link on the Downloads tab of the Nucleus product page.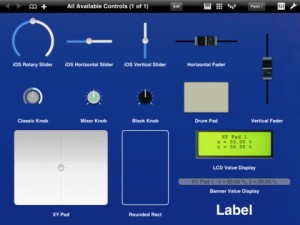 The app lets you create your own pages, or use the built-in MIDI keyboard (with Arpeggiator, modulation wheel, pitch wheel and accelerometer velocity), the built-in Pads controller (with customizable pads banks, accelerometer velocity, transposition, full velocity mode and repeat mode) or the 16 channels MIDI mixer (pan, volume and mute).
The page editor lets you create your own control pages. It contains some useful stuffs like pasteboard, undo manager, multi selection or z-order managment.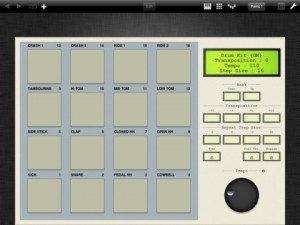 TB MIDI Stuff use CoreMidi : you can use any supported device, like the native WiFi driver or the camera connection kit with an external sound card. Each page can use a different CoreMidi driver.
Controls can use the iPad accelerometer as input (even faders and knobs), in each dimension (X, Y, Z or, for XY Pads, a mix of them).
The application library contains :
Rotary sliders
Horizontal sliders
Vertical sliders
Horizontal faders (with different colors)
Vertical faders (with different colors)
Mixer knobs (with different colors and flavors)
Drum Pads
XY Pads
Value displayers
Rounded rects
Labels
Each control can drive simultaneously multiple MIDI messages like Control Change messages (single 7bits and coarse/fine 14bits), RNP/NRPN messages (7 and 14bits), Pitch Bend messages, Program Changes messages, Note On/Off messages.
You can open up to 32 pages simultaneously. You can change pages with three fingers swipe gesture, manage the pages order, open multiple instances of the same page and change the MIDI Out driver or the MIDI Out channel (or both) without entering the editor for each instance.
Swipe shortcuts (1, 2 and 3 fingers) let you access quickly to the MIDI keyboard, the pads controller or the 16 channels mixer.
TB MIDI Stuff contains some demo pages and 7 pads banks. For the pads banks :
Default Bank
Drum Kit (GM)
Fifth
Major Chords
Minor Chords
Simple Chord Generator
Velocity
Blip Shaper Walkthrough
a) creating percussive patterns with monome b) shaping the individual sounds that make up the patterns with multitouch gestures c) recording touchscreen gestures as automation d) storing, duplicating and navigation patterns e) recording the resulting audio to a dynamic buffer f) manipulating the buffer with a multitouch cut-up approach g) visualizing everything with dual screens
more information at subcycle.org and arxi-creative.com
"Combining sophisticated, beautiful visualizations, elegant mode shifts that move from timbre to musical pattern, and two-dimensional and three-dimensional interactions, it's a complete visualization and interface for live re-composition."
The complete controller for Ableton Live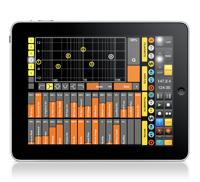 TouchAble version 1.3 was recently released, you can check the changes here >>
Key features:
• Clip Grid
• Mixer
• Devices
• Keys
• Pads
• XYZ-Pad
6 Modules to control every aspect of Ableton Live 8 wirelessly!
TouchAble App for iPad is available  through the iTunes App Store http://www.itunes.com/app/touchable
touchAble is an unique iPad app is the first application to give Ableton Live users full control over their digital audio workstation, without the tiresome process of manual midi-mapping. touchAble allows live users to walk away from their computer and perform live from anywhere within Wi-Fi range (using ad-hoc connection or router) while keeping latency at a minimum.
TouchAble App includes 6 advanced modules, Clip grid, Mixer, Devices, Pads, Keys, XY Pad, and 2 commands menu : clips and transport.
TouchAble provides a powerful, intuitive and reliable multitouch control solution for professional use.
TouchAble includes templates for lives plugins and is fully compatible with vsts, audiounits and instruments.
The new update, touchAble 1.3 contains over 30 new features and changes, such as a loop and beatjump section, enabling anything from CDJ style mixes to creative loop manipulation, a completely rebuilt mixer that allows users to modularly choose the controls they need – complemented by the long awaited crossfader. 3 new native templates have been added: Auto Filter, Ping Pong Delay & the very first Instrument – Impulse – and are waiting to be tweaked. The new Settings Menu not only offers a cascade of new control-options – but also simplifies the connection process by adding Bonjour support.
changes / new features:
Clips:
- added Loop menu to clip module. Do loops on the fly – on whole tracks or on already prepared loops. think Traktor looping – Keep loops that you like.
- added keep loop feature which allow you to save the new loop made as new clip.
- Added beatjump / loopjump menu to clip module. Do beatjump / loopjump of a set size in the currently playing clip of a track.
- track header buttons in the clip module now function as 'jump to active clip' buttons. For group-tracks they allow to fold and unfold the tracks.
Mixer:
Completely rebuilt mixer:
- added crossfader to mixer
- added A/B control to mixer
- added support for as many sends as you like + name of the send tracks are now displayed.
- added possibility to show as many faders at once as you like – and you can decide which!.
- added the possibility to control return tracks the same way you can control normal tracks
- added "+" mode to fullscreen for double length faders for precision tasks
- added snap mode to mixer
Drums:
- added velocity sensitivity mode to drum pads
Devices:
- Added Impulse native template
- Added Auto Filter native template
- Added Pingpong Delay native template
- Track Header buttons in the Device Selection View will switch Lives view to the device chain of the respective track.
XYPad:
- snapshots will be saved with saved templates of XY pad now
- after morphing / playing / stopping snapshots the dots will not be affected by gravity till touched
General:
- Added support for 4 iPads
- Added possibility to link several ipads and setting their relative positions.
- touchable will prefer a wired connection if available (MyWi etc)
- design & layout changes throughout the app
- added 16 tracks mode
- triple quick taps on relative faders will: bring the fader to max value if it is done on top of the fader, bring the fader to the exact middle value if you tap around the middle part, and bring the fader to 0 value if you tap on the bottom part.
- Finally touchable will connect via bonjour – tests show that almost no setup is needed to connect
New Settings: 
Clips:
Lock navigation in Clip grid – On / Off:
-If enabled, clips will start immediately after touching – but you won't be able to scroll in the clip grid
Slide Clips to launch in Nav Lock Mode – On / Off:
-Makes it possible to slide e.g. a row of clips in different tracks to start them
Devices:
Always Open Device View 8 – On / Off:
-If enabled, devices will always show the FX8 view instead of switching to FX32 for devices with more parameters.
Mixer:
Relative Crossfader – On / Off:
-same as relative faders elsewhere – just for the crossfader
Hide Mutes – On/Off:
-If enabled, mutes are hidden from the view.
Max Shown Controls for 2/4/8/16 tracks mode (0-8, 0 being disabled):
-You can set the maximum amount of controls shown per channel in each of the different sizes. When changing size the mixer will automatically show/hide faders depending on your preference.
General:
Link iPads – On / Off:
-
enables or disables automatic following of secondary ipads.
bugfixes:
- arm / exclusive arm fixed
- numerous fixes for smaller issues / crashes / performance improvements
TouchAble is supported by many professional musicians, performers, djs and composers around the world, who use touchAble on stage or in studio.
This is a video who explain how use virtual midi with NLog, MoDrum & BassLine. Virtual midi is very very COOL !!
NLog:
Professional Virtual Analogue Synthesizer supporting Core MIDI, WIST and interfaces from Akai, Alesis, Line6, IK Multimedia & others
::: Demo videos on YouTube channel nlogmusic ::: Check Mac & Audio Unit version in Mac App Store :::
Most versatile iOS synth with professional grade virtual analogue low latency sound engine:
- Play it from on-screen keyboard
- Use MIDI keyboards & controllers via MIDI interfaces
- Connect to your digital audio workstation via MIDI interfaces
- Play NLogSynth from other iOS apps like SoundPrism, polychord or Genome Sequencer via virtual Core MIDI
- Synchronize via Korg's WIST to other iOS devices running iElectribe, iMS20 or other WIST compatible apps
- Synchronize NLog to beat-oriented apps like MoDrum, Molten or Funkbox running on same device via virtual Core MIDI
- Share patches with NLog Audio Unit Mac version
- Make audio or MIDI recordings on the run and share your files
- Export patches & recordings to iTunes, SoundCloud, Email, WiFi, Beatmaker & Sonoma AudioCopy pasteboards
MoDrum – Synthesis-based Drum Machine for iOS
An 808 style percussion synthesizer that offers pure electronic drum sounds, plenty of editing capabilities, effects, audio sharing, and state of the art MIDI support.
Key Features
Ten real time operating synth modules (no sampled sounds are used): Bass Drum, Snare Drum, Low Tom (∗), Mid Tom (∗), High Tom (∗), Rim Shot, Cowbell (∗), Closed Hi-hat, Open Hi-hat, and Cymbal
Programmable sequencer with 32 steps and global accent pattern
Beat clock with tap tempo and rhythmic shuffle (swing)
MIDI Clock sync/generate, Note in/out (GM drum mapping)
Dotted 8th delay effect unit
Hard knee dynamic range compressor
Tube amp overdrive effect processor
Audio sharing via General Pasteboard, AudioCopy by Sonoma Wire Works, E-Mail or iTunes File Sharing
Universal support for iPod touch, iPhone and iPad
Background Audio/MIDI Processing
Including twenty patterns by DJ/producer Myagi (www.popandlockrecords.com)
eyoControl is a multi MIDI controller application for the iPad, including control surface and virtual instrument type controllers.