Jazz session with Jupiter-8, (split patch Bass/Xylo) and Motif-6: Vintage 74 Rhodes and Korg Emx preset drum pattern.
This song came about when searching for a random pattern on the drum machine that was completely different and out of the ordinary.
Synths used: Jupiter-8: Bass/Xylo split Motif-6: Rhodes Vintage 74
In this video:
New single from electronic/ambient act Bears in Nippon – Okinawa
Featuring vocoders, Moog synths, ARP, Jupiter8, Reason DAW, AKai and samplers.
Movie: Produced by BiN. We pay tribute to all these great animators who have contributed with material
Taken from the forthcoming album – Sapporo Love
All things analog and here among other things you will witness the Jupiter 8.
The Jupiter 8 was Roland's first truly professional analog synthesizer. The Jupiter 8 features 16 rich analog oscillators at 2 per voice, eight voice polyphony and easy programming! At eight voices you can get some pretty thick analog sounds. Easy and intuitive programming via front panel sliders, knobs and buttons for all your tweaking needs. The legacy of the Jupiter synthesizers is due to their unique voice architecture and design, creating sounds that were so unreal and amazing that they have to be heard! No other synths in the world can create analog sounds as cool and authentic as these.

The Jupiter 8 was the biggest and fattest of them all (Jupiters and Junos)! It was one of the first synths to allow its keyboard to be split and layered – it's eight voices of trance heaven! Cross-mod, oscillator sync, a great LFO and a classic arpeggiator are also on-board. There's also two killer resonant analog 24dB/oct filters with 2-pole and 4-pole settings as well as low- and high-pass filtering methods. Unfortunately for the earlier models, tuning was very unstable but that seemed to be resolved in later models. Unlike its smaller counterpart, the Jupiter 6, the Jup 8 does not feature MIDI, only Roland's DCB sync can be found on some models. However, MIDI retro-kit's are available from various companies. Patch presets can store keyboard splits, arpeggiator settings, voice assign mode, hold, portamento and modulation settings.
But you will also notice the fat sound of the TR808: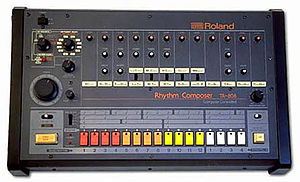 The Roland TR-808 Rhythm Composer was one of the first programmable drum machines ("TR" serving as an initialism for Transistor Rhythm). Introduced by the Roland Corporation in early 1980, it was originally manufactured for use as a tool for studio musicians to create demos. Like earlier Roland drum machines, it does not sound very much like a real drum kit. Indeed, because the TR-808 came out a few months after the Linn LM-1 (the first drum machine to use digital samples), professionals generally considered its sound inferior to sampling drum machines; a 1982 Keyboard Magazine review of the Linn Drum indirectly referred to the TR-808 as sounding like marching anteaters. However, the TR-808 cost US$1,000 upon its release, which was considerably more affordable than the US$5,000 LM-1.
Drum machines in general became an integral part of hip hop music as a cheap and simple way of producing a drum sound. The Roland TR-808 held specific appeal because of the ability of its bass drum sound to produce extremely low-frequency sounds.
In this video:
This video features a Jupiter-8 bass patch U: (21), slightly edited with Fc set to 6 with no resonance. this patch is in poly-1 mode, (half of JPs oscillators used). Also featured is the TR-808 with an original pattern programmed just before the recording. Both the Jupiter-8 and TR-808 are magic machines!
Kid Nepro has released the Jupiter-8V Collection, a collection of 100 new virtual analog patches for the Jupiter-8V by Arturia.
A hot mix of 100 new virtual analog patches that will kick start your Arturia Jupiter 8V.

The Arturia software has received great reviews for its sound quality compared to the original Jupiter-8 and adding our new sounds to the software package brings out it's best.
The Kid Nepro Jupiter 8V Collection is available as a download for $25 USD. All five Arturia V collections (500 sounds) are available in a bundle for $100 USD.
More information: Kid Nepro / Arturia Jupiter 8V Collection
Jupiter-8 background:
Roland released one of it's coolest (and heaviest) synths back in 1981 and produced about 2000 Jupiter-8′s before discontinuing them in 1985. The Jupiter was released a couple of years before the invention of the MIDI spec and did not have MIDI included, although later models had a DCB port which let you interface the Jupiter with computers, drum machines (like Roland classic TR808) and other midi synths. Roland produced the MD8 "DCB to Midi converter" which connected everything together. There were also a few third party midi retrofits that were produced from companies like Kenton which brought the Jupiter into the modern studio.
Compared to other analog synths manufactured during that time period, the Jupiter-8 is produced with a higher quality and built to last. Compared to the Curtis chips, used by Oberheim and Sequential, the failure rate of the Roland IR series IC's used in the JP-8, is very low and as a result many of the 2000 original units are still being used today by a wide range of keyboard players and producers. When an original Jupiter is offered for sale it still commands a hefty price and one in good condition can sell up to about $2000. US dollars.
Synth treat, just check the listing below:
Debukas plays Nitzer Ebb's "Join In The Chant". All live, apart from the choir.
Featuring Moog Prodigy, Roland SH-101/MC-202/TR-909/Jupiter 6/MSQ-700, Yamaha DX-7, Kawai XD-5, Akai MPC2000XL, WEM Copicat, Joemeek VC2, Drawmer 1960, API 512c/525, Zoom 1201, TC D-Two, Sennheiser 421
This me like

I Feel for You To…
http://www.youtube.com/watch?v=0JlPP8MuL0s
"How the track was put together:

The original Chakakhan version is extremely over produced, so it took me a while to get the same sort of result.

The machine drums at the start, which keeps on running throughout the whole track, was originally done using a DMX, Linn and TR808. All these can now perfectly be recreated inside Reel Machines by XLN-Audio.
I wasn't really pleased with Reel Machines initially, but having given it a second chance it's rather convincing and pleasant to work with.
After the rap intro Addictive Drums kick in, to put another layer of drums ontop and to give it a live feel, which I do with all my tracks.
My aim is always to find the middle between the original recording and a live feel.

I could have left Melle Mel rap out, unless I had the original isolated track, but no one has that luxury, so I did it myself.
Only then I realized how difficult that rap was. Not having an American accent and of course Melle's deeper voice makes it somewhat sound silly, but it's effective enough (I hope?).

A lot of Prophet-5 and Jupiter-8 was used, especially all the brass sounds.
The harmonica was another difficult thing to replicate.
I used a sample from my TR-Rack.
The Minimoog is completely unprocessed."
Shared by Geeljasjes