London's Vinyl Factory art gallery are putting on an exhibition of Kraftwerk's iconic 7" single covers.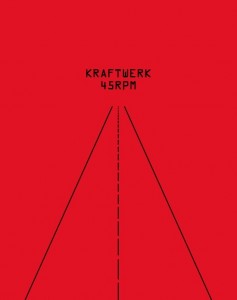 'Kraftwerk. 45 RPM' will run from September 13 to October 5, displaying 45 single covers and displaying the group's unique minimalist sleeve art.
The Chelsea gallery are also publishing a limited edition book of the exhibition, with a print run of only 300 copies, which will catalogue the covers, as well as including an essay by collector Toby Mott and an exclusive 7" single of a rare Kraftwerk interview.
To pre-order a copy of the book, you can visit the VF Editions website right here.
More about the book:
The Vinyl Factory and The Mott Collection are pleased to announce a new exhibition and commemorative book: Kraftwerk. 45 RPM. The exhibit consists of 45 iconic 7" Kraftwerk single covers that showcase the band's remarkable aesthetic – an analogue past dreaming of today's digital present. Limited to just 300 copies worldwide, the book documents 45 Kraftwerk singles from The Mott Collection, and includes an essay by collector Toby Mott and an exclusive 7" single of a rare Kraftwerk interview. During the mid-'70s, Germany's Kraftwerk established the sonic blueprint followed by an extraordinary number of artists in the decades to come. From the British new romantic movement to hip-hop to techno, the group's self-described "robot pop" – hypnotically minimal, obliquely rhythmic music performed solely via electronic means – resonates in virtually every new development to impact the contemporary pop scene of the late-20th century, and as pioneers of the electronic music form, their enduring influence cannot be overstated. Always ahead of the curve, Kraftwerk acknowledged that urban life was alienating yet celebrated the joys of modern technology. Their wistful melodies of contemporary reality were ironic but also a prediction of times to come. Now, as we sit and play with our iPhones, sharing picture messages, we are living in Kraftwerk's 'Pocket Calculator'.
As an introduction to METROLAND's forthcoming album "Mind the gap", you can now download the METROLAND single "The passenger" via iTunes, Amazon US, Amazon UK and Amazon DE.
Recommended to fans of KRAFTWERK, KOMPUTER and alike.
The EP features 3 tracks all especially edited for this single release – none of these versions appear on the album, so you are in for an exclusive treat.
Here's the tracklist:
01 The Passenger (7″ Version)
02 Inner City Transport (7″ Version)
03 The Passenger (12″ Backside Version)
METROLAND's debut album "Mind the gap" is available as CD/2CD via the Alfa Matrix webshop – pre-orders have been shipped out already but the album will only be officially available on September 7. The limited deluxe 2CD box edition of the album offers you an exclusive VIP audio pass to enjoy the sonic treasures hidden in Zone 2 of the "Mind The Gap" album reinterpreted by prestigious electronic artists in the likes of KOMPUTER, FRANCK KARTELL, KEEN K, NÖVÖ, STERNREKORDER, CELLULOIDE, SOPHIE WATKINS, DARANK, etc.
You can get the 3-track single here:
- iTunes link: http://buyth.at/iuud
- Amazon US link: http://buyth.at/a82uc
- Amazon UK link: http://buyth.at/al38p
- Amazon DE link: http://buyth.at/ahow
Order the full "Mind the gap" album directly at Alfa Matrix (free shipping worldwide):
- CD: http://www.alfa-matrix.com/shop_comments.php?id=2197_0_8_0_C
- 2CD: http://www.alfa-matrix.com/shop_comments.php?id=2198_0_8_0_C
for more info and audio clips, please visit my waldorf microwave webpage:
http://www.polynominal.com/site/studio/gear/synth/waldorf_microwave/microwave…
Nice Kraftwerk cover featuring the OTO Bisquit:
oto biscuit+electribe emx (only waveshaper fx)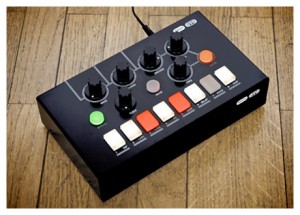 Add depth, texture and organic behavior to synths, basslines, drum machines and virtual instruments from computers with BISCUIT !
Using true 8-bit converters, digital processing and analog resonant filters, Biscuit opens up a wide range of sounds from harsh distortion, digital and aliasing artifacts to warm and fat 8-bit sounds.
Producers, deejays, musicians and sound lovers can use BISCUIT to extend their sound creation possibilties.
The Stylophone is a miniature analog stylus-operated synthesizer invented in 1967 by Brian Jarvis and going into production in 1968. It consists of a metal keyboard played by touching it with a stylus — each note being connected to a voltage-controlled oscillator via a different-value resistor – thus closing a circuit. The only other controls were a power switch and a vibrato control on the front panel beside the keyboard, and a tuning control on the rear. Some three million Stylophones were sold, mostly as children's toys.
The Stylophone was available in three variants: standard, bass and treble, the standard one being by far the most common. There was also a larger version called the 350S with more notes on the keyboard, various voices, a novel 'wah-wah' effect that was controlled by moving one's hand over a photo-sensor, and two styluses.
In the mid-70s a new model appeared which featured a fake wooden effect on the speaker panel, and, more importantly, a volume control. (Previous Stylophones had been infamous for being too loud in quiet situations). This was shortly before the Stylophone ceased production altogether in 1975.
Rolf Harris appeared for several years as the Stylophone's advertising spokesman in the United Kingdom, and appeared on many "play-along" records sold by the manufacturer.
To hear individual performances, click on the desired song/s at the end of this video.
Not completely new, but we seemed to have missed it:
An interview with the great man himself, taken from the documentary 'Totally Wired'. Dieter talks about the inspiration for the A100 series, his collaborations with Kraftwerk, and the future of modular. Unmissable!
'Totally Wired' is available on DVD from amazon.com
Background information:
In the studio working on a cover of Kraftwerk's "The Robots," which will be featured on the forthcoming Of Love and Robots EP. This (almost) all modular EP features covers of classics by Kraftwerk, Gary Numan / Tubeway Army, Giorgio Moroder, and more.
Sui Sibi Se Se – Of Love and Robots EP. Music for your self.
Some of weeks ago Karl Bartos toured a couple of cities in Sweden and Steelberry Clones, got an exclusive interview with the synth pop pioneer. Karl, being one of the four members of the classic Kraftwerk line-up and with several legendary compositions on his track record, i.e. Computer World, The Man Machine, Electric Café. To recap some of the more important activities it is worth mentioning that Karl founded the group Elektric Music in 1992, releasing the album Esperanto, and he have collaborations along the way with Bernad Sumner, Johnny Marr and Andy McCluskey. And since Steelberry Clones are in fact based out of Sweden it is worth mentioning his guest appearance with Swedish synthpop act Mobile Homes. After leaving Kraftwerk, some 25 years ago, the music that he and the rest of the band created is still a great inspirational source across numerous musical genres.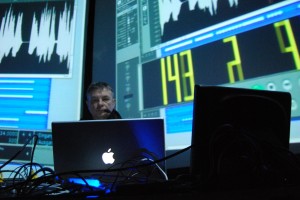 Karl has ventured into many different fields since the Kraftwerk days and has delivered highly acclaimed albums along the way, such as Communication – featuring such songs as "I'm the Message," "The Camera," and "Ultraviolet.
In awaiting his new album, due early next year, we wanted to dig a little deeper into the mind of Karl, by asking him about the music creation side of things.
The new album in the works
Karl is now producing a new album, but working in the studio is being like a scientist, tweaking and tuning – composing is the pleasure part! The production process involves starting with beta versions and then continues to work with the songs, improving them and making new versions – even though all twelve songs where set at demo stage. Here Karl adds a remark that stems from his German and Kraftwerk roots – "I go into the studio 8 hours every day". Producing your own work requires making final decision, fighting yourself.
Being a director and the use of computers
Composing is being like a director of drama – there are roles and dialogue. Making electronic music is like making and acoustic film. For Karl melody and harmony are key ingredients. And while composing the sound is and integral part of the composition. Working with synthesizers for more than thirty years Karl has built up a pallet of sounds in his head which he uses as basis while composing. Whilst there are infinite sound possibilities using electronic instruments – "there are so many sounds, I can't listen to all of them", only adding new sounds occasionally. Regarding electronic instruments Karl hasn't sold any of the his synthesizers and still prefers the old analogs. But just like computers – they are only tools. Like a craftsman that needs different screwdrivers but then he doesn't love them – "computers are just eating my time". Many musicians today turn to analog gear as they miss the tactile experience while creating but for Karl the important composing process is done in his head – not turning knobs or clicking on computers. That said the computers are used heavily during production of audio and video, sampling sounds.
Regarding computers, Computer World, the eights studio album to come out of the Kling Klang studio, in these Twitter days we can assume that all these sound bytes like "It's more fun to compute" would make efficient and highly acclaimed Twitter posts today

. However, what is more interesting to know is that at the time of the making of the Computer World album Karl and the others had never actually owned or used a computer themselves. "During the making of Computer World we had a closer look at those incredibly smart machines at the IBM affiliate in Düsseldorf". Remember that the PC was just launched and home computers was if not science fiction very exotic at the time.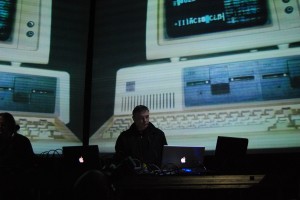 I robovox
The robot voices are a trademark of Bartos music and appears on all his albums where he uses both vocoders and synthetic made voices. They are used for the dramaturgic effect – as "the voice of technology it self, or like the voice God". The robot voices are then not him self singing and can be used just like the narrator in a film. The voice technology has advanced tremenously the last years with products like Antares Auto Tune, Melodyne, Vocaloid etc and they are used in numerous pop hits, but few has put them as permanent tool on their artistic palette.
Audio information : Kraftwerk's World Tour 1981
Live at Nagoya Shi Koukai Do, Nagoya, Japan, 13/09/1981
Read the full interview here >>
New interview with the remaining original member of Kraftwerk – where Ralf among other things let's know a new album is in the making and will be released soon:
Last week Ralf Hütter, the singer and founder of the pioneering German electronic band Kraftwerk, recalled the first time the band came to New York City: in 1975, for an American tour to promote "Autobahn," an unlikely hit sung in German and backed by electronics. The group members were carrying, he said, a few suitcases, some synthesizers in padded boxes they had built themselves and, for visuals, a slide projector.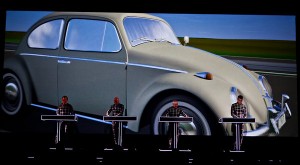 Things have changed. For Retrospective 1 2 3 4 5 6 7 8 at the Museum of Modern Art — eight sold-out concerts that conclude Tuesday, with Kraftwerk playing through each of its eight studio albums from 1974 to 2003 — Kraftwerk deploys 3-D video projectors that send images leaping forward from the stage, along with a custom surround-sound installation including overhead speakers and a sleekly concealed wall of woofers at the front of the stage. (A multimedia exhibition at MoMA PS1 continues through May 14.)
Yet after three-and-a-half decades of tech upgrades Kraftwerk probably sounds less futuristic than it did on first exposure. That's because Kraftwerk's future became pop's present. The group's avant-garde ideas — making music inseparable from new technology, building songs from synthetic sounds and electronic rhythms, using repetition and robotic voices — have taken over much of mainstream pop. Its deadpan lyrics about transportation, media and ubiquitous technology are still tersely prescient. Back when it made its 1981 album "Computer World," Kraftwerk didn't own computers. "It was all done on analog sequencers," Mr. Hütter said.
Kraftwerk, which bills itself as the Man-Machine, doesn't show its human side very often. Through the years the band has largely shunned pop's cult of personality. Onstage Kraftwerk's four members perform standing behind mysterious matching consoles, their faces impassive. The band members call themselves operators, not musicians; one of them, Stefan Pfaffe, actually operates videos, not sounds, from his console. (Mr. Hütter said he provides vocals and keyboard lines onstage, while Henning Schmitz controls bass lines and equalization, and Fritz Hilpert controls rhythms and percussive sounds.)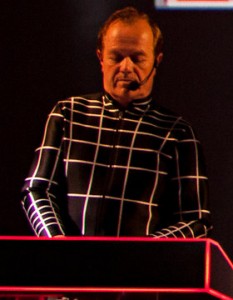 Offstage Kraftwerk rarely participates in promotion and publicity. But every once in a while Mr. Hütter, the band's sole remaining original member, grants an interview, as he did on Friday afternoon in an office at MoMA. He was accompanied and occasionally translated by the curator of the museum's events, Klaus Biesenbach.
Mr. Hütter, 65, is trim and energetic; he's a dedicated cyclist, regularly making 125-mile excursions. "You have to find your tempo," he said. He was sometimes affable, sometimes wary. He bristled at the suggestion that Kraftwerk had pop ambitions, although songs like "Autobahn" and "The Model" were international hits.
"We are fine when the idea comes to a clear statement," he said. "It could be short, it could be long. We also have structure that's very minimal, so it's not drama. It's more modular, minimal. It's components, it's conceptual. There's development, gradual. Whereas in classical music there is drama. That's not our thing."
Kraftwerk is usually translated as "power plant," but Mr. Hütter said the band's name can also be pulled apart for meanings: "kraft" is energy and dynamics, "werk" is simply work, or labor, and also (as "werke") an artist's oeuvre. Kraftwerk records on its own open-ended schedule; it hasn't released a new studio album since "Tour de France" in 2003. It has, however, been touring and frequently revamping its older songs with newer technology and ideas.
"Kraftwerk is a living organism," Mr. Hütter added. "Music is never finished. It starts again tomorrow. The record is just a record, but for us it's nearly boring. We like better the programs that we can operate with. So we are operating, we are upgrading, we are updating continuously. There's continuous reprogramming going on, and composition and new concepts are also coming."
Read the rest of the article here >>
Via: The New York Times
Music and art – I guess would be a fair description of this
Enjoy