Background video description of this very cuckoo Krfatwerk edition:
Here's an old favourite played solely on the new Stylophone S2, recorded on the OP1. The video shots are the actual performances.. no fake dubbing. (I had some trouble with the sync though. I'm hoping it's ok.)
Not really as we are used to see them

Kraftwerk – Kakteen, Wüste, Sonne 1971
(Instrumental)
(Cactus, desert, sun)
Nice work on the Volca Keys
volca keysを「音源モジュール」として使ってみました。曲はKraftwerk(クラフ
­トワーク)の The Robots(ロボット)です。
せっかくなのでボコーダーを使って歌ってみましたよ〜
記事URL:http://info.shimamura.co.jp/digital/s…
Digiland
島村楽器株式会社のデジタルガジェット情報配信サイト
http://info.shimamura.co.jp/digital/
Rough Googlish translation below:
I tried to use it as a "sound module" the volca keys. Song Kraftwerk (Clough
The Robots of the network) is a (robot).
The ~ I tried to sing with a vocoder so much trouble
Concert Live 1975.09.21 Croydon, UK
1- Kling klang
2- Tongebirge
3- Tanzmusik
4- Ruckzuck
5- Kometenmelodie 1
6- Die Sonne, Der Mond, Die Sterne
7- Kometenmelodie 2
8- Mitternacht
9- Autobahn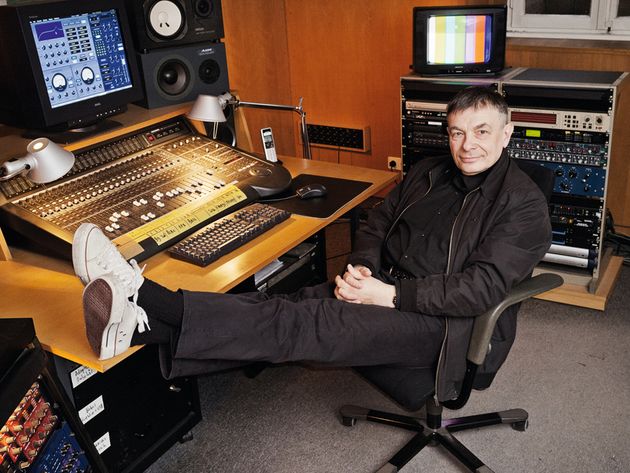 Here's a new interview with Karl Bartos where he discusses everything from vintage machines to his latest album:
Never meet your heroes, or so the old maxim goes, but FM is delighted to report that our recent encounter with bona fide Electronic music legend Karl Bartos put paid to the notion that meeting one's heroes is inevitably doomed to end in disappointment. In the flesh, Bartos is a charming, erudite man with a philosophical take on Electronic music that reflects itself in the pristine synthesized contours of the music contained on his latest LP, Off The Record.
From his time as a member of seminal German Electro Pop purveyors Kraftwerk, through his consequent Electrik Music project and collaborations with Bernard Sumner and Johnny Marr on their Electronic albums, Bartos has been a key figure in the synthesised music story. Off The Record, released in March, saw Bartos revisit his 'secret acoustic diary' of musical sketches and ideas built up during his Kraftwerk days and fashion them into an album that manages to simultaneously sound contemporary and timeless. With trademark vocoded vocals to the fore and his keen ear for a digital melody line still intact, we met with Bartos for a whistle-stop tour of the gear he employs to such stellar effect in his ergonomic Hamburg nerve centre.
How did you set about the Herculean task of trawling through your digital media archive to begin creating Off The Record?
"Well, I'm over it now but it was a hell of a job! There were tons of cassettes, 1/4″ tapes and various other stuff. I moved my archive when we went from Düsseldorf to Hamburg and there was boxes and boxes of it and various rooms full of it along with old synthesizers. I always avoided going through the archive to put things in order until Gunther from Bureau B [Bartos' German record label] said, 'Karl, do you have any old recordings?' I refused initially but finally gave in… I'd always wanted to do it, and knew I had to, but it took me several weeks and the sound quality was rotten with many tapes broken. Eventually, I managed to get most of it into the computer. I saw that everything was dated 1977, 1978, etc, and I thought, 'That's a diary. An acoustic diary.' So I made it a concept. You do that kind of thing but usually just inside your brain – you refer to the things you've done before. It's the way we organise our brains. I also had to write about the concept and where the songs came from."
Were you quite meticulous about correctly marking or naming ideas back in the days when you were building your archive?
"You do what you do. I'd come up with a name, 'Neon Piano' or whatever, and I'd sometimes write the date. Sometimes not. Most cassettes had a name or a date on them. I also found a lot of stuff on Zip and Jaz drives but even some of those were damaged or didn't work. Between all the different media I pretty much managed to retrieve everything eventually, though."
Were there a lot of nice surprises?
"It was all such a surprise and funny to hear a song I'd done without a trace of emotion sitting beside something like Computer World [Kraftwerk, 1981]. It made me feel a little sentimental at times. Once I had them in order, it was easy for me to collate and collage them."
Your first computer set-up was the IBM XT running Voyetra Plus sequencing software. That must have felt like going supersonic after using tape?
"It was a real revelation. We were recording Electric Café [Kraftwerk, 1986] at Kling Klang [the band's private studio originally located in Düsseldorf, Germany], then we took it over to Right Track Studio in New York where François Kevorkian and Fred Maher introduced me to the Voyetra Plus software he had running on a laptop.
The full interview from Music Radar can be found here >>
Whatever you do today – you must listen to this machine – awesome sounds !!!!
EKG Teaser!

…from Medic Modules
CV Out, Gate Out, Clock In, Clock Thru, Reset In.
Each step also has a unique Function control. Each step can be turned off, skipped, repeated or set as a reset point.
Proper video coming soon…
more info: http://www.medicmodules.com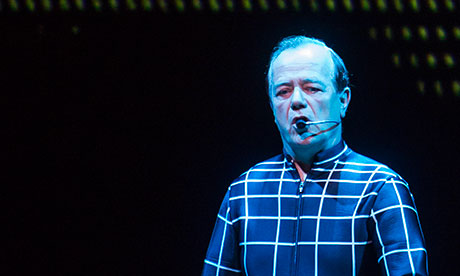 Ralf gave one of his rare interviews when on tour in Australia:
The Catalogue has been more than just a tour, though. Hütter also suggests that it's drawn a line under the band's past.
"Now this is done, one to eight," he smiles. "Now we can concentrate on number nine."
So the long-awaited – and much discussed – new Kraftwerk album, the first in a decade, is definitely on its way?
"Oh yes."
Is there a timeline? Hütter smiles broadly.
"Of course. It's music non stop!"
Excerpt from the interview: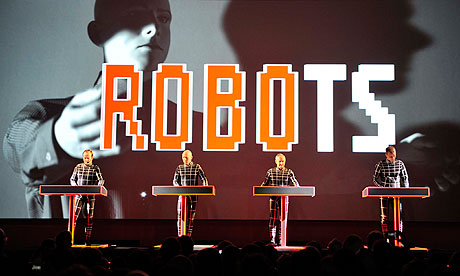 "Nowadays basically Kraftwerk is a space lab: we can land anywhere as long as we have the projectors and the screens." Ralf Hütter, Kraftwerk's co-founder and sole remaining original member, is welcoming me into his dressing room at the Sydney Opera House on the eve of the band's final two performances of their eight show series based around 2009's box set, The Catalogue.
It would be easy to assume that the man behind such cold, precise music would be standoffish in person, yet Hütter is a genial host. His eyes sparkle as he speaks, even as he pauses to find the exact right English word to explain his artistic philosophies. He also looks a good decade and a half younger than his 66 years – a testament to his band's long-time advocacy of cycling, which inspired the 2003 Tour de France Soundtracks.
Tour de France is the most recent album featured in both box set and show, which cover the bands eight album output. Performing in just a handful of other cities – New York, London, their hometown of Dusseldorf – each album, from 1974's Autobahn onwards, has been presented from start to finish and accompanied by with eye-popping 3D projections and surround sound. The response has been rapturous.
Background video description:
Most of my small keyboards are from Casio. But I do have a Collection of small Yamaha keyboards too. Here I use some of them to play the Classic Kraftwerk song "Computer Love".
You might notice that on the PC-100 keyboard the notes doesn't seem to match the keys I am playing. The reason is that I had to use the transpose knob to be able to get the notes as high as I wanted them. So on this particular keyboard I am playing in another key than on the others.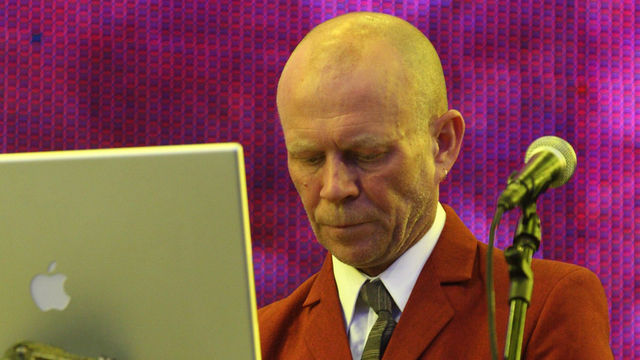 Historical interviews with the most famous electro musicians in the world have appeared in a new eBook.
The Electro Legend Interviews features interviews conducted over the past 20 years and taken from the archives of Computer Music and Future Music magazine.
Revealing their music-making techniques and inspirations are: Aphex Twin, Gary Numan, The Prodigy's Liam Howlett, Vince Clarke, Kraftwerk's Wolfgang Flür, Moby, Hot Chip, Alec Empire and Ultravox's Midge Ure.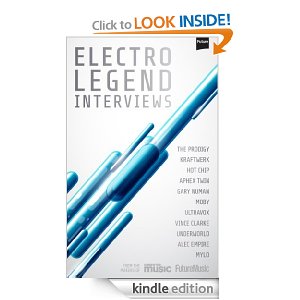 Available for just £2.99, the book sheds light on The Prodigy's place in the early rave scene, with Liam Howlett explaining in a 1993 interview that"When rave dies there are always going to be people who will still want to dance, so as long as we keep coming out with original songs we'll still be around…"
Meanwhile, Gary Numan discusses his classic Replicas album. Addressing the cover art, he says: "The character on the cover is called a Machman – he's looking out on the world, looking out at the park. Outside of the park, there's a man in a grey coat and a grey hat, which was a ghost I saw when I was much younger…"
Elsewhere reclusive genius Aphex Twin gives one of his only ever interviews. "If you plan to be good at anything, it has to happen using your own ideas. It's inevitable. It's exactly like natural selection," he muses.
Speaking exclusively about the early days of Kraftwerk, WolfgangFlür comments: "We were young, shy and childish! We loved to construct things and we never thought we would get famous from that."
The book also features Vince Clarke revealing his computer music-making secrets. "Once you've got the hang of the computer and the software," he says, "then you've still got to write the songs…"
And discussing the history of Ultravox, Midge Ure reveals that: "In those early days, a lot of musicians saw synths as electronic guitars. We just started going bang-bang-bang. Suddenly, you got this blast of unearthly noise and it changed the musical landscape."