Some of weeks ago Karl Bartos toured a couple of cities in Sweden and Steelberry Clones, got an exclusive interview with the synth pop pioneer. Karl, being one of the four members of the classic Kraftwerk line-up and with several legendary compositions on his track record, i.e. Computer World, The Man Machine, Electric Café. To recap some of the more important activities it is worth mentioning that Karl founded the group Elektric Music in 1992, releasing the album Esperanto, and he have collaborations along the way with Bernad Sumner, Johnny Marr and Andy McCluskey. And since Steelberry Clones are in fact based out of Sweden it is worth mentioning his guest appearance with Swedish synthpop act Mobile Homes. After leaving Kraftwerk, some 25 years ago, the music that he and the rest of the band created is still a great inspirational source across numerous musical genres.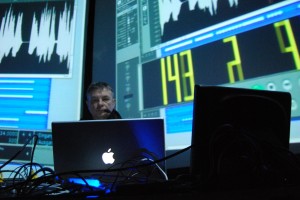 Karl has ventured into many different fields since the Kraftwerk days and has delivered highly acclaimed albums along the way, such as Communication – featuring such songs as "I'm the Message," "The Camera," and "Ultraviolet.
In awaiting his new album, due early next year, we wanted to dig a little deeper into the mind of Karl, by asking him about the music creation side of things.
The new album in the works
Karl is now producing a new album, but working in the studio is being like a scientist, tweaking and tuning – composing is the pleasure part! The production process involves starting with beta versions and then continues to work with the songs, improving them and making new versions – even though all twelve songs where set at demo stage. Here Karl adds a remark that stems from his German and Kraftwerk roots – "I go into the studio 8 hours every day". Producing your own work requires making final decision, fighting yourself.
Being a director and the use of computers
Composing is being like a director of drama – there are roles and dialogue. Making electronic music is like making and acoustic film. For Karl melody and harmony are key ingredients. And while composing the sound is and integral part of the composition. Working with synthesizers for more than thirty years Karl has built up a pallet of sounds in his head which he uses as basis while composing. Whilst there are infinite sound possibilities using electronic instruments – "there are so many sounds, I can't listen to all of them", only adding new sounds occasionally. Regarding electronic instruments Karl hasn't sold any of the his synthesizers and still prefers the old analogs. But just like computers – they are only tools. Like a craftsman that needs different screwdrivers but then he doesn't love them – "computers are just eating my time". Many musicians today turn to analog gear as they miss the tactile experience while creating but for Karl the important composing process is done in his head – not turning knobs or clicking on computers. That said the computers are used heavily during production of audio and video, sampling sounds.
Regarding computers, Computer World, the eights studio album to come out of the Kling Klang studio, in these Twitter days we can assume that all these sound bytes like "It's more fun to compute" would make efficient and highly acclaimed Twitter posts today

. However, what is more interesting to know is that at the time of the making of the Computer World album Karl and the others had never actually owned or used a computer themselves. "During the making of Computer World we had a closer look at those incredibly smart machines at the IBM affiliate in Düsseldorf". Remember that the PC was just launched and home computers was if not science fiction very exotic at the time.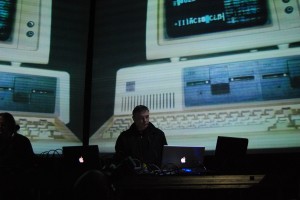 I robovox
The robot voices are a trademark of Bartos music and appears on all his albums where he uses both vocoders and synthetic made voices. They are used for the dramaturgic effect – as "the voice of technology it self, or like the voice God". The robot voices are then not him self singing and can be used just like the narrator in a film. The voice technology has advanced tremenously the last years with products like Antares Auto Tune, Melodyne, Vocaloid etc and they are used in numerous pop hits, but few has put them as permanent tool on their artistic palette.
Audio information : Kraftwerk's World Tour 1981
Live at Nagoya Shi Koukai Do, Nagoya, Japan, 13/09/1981
Read the full interview here >>
New interview with the remaining original member of Kraftwerk – where Ralf among other things let's know a new album is in the making and will be released soon:
Last week Ralf Hütter, the singer and founder of the pioneering German electronic band Kraftwerk, recalled the first time the band came to New York City: in 1975, for an American tour to promote "Autobahn," an unlikely hit sung in German and backed by electronics. The group members were carrying, he said, a few suitcases, some synthesizers in padded boxes they had built themselves and, for visuals, a slide projector.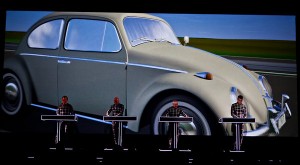 Things have changed. For Retrospective 1 2 3 4 5 6 7 8 at the Museum of Modern Art — eight sold-out concerts that conclude Tuesday, with Kraftwerk playing through each of its eight studio albums from 1974 to 2003 — Kraftwerk deploys 3-D video projectors that send images leaping forward from the stage, along with a custom surround-sound installation including overhead speakers and a sleekly concealed wall of woofers at the front of the stage. (A multimedia exhibition at MoMA PS1 continues through May 14.)
Yet after three-and-a-half decades of tech upgrades Kraftwerk probably sounds less futuristic than it did on first exposure. That's because Kraftwerk's future became pop's present. The group's avant-garde ideas — making music inseparable from new technology, building songs from synthetic sounds and electronic rhythms, using repetition and robotic voices — have taken over much of mainstream pop. Its deadpan lyrics about transportation, media and ubiquitous technology are still tersely prescient. Back when it made its 1981 album "Computer World," Kraftwerk didn't own computers. "It was all done on analog sequencers," Mr. Hütter said.
Kraftwerk, which bills itself as the Man-Machine, doesn't show its human side very often. Through the years the band has largely shunned pop's cult of personality. Onstage Kraftwerk's four members perform standing behind mysterious matching consoles, their faces impassive. The band members call themselves operators, not musicians; one of them, Stefan Pfaffe, actually operates videos, not sounds, from his console. (Mr. Hütter said he provides vocals and keyboard lines onstage, while Henning Schmitz controls bass lines and equalization, and Fritz Hilpert controls rhythms and percussive sounds.)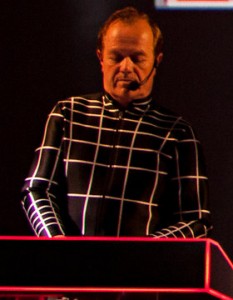 Offstage Kraftwerk rarely participates in promotion and publicity. But every once in a while Mr. Hütter, the band's sole remaining original member, grants an interview, as he did on Friday afternoon in an office at MoMA. He was accompanied and occasionally translated by the curator of the museum's events, Klaus Biesenbach.
Mr. Hütter, 65, is trim and energetic; he's a dedicated cyclist, regularly making 125-mile excursions. "You have to find your tempo," he said. He was sometimes affable, sometimes wary. He bristled at the suggestion that Kraftwerk had pop ambitions, although songs like "Autobahn" and "The Model" were international hits.
"We are fine when the idea comes to a clear statement," he said. "It could be short, it could be long. We also have structure that's very minimal, so it's not drama. It's more modular, minimal. It's components, it's conceptual. There's development, gradual. Whereas in classical music there is drama. That's not our thing."
Kraftwerk is usually translated as "power plant," but Mr. Hütter said the band's name can also be pulled apart for meanings: "kraft" is energy and dynamics, "werk" is simply work, or labor, and also (as "werke") an artist's oeuvre. Kraftwerk records on its own open-ended schedule; it hasn't released a new studio album since "Tour de France" in 2003. It has, however, been touring and frequently revamping its older songs with newer technology and ideas.
"Kraftwerk is a living organism," Mr. Hütter added. "Music is never finished. It starts again tomorrow. The record is just a record, but for us it's nearly boring. We like better the programs that we can operate with. So we are operating, we are upgrading, we are updating continuously. There's continuous reprogramming going on, and composition and new concepts are also coming."
Read the rest of the article here >>
Via: The New York Times
Music and art – I guess would be a fair description of this
Enjoy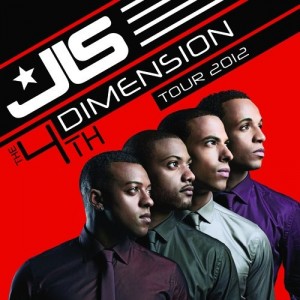 LOL

Advertising the JLS 4th Dimension tour, which sees the boys "fahren fahren fahren auf der M1″ to the Manchester MEN Arena, the Birmingham LG and London O2, bears a remarkable similarity the the artwork for Kraftwerk's classic 1978 album, The Man Machine.
And they are not the first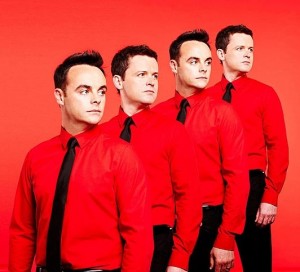 And here's the original of course: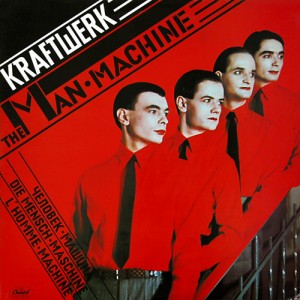 If you haven't got a ticket for the MoMa concerts in New York, here's a treat for you. Ruckzuck is not to be played at MoMa anyway…
Please note that the beats in the first half is the first time Kraftwerk put their toe in the electro water.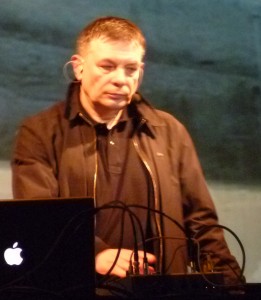 If you happen to be in Malmö tonight you have the opportunity to see Karl Bartos multimedia "Live Cinema" show. I attended this show in Stockholm the other night and had a great time. A lot of remixed Kraftwerk classics together with Karl Bartos solo work in a good mix. Mathias Black joins Karl on stage performing robot voices which adds to the live performance. Mr Bartos continues to develop his art combining music and visuals into a very powerful package making the message and experience strong as any commercial advertisement. Conceptual art in pop format!
Radioactivity (KRAFTWERK)
by RUBYORLA PLAYS TENORI-ON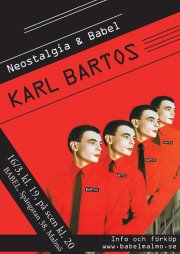 http://vimeo.com/37393905
Just in time for their new tour in the states that we have reported on earlier this week, this new video documentary appears. Mkae sure to check it out.
Enjoy

For fans of krautrock, drone, ambient, and electronic music, Kraftwerk and the Electronic Revolution is a fascinating history of how some of the most influential music of our times emerged from the boredom and hopelessness of 1960s Germany. The filmmakers take the subtitle of their movie very seriously, and they want to crawl back to find the Big Bang of cultural influences that would make something as innovative as Kraftwerk possible. It's not an unimportant question, since the ideas the electronic musical collective would establish in their 1970s output would influence everyone from glam rockers like David Bowie and Brian Eno to early hip-hop pioneers and New Wave bands like Duran Duran, and on into today, where techno and arty experimentalists like Radiohead still borrow from the German group's bag of tricks. Even wuss-rockers Coldplay lifted the hooks for their song "Talk" from "Computer Love," somehow achieving the impossible and proving one could actually be bigger nerds than the pasty originals, Florian Schneider and Ralf Hütter. And that Kraftwerk core duo likes to dress up as robots, so you know they're plenty nerdy.

Kraftwerk and the Electronic Revolution traces the rise of German music back to the influx of British bands that went to the European country to ply their trade in the early 1960s. (The Beatles most famously cut their teeth in Hamburg nightclubs.) At that point, German youth were looking to establish a new identity that embraced the freedom of the West and finally unshackled them from the shame of their country's past—much in the same way Pete Townshend has argued that British rock stood in direct defiance of an older generation in England who were always rubbing past glories in the faces of their children. Though German musicians initially copied their British idols, who themselves were copying African American blues musicians, eventually they would want something that was more in tune with their own experience. As Karl Bartos, one of two former Kraftwerk members to participate in this unauthorized film, put it, they knew they weren't from the Mississippi Delta, so why pretend they were?" – James S. Rich
Funny

Apparently the booking site was overloaded..
Kraftwerk will give a series of eight performances, each devoted to one of its albums, as part of a Museum of Modern Art retrospective of the electronic music pioneers in April, museum officials said. The performances during "Kraftwerk-Retrospective 1 2 3 4 5 6 7 8," on consecutive evenings starting April 10, will not only feature tracks from one of Kraftwerk's albums, but also other original compositions intended to showcase the group's influence on contemporary culture. Projected images, including 3-D ones, will accompany the music. The albums will be performed in chronological order, one each night, starting with "Autobahn" from 1974 and working up through "Tour de France" from 2003.
For more info: kraftwerk.com
Not even Hitler is left out:
Enjoy
In case you have not seen this series on Kraftwerk, make sure to check it out. It contains a lot of information on these synth pop pioneers