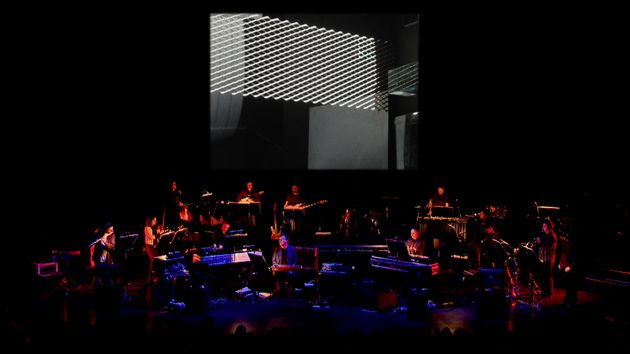 Ski Oakenfull breaks down one of the best known tracks from electronic music pioneers Kraftwerk. This deconstruction took place at Ableton's artists meet and greet at Sync Studios, Barcelona.
Buy the digitally remastered version of The Model from Beatport here: http://ow.ly/mqPYh
OR ITunes: http://ow.ly/mqPSe
The Quietus has a nice live report on their site featuring a recent gig by Kraftwerk, the first part can be found below, if you get inspired head over to the main article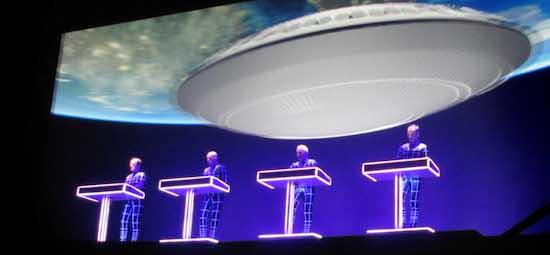 In opener 'Spacelab' an image of the Evoluon flies over the heads of the audience. To be honest, the UFO shaped building in the Dutch city of Eindhoven is appropriate for visuals that attempt to express the ultimate challenge of space: being infinite and yet ready to be explored. Incorporating the venue in the opening visuals of the show could easily be mistaken for something that is merely a nice touch; a credit to the remarkable place where the group are playing. Truth is, the Evoluon is the only place where Kraftwerk's music really makes sense.
Let's go back to the 50s, the decade of the Marshall Plan, which guaranteed the reconstruction of Europe. In 1952 The European Coal and Steel Community was created, the first step to the federation of Europe that was established after the Treaty of Rome in 1957. The Second World War seemed far away and despite the the Iron Curtain splitting Europe in half, the future looked bright. The optimism cumulated in the World Fair in 1958 (called Expo 58) in Brussels, the new capital of Europe. One of the most, perhaps the most, astonishing contribution was the Philips Pavilion, designed by Le Corbusier. The idea for the building came from Iannis Xenakis, specifically his composition 'Metastaseis'.
The pavilion turned out to be one of the first real multimedia installations. Within the building, which consists of nine hyperbolic paraboloids, Edgar Varèse's 'Poème Électronique' could be heard through speakers set into the walls. Rapidly changes images of technologic progress and the horrors of mankind were projected on the walls, creating a rich spectacle that the Canadian media theorist Marshall McLuhan would describe as an acoustic space: time and space disappearing in a non-linear story. At the entrance and exit Xenakis' 'Concret PH' was heard.
One of the 41 million visitors of the expo was Ralf Hütter, one of the founding members of Kraftwerk. The Philips Pavilion made quite an impression on the young Hütter, who was twelve at the time. It is not that difficult to the the connection between the naive belief in the future at the end of the 50s and the work of Kraftwerk MK II and MK III – the Kraftwerk of Autobahn, Radio-Aktivität, Trans Europa Express and the Kraftwerk of Die Mensch-Machine and Computerwelt. Although the music sounded astonishingly new and fresh, Kraftwerk was in fact trying to regenerate the future, thus the 50s.
http://youtu.be/dj-LJQyGjls
Tom Zimmerman created Project: Autobahn, a generative music system that creates music based on an automobile's control sensors.
Background video info below:
Tom Zimmerman is one of my favorite hacker/inventors. With over 40 patents awarded, Tom's the creator of the legendary virtual reality navigation device, the Data Glove, and has written a number of fun DIY projects for MAKE magazine. We invited Tom to participate in the Boing Boing Ingenuity: Data Driven hack day on August 17, 2013, and his creation, called Project: Autobahn, was awarded our coveted "Weirdest Hack" prize. He took home a gift basket from our friends at SpikenzieLabs, and a pair of Audeze audiophile headphones.
Project: Autobahn uses OpenXC data as MIDI data to compose and play Kraftwerkian music that matches the driver's behavior. As Tom says in the video, the style of music the car generates could be used to provide feedback to the driver on how safely and efficiently she or he is operating the vehicle.
Background video description of this very cuckoo Krfatwerk edition:
Here's an old favourite played solely on the new Stylophone S2, recorded on the OP1. The video shots are the actual performances.. no fake dubbing. (I had some trouble with the sync though. I'm hoping it's ok.)
Not really as we are used to see them

Kraftwerk – Kakteen, Wüste, Sonne 1971
(Instrumental)
(Cactus, desert, sun)
Nice work on the Volca Keys
volca keysを「音源モジュール」として使ってみました。曲はKraftwerk(クラフ
­トワーク)の The Robots(ロボット)です。
せっかくなのでボコーダーを使って歌ってみましたよ〜
記事URL:http://info.shimamura.co.jp/digital/s…
Digiland
島村楽器株式会社のデジタルガジェット情報配信サイト
http://info.shimamura.co.jp/digital/
Rough Googlish translation below:
I tried to use it as a "sound module" the volca keys. Song Kraftwerk (Clough
The Robots of the network) is a (robot).
The ~ I tried to sing with a vocoder so much trouble
Concert Live 1975.09.21 Croydon, UK
1- Kling klang
2- Tongebirge
3- Tanzmusik
4- Ruckzuck
5- Kometenmelodie 1
6- Die Sonne, Der Mond, Die Sterne
7- Kometenmelodie 2
8- Mitternacht
9- Autobahn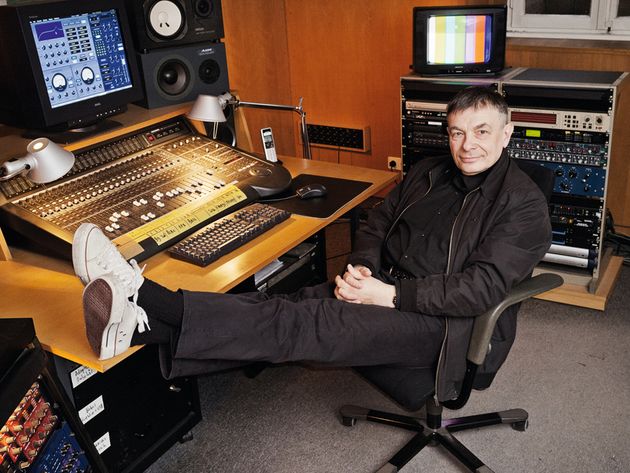 Here's a new interview with Karl Bartos where he discusses everything from vintage machines to his latest album:
Never meet your heroes, or so the old maxim goes, but FM is delighted to report that our recent encounter with bona fide Electronic music legend Karl Bartos put paid to the notion that meeting one's heroes is inevitably doomed to end in disappointment. In the flesh, Bartos is a charming, erudite man with a philosophical take on Electronic music that reflects itself in the pristine synthesized contours of the music contained on his latest LP, Off The Record.
From his time as a member of seminal German Electro Pop purveyors Kraftwerk, through his consequent Electrik Music project and collaborations with Bernard Sumner and Johnny Marr on their Electronic albums, Bartos has been a key figure in the synthesised music story. Off The Record, released in March, saw Bartos revisit his 'secret acoustic diary' of musical sketches and ideas built up during his Kraftwerk days and fashion them into an album that manages to simultaneously sound contemporary and timeless. With trademark vocoded vocals to the fore and his keen ear for a digital melody line still intact, we met with Bartos for a whistle-stop tour of the gear he employs to such stellar effect in his ergonomic Hamburg nerve centre.
How did you set about the Herculean task of trawling through your digital media archive to begin creating Off The Record?
"Well, I'm over it now but it was a hell of a job! There were tons of cassettes, 1/4″ tapes and various other stuff. I moved my archive when we went from Düsseldorf to Hamburg and there was boxes and boxes of it and various rooms full of it along with old synthesizers. I always avoided going through the archive to put things in order until Gunther from Bureau B [Bartos' German record label] said, 'Karl, do you have any old recordings?' I refused initially but finally gave in… I'd always wanted to do it, and knew I had to, but it took me several weeks and the sound quality was rotten with many tapes broken. Eventually, I managed to get most of it into the computer. I saw that everything was dated 1977, 1978, etc, and I thought, 'That's a diary. An acoustic diary.' So I made it a concept. You do that kind of thing but usually just inside your brain – you refer to the things you've done before. It's the way we organise our brains. I also had to write about the concept and where the songs came from."
Were you quite meticulous about correctly marking or naming ideas back in the days when you were building your archive?
"You do what you do. I'd come up with a name, 'Neon Piano' or whatever, and I'd sometimes write the date. Sometimes not. Most cassettes had a name or a date on them. I also found a lot of stuff on Zip and Jaz drives but even some of those were damaged or didn't work. Between all the different media I pretty much managed to retrieve everything eventually, though."
Were there a lot of nice surprises?
"It was all such a surprise and funny to hear a song I'd done without a trace of emotion sitting beside something like Computer World [Kraftwerk, 1981]. It made me feel a little sentimental at times. Once I had them in order, it was easy for me to collate and collage them."
Your first computer set-up was the IBM XT running Voyetra Plus sequencing software. That must have felt like going supersonic after using tape?
"It was a real revelation. We were recording Electric Café [Kraftwerk, 1986] at Kling Klang [the band's private studio originally located in Düsseldorf, Germany], then we took it over to Right Track Studio in New York where François Kevorkian and Fred Maher introduced me to the Voyetra Plus software he had running on a laptop.
The full interview from Music Radar can be found here >>