Cool video featuring a lot of blinking lights, blips and machines in action, enjoy

Korg EMX sequencing IPad Sunrizer for Pads, IPad also used to provide spacey effects with ModAxis app. Acid is on the FutureRetro Revolution.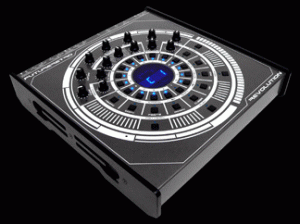 "The Revolution is our latest concept synthesizer with an intuitive interface that we feel most accurately represents the principles of time and music. From ancient sundials to modern day analog clocks, time has been represented as the circle, a cycle which never ends. Time itself is nothing more than our perception of the revolution of planets as they journey through their celestial orbit. It is this motion that we call time that can be measured, divided, and arranged to provide the foundation of music. This circular cyclic theme can furthermore be found throughout music in everything from song structure and repeating rhythms to the fundamentals of sound itself, being the sine wave. With this understanding we must conclude that music is cyclic and should so be represented in its natural form.
And so it is…the Revolution, a true analog monophonic synthesizer with an easy to use step-based digital sequencer, analog and DSP effects processing, and various interfacing for controlling MIDI, CV/Gate, and Din Sync devices.
Continuing in our tradition of building quality products, this unit is housed in a rugged aluminum chassis with aluminum side panels, a high contrast white on gun metal grey finish for superior viewing of controls in dark environments, and bright blue LEDs all around."
A live modular recording. Three CGS01 Harmonic Sequencer modules from Catgirl Synth were used to generate melodies automatically. This generative piece reminded me of the virtually unlimited species of creatures under the sea.
The video content was shot by Nick Hope and crew of bubblevision.com.
More about Catgirl synths here >>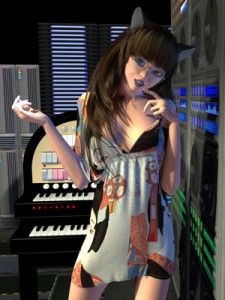 Live performance, Korg EMX is providing drums and sequencing the Snow, FutureRetro is providing the bass and sequencing the Sunrizer App.
Featured hardware:
The ELECTRIBE-MX is a major step up in power and quality from the original ElecTribe series of dance music sequencer/synthesizers from Korg. The EMX-1 comes in a sturdy metal chassis with larger back-lit LCD display, expanded memory, voices & multitimbrality, more real-time controllers and vacuum tubes! Effects, Motion Sequencing, and Pattern length have also been expanded. And a new ribbon controller and slider have been added, providing a remarkable realtime interface for accessing the powerful arpeggiator.
Starting with its synth engine, the EMX-1 uses MMT synthesis (Multi Modeling Technology) which offers sixteen different oscillator algorithms, providing powerful analog synthesis models as well as sophisticated additive, PCM, chord, unison, combination, wave shaping, formant models and more. The built-in PCM library includes 207 drum PCM sounds and 76 synth PCM sounds ready for immediate use, ranging from powerful kicks and snares through amazingly unique organic sounds. External audio signals can be manipulated using the Comb Filter oscillator algorithm, and then further processed by the internal filter and effects. The EMX-1 allows you to create up to nine drum parts, five synth parts, plus accent parts that let you add dynamic accents to the drum and synth parts (for a total of 16 parts). Each part features extensive LFO and EG modulation. Each algorithm of the synthesis engine has two realtime adjustable parameters, plus some other menu-based parameters like waveform type, or chord quality. The brand-new filter lets you chose Low Pass, High Pass, Band Pass or Band Pass Plus.
The two Vacuum tubes (Valve Force Circuitry) create an analog tube circuit to add warmth and presence to your sounds. The tube gain knob adjusts the level of the output signal passing through the vacuum tubes, creating dynamic sounds with the distinctive tonal quality that only tubes deliver. Three stereo effect processors are available for simultaneous use. Each part can be independently routed to any of the three effects processors, and you can even use the Chain function to link multiple effects in series. Each processor offers 16 effect types including reverb, delay, flanger and chorus, tempo-based delay, talking modulator, grain shifter, decimator and more. The edits you make to each of the effects processors can be saved with each pattern.
As for the sequencing capabilities, up to 256 patterns can be created and stored to the internal memory. The EMX-1 ships with 196 assorted patterns covering house, hip-hop, R&B, electronica, drum n bass, techno, trance and more. You can combine patterns, add mute data and knob movements to create up to 64 songs, the EMX-1 ships with 3 demo songs. Favorite patterns can be assigned to Pattern Sets for instant access. Data can be quickly saved and loaded via SmartMedia cards. Realtime recording lets you record phrases as you perform, and step recording allows you to input the timing, pitch and duration one note at a time. Motion Sequencing records your realtime knob tweaks and plays them back as part of the pattern. Two types of motion sequence are provided; one for effects and one for parts, and you can also edit the value of individual steps. Up to 24 motion sequences can be used in a single pattern, allowing you to control virtually every sound parameter. And, using Auto BPM detection, the EMX-1 can follow the tempo of an external audio source. You can also use Tap Tempo to input the beat, set the tempo internally, or sync up to an external MIDI clock.
Chris Jeffs has released a new synth for iOS called Monnix. This live performance synthesizer uses three points of touch to control the distribution of up to 16 harmonics, allowing for unique sound effects.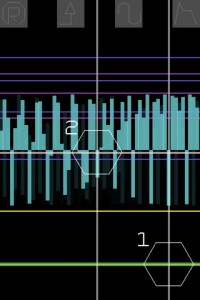 Features:
Monnix is a synthesizer app which can distribute up to 16 sine waves in various harmonic or inharmonic ways. There are 5 screens allowing performance, playback or synthesis patch editing.
Perform
Use up to 3 fingers to control the frequency and distribution of harmonics and the LFO parameters.
Replay
Any movements made in the Perform page are stored, and can be played back here.
Sample & Hold
Controls the sound as in the Perform page, but with the periodic freezing of the partials, according to the selected tempo.
Synthesis
Select the amount of FM or jitter applied to the synthesis, and the balance between odd and even harmonics.
Envelope / FM
Change the volume envelope and FM ratio
Movements can be played back in the Replay page and the pitch altered by tilting the device forward. The Sample & Hold screen freezes the partials according to the selected tempo. FM ratio, jitter and envelope parameters can be set in the remaining pages, allowing for a wide variety of sonic mayhem.
Available through iTunes. To learn more about Monnix's many features go to http://chrisjeffs.com/monnix/
"A Demo of my University Final Year Project titled "An Investigation Into Realtime Aleatoric Composition and Performance""
Aleatoric music (also aleatory music or chance music; from the Latin word alea, meaning "dice") is music in which some element of the composition is left to chance, and/or some primary element of a composed work's realization is left to the determination of its performer(s). The term is most often associated with procedures in which the chance element involves a relatively limited number of possibilities.
The term became known to European composers through lectures by acoustician Werner Meyer-Eppler at the Darmstadt International Summer Courses for New Music in the beginning of the 1950s. According to his definition, "a process is said to be aleatoric … if its course is determined in general but depends on chance in detail". Meyer-Eppler's German terms Aleatorik and aleatorisch, however, both mean "aleatory". By mistakenly rendering them, his translator inadvertently created a new English word, "aleatoric", which quickly became fashionable.
Necro Facility "Cuts" filmed at Musikens Hus in Göteborg/Sweden 2011.05.20. Music added from the CD "Wintermute".
http://www.progress-productions.com // http://facebook.com/ProgressPro
Music/Video mix by Stefan Aronsson
Judging from the UI it appears to be very straight forward and easy to use. Just load your samples and run. Question remains around audio quality and real time use, but if any of you have or will try it feel free to leave your thoughts on it.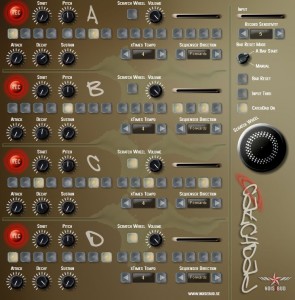 Live modular synthesizer.
Q960 sequencer for the bass line through a Oakley Super Diode Ladder Filter. Six voices comprised of nine oscillators and four VCF's. Additional filters included Grove Audio PM Resonator, Q127 Fixed Filter Bank, two Oakley Equinoxe phasers and a Cyndustries Quad Low Pass Gates. Three sequencers included Q960, Q119 and STG Mini-Stores. A Yusynth Random Gates selected triggering for the percussion sounds and the high drone voice. FX included a TC Electronics D-Two delay and Lexicon MX200.
I'm handling the Q960 skip/reset points and using a Q149 Signal Selector to route cv's for the pitch to the bass line with a Q123 Standards module for pitch/octave modulation. Almost everything else is automated and just faded in and out.
A live improvisation jam by The Mush Orchestra. Recorded at Copenhagen Noise Lab on the 13th of April 2011. No processing, just straight out of the mixer.
Equipment used:
Nord Modular G2, DIY midi-controller, Elektron Machinedrum UW, Korg Kaoss Pad 3 and a Mackie 1202 vlz3 mixer.
Every sound is made with the Nord Modular G2, the Machinedrum UW is only playing samples from it.
The Mush Orchestra is a project by Rasmus Nyåker who is also oone half of the ambient duo FEJLD. Their album is availible as a free download – more info at:
kufrec.com/​webshop.html
Mr Jones Machine feat. Susie: De månbleka tingen
Live @Fabriken i Stockholm 2011-04-02