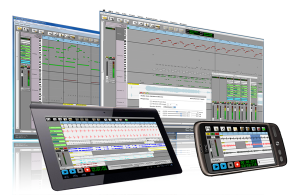 Audio Evolution Mobile for Android has been released! Multi-track audio with non-linear editing, mixing, real-time effects and much more is now available for your Android phone or tablet. Use as a stand-alone app or in combination with AE5 for Windows/OSX!
This first release includes
Multitrack audio playback
Audio recording (while playing back other tracks)
Import of wav, aiff, flac, Ogg/Vorbis audio files
Import of mp3 (requires an optional download due to patents on mp3 if applicable to your country)
Mastering to stereo file
Each track has controls for volume, panning, mute, solo, arm, 4-band EQ, 3 insert effects and output bus selection
Unlimited number of tracks (*)
Unlimited number of groups (*)
Real-time effects include: chorus, delay, dual delay, reverse delay, reverb, bandpass, highpass, lowpass, flanger, noisegate and tremolo (*)
Non-linear non-destructive editing with move, trim, split, cut/copy/paste, remove, range editing
Unlimited undo/redo for editing facilities
Several grid options for aligning your samples (with tempo and time signature settings)
Repeat samples with several options to create loops
Add markers and quickly jump to them
Load/Save projects including loading projects from Audio Evolution 5 projects
Buffer size preferences
(*) = depending on the speed of your hardware
Planned for next releases
Cross-fades
Metronome
Automation of most parameters
MIDI sequencing
Upload to SoundCloud
Your ideas are welcome!
…
Requirements
Android 2.2 or higher
800×480 screen resolution (both phones and tablets are supported if the resolution requirement is met)
University Assignment
Graphic & Digital Design
Brief: Design an app for a next generation smart phone.
Concept: A mobile version of the well known music composition software from 'Reason' by Propellerhead.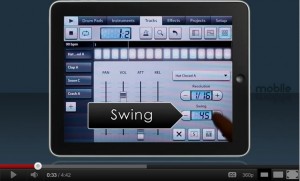 Here's a teaser from Image Line
Jamie Lidell performs an iMaschine exclusive version of "A Little Bit More" from the album Multiply (2005, Warp) while relaxing in bed.
More info about iMaschine: http://www.native-instruments.com/imaschine
More info about Jamie Lidell: http://www.jamielidell.com
More info about "Multiply": http://bit.ly/pjpoBX
Here's a another video by Jamie:
Here lies the second music video from Jamie's recently released album Compass.
Directed by Lindsey Rome.
This tutorial explains how to record short one-shot samples to the pads,
and how to record a longer vocal loop using the built-in audio recorder
mode.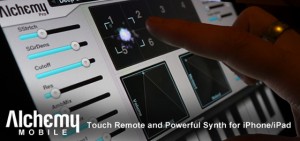 Mobile includes everything from evolving soundscapes and fat bases to lush pads and pulsing arpeggios, and is available for free from the iTunes App store. This is the iOS version of Camel Audio's award-winning Mac/PC Alchemy synth – the leading sample manipulation synthesizer which can be heard on thousands of records and films by world-class artists. With the Pro Upgrade, you can remotely control Alchemy or the free Alchemy Player on your desktop computer. This is the first iPhone App to offer a dedicated touch remote feature for a desktop synth! Easy one touch access to the remix pad and preset selection means you'll spend more time getting inspired and less time reaching for your mouse.
Alchemy Mobile Free features
Remix pad to morph between sound variations and create your own sound.
16 performance controls so you can easily tweak sounds to fit your music.
Most powerful iOS synthesis engine with VA, sampler, granular and additive resynthesis.
External MIDI keyboard support.
Loop player with 25 drum loops included.
Copy and paste support for easy integration with sequencers.
iPad native version included.
Built in keyboard with scalable keys.
One touch major and minor chords.
25 sounds with 25 more free when you register.
Add on sound libraries available as in-app purchases.
Alchemy Mobile Pro features
Remote control of Alchemy or free Alchemy Player on your desktop computer.
Free download of Mobile version (if available) of desktop sound libraries you own.
125 sounds.
50 loops.
Alchemy Mobile Free is now available for iPhone/iPad. The Alchemy Mobile Pro Upgrade is available for iPhone/iPad for $19.99 USD / 15.99 EUR / £13.99 GBP. The Pro Upgrade is available as in-app purchase from the free version.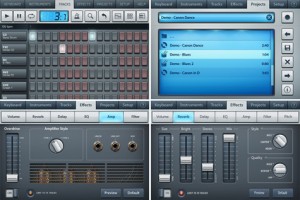 Image Line has announced an update to FL Studio Mobile – its virtual studio for iOS.
Here's what's new in FL Studio Mobile 1.1:
User instruments can be created from .instr and .zip files.
Support for Sonoma AudioCopy.
Clipboard in the bar editor: tap and hold a selection to see the copy and paste buttons.
Filter track editing in the bar editor.
Record button in the Filter screen.
Piano-roll editor: pitch-bend is visualized with curved lines.
Heavy Mute: tuning improved.
Bug fixes and usability improvements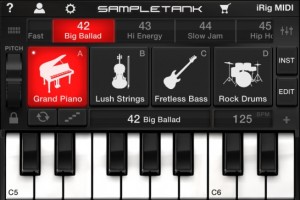 IK Multimedia has introduced SampleTank for IOS – the mobile version of IK's SampleTank for Mac and PC.
It is a 4-part multi-timbral instrument with a sound set of over 1 GB of samples for over 500 acoustic, electric and electronic instruments (including a selection of the workstation sounds from SampleTank, orchestral sounds from Miroslav Philharmonik and synths sounds from SampleMoog) plus a selection of over 1,000 melodic and rhythmic patterns that span every musical genre.
SampleTank includes 20 insert effects that can be applied to each individual instrument (up to 4 insert effects per part). These effects continue in the IK tradition started by T-RackS and AmpliTube by providing the best models of classic and modern analog and digital outboard gear: AM Modulation, Auto Pan, Channel Strip, Chorus, Compressor, Crusher, Filter, Flanger, FM Modulation, Guitar Amp, Lo-Fi, Multi Chorus, Overdrive, Parametric EQ, Phaser, Phonograph, Rotary Speaker, Slicer, Tremolo and Wah Wah.
SampleTank also includes a master send effect for applying reverb or delay to all of your instruments. Choose from Delay, Reverb, Reverb Delay and Spring Reverb.
Features:
4-part multi-timbral live sound module
1GB on-board sound library with 500 instruments in 20 categories
Huge selection of melodic and rhythmic patterns for accompaniment or groove creation
Choose from 20 insert FX with 4 available insert FX per part
Master send effect for reverb and delay
Easy-to-use, intuitive mobile interface
Dedicated performance and editing windows
Designed in concert with iRig MIDI interface for iOS devices
Compatibility:
Compatible with iPhone 4, iPhone 3GS, iPod touch 4th and 3rg generation, iPad 2 and iPad
Compatible with iOS 4.2 and newer
SampleTank for iOS is 'coming soon' and will sell for $69.99. A free version has also been announced.
€54.99
FL Studio Mobile will allow you to create complete multi-track projects on your iPod, iPhone or iPad and, if you want, load mobile projects into FL Studio and take them to the next level.
Download the instruments made here – http://forum.image-line.com/viewtopic.php?p=567885#p567885

FL Studio Mobile – http://www.flstudiomobile.com

Video tutorial playlist – http://www.youtube.com/playlist?p=PL60A6ABB92691D0FF

FL Studio Mobile for the iPod Touch, iPhone and iPad. Tutorial on getting started.

If you want, load mobile projects into FL Studio and take them to the next level.

FL Studio Mobile available from the App store.

More info – http://support.image-line.com/knowledgebase/base.php?id=85

Yes the hand is inside the iPad. With proper training and diet it is possible to fit the FL Studio Guru INSIDE an iPad.
Just a quick example of how to play different sounds at the same time on FL Studio Mobile HD for iPad. Two MIDI controllers, 01 MIDIxMIDI cable, 01 MIDI x USB interface and the Camera Connection Kit. Works really nice for playing live.
There is another app running in the background (SunVox) receiving MIDI data at channel 09. So it is possible to create layers using two apps, or playing different apps at the same time with different MIDI channels.
It is just the first step for using the iPad like MainStage or BrainSpawn Forte.
More about Mobile Music and MusicApps at htp://musicapps.com.br