A quick first impression video of FL Studio v2.0 featuring audio tracks, Dropbox file management, and Virtual MIDI. If you're already familiar with Xewton's Music Studio, this demo will look pretty familiar…
ImageLine continues on their quest of delivering short teasers on their upcoming release, without any further details
More info here – http://www.image-line.com/documents/flstudiomobile.html
http://youtu.be/gE2cBQH3l3c
More info here – http://www.image-line.com/documents/flstudiomobile.html (to be honest there isn´t much more additional info on this link, hehe, so stay tuned for more updates on FL Studio Mobile 2 right here at SBC)
FL Studio Mobile will allow you to create complete multi-track projects on your iPod, iPhone or iPad and, if you want, load mobile projects into FL Studio and take them to the next level. If it's a beat on the step sequencer, a melody on the piano roll or a full song on the playlist, FL Studio Mobile has you covered.
The Tabletop guys are having fun on their Mobile Music Meetup
"This was our second Mobile Music Meetup. Carson Day played his semi analogue set, Ami L looped live and Jordan was the main DJ. We also had Keisuke showing us his VJ set all night long. It was a great evening and fun to see the mobile music community growing."
Video details below:
http://www.pointblankonline.net/ In the next 3 episodes in our 'Making Music with Apps' series Danny J Lewis shows you how you can put together professional sounding tracks on the move. In this tutorial he starts off with the beatmaking using Native Instrument's iMaschine.
This approach is all about making the most of the unique qualities of each app and recording the results into Ableton as audio clips. The advantage is that you are committing the sound that you have made to audio so there is no temptation to endlessly fiddle with the synth parameters or the intricacies of the midi patterns and you can get on with the task of arranging the parts to make that banging tune that your 8 bar loop had promised!
Go to: http://www.pointblankonline.net/courses/ableton-live-courses.php to find out how you can learn more about using Ableton Live as a recording tool. Please get in touch with our course advisors at advice@pointblankonline.net if you want to find out more.
Background information:
welcome to my house/mobile studio! just giving her a test jam out!

hope you enjoy! Everything played live and fully improvised, no sequencing or loops were used.
http://www.noisyvagabond.com
A concert DJ'd using a BlackBerry PlayBook app named Pacemaker. Incredible power from a great little tablet paired with an awesome app.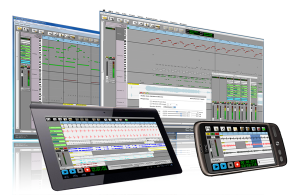 Audio Evolution Mobile for Android has been released! Multi-track audio with non-linear editing, mixing, real-time effects and much more is now available for your Android phone or tablet. Use as a stand-alone app or in combination with AE5 for Windows/OSX!
This first release includes
Multitrack audio playback
Audio recording (while playing back other tracks)
Import of wav, aiff, flac, Ogg/Vorbis audio files
Import of mp3 (requires an optional download due to patents on mp3 if applicable to your country)
Mastering to stereo file
Each track has controls for volume, panning, mute, solo, arm, 4-band EQ, 3 insert effects and output bus selection
Unlimited number of tracks (*)
Unlimited number of groups (*)
Real-time effects include: chorus, delay, dual delay, reverse delay, reverb, bandpass, highpass, lowpass, flanger, noisegate and tremolo (*)
Non-linear non-destructive editing with move, trim, split, cut/copy/paste, remove, range editing
Unlimited undo/redo for editing facilities
Several grid options for aligning your samples (with tempo and time signature settings)
Repeat samples with several options to create loops
Add markers and quickly jump to them
Load/Save projects including loading projects from Audio Evolution 5 projects
Buffer size preferences
(*) = depending on the speed of your hardware
Planned for next releases
Cross-fades
Metronome
Automation of most parameters
MIDI sequencing
Upload to SoundCloud
Your ideas are welcome!
…
Requirements
Android 2.2 or higher
800×480 screen resolution (both phones and tablets are supported if the resolution requirement is met)
University Assignment
Graphic & Digital Design
Brief: Design an app for a next generation smart phone.
Concept: A mobile version of the well known music composition software from 'Reason' by Propellerhead.