So here are some quite unexpected news from Steinberg – Cubase goes mobile: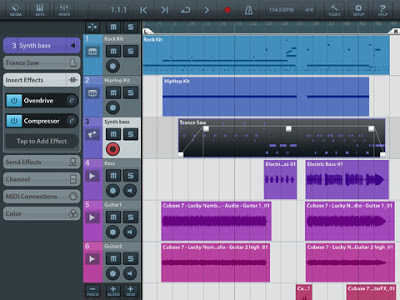 Portable Music Production System Cubasis is Steinberg's streamlined, multitouch sequencer for the iPad. Specially designed for quick and easy operation, Cubasis makes recording, editing and mixing a breeze. Record tracks in CD audio quality, and edit your music with the Key and Sample Editors, while the included mixer and audio effects polish your song to perfection. Cubasis comes loaded with dozens of virtual instrument sounds which can be played in real time using the virtual keyboard and drum pads. Cubasis' projects can be even opened in Cubase under Windows and OS X! Cubasis places touch-intuitive production tools in your hands, opening up a new world of possibilities for your creativity.
Key features
Unlimited audio and MIDI tracks (depends on the device used)
Over 70 virtual instrument sounds based on HALion Sonic
MixConsole with over 10 effect processors
Over 300 MIDI and audio loops
Virtual keyboard and virtual drum pads
Sample Editor and Key Editor
Export projects to Cubase, Dropbox, SoundCloud, AudioCopy and email
Core Audio and Core MIDI compatible hardware supported
Sequence other CoreMIDI apps (MIDI recording only) and run Cubasis simultaneously via background audio
Audio import from iTunes music library, AudioPaste, Wi-Fi server and iTunes file sharing
Audio mixdown and MIDI export
Polyphony:
48 voices: iPad 2, iPad mini
64 voices: iPad 3, iPad 4
Project export to Cubase requires Cubase 7/6.5, Cubase Artist 7/6.5, Cubase LE AI Elements 6 or higherCubasis project importer extension must be installed and is available at http://www.steinberg.net/cubasisimporter
Cubasis is priced at $49.99.
Win8ChucKBasicFrettingAndLegato Wi Fi, details below:
I got basic fretting (loose fretting… it won't completely prevent quartertones, etc if you play them exactly), and legato rules. I am back to the ChucK engine while I get better acquainted with SuperCollider coding. This is just a Windows 8 based OSC controller. It works running into ChucK or SuperCollider
A brief video of part of the demo from tonight's demo of audiobus.
What's the difference between Audiobus and Virtual MIDI?
Virtual MIDI is a local communications channel for passing around MIDI messages like "C# 1, Velocity 127", or "Modulation, 50" – simple messages that control how a synthesizer should generate audio. Audiobus is a communications channel for sending live audio, like the audible output of a synthesizer app, or the output of a guitar amp effects app, for example.
More info here – http://www.image-line.com/documents/news.php?entry_id=1348098765&title=fl…
Features include:
Audio tracks – Import WAV/MP3/AAC/AudioPaste & iPod library.
Wave editor – Cut, trim, normalize, reverse, fade in/out
Multi-tracking – Up to 8 track simultaneous recording
FL Studio Mobile HD – Now a Universal App
iPad retina display – Supported
Dropbox – Export to Dropbox. Import from Dropbox App.
Library – Amped Guitar & Bass pack in the shop
ZIP – Export improved to include all custom instruments, audio recordings and the project
NOTE: To load an FL Mobile 2 projects in FL Studio for Windows you will need FL Studio 10.8 or higher. In addition to use the Amped expansion you will need to delete the existing FL Mobile Samples folder, from the Shared Data folder (C:\Program Files\Image-Line\Shared\Data\FL Mobile Samples) then re-download it from the content library.
Where's ANDROID will it EVER happen?! Yes. see here…
http://www.youtube.com/watch?v=6kPX5xTPRKU&feature=plcp
A quick first impression video of FL Studio v2.0 featuring audio tracks, Dropbox file management, and Virtual MIDI. If you're already familiar with Xewton's Music Studio, this demo will look pretty familiar…
ImageLine continues on their quest of delivering short teasers on their upcoming release, without any further details
More info here – http://www.image-line.com/documents/flstudiomobile.html
http://youtu.be/gE2cBQH3l3c
More info here – http://www.image-line.com/documents/flstudiomobile.html (to be honest there isn´t much more additional info on this link, hehe, so stay tuned for more updates on FL Studio Mobile 2 right here at SBC)
FL Studio Mobile will allow you to create complete multi-track projects on your iPod, iPhone or iPad and, if you want, load mobile projects into FL Studio and take them to the next level. If it's a beat on the step sequencer, a melody on the piano roll or a full song on the playlist, FL Studio Mobile has you covered.
The Tabletop guys are having fun on their Mobile Music Meetup
"This was our second Mobile Music Meetup. Carson Day played his semi analogue set, Ami L looped live and Jordan was the main DJ. We also had Keisuke showing us his VJ set all night long. It was a great evening and fun to see the mobile music community growing."
Video details below:
http://www.pointblankonline.net/ In the next 3 episodes in our 'Making Music with Apps' series Danny J Lewis shows you how you can put together professional sounding tracks on the move. In this tutorial he starts off with the beatmaking using Native Instrument's iMaschine.
This approach is all about making the most of the unique qualities of each app and recording the results into Ableton as audio clips. The advantage is that you are committing the sound that you have made to audio so there is no temptation to endlessly fiddle with the synth parameters or the intricacies of the midi patterns and you can get on with the task of arranging the parts to make that banging tune that your 8 bar loop had promised!
Go to: http://www.pointblankonline.net/courses/ableton-live-courses.php to find out how you can learn more about using Ableton Live as a recording tool. Please get in touch with our course advisors at advice@pointblankonline.net if you want to find out more.
Background information:
welcome to my house/mobile studio! just giving her a test jam out!

hope you enjoy! Everything played live and fully improvised, no sequencing or loops were used.
http://www.noisyvagabond.com