Useless I know, but still

Omeletis an egg shaker for iPhone and iPod touch. Its developers, Pattern & Noise say that, using high-precision motion data from the accelerometer Omelet is able to respond realistically to every movement – from the slightest roll to the quickest shake.
Omelet also comes with two original built-in effects that can be used individually or together.
Muis a unique resonating effect capable of generating a diverse range of evocative sounds and textures. Its rich yet subtle tones vary from scratchy, wood-like sounds to eerie metallic ringing sounds reminiscent of Tibetan singing bowls.
Blue Room follows in the tradition of classic 60s echo chamber effects – simulating anything from tight corridors to huge cavernous spaces. Go easy for a softer sound while jamming along with your iPod, or crank it up and be transported to soundscapes from another world.
Omelet Features
Volume and mute controls
Automatic locking in portrait orientation to prevent accidental changes while playing
Multitasking support for jamming with your iPod
Two tailor-made sample banks

One to maximize volume while playing through the built-in speakers
Another with greater dynamic range while playing through the headphone jack

Optimized for iPhone 4, iPhone 3GS, iPod touch (3rd & 4th generation)
Pricing and Availability:
$1.99 / £1.49
More information:
All sounds and effects created exclusively with DAMAGE: http://www.native-instruments.com/damage
DAMAGE provides an arsenal of deeply sampled drums, crushing loops, and smashing one-shots, all recorded in brutal detail. From battered dumpsters and exploding cars to edgy electronics, the entire gamut of modern cinematic sound comes together in this uniquely playable and inspiring instrument. Deep, thrilling and intense — DAMAGE is epic redefined!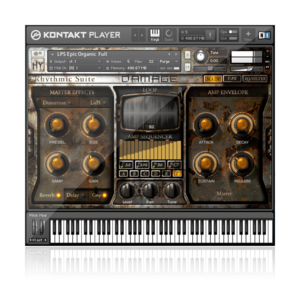 DAMAGE gives you 30 GB of drama, fusing industrial sounds and orchestral drums into a devastating electro-acoustic barrage. Percussive Kits provide more than 200 deeply sampled percussion sources, and over 500 single-shot elements, recorded in up to seven velocity layers and with up to nine round-robins per drum.
Over 700 beat-sliced loops come as menu-style loop suites or as single loops for detailed tweaking. Even the most complex sounds are instantly usable, and it's all in hair-raising, big-screen quality.
In this video Danny J Lewis (Enzyme Black, Defected) builds the percussion elements of his stripped back deep house track, using congas and bongos as the driving rhythm of the track.
In this video Danny J Lewis (Enzyme Black, Defected) shows you how to manipulate and twist up a percussion loop using the tools in Ableton Live to give them your own unique vibe.
In this video Danny J Lewis (Enzyme Black, Defected) throws together a collection of contrasting samples in Ableton Live. Watch as he begins to develop his idea, moulding the textures and tones together into a cut and paste style house beat similar to the vibe of a Moodymann tune.
Videos from our Deep House in Ableton Live series. It is an exclusive taster of the video content that Point Blank students have access to on the Deep House Pro Producer Course in Ableton Live which launches on 26th September 2011(http://www.pointblankonline.net/make-house-music-ableton.php ).
Experimental Percussion Box + loop station, triggering LZX Monolith, Modified Gakken SX-150 and DIY Sequencers.
**Modified Gakken and Experimental Percussion Box soon to be for sale on Etsy.com
http://vimeo.com/28150767
Beatmatch.info has released Digital Drums, a download sample pack.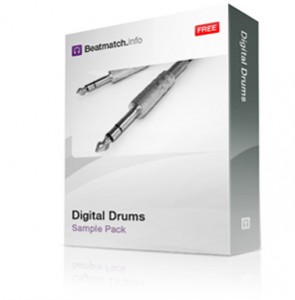 With more than 40 synthesised, professionally produced drum sounds in Wav format, this library is ideal for all electronica, minimal techno and electro producers.
Digital Drums features
40+ royalty free audio samples.
Includes 9 Kicks, 9 Snares, 11 Hi-Hats, 11 Percussion sounds.
Wav & Aiff format, 16 Bit/44.1 khz, Stereo.
100% royalty free.
Digital Drums is available as a free download from Beatmatch.info
More information: Digital Drums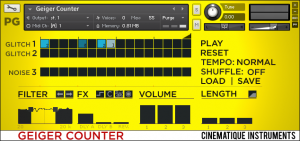 Cinematique Instruments has released Geiger Counter, a non-harmonic percussive sequencer based pattern generator module for Kontakt.
It is contrary to Cement a non-harmonic percussive module which is best suited to lend your music production a contemporary percussive color. You can easily create groovy patterns built out of bits, glitches and blips!

Geiger Counter comes up with two different sound groups which can create numerous sound colors: There are firstly six different sounds of bits, glitch and blips – available twice at two separate tracks and secondly six different noise samples. For modifying the character of your pattern, Geiger Counter provides plenty of options to change the sound to your very own requirements: lowpass- and highpass filter (with a random high- and highpass filter (with a random high- and low pass modulator), distortion-, lofi- and speaker switches, a cacophony (!) switch, separate fader to set the length and volume of all three tracks and separate slider to set the amount of two delays and a reverb.

Geiger Counter runs in Standalone mode as well as in-sync to your host application. Select one of the six different samples by clicking the mouse button and moving it over on the 16th note of your choice to play the sound. That´s it! Beside that Geiger Counter provides shuffle- and tempo modes and finally load/ save switches to save/recall your entire setting of Geiger Counter.
Geiger Counter for Kontakt is available to purchase for €16 EUR (excl. VAT).
This is a 2-part video demonstration of the Intellijel Corgasmatron eurorack VCF, using it's screaming resonant filters for percussive / subbass / metallic mayhem. No audio signals (VCOs / noise) are being passed through the VCF – what you hear is coming strictly via the Corgasmatron's self-oscillating filters.
All of the sequencing is done via a Make Noise setup — Brains, 2x Pressure Points, and clocked by a MATHS.
In the first part, only the LPF is used. It's being modulated by an MFB ADSR, and the Make Noise B+PP. The MATHS is being used as a slew/portamento occasionally.
In the 2nd part, Make Noise B+PP is also sequencing a Jomox MBase01 kick, and a Snare part created with MS-20 white noise into a YuSynth Arp VCF. The Cogasmatron's signal path is set up just like an MS20 – HPF into LPF in series. HPF is being modulated by PP+B (FM2), + a Tip Top Audio z3000 mk2 VCO (FM1). I used the z3000's sine wave out (I think). The z3000 is also being sequenced by the PP+b. LPF is being modulated by MFB ADSR (FM2), and PP+B (FM1).
Key features:
-16HP and shallow (two pcbs in parallel so it is skiff friendly)
-two independent filters, each with LP, HP and Notch modes.
-Unique resonant (Q) drive control
-A Switch links the two filters allowing both parallel and serial routing via normals to input B (which can be broken by inserting a cable at input B).
-Oscillates very easily and can be used as a dual sine VCO. Using the resonant controls this Sine shape can be colored.
-1V/Oct inputs
-Built in full featured cross fader allows voltage controlled xfading between the two filters. The Xfade has a switch to select either unipolar (e.g. envelopes) or bipolar (e.g. lfo) control of the xfade position. There is also a switch to select direction. With nothing plugged into the Xfade jack the xfade knob controls the fade position. When an external CV is patched in the same knob acts as an attenuator for the control signal.
-Jumpers on the back to select "modern" or "vintage" resonant modes (two different feedback paths for the resonance that use different diodes)
-expansion jacks for adding additional filter inputs and VC control of resonance

Soniccouture and Ableton have released Morpheus, described as a 'unique take on a most unusual mallet percussion instrument', for Ableton Live.
Named after the Greek god of dreams, the Freenotes Morpheus is a modular metallic instrument consisting of a series of metal bars, each attached to its own resonator. With no damping, the notes buzz freely, allowing for lush, ringing pads and sharp attacks alike.
The Morpheus is one of the cleanest, purest sounds you will hear – add tremolo and it sounds very much like a vibraphone, but with an extra 'glass-like' quality. Used with subtle delay and phase effects it takes on a hypnotic quality, showing why it is often used for mediative healing. Roll-off the attack transient and you're left with an almost perfect sine-wave, but not quite; the gloss and shimmer of the metal still remain, making serene yet characterful sustained tones.
Beyond the multiple acoustic presets that come with Soniccouture Morpheus, there are also a series of abstract presets – the Morpheus, sculpted into ambient textures, lush pads, and other experimental timbres, loops and tones.
These presets demonstrate the malleability of the resonances of the Morpheus, and include complex chains of effects, with macros set to easily control the important nuances of the sounds.
Morpheus is available now for US $79 / 59 GBP
This is what it sounds like:
Morpheus by Soniccouture
DS-8 Clone Analog Drum Synth Machine Kit – Synthrotek – Vintage percussion beats
The DS-8 was originally designed by Coron in the 80′s to be mounted on to a drum to in order to produce synth percussion sounds. Similar to the DS-7, which contained a VCO +VCA chain. The LFO modulated the VCO and the decay envelope is triggered by a piezz0 cell. The Decay Pot is really a release and the VCA is controlled by the LFO. The DS-8 added a colored noise generator with a balance pot, which allows more hi-hat and snare "sounds" to be achieved. PC Board measures 5 & 5/8ths X 2 & 5/8ths inches. This PCB is MADE IN THE USA and up to Synthrotek's fine specs. The Pots can be through-hole mounted, for an easy build.
Torley takes you on a tour through every preset/snapshot in Razor so you know what it sounds like before buying! Yes, it's really that simple. Torley is using Razor in his upcoming Musical Dream Journal entries @ http://torley.com
—
http://www.native-instruments.com/#/en/products/producer/powered-by-reaktor/r…
"Discover the new cutting edge of synthesis with RAZOR — a refreshing, truly new instrument based on additive synthesis. Created by maverick Berlin producer Errorsmith in partnership with NATIVE INSTRUMENTS, RAZOR has a characteristically dynamic and precise sound suited to tense basses, bristling leads and shifting, sci-fi soundscapes.
RAZOR's approach to additive synthesis is pragmatic and musical, providing detailed control without sacrificing usability. So shake off the virtual analog dust — go additive and carve a new path with RAZOR.
RAZOR runs in the free REAKTOR 5 PLAYER and REAKTOR 5.5."