March 8, 2012 · Posted in
Uncategorized
·
Comments Off

on Salad Spynner – new sound library for Ableton Live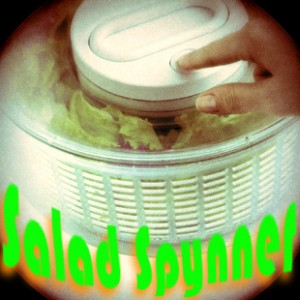 Praxworld has announced the release of Salad Spynner, a sound library for Ableton Live.
Add some greenery to your tracks with a helping of fresh delicious drum and percussion samples harvested from the SonicCharge Synplant synthesizer.

Contains 213 single hits in .wav format, and seven fiber-rich Ableton drum racks.
The Salad Spynner library is available to purchase for $3.86 USD.
February 16, 2012 · Posted in
Uncategorized
·
Comments Off

on Unusual Percussion for Ableton Live – 126 different sounds
AfroDJMac is back with some really unusual sounds :-D, check'em all out:
Drums from less than ordinary places. I've sampled a couple of random items into Ableton Live to create these percussion sounds. If you are looking for something different types of percussive sounds, then this is for you. Enjoy and Share

Download @ http://bit.ly/freesynth47
February 10, 2012 · Posted in
Uncategorized
·
Comments Off

on FX Drooms for Ableton Live
Cluster Sound has announced FX Drooms, a massive collection of FX layered percussion kits specifically designed for Ableton Live and for a wide range of electronic music styles.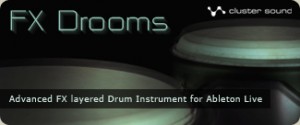 This Live Ready Instrument provides 5400 WAV samples, 312 percussion clips and 312 instrument racks organized into 13 categories : Congas, Bongos, Djembe, Metals, Woods, Toms, Mixed, Ethnics, Snares, Kicks, Shakers, Low Percs and Clanks.
Sample FX Layering : In FX Drooms, each of the dry percussion samples has been processed with 24 esoteric reverb and sound effect templates obtained by stressing DSP, hardware and convolution sources. Thanks to our Sample FX Layering technique you will be able to mix these external effect signals to the dry samples and manage them via dedicated controls : FX Amount, Decay Time, Pre Delay, Low Cut, Hi Cut, Pitch, Shaper, OSC Volume.
Mixed with the solid dry sources, the included FX templates give the library a distinctive glommy psycho (acoustic) athmosphere characterized by incredible hi end and definition. In addition to the dry percussions and the Sample FX Layers the included instruments implement also several sound-specific send effects created by using Ableton Live plugins.
FX Drooms
Live Clips
Live Instruments
Live Ready Pack
WAV
Specification:
5400 WAV samples
312 Percussion Clips
312 Percussion Racks
24 Sample FX Layers
FX Drooms is available to purchase for 24.95 EUR.
January 31, 2012 · Posted in
Uncategorized
·
Comments Off

on New Reason 6 Refill from Nucleus – Celluloid Beats
Nucleus SoundLab would like to introduce you to a brand-new ReFill exclusively built for Propellerhead Reason 6 – Celluloid Beats. Celluloid Beats features an amazingly unique set of cinematic percussion loops suitable for filmscoring, game sound design, IDM and other electronic genres. The loops inside have been specially processed using a proprietary additive vocoding techique to emphasize long, smooth decay stages. Beyond the high-quality loops themselves, Celluloid Beats is also the first ReFill in an innovative new series called Modular Grooves.
Modular Grooves ReFills are meant to provide musicians and producers with a infinitely configurable palette of loops. These loops sound great at virtually any tempo thanks to being sampled using Wide BPM technology – anywhere from 60bpm to 300bpm is fair game. There is no reason to be limited by the original tempo of a loop any more!
Each Combinator patch in a Celluloid Beats contains 8 loops – 1 original loop and 7 creative loop remixes. This is achieved by using the Slice Edit Mode on Dr. OctoRex to change filtering, decay, volume and more on a per-step basis for each loop. Going farther than that, unique FX are added to each patch which are used to effect specific loop slices – so each slice in a loop can have a different distortion, filtering or delay! The resulting loop remixes sound incredibly complex, but they certainly aren't complicated to use. A single Combinator Rotary switches between all 8 loops; and you can also easily dive into Dr. OctoRex to tweak any loop remix to taste! To help users understand the Modular Grooves technology and get the very most out of it, PDF documentation is included.
Celluloid Beats also comes packed with all its loops in raw REX2 format outside the ReFill itself at no additional charge. So users can easily load these loops into other sampler, such as Kontakt, Ableton Live, Battery and more without any hassles.
40 24-bit 44khz REX2 loops form the base of Celluloid Beats
280 loop remixes using all 8 loop slots on Dr. OctoRex
Each patch built exclusively for Reason 6
All REX2 loops included outside the ReFill, for use in other samplers
Detailed PDF documentation on the creation and operation of the ReFill
Download the free Demo ReFill right here.
Orphion is a dynamic velocity touch playable sounds and manipulation app
The Orphion is a new percussion instrument, which will be ported to the iPad / iPhone. The video shows a prototype in which the iPad is used only as a remote control of a laptop, but the whole should be converted into a native app, so everyone can download in the App Store.
In order to provide potential developers with an advance can I need this budget.
_______________________
UPDATE:
Hi! The App is allready finished by now: You can get it on the app store here:
http://itunes.apple.com/en/app/orphion/id495465097
November 23, 2011 · Posted in
Uncategorized
·
Comments Off

on Chromaphone – new creative percussion synthesizer
Applied Acoustics Systems is pleased to announce the release of Chromaphone, a new creative percussion synthesizer for Mac OS X and Windows.
"We have designed a synthesizer that combines acoustic resonators to create drums, percussion, mallet, string, and synth-like instruments. At your fingertips are drum skins, bars, marimbas, plates, strings, and tubes that get sparked into life by a mallet and a flexible noise source."
Chromaphone combines acoustic resonators to create drums, percussion, mallet, string, and synth-like instruments. Drum skins, bars, marimbas, plates, strings and tubes form pairs that are sparked to life by a configurable mallet and a flexible noise source.  At the heart of Chromaphone lies a novel coupling technology that precisely models how vibrating objects interact and influence each other capturing key acoustic behaviours of musical instruments. This, combined with access to the resonators' physical properties, results in a library of truly expressive instruments as well as a vast range of sonic colors.
A key feature of Chromaphone is a brand-new coupling technology. The coupling refers to the exchange of acoustic energy which occurs in real life between interacting objects. Consider a string bridged to a wooden soundboard, both have their own behavior and characteristics, but when assembled together, they merge into a complex string instrument. In a similar way, a metal bar interacts with the air column from a tube in a vibraphone. Chromaphone is the first and only plug-in to provide control over the coupling of resonators. The result is vivid instruments with unmatched acoustic precision, sharpness and realism.
More information: http://www.applied-acoustics.com/chromaphone/overview/ .
November 12, 2011 · Posted in
Uncategorized
·
Comments Off

on SPD-SX sampling pad demo featuring Craig Blundell
http://youtu.be/1ZXwi_wOOPk
Craig Blundell demonstrates the new features of the SPD-SX Sampling Pad. The SPD-SX puts powerful sample creation and playback under your sticks with innovative audio-capturing features, expressive playability, three multi-effects engines, and much more.
The perfect addition to any acoustic or electronic drum kit, percussion setup, DJ booth, or keyboard rig, the SPD-SX is equally at home on the live stage, in the recording studio, pre-production suite, or dance club. The SPD-SX takes many of the proven concepts from its predecessor and raises them to a new level. Whether you're firing off one-shot samples, looped phrases, or complete audio playback tracks, the SPD-SX is loaded with the latest technology and tools to get the job done with speed, precision, and convenience. Enjoy the most advanced triggering and sampling technology in a sleek, easy-to-use percussion instrument.
November 2, 2011 · Posted in
Uncategorized
·
Comments Off

on More on Native's DAMAGE
Take a trip into the depths of the DAMAGE user interface.
Heavyocity talk about the recording process behind DAMAGE, their techniques, sound design and more, in an in-depth look behind-the-scenes.
"Dark, aggressive, thrilling and threatening — DAMAGE is breathtaking cinematic percussion with a tense, epic edge. DAMAGE gives you 30 GB of drama, fusing industrial sounds and orchestral drums into a devastating electro-acoustic barrage. Percussive Kits provide more than 200 deeply sampled percussion sources, and over 500 single-shot elements, recorded in up to seven velocity layers and with up to nine round-robins per drum. Over 700 beat-sliced loops come as menu-style loop suites or as single loops for detailed tweaking. Even the most complex sounds are instantly usable, and it's all in hair-raising, big-screen quality." – Native Instruments
For more info: native-instruments.com/powered-by-kontakt/damage
October 30, 2011 · Posted in
Uncategorized
·
Comments Off

on Variation on the Largo from Winter by Antonio Vivaldi for Analog Modular Synthesizer
Beautiful capture of a classic composer

Additional details:
This is my first video since I changed my modular system to all Eurorack. It is done just using step sequencers again. this time it uses the new Modcan Touch sequencer and two Analogue Solutions Oberkorn 3.
By the way I just needed to throw in some Buchla percussions to complement this post:
Enjoy
October 25, 2011 · Posted in
Uncategorized
·
Comments Off

on Soundcells releases new powerful Reason Refill – WaveDrummin
Soundcells are back with a new Refill for Propellerhead's Reason suite:
"WaveDrummin" is not just another percussion ReFill.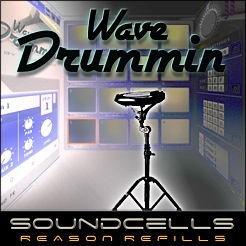 By finding a whole new continent Columbus redrew the map of our planet. Now it´s your turn to do so. By making use of this ReFill you can combine enchanting and haunting rhythms coming from all continents, maybe even from other planets as well as Wavedrummin opens doors to percussive bliss that have never been opened before. At the studio in Central Europe Soundcells recorded their favorite hits and bits coming from the ever popular Wavedrum by Korg while being caught by rhythms coming from distant worlds. The result of this all has become this ReFill, a work of art, a tool that lets you draw your own restyled map of our precious planet.
Realism vs mixability
Lots of samples taken from acoustic, real percussion instruments have the tendency to sound kind of dull in your mixes. The power of their sound often gets mudded by the rest of your instruments. With this in mind Soundcells processed all DSP generated percussion coming from Korg´s Wavedrum Oriental in such a way that the sounds will always sit conveniently in your mixes. Their impact and power will never get lost. Another point that needs to be highlighted is this special stereo knob coming with lots of combinators that works wonders for the mixability of our loops. Check it out!
Genre Crossover
The sounds of this percussion library are as authentic as you wish and at the same time they can be as electronic as you wish. There is no limit to their sonic possibilities. So whether you are a dance producer druling over techno or electro beats or you are a vegetarian ethno guru spiritualist… Wavedrummin will help you getting there. Check out the demos!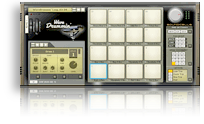 WaveDrummin Contents:
• 115 combinator patches stuffed with inspiring new energy.
• 107 rex loops that range from authentically acoustic to crazy electronic stuff, 20 Kong kits, 20 NNXT patches and 7 Redrum kits.
• 210 single hits to build your own kits from.
• Recorded impact noises coming from Brushes, Rods, Sticks and Fingers to add extra realism to the loops. The combinators carry knobs to control their volumes.
• All single loops and samples are included into this download in Rex and Wave format.
By purchasing this pack you are not restricted to Reason only. However there is a lot more magic to be found within the ReFill.
A web address to link to for more info and many "WaveDrummin" only MP3s:
Offering price per unit is 19,90 ,- EUR (normal price is 24,90 ,- EUR)