Background description:
This part may only be 11 seconds long, but it's my favorite sound that I've made with the Kraftzwerg to this day. In previous parts, I wasn't going for anything specific. This time, I wanted to make a classic trance percussion loop. Hope you enjoy it.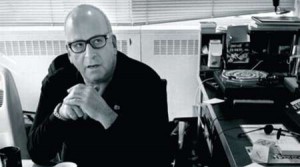 DM ARP 2600 Drums is a free Live Pack consisting of 8 Ableton Drum Racks and 150 original analog percussion sounds sampled from Daniel Miller's own ARP 2600 modular synthesizer. Extensive controls for real-time sound tweaking and bonus sequence clips are included.
Beginning with his now-classic "Warm Leatherette/T.V.O.D." single (as The Normal), Daniel Miller and the Mute label have been at the cutting-edge of electronic music for almost 35 years. Singular artists such as DAF, Fad Gadget, Depeche Mode, and Erasure began their careers at Mute and pioneers such as Can and Cabaret Voltaire enjoy their canonical status in no small part thanks to Daniel Miller's expert curatorship of their archives.

Ever the inquisitive experimentalist, Daniel Miller continues to produce with a finely honed ear, merging the best of analog synthesis with new music technology that provides the creative immediacy he demands. Made in collaboration with the Flatpack sound design team, DM ARP 2600 Drums delivers a large selection of drum and percussion patches created with Daniel Miller's own ARP 2600 modular analog synthesizer. Carefully sampled and programmed, this free Live Pack delivers Drum Rack Instruments with Daniel Miller's characteristic touch.
DM ARP 2600 Drums includes Macro controls to quickly and intuitively alter the overall sound of each kit as well as individual characteristics of the kick and snare sounds. Further customization of individual sounds as well as of effects and presets can be accessed via the Drum Rack's Chain and Device buttons. A detailed walk-through of all the customization options can be accessed via Help View in Live's main menu.
Here's the newest version of the Jupiter III synth. It has a redesigned PCB, linear pots, a larger piezo pickup, and an LED power indicator – making it more dynamic, and much ballsier. It's being triggered by both the TCM & hand. Some clips are dry, and others are running through our LSD (light sensitive delay) pedal.
Get your space on, only @ chamberofsounds.com
Features:
• circuit: fully analog
• trigger: large internal piezo or audio input
• power: 9V battery or A/C adapter
• function: touch-sensitive percussion synth & optical theremin
• range: many, many octaves
Price: $275
ImageLine continues on their quest of delivering short teasers on their upcoming release, without any further details
More info here – http://www.image-line.com/documents/flstudiomobile.html
http://youtu.be/gE2cBQH3l3c
More info here – http://www.image-line.com/documents/flstudiomobile.html (to be honest there isn´t much more additional info on this link, hehe, so stay tuned for more updates on FL Studio Mobile 2 right here at SBC)
FL Studio Mobile will allow you to create complete multi-track projects on your iPod, iPhone or iPad and, if you want, load mobile projects into FL Studio and take them to the next level. If it's a beat on the step sequencer, a melody on the piano roll or a full song on the playlist, FL Studio Mobile has you covered.
From analog drum machines to vintage guitars, orchestral percussion to circuit-bent children's toys, 1980s Russian synthesizers to Indian harmoniums…these are the instruments of Robot Repair.
You can see that not only "PEEWW" sounds can be done with this percussion synth.
This unit is modified, the OSC 1 can track the V/oct CV, you can play it in tune with any keyboard or system that can send CV.
Very rare unit with lot of sounds very analog and electronic feeling.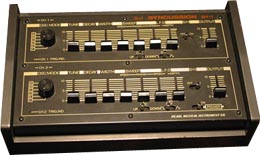 "Released in 1979 by respected drum and percussion manufacturers, Pearl, the SY1 Syncussion was the forerunner to the Simmons SDSV.
It offered two completely independent (and identical) channels which were typically triggered from two bongo-like drums fitted with transducers. However, they can be triggered from almost anything including an old synth with a gate output or, indeed, the trigger outputs of something like a TR808.
It was most commonly seen, however, as an adjunct to drum kits or percussion rigs as a source of electronic drum and percussion sounds and sound effects.
Unfortunately, the SY1 earned itself a fairly dreadul reputation almost overnight when it featured on disco tracks with tasteless and gimmicky 'beeyooo beeyooo' sounds and of course, as soon as one of these records became a hit, so an endless stream of other, similarly tacky records followed.
Each channel has an oscillator that can produce different basic waveforms which can be shaped with its own simple enevleope generator. Oscillator pitch can be swept with the SWEEP control either positively (i.e. start high and drop in pitch – the source of the dreaded 'beeyoo' sound!) or negatively (the pitch rises through the sweep). However, each channel also has an LFO with variable speed and depth and a choice of square and sawtooth waveforms. There's also a noise generator and a sample/hold function and so, with some adventurous programming, a very wide range of sounds is possible."
http://soundsandgear.com/soundiron-tuned-artillery-review checking out a tuned percussion library from Soundiron called Tuned Artillery for Kontakt 4 and Kontakt 5. Helmets, grenades, and artillery shells all turned into musical instruments.
Here's a new freebie from AfroDJMac featuring more quirky percussions
This is a free Ableton Live download featuring 309 unusual percussion sounds. Follow along in the video tutorial and I show you how to use my technique of sampling and resampling to create your own interesting and unique percussion sounds.
Download the Ableton Live Project here: http://bit.ly/freesynth50
This week's free Ableton Live AfroDJRack is a continuation in the my study in unusual percussion.  I've been looking for new ways to create percussion sounds and this download is the result.  This week I have a total of 309 different sounds for you to play around with.  More importantly, though, I show you the technique I used to quickly create loads of unique sounds.  If you missed part one, check it out here.

I began this Ableton Live project by sampling some ordinary sounds.  I recorded the sound of pencil and eraser on paper.  Then I tore the paper (I felt inspired by this awesome video with Robot Koch). I snapped my fingers and rubbed my hands together, and recorded that.  Next, I tapped  my foot on the mic stand, which created some surprisingly bass-y kick drum like sounds. After that I took out my Casio SK-1, which is a sampling keyboard from the 80s, very lo-fi.  I sampled crackles, drum sounds and even noises created by plugging in an instrument cable and touching the end to create buzzes.  All of those sounds were sent into Ableton and are on the track labeled "Original percussion."  Feel free to do what you like to those sounds.

From there I played around with the clips I created, reversing some and messing around with the transpose envelope.  Next I set them up to play somewhat randomly using follow actions, and recorded the result on to another audio track.  The resulting clip was then "sliced to midi" and that created the drum rack on track 5 "AfroDJMac Unusual Perc  NOFX."

I then repeated the process of randomly triggering clips and resampling them, but this time I placed a host of effect racks on the track which I turned on and off and manipulated at random, using an iPad running the Lemur app.  This yielded two more instrument racks, found on tracks 3 and 4.  In the end, this download features 309 different percussive sounds!