From analog drum machines to vintage guitars, orchestral percussion to circuit-bent children's toys, 1980s Russian synthesizers to Indian harmoniums…these are the instruments of Robot Repair.
You can see that not only "PEEWW" sounds can be done with this percussion synth.
This unit is modified, the OSC 1 can track the V/oct CV, you can play it in tune with any keyboard or system that can send CV.
Very rare unit with lot of sounds very analog and electronic feeling.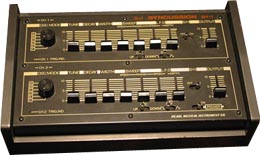 "Released in 1979 by respected drum and percussion manufacturers, Pearl, the SY1 Syncussion was the forerunner to the Simmons SDSV.
It offered two completely independent (and identical) channels which were typically triggered from two bongo-like drums fitted with transducers. However, they can be triggered from almost anything including an old synth with a gate output or, indeed, the trigger outputs of something like a TR808.
It was most commonly seen, however, as an adjunct to drum kits or percussion rigs as a source of electronic drum and percussion sounds and sound effects.
Unfortunately, the SY1 earned itself a fairly dreadul reputation almost overnight when it featured on disco tracks with tasteless and gimmicky 'beeyooo beeyooo' sounds and of course, as soon as one of these records became a hit, so an endless stream of other, similarly tacky records followed.
Each channel has an oscillator that can produce different basic waveforms which can be shaped with its own simple enevleope generator. Oscillator pitch can be swept with the SWEEP control either positively (i.e. start high and drop in pitch – the source of the dreaded 'beeyoo' sound!) or negatively (the pitch rises through the sweep). However, each channel also has an LFO with variable speed and depth and a choice of square and sawtooth waveforms. There's also a noise generator and a sample/hold function and so, with some adventurous programming, a very wide range of sounds is possible."
Orphion is a musical instrument with a unique sound between string instrument and percussion. Everyone can play expressive, wonderful sounds and easy or virtuosic melodies on it just by moving fingers on virtual pads.
Different articulations from soft to plucked to hardly slapped
Natural interaction
Extend your ways of expression as a percussionist, guitarist, pianist or other musician
14 transposable pad-layouts with different tonalities from easy to complex
Record and share what you play via EMail, SoundCloud or AudioCopy
8 individual voices for 8 fingers (4 on iPad 1)
Get Orphion here:
orphion.de
Become a Fan on Facebook:
facebook.com/Orphion
or follow on Twitter:
twitter.com/#!/OrphionApp
http://soundsandgear.com/soundiron-tuned-artillery-review checking out a tuned percussion library from Soundiron called Tuned Artillery for Kontakt 4 and Kontakt 5. Helmets, grenades, and artillery shells all turned into musical instruments.
Here's a new freebie from AfroDJMac featuring more quirky percussions
This is a free Ableton Live download featuring 309 unusual percussion sounds. Follow along in the video tutorial and I show you how to use my technique of sampling and resampling to create your own interesting and unique percussion sounds.
Download the Ableton Live Project here: http://bit.ly/freesynth50
This week's free Ableton Live AfroDJRack is a continuation in the my study in unusual percussion.  I've been looking for new ways to create percussion sounds and this download is the result.  This week I have a total of 309 different sounds for you to play around with.  More importantly, though, I show you the technique I used to quickly create loads of unique sounds.  If you missed part one, check it out here.

I began this Ableton Live project by sampling some ordinary sounds.  I recorded the sound of pencil and eraser on paper.  Then I tore the paper (I felt inspired by this awesome video with Robot Koch). I snapped my fingers and rubbed my hands together, and recorded that.  Next, I tapped  my foot on the mic stand, which created some surprisingly bass-y kick drum like sounds. After that I took out my Casio SK-1, which is a sampling keyboard from the 80s, very lo-fi.  I sampled crackles, drum sounds and even noises created by plugging in an instrument cable and touching the end to create buzzes.  All of those sounds were sent into Ableton and are on the track labeled "Original percussion."  Feel free to do what you like to those sounds.

From there I played around with the clips I created, reversing some and messing around with the transpose envelope.  Next I set them up to play somewhat randomly using follow actions, and recorded the result on to another audio track.  The resulting clip was then "sliced to midi" and that created the drum rack on track 5 "AfroDJMac Unusual Perc  NOFX."

I then repeated the process of randomly triggering clips and resampling them, but this time I placed a host of effect racks on the track which I turned on and off and manipulated at random, using an iPad running the Lemur app.  This yielded two more instrument racks, found on tracks 3 and 4.  In the end, this download features 309 different percussive sounds!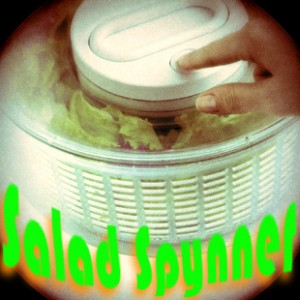 Praxworld has announced the release of Salad Spynner, a sound library for Ableton Live.
Add some greenery to your tracks with a helping of fresh delicious drum and percussion samples harvested from the SonicCharge Synplant synthesizer.

Contains 213 single hits in .wav format, and seven fiber-rich Ableton drum racks.
The Salad Spynner library is available to purchase for $3.86 USD.
AfroDJMac is back with some really unusual sounds

, check'em all out:
Drums from less than ordinary places. I've sampled a couple of random items into Ableton Live to create these percussion sounds. If you are looking for something different types of percussive sounds, then this is for you. Enjoy and Share

Download @ http://bit.ly/freesynth47
Cluster Sound has announced FX Drooms, a massive collection of FX layered percussion kits specifically designed for Ableton Live and for a wide range of electronic music styles.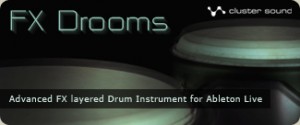 This Live Ready Instrument provides 5400 WAV samples, 312 percussion clips and 312 instrument racks organized into 13 categories : Congas, Bongos, Djembe, Metals, Woods, Toms, Mixed, Ethnics, Snares, Kicks, Shakers, Low Percs and Clanks.
Sample FX Layering : In FX Drooms, each of the dry percussion samples has been processed with 24 esoteric reverb and sound effect templates obtained by stressing DSP, hardware and convolution sources. Thanks to our Sample FX Layering technique you will be able to mix these external effect signals to the dry samples and manage them via dedicated controls : FX Amount, Decay Time, Pre Delay, Low Cut, Hi Cut, Pitch, Shaper, OSC Volume.
Mixed with the solid dry sources, the included FX templates give the library a distinctive glommy psycho (acoustic) athmosphere characterized by incredible hi end and definition. In addition to the dry percussions and the Sample FX Layers the included instruments implement also several sound-specific send effects created by using Ableton Live plugins.
FX Drooms
Live Clips
Live Instruments
Live Ready Pack
WAV
Specification:
5400 WAV samples
312 Percussion Clips
312 Percussion Racks
24 Sample FX Layers
FX Drooms is available to purchase for 24.95 EUR.
Nucleus SoundLab would like to introduce you to a brand-new ReFill exclusively built for Propellerhead Reason 6 – Celluloid Beats. Celluloid Beats features an amazingly unique set of cinematic percussion loops suitable for filmscoring, game sound design, IDM and other electronic genres. The loops inside have been specially processed using a proprietary additive vocoding techique to emphasize long, smooth decay stages. Beyond the high-quality loops themselves, Celluloid Beats is also the first ReFill in an innovative new series called Modular Grooves.
Modular Grooves ReFills are meant to provide musicians and producers with a infinitely configurable palette of loops. These loops sound great at virtually any tempo thanks to being sampled using Wide BPM technology – anywhere from 60bpm to 300bpm is fair game. There is no reason to be limited by the original tempo of a loop any more!
Each Combinator patch in a Celluloid Beats contains 8 loops – 1 original loop and 7 creative loop remixes. This is achieved by using the Slice Edit Mode on Dr. OctoRex to change filtering, decay, volume and more on a per-step basis for each loop. Going farther than that, unique FX are added to each patch which are used to effect specific loop slices – so each slice in a loop can have a different distortion, filtering or delay! The resulting loop remixes sound incredibly complex, but they certainly aren't complicated to use. A single Combinator Rotary switches between all 8 loops; and you can also easily dive into Dr. OctoRex to tweak any loop remix to taste! To help users understand the Modular Grooves technology and get the very most out of it, PDF documentation is included.
Celluloid Beats also comes packed with all its loops in raw REX2 format outside the ReFill itself at no additional charge. So users can easily load these loops into other sampler, such as Kontakt, Ableton Live, Battery and more without any hassles.
40 24-bit 44khz REX2 loops form the base of Celluloid Beats
280 loop remixes using all 8 loop slots on Dr. OctoRex
Each patch built exclusively for Reason 6
All REX2 loops included outside the ReFill, for use in other samplers
Detailed PDF documentation on the creation and operation of the ReFill
Download the free Demo ReFill right here.
Orphion is a dynamic velocity touch playable sounds and manipulation app
The Orphion is a new percussion instrument, which will be ported to the iPad / iPhone. The video shows a prototype in which the iPad is used only as a remote control of a laptop, but the whole should be converted into a native app, so everyone can download in the App Store.
In order to provide potential developers with an advance can I need this budget.
_______________________
UPDATE:
Hi! The App is allready finished by now: You can get it on the app store here:
http://itunes.apple.com/en/app/orphion/id495465097