A quick information video of a new bank of sounds, inspired by the Minimoog.
It is such a classic design and sound that is still sought after today. Casio's XW-P1 and XW-G1 while being a digital synthesizers can do a pretty remarkable job of mimicking those classic Moog sounds. The Minimoog had 3 oscillators plus a noise generator and although the XW has a 4th oscillator in its Solo Synth engine – all of these sounds were crafted with the original in mind. A set of 10 Leads and basses, the specialties of the Minimoog. Separate versions above for the XW-P1 and XW-G1.
Downloadable at www.casiomusicforums.com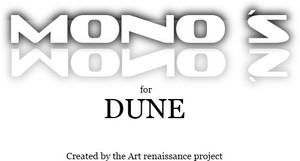 The Art Renaissance Project has announced the release of MoNo's, a new full soundset for the DUNE virtual synthesizer instrument by Synapse Audio.
128 brand new presets. This time we offer just lead sounds to start jamming at once.

Sometimes things have to be easy. Sometimes we love the things simple. And this time you will have this with this soundset. Course this time it is all MONO.

You would not believe how a mono DUNE sound can rock you. Have it easy, and now have it MONO:)
The soundset is available to purchase for the introductory price of 18 EUR for 1 week (regular 21 EUR). A free demo bank with 40 patches is available to download.

Minimal System Instruments has released Glue Compressor: Drum Mixing, a collection of 42 presets for the Glue compressor in Ableton Live 9.
Glue Compressor: Drum Mixing is the first pack Minimal System have produced for Ableton Live 9, more specifically the fantastic new Glue Compressor. This plugin is designed to, as the name suggests "glue" your buss or master mixes together to create a more uniform sound much like the famous SSL Buss Compressor.

This new preset pack is designed for use on drum busses only and includes 42 presets crafted by our in house mixing and mastering expert. Covering all aspects of drum mixing this pack provides everything needed to get your drums sounding polished.
The presets pack costs £4.99 GBP.
'synthway' has shared a teaser of upcoming presets for the Sub Phatty:
Just a little sample of the 32 presets programmed for the Sub Phatty Editor v0.94. I don't know if all sounds will be included, but I shared them with Amos from Moog Music.
TBdriv3
Sweet Meow
Drive N Sync
Lady in the Wind
False Echoes
Singing Sync
Cyclodrone
Delicate Horn
Cubasis 1.5 features Micrologue, a virtual analogue synthesizer based on the award winning VST instrument Retrologue.
MrSynthmania treats us with another exploration of the Prophet 12:
Some nice presets dedicated to all people who want to hear them. All sounds played live and are recorded directly without any equalization, other effects or something else…this is the raw DSI Prophet 12 sound. It´s a mix around to define what a modern synthesizer is. Hope you enjoy it.
Sorry for playing some wrong keys


For technical information see http://www.davesmithinstruments.com/p…
Here is a demonstration of the VCA envelope and the preset functionality of the Moog Sub Phatty.
Casino 2 contains 64 new presets for Cassini. Basses, Leads, Pads, Arpeggiations, Chiptune, Formant and FM patches, and more.
Every preset has the modulation wheel routed as well as all 4 performance modulation knobs assigned to interesting and important aspects of the sound, giving you a high degree of real time control and command over your sound.
Compatible with iPhone 3GS, iPhone 4, iPhone 4S, iPhone 5, iPod touch (3rd generation), iPod touch (4th generation) and iPad. Requires iOS 4.3 or later.
Format:
▪ 100% Original and Royalty Free
▪ 64 cassini_timbre files
▪ 256 Controller knob settings
▪ 64 Mod Wheel settings
▪ Includes easy installation instructions
Price: $2.49
Available from – www.sunsineaudio.com
Free Preview Pack – http://www.sendspace.com/pro/dl/cd5ikl
The Ambisphere soundbank for Rayblaster.
Coming soon: 150 fresh new ambient presets for Rayblaster.
Thiago Pinhero introduces AAS' electric piano.
Lounge Lizard EP-4 — Electric Piano
http://www.applied-acoustics.com/loungelizard/overview/
Background description:
In the studio
When time matters, simply pick from more than 100 custom electric piano presets. But when sound exploration is on the program, players will dig the real-time controls over hammer hardness, tine color and decay, damper noise, and pickup placement for an unsurpassed level of customization.
Live on stage
Gigging musicians will appreciate Lounge Lizard's small memory footprint, instant preset recalls, and stability. Furthermore, the huge library of Rhodes and Wurlitzer sounds as well as the complete selection of effects makes it easy to build a set list and get the perfect tone for each songs.
Alive beneath your fingers
There is something quite immersive when a connection develops between the player and the instrument. Whether it's the perfectly smooth velocity progression or the interactive reaction to your performance, Lounge Lizard makes that connection happen.
Beyond the electric piano
Lounge Lizard achieves convincing electric piano tones with less than twenty synth parameters. That's a quite a feat by itself, but pushed further, these parameters reveal a realm of other tones. Organs, bells, chimes, leads are all featured in the preset library's Experimental folder.
Custom tones
Even though famous players shared the same brand and models, they were all acheiving their own signature sound. Nevertheless, that usually meant spending many hours under the hood with screw drivers, wrenches, or even a solder iron. What's fun with Lounge Lizard is that whether you're looking to emulate a particular sound or simply find your own, all those tweaks are just a few knob turns away!